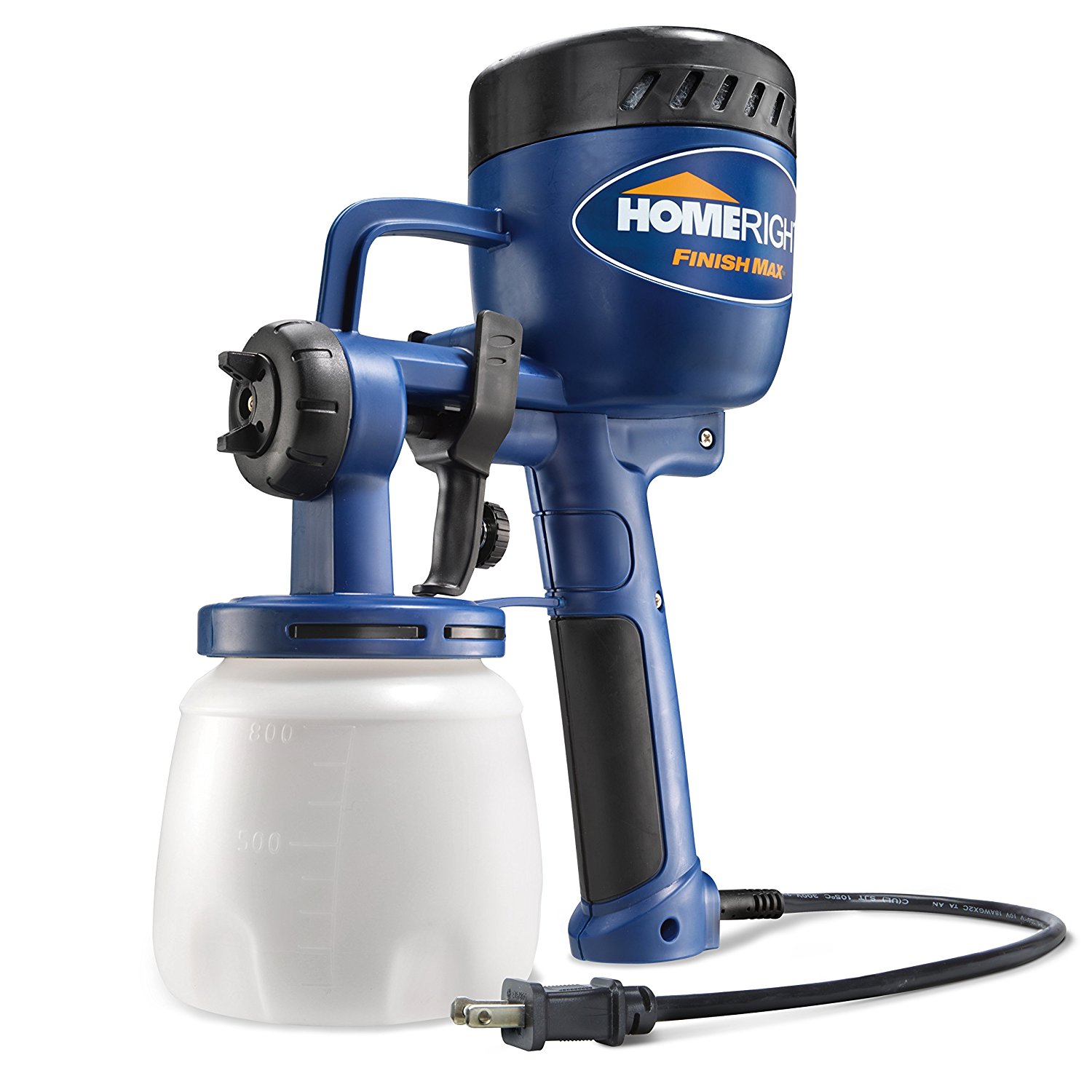 This is an unbiased review of the HomeRight C800766 Finish Max Paint Sprayer. In order to provide you with complete information and a detailed guide, I have researched the experience of users on the product, expert advice and other reviews before coming up with this article. By the end of this review, you should be able to confidently purchase this product.
Pros
This sprayer provides a professional finish for a novice work
You can use it right out of the box
Lightweight and ergonomically designed
You can spray varieties of paints than with other similar priced big brand models
This sprayer will give you a smooth paint as long as you thin it well
Price to value ratio is very high
It is very easy to clean with little moving parts
This can spray evenly and takes little getting used to
Cons
This is not a heavy duty sprayer
Doesn't have a cap for the paint reservoir
The cleaning brush is not much effective
Frequency of refilling paint cup is high
HomeRight C800766 Finish Max: Things You Should Know
Before buying this sprayer, it is important that you learn all you can about it. If this is your first time of reading HomeRight Finish Max sprayer reviews, you will definitely find there are a lot of things you need to know about this model.
Going through these reviews will help you understand what the product is about and be able to decide if it is for you or not. Some of the most important things you need to know will be covered in this section and the next section as you read on.
The HomeRight C800766 Finish Max is available in three styles: Finish Max Extra, Finish Max Fine Finish and Finish Max Pro. The Finish Max Extra is the most expensive because it has more features.
You can buy two essential accessories with this unit. The HomeRight C900042M Rapid Clean and the ABN Strainer Cone Funnel with Filter Top. The Rapid Clean utility is specifically designed to be used in cleaning the Finish Max Sprayer. Although you can clean the sprayer without this tool, buying one just speeds up the process. The ABN Strainer Cone Funnel is useful for removing unwanted dust, particles, paint clumps, solids and other impurities from your paints thereby preventing clogging.
You can download and read the warranty information about this product before purchasing it. If you are more concerned about warranty before buying any product, this can be a very useful step. Click here to download. For those who don't want to read that, the gist is that you can call the customer care to get a repair number if you find the product defective within the warranty period. You will be required to ship the product with your proof of purchase and the repair number on the packaging. The warranty only covers defects in material or workmanship.
HomeRight C800766 Finish Max Sprayer Full Review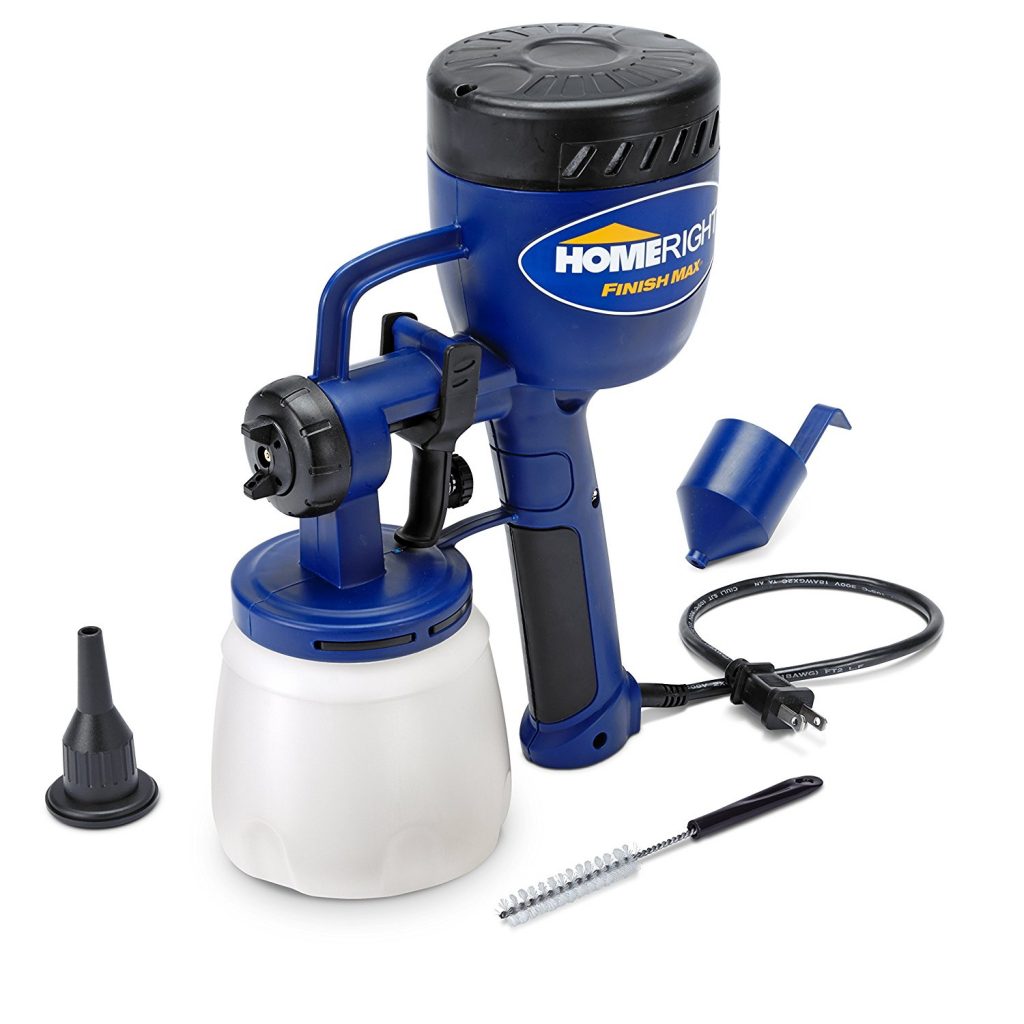 Nowadays, it is of utmost importance to have a paint sprayer in your home. They are lightweight, compact, and easy to use. You don't have to call your handyman for small refinishing or basic repair when you have a nice little sprayer to get the job done.
The HomeRight C800766 Finish Max is an inexpensive but an efficient sprayer. It doesn't not have all the bells and whistles you will find in the most expensive paint sprayers, but it gets the job done.
The design of ability of this sprayer appeals to someone who wants a cheap sprayer that not only saves time but can also product professional results. If you are, then below is more detailed information about this model:
1.
The HomeRight C800766 Finish Max is an HVLP paint sprayer with built-in compressor. Not only is it lightweight and easy to use, it is also inexpensive.
2.
Before you can achieve a significant result with this painter, you will have to spend some time getting used to it. If you have previous painting experience, it might be very easy to get started. But if you are a beginner, it will take some practice before you get the hang of it. However, when you start using, you will quickly discover that it will cut the time in half.
3.
According to the manufacturer, this sprayer is meant for paint things like cabinets and furnitures or shutters. If you are going to be painting walls, fences, ceilings, you may need something much more powerful than this. It has been tested to work on bifold closet doors, bedroom doors, kitchen cabinets, drawers, baseboards and trim, and window trim — so you can try it out if you intend painting any of these.
4.
When using this sprayer, it is recommended to clean and wash it throughout the duration of your painting, especially if you are working on a large project. The reason is the paint will build up and clog the sprayer hole and you may not get a good spray. But when you are constantly doing some cleanup — using Q-tips for example — you will see that everything is smooth and easy.
5.
The Finish Max Fine Finish Sprayer is a self-contained sprayer. You do not need to use hoses or air compressors or any pumps with it. You can use it to refinish, repurpose or up-cycle your old furniture into professional looking ones.
6.
This is one of the cheapest paint sprayers around. If you are looking for a sprayer that is cheap and equally effective for small jobs, this is your sprayer. It costs less than $200 and obvious has some advantages over some more expensive painters. In addition it is easy to use and clean, excellent quality, and convenient.
7.
Before you start using this paint sprayer, make sure that you have strained your paint or have the paint thinned. If you don't do so, the paint might sputter, which can result in a bad job. The paint sprayer comes with the viscosity tool for easy thinning and getting the right amount of thickness for your project. If you are not familiar with paint or paint cups, I suggest you use the tool for gauging the thickness of the paint, because it will save you a lot of headaches when you start to paint.
8.
This paint sprayer works best on a vertical. It also helps a lot if the item you are painting can be moved around. When it is, you can shift it around to access every part of the item you want to paint. If you are doing immobile items like your deck, you will find it difficult to achieve a good result with this prayer. While the sides of a deck will be easy, the surface would be too horizontal to have a significant result. This is because the paint sprayer can only go 45% of the vertical of the surface you are painting.
9.
You have to make a trade-off when using the unit. Most users have reported that it does cover well in one coat without a second go. However, you have to sacrifice a lot of paint in the process — which is about 15-20% more than if you use a brush. But another added advantage is that it will save you a lot of time. For instance, if using a brush could make you spend 4 hours or more — with the back aching added — you can expect save 2 hours or more when use make use of a painter. So it ultimately comes down to your choice and what you are looking for.
10.
The HomeRight C800766 Finish Max is easy to clean and does not have small parts that can get lost. You can easily take apart the nozzle and wash it. Compare to other models — even expensive ones — there isn't much to clean. Just fill its tank with water and push out the water through the nozzle just like you are spraying. After that you take out the nozzle and wash it. Simple as that.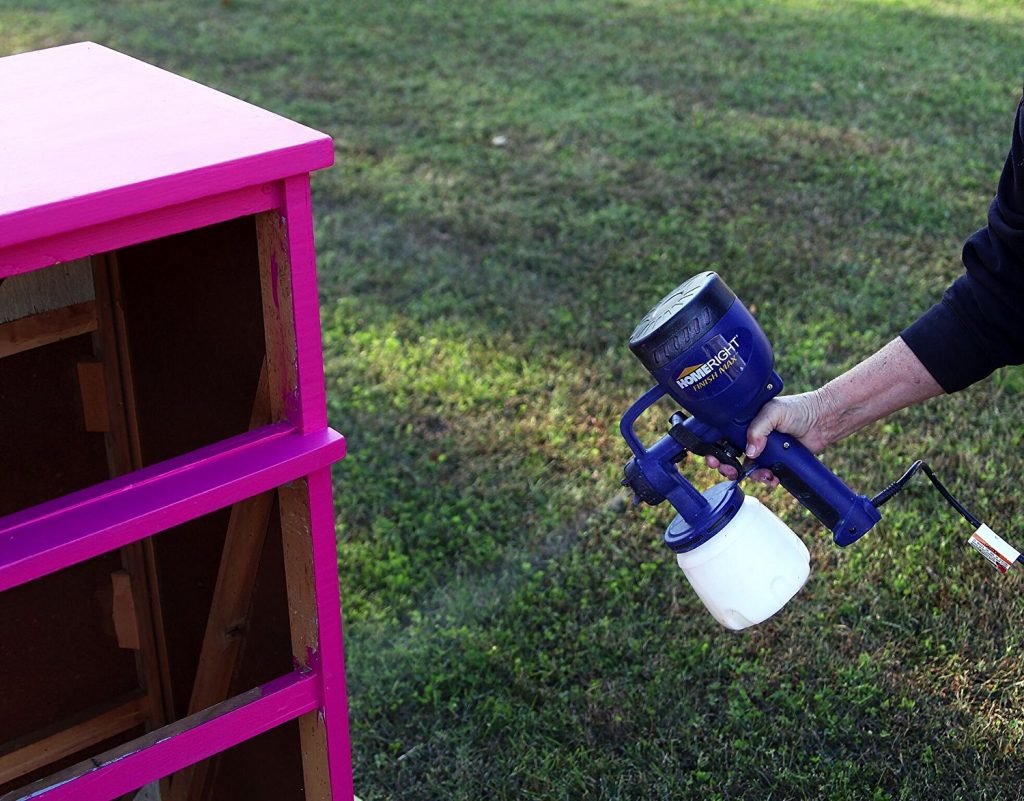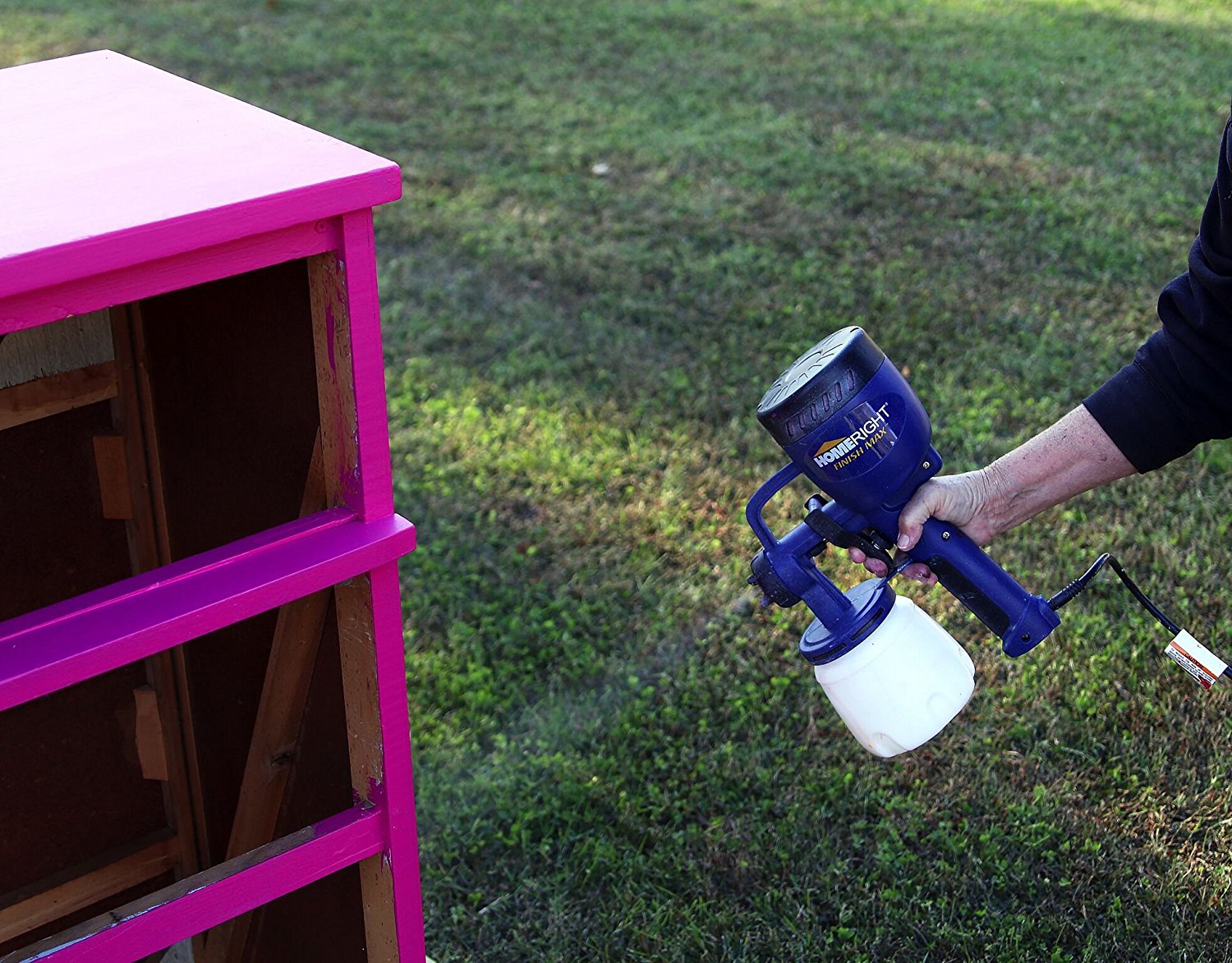 11.
After using this paint sprayer, you should not let it sit for an extended period of time. Wash it immediately and pack it away. If you leave it for more than 30 minutes, the paint may dry on it and clog the parts.
12.
The HomeRight C800766 Finish Max is lightweight and easy to handle. Although it is more suitable for smaller jobs, you can actually use it for a long period of time without developing hand fatigue.
13.
You can use chalkpaint (latex + non sanded grout mix) with this unit. However, the resulting finish depends on your expertise and how much knowledge you are putting into this. If you are going to use it, you can use a mesh strainer so that all particles that can clog the machine are eliminated. Also, for better resulting and not clogging the machine, it is advisable to use unhanded grout version.
14.
While most people prefer to use this outdoor, there is nothing preventing them from using it indoors. If you are going to use indoors, make sure you cover everything around where you want to spray and you will be alright.
15.
This paint sprayer is made from plastic parts. Some people have found it to feel flimsy and cheap. Depending on how often you use this and the maintenance, it may not last more than a few years. However, this is what you should expect because it is not a professional system. You can get a longer usage if you actually use it for jobs that are not heavy then use more powerful models to heavy use.
16.
This unit comes with a little 800 ML (almost 1 qt) jar. This means you may have to be filling the jar every now and then and that can easily become sloppy and boring. Again, that's a trade-off you have to make.
17.
This unit can spray different types of paints. Some customers have reported using latex paint, Behr solid paint, acrylic paint, primer, Minimax Polycrylic, and many others on this sprayer and it comes out excellently on each use.
18.
Although you have to refill the paint cup on this unit frequently, the speed and the ease of using the device far outweighs that. Moreover, you can also avoid the strain of using a paint or stroller when you make use of this.
19.
In order to get the best result with this painter, you must follow the manual instructions. It has everything you need for getting professional results. You will not only learn how to use the device, you will also be instructed on how to thin your paint. Many users have found this very helpful and even hinted that at new users.
Verdict
While many users feel that this unit is easy to clean, a surprisingly large number of users have also reported that it's tricky to clean. From my own observation, I could say that there is a thick line between easy to clean and following instructions or having previous experience. If you follow the instructions properly, you should have not problem with cleanup, even if you are a beginner. And if you don't have previous experience, don't expect to get used to it right out of the bat. As with any tool, you should have measured expectations and do some getting use to, which is true for the HomeRight C800766 Finish Max.