This is a comprehensive review of the Astro Spray Gun. In this review, I want to give you an overview of this sprayer.
You will learn what's possible to achieve with this unit, its strengths and weaknesses, and most importantly, whether it is suitable for your intended purpose or not.
After reading this review, you should be confident enough to purchase this unit.
Overview of Features on the Astro Spray Gun
Easy to clean and all-purpose paint spray gun
The gun features an exclusive air valve design
The fan has a wide pattern control and is fully adjustable
The cup is of 1-quart capacity and the nozzle size is 1.8mm
It measures 12 x 7.2 x 4.2 inches and weighs 3 pounds
It is available in red color and backed by one year warranty
Consumer Feedback and Ratings
The best way to get a genuine feel of the product is to resort to real user feedback. In this sense, Astro 4008 comes with definitive positives like:
Ease of use
Durability and efficiency
You can use it on a wide variety of surfaces
Significantly cuts down the time needed to perform the job
Completely hermetic, preventing any liquids from dripping out
As a minus, some of the users have expressed the need for more color options, since Astro 4008 only comes with a red handle. This is a low price to pay for such an innovative and powerful spray gun that simply obliterates all competition.
Technical Specifications
The nozzle is 1.8 mm
Net Weight: 3 pounds/1.36 kg
Average Air Consumption: 7-12 CFM
Operation Pressure: 50-60 psi
Air Inlet Thread NPT: ¼ inches
Maximum Pattern is 8 inches
Maximum Distance is 11 inches/280 mm
Dimensions: 12 x 7.2 x 4.2 inches
Color: Red
Material: Aluminum and 1-year warranty
Additional Notes:
This sprayer will do a nice job of painting your vehicle, furniture, fence, and pretty much anything that needs some tuning up. You may have to consider your air compressor CFM when painting things like vehicles though.
Although most air compressors will work, you can get the best results with 35-45 psi.
Side Note: If you are looking for the ideal sprayer for spraying thinned materials or stain and for handling your remodeling jobs such as painting your vehicle, furniture, fences, deck, this is it.
It is very easy to use and clean and has all the features you will need to accompany you in every project you are doing.
Check Out More Reviews and Ratings Here!
Astro Spray Gun: Things You Should Know
Brush hand painting usually lacks the precision and the finesse needed to perform an impeccable job.
A professional spray gun is a perfect tool to increase the effectiveness of the procedure and the quality of the outcome. And the Astro 4008 spray gun represents the pinnacle, taking things to a whole new level.
It is not about whether you need a spray gun or not. It is whether you need the Astro 4008 over any other similar item. And the answer is "Yes" for several reasons.
The Astro Spray Gun isn't your average paint sprayer because it is not just for painting furniture, cabinets, woods, or fences.
Rather, you can do more than that, which is one of the reasons why I like it. You can use it for primers, tops coats, acrylics, contact cement, picket fences, interior doors, or car doors.
Essentially, you can use it to spray everything on almost anything.
This is one of the sprayers that has helped many people achieve not just their DIY home projects but also external projects like painting your vehicles, which is not common with most of the other sprayers I have reviewed here.
We answer some of the questions you may have below:
The first thing you will need before working with this is an air compressor. You will also need a male coupling and an air hose to fit together before painting with it. You should be able to secure the coupling from any hardware store in your neighborhood. For the fit, the Astro Spray Gun works with 1/4 NPT connector fit, so if you don't have that, you can also ask and get it along with the coupling.
While browsing through customer reviews, I discovered that some customers are concerned about whether it is feasible to store this in a canister, seal it, and reuse next time. Generally, this is possible but it depends on how many days you want to leave it as is. If it is going to take several days, it might not be feasible. But if it will take a few days, then you can store it this way.
Moreover, you should note that this unit works absolutely well with polyurethane, epoxy, latex paint, cerakote, and lacquer. For latex paint and other thicker materials, you may have to thin it or water it down. This is why powdered coating, deck stain, and similar materials might not work so well with it because they are thick.
The gun on the unit will need external mixing, which you need to do at the airhead. This is located at the nozzle of the sprayer. The air pattern and the product are both adjustable, so you can tune them to your desired spray pattern and how fine you want your surface to be. Don't forget to also oil it through the air inlet, which is at the bottom of the handle.
Astro Spray Gun Sprayer Full Review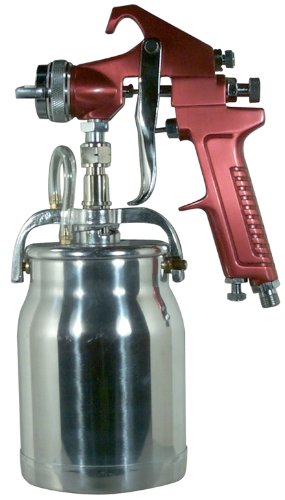 Nowadays, it is of utmost importance to have a paint sprayer in your home. They are lightweight, compact, and easy to use.
You don't have to call your handyman for small refinishing or basic repair when you have a nice little sprayer to get the job done.
With items like professional spray guns, you need to make sure you break down the benefits prior to purchasing because even the tiniest details can make the difference.
This being said, Astro 4008 comes with:
Increased Versatility
This tool is a perfect choice, no matter the nature of the job you need to be done.
It can deal with primers, top coats, contact cement and acrylics with the same ease and effectiveness; which makes it clearly superior to any other commercial spray guns.
It is due to this versatility that you can use it on a wide variety of surfaces like cars, wood or metal fences, interior doors or furniture and anything in between.
Talk about universal spray guns and the name Astro Spray Gun will pop in an instant.
Adjustable Fan Control
A tool that helps you complete the same job in less time is a priceless addition to your toolbox and this is precisely what Astro 4008 is meant to do.
The adjustable fan control allows for an 11 inch/280mm maximum pattern to satisfy an 8-inch spraying distance.
Such a feature is enough to ensure that the finishing touch is flawless, no matter the surface or the time needed to complete the job. The fan is constructed to be flexible so that you can have maximum control while painting.
Moreover, it comes with superb atomization that ensures that your painting is not going to turn out to be another average finish.
With the ability to adjust the fan size from 8″ to 11″, you can cut down the time on your job while getting better coverage versus when you use a brush or paint roller.
Innovative Air Valve Design
This is one feature that had to be mentioned separately, precisely because it adds so much to the overall quality of Astro 4008. The air valve is so well designed that it solves two crucial problems with regular spray guns in one go:
Faulty suction during tilting
Paint leaking from the recipient when spraying at certain angles
The fact that Astro 4008 deals with these two main faults means that you can use the spray gun at any angle, without worrying about the content dripping out or the gun lacking the suction power it needs.
This is a must-have feature when trying to cover surfaces that demand you to use the gun at awkward angles.
The Thorough Design
If there is anything else aside from efficiency that describes the Astro 4008 spray gun, that would be its overall design structure.
The aluminum 1-quart hermetic cup, combined with a solid metal handle and well-composed accessories, make up for one strong, reliable and efficient spray gun.
You also get a 1-year warranty on the construction materials and the workmanship, for a plus of trust and proof of its reliability.
A detailed Instruction Manual
Despite the fact that Astro 4008 is overall easy to use, the manufacturer included a detailed instructions manual in the kit anyway.
This comes with extensive information on how to adjust the fan size, how to set up the air supply or use the gun depending on the surface or spraying content you go for, among other crucial aspects.
You will even learn how to set up the supply, dial into the adjustable fan size, fan shape, and material rate. I considered this to be very useful if you are a beginner and/or if this is your first sprayer to try out.
Anti-Spill Air Feed Line
Another thing that's worthy of noting on the Astro Spray Gun is that you can hold the gun at any fill levels and still maintain proper suction.
This means there won't be any spilling from the canister, especially when you are in the middle of a long project.
This is unlike the sprayers I have seen from Wagner, Graco, HomeRight, and other household brands. It is constructed entirely from a metal such that it is so strong you will be using it for a long period of time.
And at this price point, I will say it's quite a deal if you are looking for versatility and flexibility in your remodeling projects.
Final Words on the Astro Spray Gun
As an overall conclusion, Astro 4008 performs great, it has no weakness and it is set to become a reference point in the hand painting industry. The almost flawless user feedback proves it.
If you have read to this stage, you should now be able to decide if this is for you or not. Click the button below to check out reviews, ratings, and recommendation from previous users on the Astro Spray Gun!
Check our Astro Spray Guns category for more ideas.