Looking for ideas on how to choose paint colors for your home? Then you are on the right page!
When you have access to a range of color, you can easily fill each room in your home with color and bring a fresh breath of air into the whole household.
However, if you are just thinking about how to choose paint colors for your home, the variety of colors out there may confuse you.
If you find yourself in this situation, you don't need to fret as we have compiled a few color combos you can try right away in your home.
Getting the Look: How to Choose Paint Colors for Your Home
The Billy Bookcase
The look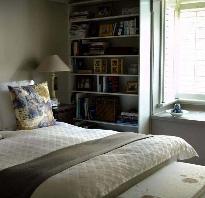 Clean lines, gleaming surfaces and open-plan simplicity aren't just for childless interior designers.
This renovation, for the McCarthy family by Dimensions by Design in Queensland, has created a comfortable contemporary home.
You don't need to use your bookcases for housing books only.
In this bedroom, a bookcase showcases a mix of books, magazines and other personal possessions (such as picture frames).
As the owner, you can also arrange your own bookcase in such a visually appealing way.
It provides an ideal storage solution and adds that soothing feeling that comes from having our "things" displayed around us. Fortunately, you don't need to break the bank to do this yourself.
Do it yourself
For a similar look, try the IKEA Billy bookcase.
You can expand this flexible storage system as your collection of possessions grows bigger.
For the best effect group books that are similar in size or color, alternating between horizontal and vertical stacking.
Intersperse with picture frames and other objects d'art.
This product can also incorporate lighting so is ideal for highlighting those extra special pieces.
2. Dramatic wallpaper prints
The look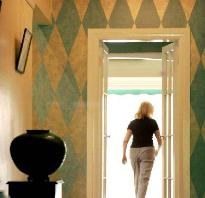 The dramatic duck egg blue and brushed gold harlequin print that features at the end of the hallway is the first thing you see upon entering the home.
Not only does it provide a fitting first impression to this grand residence but it disguises the wall's many surface imperfections.
As you can see from the picture, the black vase sitting on a deck creates a nice outline that retains the contrast in the room without taking away the beauty.  You can use this print for almost any room in your home.
The living room can also get a fresh look when you choose the right combination. Now that you have an idea what your living room or other rooms can look like, let's talk about how you can do this yourself.
Do it yourself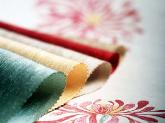 Wallpaper comes in a never-ending array of shades and patterns, making it a great way to personalize your home.
It is particularly useful for covering up flawed walls where paint has previously failed, and refreshing drab rooms.
Adequate surface preparation is vital to successful wallpaper application, so give the experts a call.
Try Laws Interiors for advice on sourcing unique wallpaper designs like the ones featured here (above and right).
3. Colored cladding
The look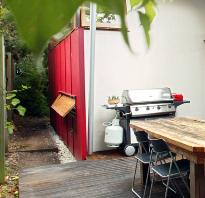 The rear addition to this weatherboard and fibro cottage is built from plywood – a lightweight and highly versatile cladding material.
Despite being painted bright red, the inexpensive material blends surprisingly well with the original home, but still adds a touch of individuality.
The main look on the cladding also exhibits less elegance and luxury, which means it is inexpensive and can be achieved even if you are on a budget.
It's one thing to be able to get a nice look (or even imagine one) and it is another thing to be able to do it yourself.
Take a look at our idea below to see how you can achieve this nice look with a less budget.
Do it yourself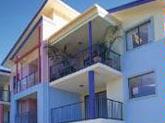 PlanelClad Sheets by James Hardie are ideal for interior and exterior wall cladding in renovations and new homes.
Quick to install, you can use them to contrast or complement other wall colors and textures.
Choose from two finishes hand-troweled, cement-rendered product that has a Mediterranean feel.  Or a rough-hewn board that gives the effect of band-sawn timber.
You don't have to think too much about this because both options will give you a cool, daring look just like the one in the picture.
But if you are looking for a recommendation, you can go for the latter as it'll be more rugged and give you a tough style if that's what you are looking for.
4. Stainless Steel Kitchen Upgrade
The look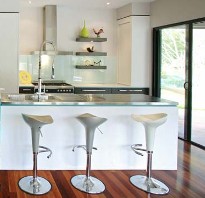 In the kitchen, a stainless-steel benchtop surrounds a large double sink, while a glass splashback covers the wall behind the stove.
These gleaming surfaces have two advantages: they look fantastic and they are easy to keep clean.
Timber floorboards bring warmth to the kitchen area and pod-shaped stools add a quirky touch.
Most times, you want to add a new look to your kitchen and make it the best. However, there are a couple of things to note in this decor.
First, it's designed to be mimicked on a bigger space. If you have a small kitchen space, you shouldn't bother with this one as it won't' quite give you exactly that look.
Also, it's going to be expensive, so if you are planning this on a budget, you may want to look at other designs in this article. We are going to be including a few more budget-friendly designs in upcoming articles.
Do it yourself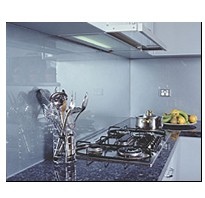 The Pilkington DecorPanel is tough, easy to clean and can be used for a variety of applications, including kitchen splashbacks.
The panels come in five colors white, black, blue, aqua and beige – and are available in either annealed or toughened form.
As you can see there is little contrast here but everything looks so inviting and gorgeous you would want to always visit your kitchen to have another look.
Makes working in the kitchen fun and enjoyable.
If you want to do this yourself, you should look at getting all the materials from one place.
This is because it will give you the opportunity to see how everything comes together and reduce your costs (and probably net you a discount).
5. Sexy tiles and a double spa
The Look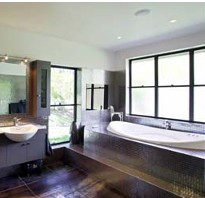 Katie McCarthy asked for a "sexy" ensuite bathroom – and that's exactly what was delivered.
Dark metallic mosaic tiles on the walls, a heated towel rack, a double spa and a flat-panel television are just a few of the luxury features incorporated into the design.
You don't have to visit a 5-star hotel before enjoying a spa. And you don't have to pay thousands of dollars to have one done for you.
With this design, you'll be able to achieve a lot for your bathroom.
The tiles look like those timber woods you see in people's kitchen which makes it look dapper. Combine that with the overhead stylus situated around the ceiling, you get a killer look.
Just make sure to match your rooms with the new look so you don't have to go to the bathroom to feel at home.
Do it yourself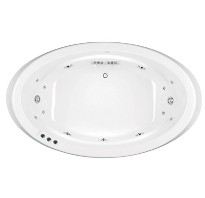 The Silver Q mosaic tiles used in the bathroom (pictured above) come from Sumner Park Tile Centre in Queensland.
The President from Stylus (pictured right) is an oval-shaped spa large enough for two people.
It features contoured design, double headrests, armrests and a variety of localized and diffused massage jets.
Remember that this is not the only thing you have to buy. It's just one of the most important items to give your bathroom a refreshed look.
Moreso, if you want to make your small bathroom look bigger, you should be able to do that with this and a few tricks we shared in this post here: 8 Simple Tricks to Make Small Bathroom Look Big
6. Living area features
The look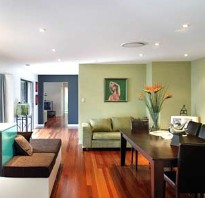 Carefully selected features, including paintings, sculptures, and vases, have been used to bring character to the living room.
The simply designed vase that sits on the table is filled with the bird of paradise flowers, which add a dash of color that contrasts with the olive and brown tones used elsewhere in the room.
The room doesn't lack variety and the look is quite a porch even though you can do it yourself and not spend thousands of dollars for a designer.
I actually like the floor here as it matches with the table in the center and the sofa on the right.
The wall also stands out and gives the room a distance look that makes it looks more spacious.
Do it yourself
The low-cost Kasern from IKEA is a simple vase that suits contemporary interiors.
To complete the look, four bird of paradise flowers from 7 Days Florist (who deliver Australia-wide) will cost you $28 plus delivery fee.
If you can't find this in the IKEA catalog, you can also check out some of the other big name retailers for this.
It's not an absolute must that you buy it from the company but they are the recommended one here because of the reliability they've built up during the years for this kind of material.
Remember when you are buying these things for your home decor, one thing that should always top your priority list is durability and this is what you get from this company.
7. Reworked Decking
The look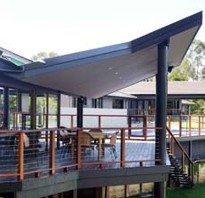 The extensive use of timber decking around the house extends living areas into the outdoors, making the most of Queensland's temperate climate.
The decks are bounded by timber railings strung with taut wire.
An outdoor table setting large enough to accommodate a full-scale dinner party completes the area.
This setting is good for a good outdoor space where you can rest and take some visitors.
What's even nicer is that it looks dark and the design shines through.
A good recommendation is to try to even make this better by not only sticking to the color palette but to also make sure that you maintain the same design. Fortunately, you can achieve all these with one of the best paint sprayers.
Do it yourself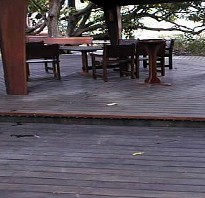 Timber for decking is available recycled and new.
The manufacturer of the decking will be able to tell you which species of timber will survive best in harsh weather.
Timber decking from Ironwood Australia (pictured) has high durability and oil content, and a lower amount of gum vein than some other types of timber.
It is available in cream, red and brown.
And you don't have to outsource this too since it's something you can achieve with only a few materials compared to the other designs on this list.
This is favorite of many people because it's easy and cheap to construct and shouldn't require too much to maintain.
8. Seamless home entertainment
The Look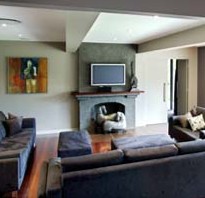 The plasma television in the lounge room illustrates how flat-panel technology is changing home entertainment.
When not in use, the television hangs unobtrusively above the fireplace, blending with the couches and art pieces that decorate the room.
But once you switch it on, it becomes the focal point.
Once again, the honeyed tones of the timber floorboards add warmth to the otherwise muted color scheme.
This looks enclosed and tight especially the closeness of the sofas. Although the color palette makes it look a bit dark, the fireplace is going to bring a gorgeous brightness to the room once you light it.
Do it yourself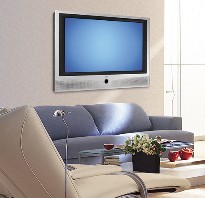 The Loewe Xelos A 42 DVB-T plasma is a widescreen television with an integrated digital tuner.
First, you can hang it on the wall or in a stand, and thanks to its 1024×1024 resolution it will have no problem coping with the demands of HDTV.
You should also get a matching sofa and makes sure they all have the same design.
Even if you are going to surround the room with the sofas, you can maintain some sort of balance and uniformity when they all have the same design.
Another thing you should pay attention to is the flower in the middle. It doesn't have to be any specific one but a tall one that isn't blocking the TV will work great.
Getting the Look: How to Choose Paint Colors for Your Home
Now that you have all the ideas, you should now be thinking about which design will work best for your home. Since there are many on the list that you can choose, make sure it's the best for your home.
If you already have a design in mind and you see something that matches here (but needs a few modifications), then going for that will reduce the costs of materials as well as the time you need to complete the renovation.
As you can see from this article, learning how to choose paint colors for your home is quite easy if you know where to look and what to do with the right resources.
Want more paint sprayer tips? Check out our other articles on: