Every decorating magazine and website
has hundreds of decorating ideas.
The sheer volume can be intimidating.
How do you know which ideas work?
---
Let's start with the basics.
The decorating ideas and tips outlined are used by interior decorators because they work.
If you follow the process, you'll be amazed at the outcome.
Without hiring a professional decorator, you can achieve professional-looking results.
So what are the home decorating ideas that work?
Decorating Idea #1: Have a Plan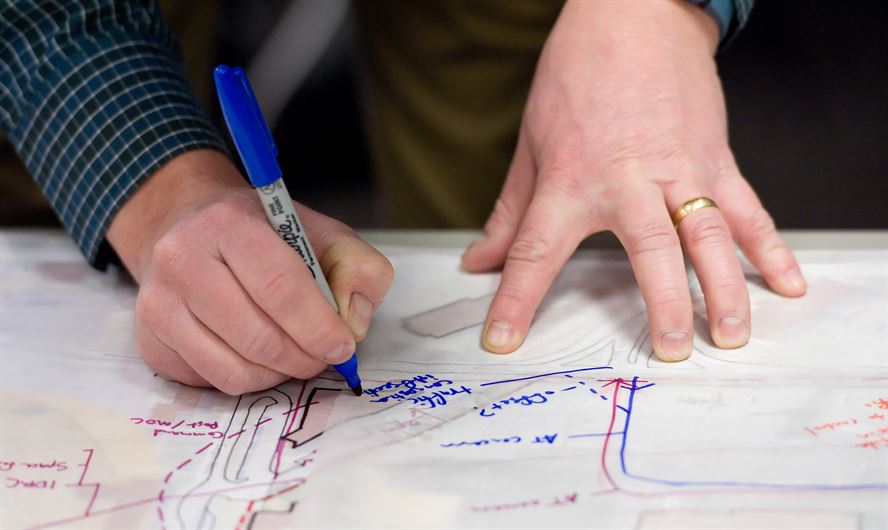 I know everyone's first tendency is to run to the nearest design center or fabric store…resist the urge!
Start with a plan. You will easily find yourself side-tracked if you don't.
First, determine the scope of your project.
Decide what it is you want to accomplish.
Are you doing the entire room?

Replacing only the upholstery pieces?

Will it involve painting & re-carpeting?
Once you decide on the extent of your project, there are more questions to ask before you head out the door to the store.
What are the special considerations you need to address?
Is it a heavy traffic area?
Do you need to minimize the glare on the big-screen TV?
Does it need to be child and pet-friendly?
Do you need to create a focal point?
Do you have a date it must be finished by?
These questions should trigger others specific to your individual project. Write them all down. Take time to carefully answer.
BOTTOME LINE:

When you are done, you will have a list of what you are going to do and the issues you need to consider. It may sound a bit overwhelming, but when you write everything down, it gives you a map to follow.
Decorating Idea #2: Determine a Budget
I can't stress how important it is to develop a budget. It's not only knowing how much you can spend.
You also need to know how much you should spend.
If this is your first home, and you intend to move up in a few years, you aren't likely to spend as much as you would on your "dream" home.
On the other hand, if you don't see yourself moving in the foreseeable future, decorate to your heart's content!
If you haven't redecorated in a while…go on a scouting trip.
Head to the nearest home design center and furniture stores. It will bring you up to date on current styles and prices.
Seeing what is available and the cost is a great way to develop a realistic budget. It will help you decide where your money is best spent.
Keep an eye on your spending as you work. Don't be surprised if your budget or plan has to be adjusted in the middle of your project. You may find you have to spend more or put off a few purchases until later.
BOTTOM LINE:

There always seem to be little "unexpected" expenses that throw a budget off. Once you determine your budget, it's a good idea to add 10%-15% to cover the "unexpected".
Now that you have a plan and a budget…on to the fun stuff! 


Decorating Idea #3: Decide on a Color Scheme
There are numerous ways to do this.
For the color-challenged, one of the easiest ways to do this is with an inspiration piece.
If you don't want to spend weeks deciding on colors (and you can!), it's also one of the quickest ways!
If you have a painting you love, a multi-colored area rug or a favorite colorful fabric, then you probably have your inspiration piece.
You know the colors work well together… you can see them together right in front of you.
Take your inspiration piece to the paint store. If it's too large to carry, take a picture. Digital cameras are great for this! Take it with you to the store and zoom in on the color you want to match.
Using the inspiration piece, select all the paint chips you think will work in your room. Take them home and decide where in the room to use them.
BOTTOM LINE:

There are no hard and fast rules. Keep in mind, the more colors you use, the busier and less restful your room will feel.
Decorating Idea #4: Define Your Decorating Style
Not sure what it is? This tip should help.
Take the decorating magazines you have piled beside your chair. Mark the pages with rooms that appeal to you. They don't all have to be rooms you want in your house…but something in the photo grabs you.
Now, lay as many of the pictures in front of you as possible.
People often have trouble verbalizing what they like…
but they know it when they see it.
Examining the pictures you marked will give you a good idea of the mood and style you are comfortable with.
When doing decorating workshops, I use a quiz to help you define your style. You can take it by clicking here. 


---
I intended at this point to go into greater detail on color and decorating styles. However, I discovered a fantastic e-book that covers everything I wanted to do.
For further insight into color and decorating styles, check out Moorea Seal e-book on home design.
Her e-book,  Make Yourself at Home: Design Your Space to Discover Your True Self, contains a wealth of information on over a dozen decorating ideas that encourage you to design your space to suit you and your style [even if you are an amateur].
I was greatly impressed with the depth of her coverage. 


---
Another Great Decorating Idea…FENG SHUI
I am always searching for ways to create beauty, harmony, and balance in my environment.
Several years ago this leads me to the Chinese art of Feng Shui. Feng Shui is the ancient Chinese practice of creating the ideal environment in which to live and work.
Gain an Abundance of Love, Wealth and Happiness by EMPOWERING yourself with Tools of Feng Shui. Decorate your Home and Office with basic Feng Shui for amazing results…
"Feng Shui for Life" gives far more information and insight into the subject than I ever could.