Are you looking for an unbiased, honest, complete, and up-to-date review of the Graco 17M363 Ultra Cordless Paint Sprayer? Then you have just landed on the right page.
After spending several hours reading other reviews on this product, researching customer experiences, and past performances, I have come up with a comprehensive review of this sprayer.
Before we get into the details, check out the overview of the key features below:
Maint Features of the Graco 17M363 Ultra Cordless Paint Sprayer
The sprayer features a Triax Triple Piston pump with ProConnect
It is powered by the DeWalt XR Lithium Ion System
Able to give you the perfect airless finish at any speed
It is fully repairable which ensures extended use
Comes with 2 standard batteries
Weighs 11.6 pounds and measures 17.2 x 13 x 7.5 inches
It is able to output 2000 PSI max pressure
The sprayer will spray oil based paints
Pros of the Graco 17M363 Ultra Cordless Paint Sprayer
The Graco 17M363 Ultra Cordless Paint Sprayer is suitable for smaller projects
Worked out of the box
It is more convenient to use than HVLP sprayers or paint brush
Saves you hours of work
It can spray a lot of paint in a short time with its 2,000 PSI capacity
Makes painting easy if not fun
Cons of the Graco 17M363 Ultra Cordless Paint Sprayer
The sprayer is a bit pricey
Graco 17M363 Ultra Cordless Paint Sprayer: Things You Should Know
If you are buying a Graco airless handheld cordless paint sprayer for the first time, you deserve to know all about it.
And if you are buying a paint sprayer for the first time and take a fancy to this model, there are a lot of things you need to know.
Some of the important things you should know are here before the actual review:
According to the manufacturer, the Graco Ultra Cordless Airless Handheld Paint Sprayer is exclusively for small interiors, exteriors, and specialty projects. If you find yourself needing to do any of these jobs, this handheld sprayer will equip you with complete portability on the job, perfect airless finish and it is ready to spray in seconds.
With the Graco 17M363 Ultra in your arms, you don't need to start up your large airless sprayer for smaller jobs. And if you are a contractor, you know the importance of getting the perfect airless finish or good coverage in a single coat.
You don't need any thinning to use any paint with the Ultra Cordless Sprayer and you can get that smooth operation from it even at any hand speed.
There is also a corded version of this product that is similar in terms of features that you will derive from them. The model with a cord is called the Breakout Ultra while this model is known as the Ultimate Ultra.
Unlike the other model, the model we are reviewing in this article comes with a battery and is widely available (more than the other version) and you can easily order one online and even check out previous user reviews before buying.
Graco 17M363 Ultra Cordless Paint Sprayer Full Review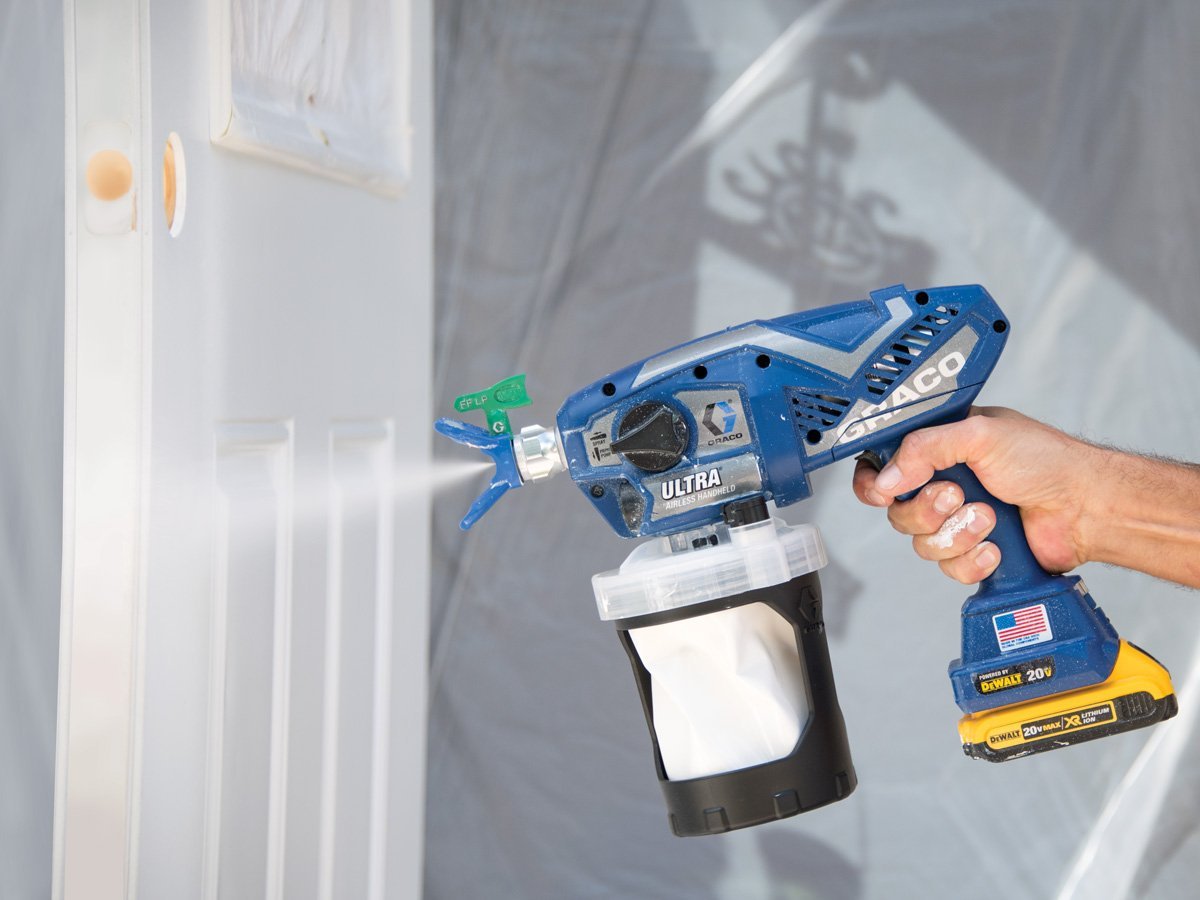 The handheld series has been around for more than 5 years and people have been using them in various painting projects and getting good results.
3-LED Fuel Gauge System
This sprayer features a 3-LED fuel gauge system that allows you to see the state of charge, a 30% faster charge time will give you an extra 35 minutes and you can spray up to one gallon with each charge.
Zippered Graco Bag
The unit features a zippered Graco bag that has a pocket inside it. This is a good feature for sliding all relevant items you will need on the job and helps you get started quickly without carrying out a big molded case.
Easy to Setup
It is very easy to setup, convenient to use, light in weight and comes with lots of power.
This sprayer is suitable for small jobs or touch-up work and with the DeWalt batteries that come with it, you can use it with any of your other power tools if they are from DeWalt too.
This is an added advantaged of buying this model compared to buying other airless or HVLP paint sprayers.
Innovative Cup
Compared to other brands in the same category, the cup that is found on the Graco 17M363 Ultra Cordless Airless Handheld Paint Sprayer is new and sort of an innovation.
In this model, the cup is called FlexLiner and you can easily unscrew them from the unit.
There is a flexible liner that is placed inside a molded plastic cup housing, which makes it lightweight and good for those who have been clamoring to see what goes on in the cup.
Most users don't often have the opportunity to see the level of paint as they paint and somethings the paint finishes and cause the machine to clog.
With this Ultra Cordless sprayer, you can see as the paint goes down and know exactly when to fill it with new paint.
Inside the cup, there is no flexible down tube. Instead, a filter has been included and fit upright inside the inlet that transfers the paint from the cup to the gun unto your paint surface.
The cup is actually a see-through so that you can see what the paint looks like in there. Another advantage you have with this is that you can have an extra cup prepped and filled with paint and ready to go.
Ideally, you do this before you start any project. With this, you can easily switch up the cups when the paint in the first one finishes and plug in the extra one and continue spraying without stopping.
This is especially great for a small project that doesn't need more than two painting cups filled up.
Transparent Priming
There is also a Vacu-valve on the unit. This is a simple valve that has a small reservoir and is located on the top of the cup. This is what makes the priming of the sprayer seamless process.
There is a small pinhole on the valve where the priming is done so you can feel it with your own hands and see how everything is happening while priming which brings a lot of transparency into the process.
Different Versions, Different Advantages
The cordless version has the Fine Finish Low-Pressure tip that is usually found in most airless sprayers and that is a new feature that wasn't included in previous models in this series.
The older models have a different tip but the advantage of this one is that it is reversible. This means that it is very easy to unclog during any project without losing traction.
Speed Control System
The unit also comes with a speed control that is located at the back of it. This is where you can control the motor speed and you can choose from 1 to 10.
What this does is to help you get different speed for different projects.
When you change the settings, you will see a different speed and consistency and it allows you to start at a much lower speed and move your way up. One way of reaping a huge benefit from this is to try a test pattern.
You look for a plastic or wood – that you obviously don't need anymore – where you spray on a plastic or metal until you get the feel for what's going to work best for your project.
When done, you will be able to work with more reliability and in a uniform way.
Powerful 

DEWALT XR Lithium Ion System
Another feature of this unit is the 20 volt XR battery which can be used on wall drills if you have that or similar tool that uses the same battery.
The unit actually comes with two of these batteries and a charger as well so it's easy to change when it's on the low side.
Also, the battery is lightweight so it isn't going to add a whole lot of weight to the machine when you start using it.
The unit is able to give you up to 2,000 PSI and with the powerfully strong battery, it is much quicker than an HVLP sprayer. This makes it closer to the power of an airless paint sprayer even though it is just a handheld sprayer.
Quick and Easy Cleaning
The cleaning a lot easier on this model because it is using a filter. After painting, the filter will get some paint on it.
But using a toothbrush and water, all you need to do is reverse the tip and blow out the paint and that's it.
Give it a good rinse with a cup and you have a clean slate without worrying about cleaning the inside tube or having to stick your hands in the plastic cup for the sake of clean which can even take time.
Should You Buy it?
One of the advantages of this unit is that it is better than using a paint brush. A task that might take you twenty minutes to get a good coverage will only take you a minute or two on this.
Moreover, the first coat is always excellent and comes with a nice coverage.
It is easier to use than bigger airless paint sprayers and faster than most HVLP sprayers. So, if you don't want to set up big machine or handle some products you don't want to use a brush on, you will get good results with this unit.
This makes it a good buy.
Final Words on the Graco 17M363 Ultra Cordless Paint Sprayer
The price point of the Graco 17M363 Ultra Cordless Paint Sprayer is actually on the high side considering the price can start from $300 and up to $600.
It might be expensive and may not even be your favorite or only sprayer but the convenience you can derive from this sprayer is immense.
If this is what matters to you, you need to get this unit. If you are looking at handling projects like door or latticework or on your exterior porch rail system, deck rail, you know you might spend hours brushing or rolling paint on them.
A handheld tool like the Graco 17M363 Ultra Cordless Paint Sprayer helps you achieve these in minutes instead of the hours and you don't have to suffer back pain or ache after your done with the job.
Want more Graco paint sprayers reviews? Check out our other reviews on: