This is an unbiased review of the Graco Magnum 257025 Sprayer. In order to provide you with complete information and a detailed guide, I have researched the experience of users on the product, expert advice, and other reviews before coming up with this article.
By the end of this review, you should be able to confidently purchase this product.
Main Features of the Graco Magnum 257025 Sprayer
The sprayer comes with fully adjustable pressure control so you can have total command over paint flow
You can spray unthinned paints even at high pressure with the Stainless Steel Piston Pump
Store the extra spray tips, power cord, and spray gun in extra storage compartment provided
You can use up to 50 gallons per year
Cleaning is easy with the ability to attach to a garden hose
You can spray directly from 1or 5 gallon paint thanks to a Flexible Suction Tube
Reverse the tip quickly while spraying with Reverse-a-Tip technology
Use any hose up to 50 ft. on this unit
There is integrated pail hook to put your paint bucket
Offset handle allows you easy carriage of the sprayer
Comes with the user instruction manual, 25 ft. paint hose, quick startup guide, and Pump Storage Fluid
The sprayer weighs 15 pounds and measures 12 x 13.5 x 13.5 inches
Comes with 1-year limited warranty
Pros of the Graco Magnum 257025 Sprayer
No need of emptying or filling up any vessel since you can spray straight out of a 1/5 gallon drum
The delivery hose is long enough that you don't need to move the paint sprayer and container very often
The nozzle barrel arrangement is reversible for quickly clearing a blockage which means easier and faster cleanup
Pump only operates when demanded so the piston pump can last longer
You can paint upside down or side to side
It comes apart easily for cleaning
Cons of the Graco Magnum 257025 Sprayer
Requires excessive paint for setup which may lead to wastage
Priming may be very difficult to do especially for beginners
This unit cannot be repaired or fixed when it develops a fault
Parts may be expensive
Graco Magnum 257025 Sprayer: Things You Should Know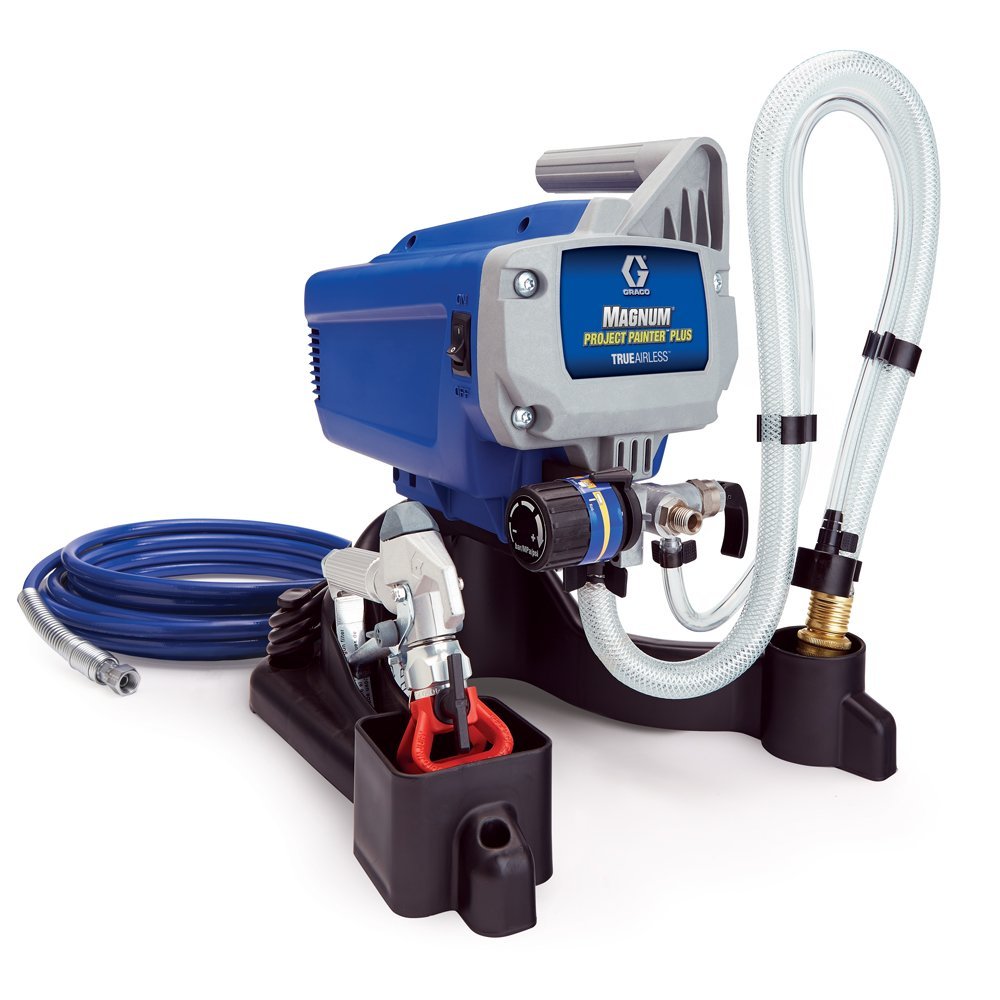 Before buying this sprayer, it is important that you learn all you can about it. If this is your first time of reading reviews, you will definitely find there are a lot of things you need to know about this model.
The first thing you will notice from this sprayer is that it doesn't have an air compressor. Instead, it is an electric sprayer and an airless sprayer that needs to be plugged into a 110v outlet.
It can be used indoor or outdoor and many customers have reported that it has very low overspray. In as much as you are not spraying on a windy day, you should be able to spray outside without experiencing so much of a problem of spraying items you don't want the paint to get on.
The largest tip size this sprayer can support is a 0.015 inch. This means you can't use a 23 or 25 tip size on it. Unless you are looking for a professional sprayer or a bigger setup, this tip size should be adequate for most household projects.
One of those features is a fully adjustable pressure, allowing users to have full control of paint flow. Also, there is a stainless steel piston pump which allows users to use the sprayer at high pressure.
The RAC IV SwitchTip of the sprayer enables users to reverse the tip while clogging to keep spraying. In addition to all above, the sprayer has a flexible suction tube, which means users can spray directly from a one or five-gallon paint bucket.
Graco Magnum 257025 Sprayer Full Review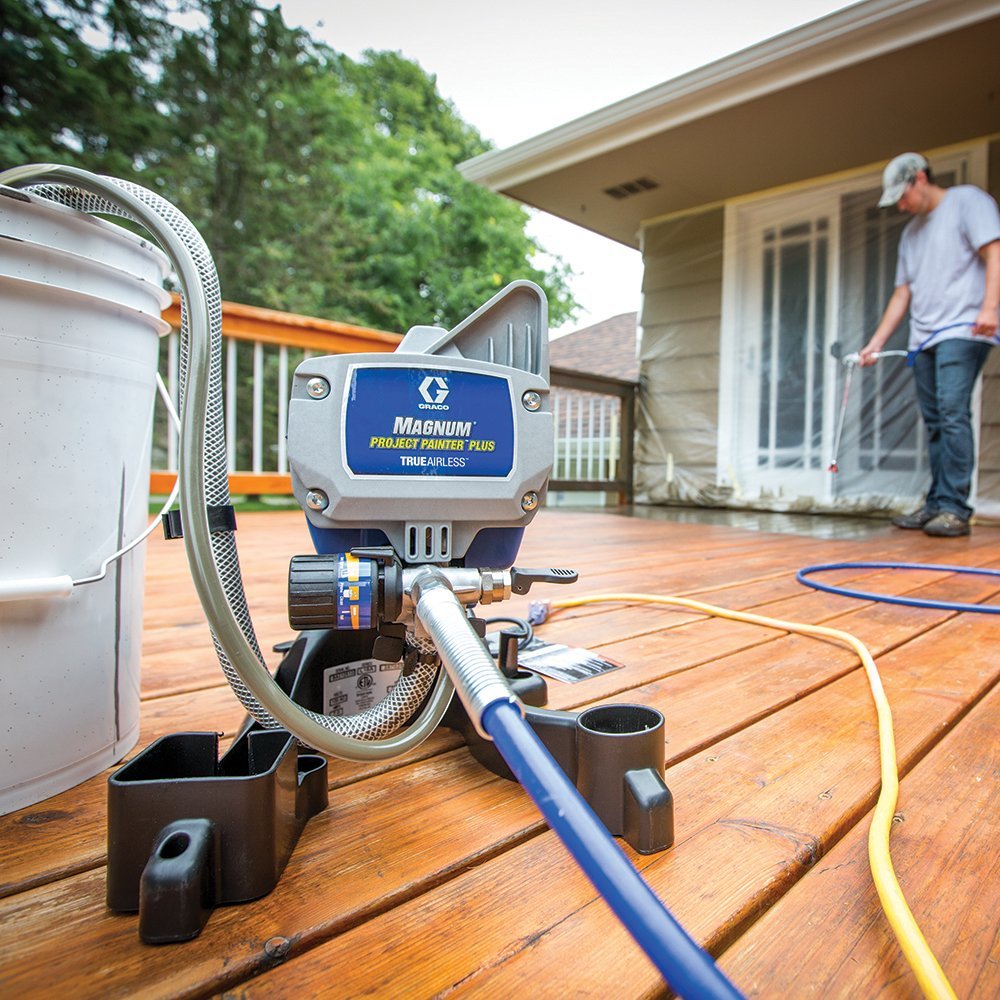 Now that you know the necessary things about this sprayer, the next thing is to know what the features of this sprayer are and what they can do for you.
These features are explained below:
Stainless Steel Pump
One of the advantages of the Graco Magnum 257025 Sprayer is its stainless steel pump.
For almost all users, the last thing they want to see from the sprayer is that there is stain leaving on the sprayer, or on their clothes after they finish the job.
This can greatly decrease the satisfaction of the spraying experience. This sprayer can prevent this from happening, and at the same time ensure smooth operation when used at high pressure.
Fully Adjustable Pressure
Another point to mention is the full control enabled by the fully adjustable pressure. This is another important feature that can determine the outcome of the spray.
For advanced sprayers, employing different pressures when spraying is an important technique to ensure the spray is well done.
Therefore, control of paint flow is a core concern of them. Therefore, it is believed that customers will be happy with the ultimate control they can get from the adjustable pressure.
User-Friendly Design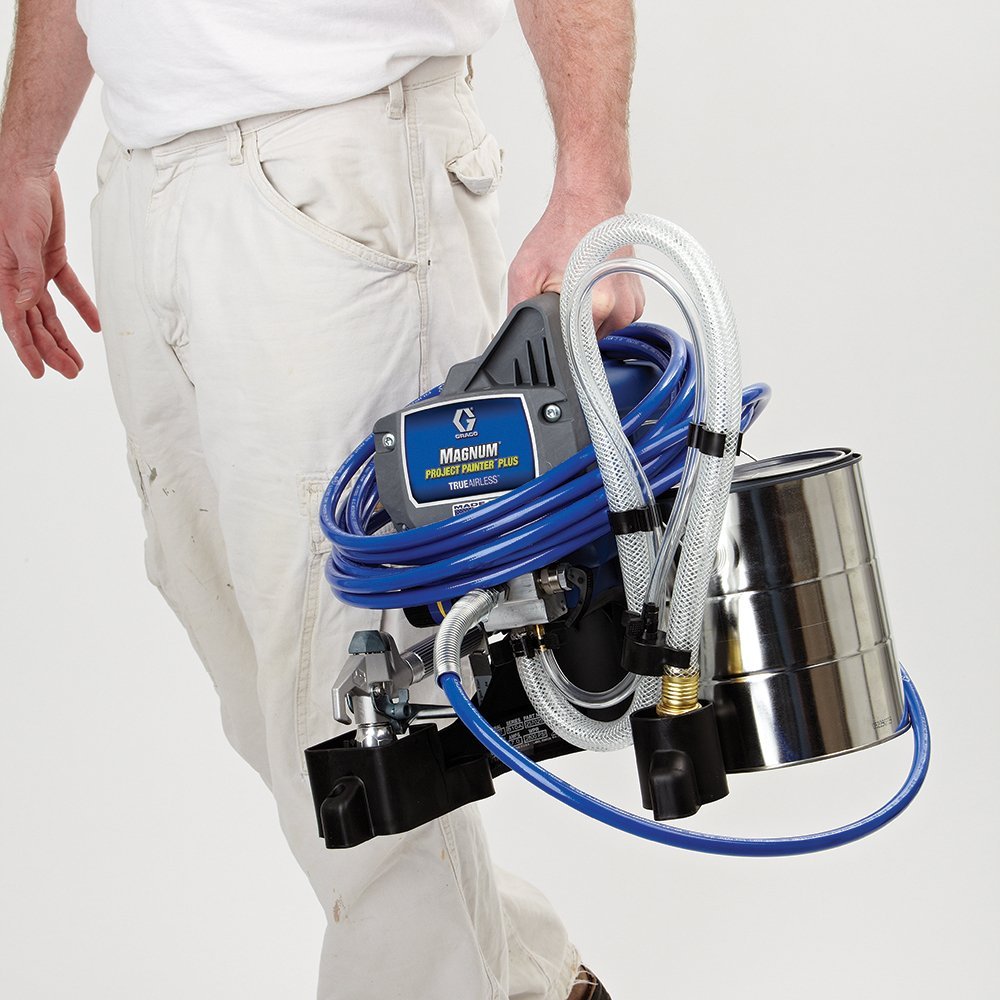 Regarding the design, the sprayer is also very user-friendly.
For example, it has a long delivery hose, meaning that users do not need to move the sprayer and paint container very often.
As a result, users can use less energy when doing the spraying work.
Besides, the nozzles of the sprayer can be set at either horizontal or vertical so the users can choose the direction of the paint, allowing flexibility and better control of the work they are performing.
This is one of the factors that endears the Graco Magnum 257025 Sprayer to most of the previous users.
Fortunately, it is not that expensive so it is available to a wider spectrum of user base and enthusiasts.
Cleanup
After doing the job, many customers will usually concern about the ways to effectively clean the sprayer. According to the users, cleaning the sprayer is very easy, and this does help users in saving their precious time.
At the same time, it is also important for customers to know that the cleaning process will be clean—the paint will not mess around the houses and the hands of the users.
Customers are happy to report that this does not happen to them.
Spraying Speed
Lastly, it must also be mentioned that the speed of spraying is satisfactory. If a sprayer only delivers paint out at a slow speed, then maybe painting even a small area will take forever.
By adopting a design that allows quick paint delivery, the Sprayer allows users to further save time and enhance their working efficiency.
Customer Reviews and Ratings
Going through these Graco Magnum 257025 Sprayer reviews will help you understand what the product is about and be able to decide if it is for you or not.
The most important things you need to know will be covered in this section, so read on:
Some of the benefits and problems users have faced with this sprayer will be considered here. First of all, several customers reflect that the durability of the sprayer is in question. For example, one of the customers stated that the sprayer failed to effectively produce paint after several uses only.
Other customers also report that the delivery hose is broken after using the sprayer for merely three times. They are therefore disappointed with it.
Another problem was delivery mistakes. A couple of customers complained that they got a defective product. This means that the sprayer they get, freshly delivered, just does not work. They expressed their huge disappointment on this issue since the refund or replacement procedure creates another source of trouble for them.
Some customers are not happy with the quality provided by the sprayer given the price of the sprayer, which is $$$. They consider that the price means that a professional sprayer is expected, but some areas of the sprayer fall short of that standard. For example, some customers find out that the sprayer does not work well with one particular brand of the paints they have.
Some other commented that the sprayer will create some stinky smell. Therefore, while they admit that most of the features and functions of the sprayer are good, they do not justify a price at $$$.
Final Words on the Graco Magnum 257025 Sprayer
In as much as you have the right paint, you can paint kitchen cabinets, spray stain on log cabins, and be able to spray oil-based or water-based paints.
You can also use the tip that comes with it for stains since stains typically require a smaller tip size such as 0.011 to 0.013-inch tip.
However, the Graco Magnum 257025 Sprayer may not do a good job in painting texture as the spray tip on it is too small for a texture as it is too thick to pass through.
All in one, the Graco Magnum 257025 Sprayer is a very powerful project for smaller to medium household painting jobs and reasonably priced.
Want more Graco paint sprayers reviews? Check out our other reviews on: