Whether you are looking to change the look of your home or want to save thousands of dollars, the HomeRight C800879 Power-Flo Pro can do it for you.
The Power Flo Pro allows homeowners to paint their home as a professional using a piston pump technology.
If you have read any of the reviews on this website, you will see that I go into great details about the nuances of each sprayer I review here. All the features will be explained and you will be able to taste the performance of this sprayer before you buy it.
You will also learn all the advantages and drawbacks you will experience as a potential owner in this reviews. Without further ado, let's dive in:
Main Features of the C800879 Power-Flo Pro
You can clean the unit by running a solvent or cleaning solution of water through it
It features a 25 ft. airless hose that's long enough for common painting tasks
You can remove potential clogs with its reversible spray tip
Pressure control knob allows for easy dialing of the right spray pattern
Suitable for spray painting large projects like sheds, fences, garages, etc.
Can push out up to 2800 Pounds Per inch and 0.24 Gallons per minute
Thanks to a 1/2 HP motor you can spray thick paints at high pressure
You can enjoy more portability with the top carry handle
The sprayer draws material directly from a 1 or 5 can
Pros of the C800879 Power-Flo Pro
This unit can handle large household projects
Very powerful and easy to clean
Comes with a filter that is easily replaced
It can spray all sorts of materials
Priming is easy with this sprayer
Able to spray even coat and finish
The gun can reach corners, nooks, and crannies than brush
Cons of the C800879 Power-Flo Pro
Short suction tube
A bit pricey
Takes a bit learning to get used to it
What's in the Box?
25 ft. airless hose
Spray Gun
515 Reversible Spray Tip
50-mesh spray gun filter in spray gun
Power-Flo Pro Sprayer
HomeRight C800879 Power-Flo Pro: Things You Should Know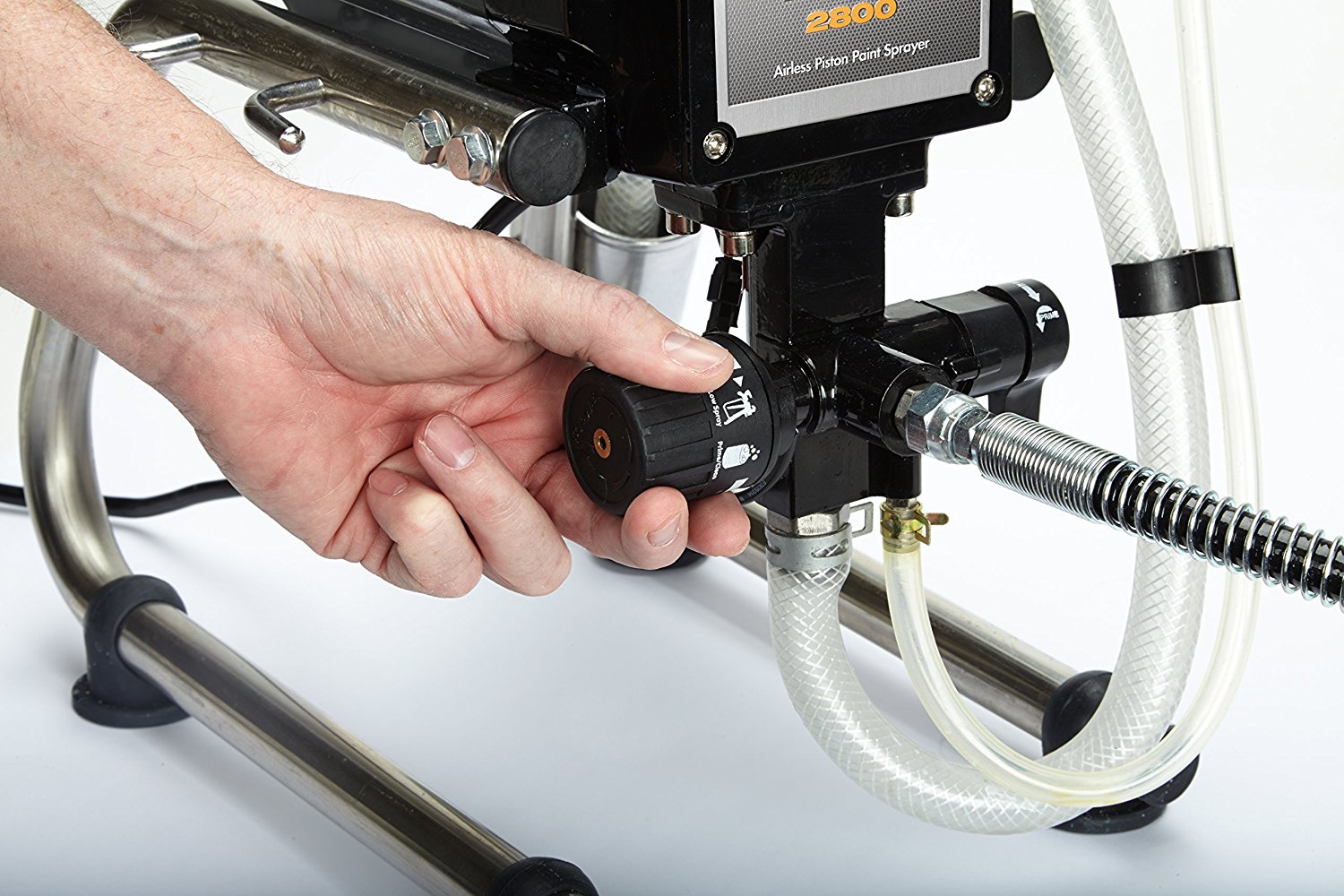 Before buying this sprayer, it is important that you learn all you can about it. If this is your first time reading HomeRight C800879 Power-Flo Pro Sprayer reviews, you will definitely find there are a lot of things you need to know about this model.
Going through these reviews will help you understand what the product is about and be able to decide if it is for you or not. Some of the most important things you need to know will be covered in this section and the next section as you read on.
The HomeRight C800879 Power-Flo Pro 2800 Airless Sprayer is most suitable for professionals and large projects considering the makeup of the gun. The gun is chrome plated with carbide spray tip and features a high-pressure trigger. This is responsible for easing the spraying of thick materials at high pressure and doing it quickly.
The spray gun is made from metal, comes with a swivel and is professional grade. Cleaning clog is also easy because of the reversible spray tip. And priming is a seamless process with the fast prime switch that's built into the model.
Because of its powerful features, you can now handle large household projects that are hitherto intimidating. You can do both painting and stain yourself with the help of this sprayer and still save thousands of dollars.
The advantage is that you will still be able to get a beautiful finish especially if you know how to maneuver your way with a paint sprayer. You don't need to use roller or brush when painting your shed, fence, home exterior or garage when you have a heavy-duty spray that can help you apply even coating to uneven surfaces.
Full Review of the HomeRight C800879 Power-Flo Pro Sprayer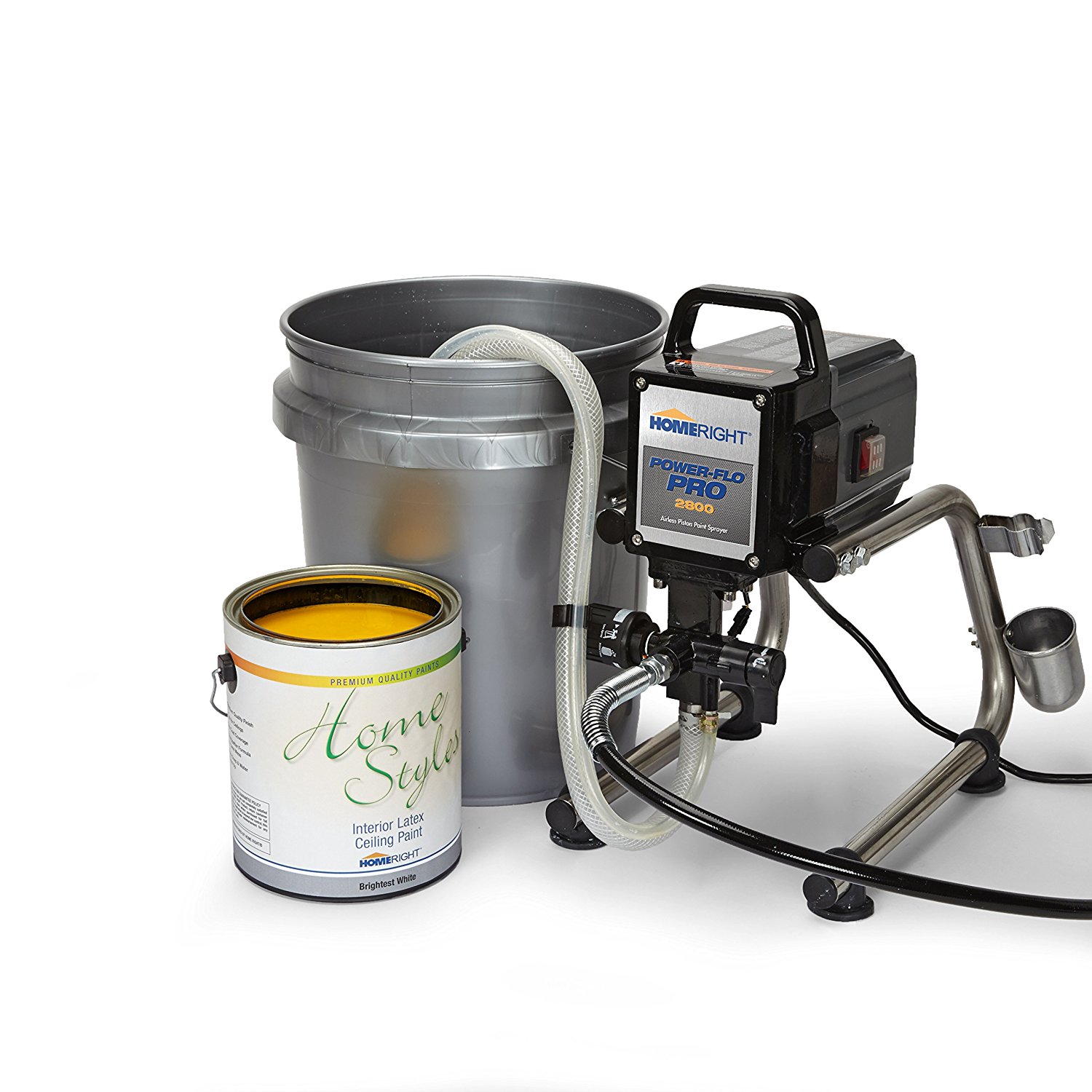 The Power Flo Pro also allows you to spray any kind of materials thanks to its ability to handle a pressure of 2,800 PSI (Pounds Per Square Inch).
Whenever you want to target large projects, simply turn to the Power Flo Pro and it will give you professional results and let you finish faster.
Unlike other models I've reviewed, this unit is fairly easy to repair. There are some models that have that parts scarce or they are just not repairable. Not only can you repair this unit, but it's parts are widely available for you.
Available Parts
The unit will come with a manual with a breakdown and a list of all the parts you will need. Moreover, you can get further with an internet search for your specific model and the parts that are available for it.
Another advantage of this sprayer is that it comes with everything you need to start painting except the paint. It simply works out of the box once you have the paint you want to use prior to getting it.
Although this is a big sprayer, assembly the spray gun is fairly easy and quick. What this means is that you will have more time painting than reading the manual which takes some time to understand and peruse.
The tip of the spray gun is also reversible, which means clogging can easily be eliminated saving you a lot of downtime in the process.
Pressure Control
Another thing you will like about this sprayer is that it has a good pressure control setting. This setting allows you to adjust the flow of the paint so that you can dial in the perfect spray pattern to match different project types.
If you are a DIY enthusiast and you love doing all your own painting jobs, you will find this is very useful for you. The HomeRight C800879 Power-Flo Pro 2800 Airless Sprayer comes with a top carry handle.
This makes it portable and easy to maneuver and move it around as you paint.
And because it can draw paint directly from a 1 or 5-gallon canister, you won't have a problem if any of your projects require portability.
The Hose and Knob
You have the 25-foot hose spray gun with a 515 spray tip and guard. There is also a lubricating oil included with the sprayer. This comprises all the components you will get when you purchase the Power Flo Pro.
The sprayer has a pressure adjustment knob, prime spray knob, and power switches, siphon hose and the return tube.
Why Should You Buy the HomeRight C800879 Power-Flo Pro?
This sprayer is also backed by a 2-year manufacturer warranty. What I like about this is that you will have enough time to test out all the features of the sprayer and discover it's hidden capabilities or whether it is incompetent for what you want it to do.
If you are a power user, you will quickly identify if it is short of its functions and return it if you are not satisfied. And if you are starting out for the first time, you have enough time to test things out before the warranty runs out.
Final Words on the HomeRight C800879 Power-Flo Pro 2800 Sprayer
Before you get started, make sure that you keep the manual and read and understand all the safety precautions
and warnings. This is very important if you are a beginner or this is your first big sprayer.
Before you start painting with the Power Flo Pro, you want to flush the unit out. You can do this by attaching the spray gun keeping the tip and guard off until you flush the unit.
Now take the pressure adjustment knob and turn it counterclockwise all the way to the minimum pressure.
Then take the prime spray knob and flip it to prime. Plug the unit into a grounded outlet and take the hose and place them in a warm soapy water and turn the unit on to flush it out.
At this stage, you are ready to purchase the HomeRight C800879 Power-Flo Pro 2800 Airless Sprayer so check it out.
Want more Homeright paint sprayers reviews? Check out our other reviews on: