Although there are many brands out there that produces paint sprayers, some brands actually stand out and this is the case with HomeRight and why I'm writing this HomeRight Paint Sprayer Reviews.
If you have used a paint roller or brush before, you know how difficult it can be to work effectively, especially if you are very conscious of time.
Instead of wasting thousands of hours and efforts and potential pain in the back or hand ache, you can actually get yourself one of the home right paint sprayers on the market.
They are heavy-duty and have been performing excellently to date. In this review, I'm going to show you some of the top sprayers from this brand and what you need to know about each model.
Without further ado, this is the HomeRight Paint Sprayer Reviews so enjoy!
HomeRight Paint Sprayer Reviews:
The HomeRight C800971 Super Finish Max HVLP Sprayer

HomeRight C800766 Finish Max Fine Finish HVLP Sprayer
The HomeRight C800863 Airless Spray Gun

HomeRight C800917.M 2-Speed 8.0 GPH Heavy Duty Paint Sprayer
HomeRight C800971 Super Finish Max HVLP Sprayer

If you are looking to create professional finish on your furniture, fences, cabinets, decks, or walls, you will find the HomeRight a good sprayer for the job.
It comes with 2.0mm, 4.0mm and 1.5mm tips that you can interchange so that you can derive absolute versatility in your project.
Also, you can easily control the volume of paint that the unit sprays by changing from 1″ to 12″ with the volume control knob.
Along with the other two air caps, you can customize your spray pattern according to your needs without wasting too much time.
The sprayer packs a complete 450 watts of power that will help you spray thicker paints like lacquer, latex, and enamel without going amok with thinning.
Now you can handle larger projects and still save time. And with the 39-ounce container, you will spend more time painting than refilling the tank.
There are some models out there that require you to use an air compressor else you will not get a good finish.
But with the HomeRight C800971, you don't need any compressor because it is a self-contained unit that's also very easy to use and maintain.
The sprayer measures 9.5 x 6 x 12.5 inches and only weighs 2.8 pounds which makes it easy to move around and maneuver through a wide surface area.
With your purchase, you will get a container lid, wrench, spray nozzle, cleaning brush, 3 spray tips (4.0, 2.0, and 1.5) and the Finish Max Super Sprayer.
Pros of the HomeRight C800971 Super Finish Sprayer
Spray furniture, fences, cabinets and a lot more
Provides a finer and better quality finish than roller/brush
Precision bras spray tips and nozzle for a better experience
A bigger container capacity
Can spray oil based paints
Packaged with several tips to choose from
It's the newest model in the series
Useful for any DIY individual
Cons of the HomeRight C800971 Super Finish  Sprayer
Not suitable for painting ceiling
Thick paint may still need to be thinned
Does not come with a viscosity cup
HomeRight C800766 Finish Max Fine Finish HVLP Sprayer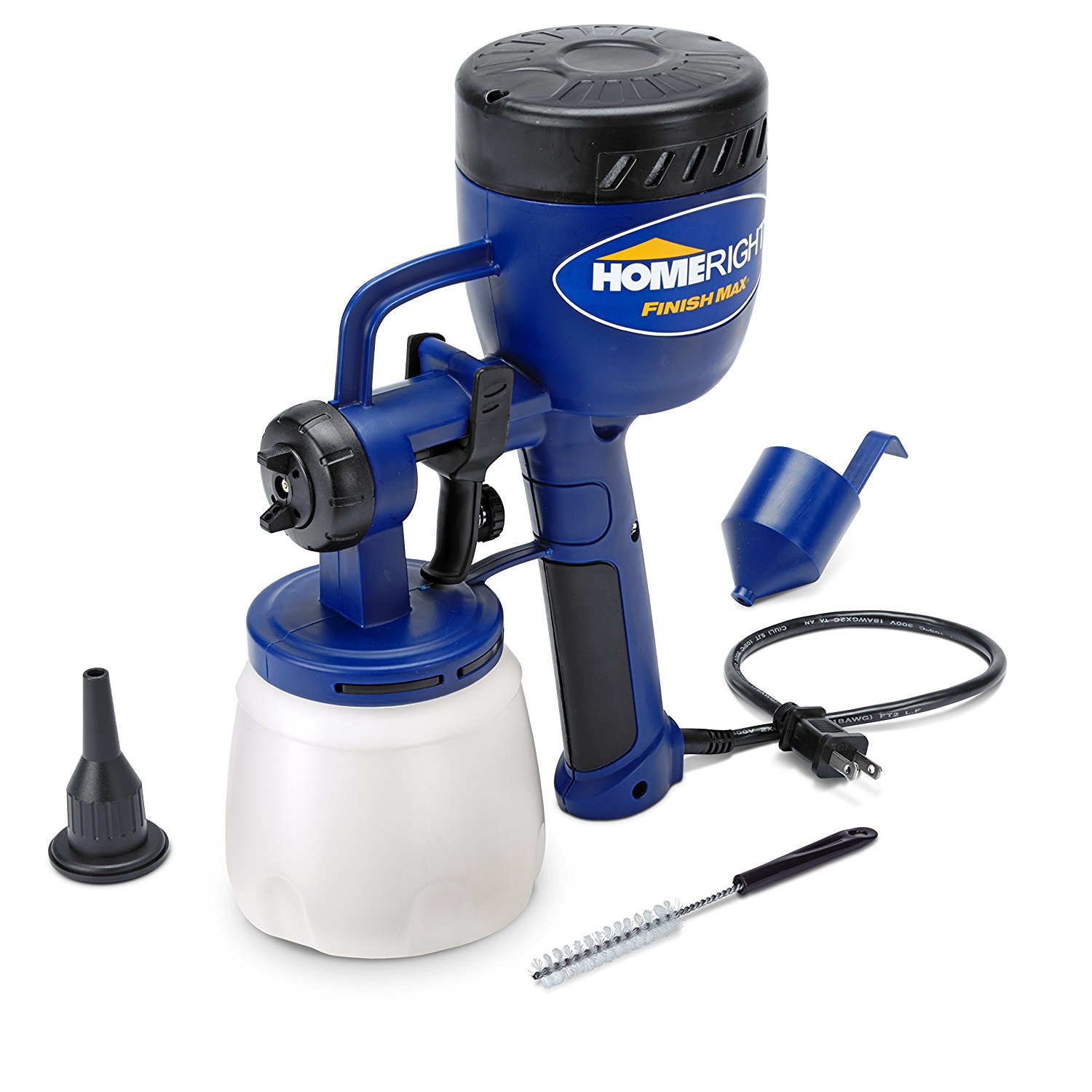 Painting with rollers or brush can be tiring and mind-boggling. Wouldn't it be great if you can substitute this two crude painting equipment with something better?
If yes, then the HomeRight C800766 is what you are looking for.
It is designed to help you achieve a fine, quality finish with minimal overspray while spraying stains and paints quickly.
If you are DIY enthusiasts who love to paint a variety of items like dressers, doors, cabinets, furniture, or crafts without the help of contractors, you need something versatile.
With its ability to spray horizontal, vertical, or circular, you will achieve the something closer to what a professional will achieve without the associated risk of shedding out hundreds or thousands of dollars.
Unlike the HomeRight C800971 (which gives you 1″ to 12″ adjustment) you can only adjust the spray pattern from 1″ to 6″ even though this doesn't have any significant effect on the quality of your finish.
With the Finish Max C800766, you can handle small to medium projects that require either oil or water-based materials.
With its decent capabilities, you can now spray stain, varnish, polyurethane, clear sealer, primers, enamels, chalk type paint, milk paint, and latex without wasting precious time on thinning.
Since you can also paint up and down, side to side, and irregular/round objects, you now have a better selection of color you can apply to any project.
And with the 2-year limited warranty and hundreds of positive reviews, you have a good sprayer for handling most household projects.
Pros of the HomeRight C800766 Finish Max  Sprayer
Can spray chalk paint and thicker paints with less thinning
Can be used both indoor and outdoor
It's not too small and great for painting things like shutters
Comes with viscosity cup, cleaning brush and air blowing nozzle
Widely accepted and popular among DIY enthusiasts
Saves time for any small painting project
Cons of the HomeRight C800766 Finish Max Sprayer
Doesn't come with several tips
Cleaning might take up your time
HomeRight C800863 Airless Spray Gun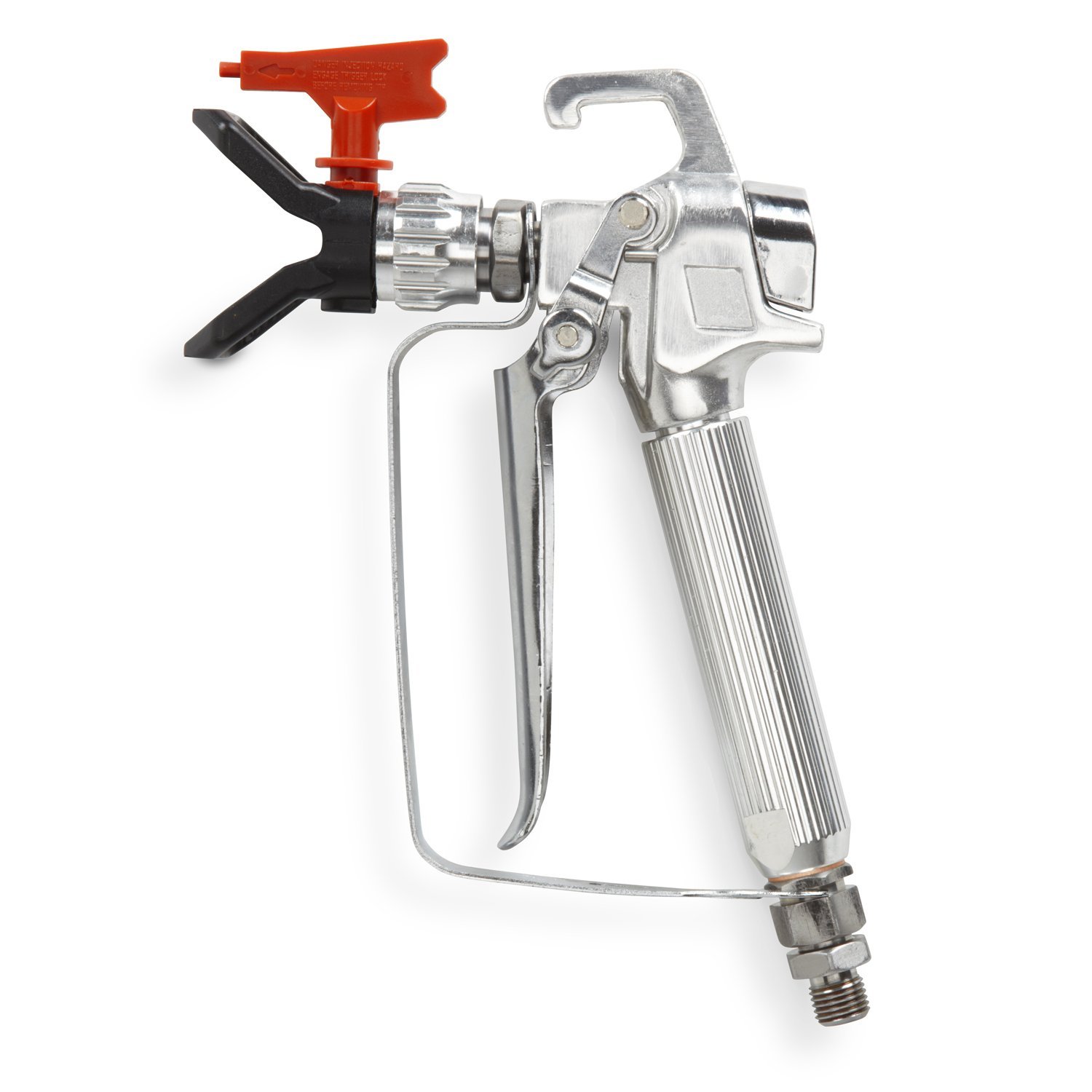 The HomeRight C800863 Airless Spray Gun is another quality paint sprayer from HomeRight you should check out.
It features a clear a 515 reversible tip and saddle seal that makes it easy to clear paint sediment from the gun.
An in-handle 50 Mesh filter is also added to the gun so that you will experience less clogging and because the filter is easily accessible and replaceable, cleaning is a lot easier.
There is a swivel connection attached to the gun so that the tension that comes from the coil is eliminated and doesn't affect the performance of the gun.
The pistol grip is designed for four fingers and the impact guard on it makes it easy to grip for longer projects.
Weighing only 1.7 pounds, it is easy to maneuver. In addition, it is compatible with a variety of piston pump sprayers, thanks to its max pressure of 3,000 PSI.
Pros of the HomeRight C800863 Airless Spray Gun
Comes with a hose at 50 ft. which is an ample length
It is durable and constructed to last long
You can easily disassemble it for cleaning
Has a nice wide spray
The handle is easy to pull and hold
Affordable and offers good value for the money
Lighter and easy to maneuver
Cons HomeRight C800863 Airless Spray Gun
Has a tendency to clog
May not be suitable for bigger jobs
HomeRight C800917.M 2-Speed 8.0 GPH Heavy Duty Paint Sprayer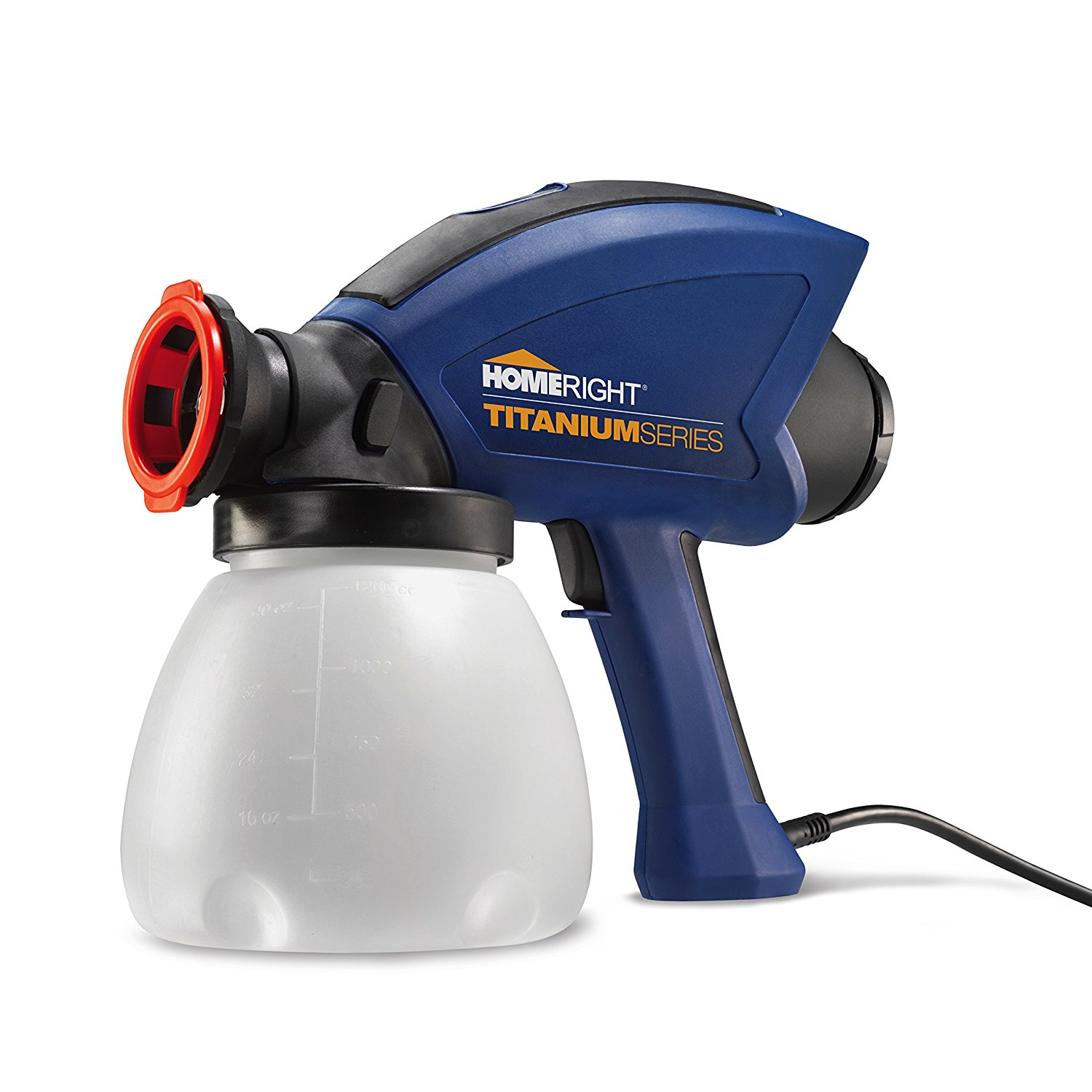 The HomeRight C800917.M 2-Speed 8.0 Paint Sprayer is 120-watt high performing sprayer that is created for the homeowner looking for a powerful machine for occasional painting assignments.
It features a titanium piston that ensures durability and long-lasting performance.
Because of the durability, you will be able to use the sprayer in different projects and it will still be able to withstand heavy use.
In addition, the unit comes with a ceramic fan nozzle that provides a better spray pattern and up to 12-inch coverage for every square foot.
For extra versatility during any project, the HomeRight C800917.M Paint Sprayer uses two speeds that you can switch to and fro quickly.
It also sprays latex paint, stains, oil, and sealers so that you don't get limitations when you need to paint different surfaces.
And with a quick release cup, refilling during any painting session will be smooth.
With this kit, you will get a 5 ft. suction tube with clamp, cleaning brush and oil, the sprayer, cone tip and atomizer valve, long-term solution kit, bonus atomizer valve and the sprayer itself.
The sprayer measures 11.8 x 7 x 11 inches and weighs 7.5 pounds with 8 GPH flow rate.
It features a container and a hose attachment so that you can connect it to an external paint source and you can move the suction in the container easily much like a pendulum.
This makes it easy to spray at any angle utilizing either of the 2 speeds.
Pros of the HomeRight C800917.M Paint Sprayer
The sprayer can work with primer and Rustoleum paint type
It is an excellent unit for exterior house painting
Can be used in painting interior ceilings
Quick to clean up and sprays latex paint
Suitable for smaller interior and exterior painting jobs
Cons of the HomeRight C800917.M Paint Sprayer
It's noisy
Doesn't work with plastidip
The pickup hose is only 5 feet
Feels cheaply made
This is the first in the series. The second one in this series is [here]
HomeRight Paint Sprayer Accessories
There are many HomeRight Paint Sprayer Accessories on the market that you can easily order when you need one for your sprayer.
And there are many reasons you might want to purchase accessories such as when the one on your sprayer wears out or when you need to amplify the functions of your unit.
Because there are potentially thousands of these on the market, I have decided to only include those you will actually need for your sprayer. These are as follow:
HomeRight Atomizer Valves.
These atomizer valves are necessary for proper atomization on some of the HomeRight Paint Sprayers. It integrates with the spray tip and comes with both the fan and cone atomizers.
HomeRight Spray Tip.
This accessory comes with a wide pan pattern that can be installed on your sprayer if the tip that comes with it wears out.
You should be able to get a tip that is created specifically for your model because it will integrate easily with your sprayer and will give you the best result.
Universal Sprayer Suction Tube Kit.
As the implies, this suction tube kit is designed to be used with all the HomeRight Paint Sprayers. This means you don't have to look for a specific number when you need to change your suction tube.
It has a 5-foot tube with clamp and is very useful for drawing paint from the paint material into the sprayer from the painting container and it is not too expensive.
Replacement Spray Gun 100-Mesh Filter.
This 100-mesh replacement spray gun filter comes with a 413 tip and is used in eliminating dirt from entering your paint spray tip.
The paint passes through it before getting unto the wall. As long as you are using one of the models that use a filter, it will wear out after using it on different projects.
In addition, you should change the filter after each use to get optimum results on your projects.
Is this All the Products from this Brand?
No! Actually, there are a lot more products from this brand that are available on the market. I have decided not to include them in this review for a couple of reasons.
First, you don't need to buy all their products or do you need to know all the products from this brand before you can choose the right one.
With these top models, you can easily get those that are suited to different projects and applications.
Second, some of the other products from this brand have not lived up to the reputation of this brand.
After conducting a lot of research, I have discovered that one Homeright paint sprayer is dominating the market and that is the HomeRight C800766 Finish Max.
This product has received a lot of positive reviews and is even #1 ranking model on Amazon Best Sellers.
Many of the previous users of this product have found it useful for a variety of painting jobs and extremely durable. For this reason, it will be worth trying out.
Is Home Right Paint Sprayer Brand Reliable?
No doubt, this is a reputable brand that has stood the test of time. When it comes to the different paint sprayer brands on the market, this brand comes top among the others.
The brand has continued to provide high-quality paint sprayers that satisfy the market.
This is the result of the dedication of the company as it's stated on its website:
"HomeRight has a history of innovation, a passion for quality, and a desire to exceed customer expectations. For over 25 years, HomeRight has been an innovator in the consumer painting industry."
Where can I Purchase HomeRight Paint Sprayer?
You can purchase or read more reviews on different Home Right Paint Sprayers from this link: HomeRight Paint Sprayer Reviews.
Final Words on HomeRight Paint Sprayer Reviews
Now that you have learned all you need about this brand, the next step is to choose which one suits you best.
Because they are available at different price points, capabilities, and functions, you should consider your price and what you want to use them for.
Basically, you should set up your own criteria before purchasing. Once you have your criteria in place, it becomes easy for you to choose the right one from this list.
Thank you for reading the HomeRight Paint Sprayer Reviews
Want more Homeright paint sprayers reviews? Check out our other reviews on: