Do you know how to apply chalkboard paint smoothly? If not, this guide is set out to help you.
Chalkboard paint has many uses, and you'll find it handy for more than you think!
A chalkboard makes a great gift for a child, and can also be handy in the kitchen.
Instead of buying one that will have to be mounted, or takes up a lot of room if it is free-standing, try some chalk paint.
A great idea for a child's bedroom wall is to paint a chalkboard there. This is easy to do, and fun for the child.
Chalkboard paint is widely available at paint and hardware stores and comes in green or black, spray paint or can.
A few coats of this paint will create a fun chalkboard surface on the wall that children can write on with chalk, and will wash off easily.
If you affix a wood frame around it, you have a great looking instant chalkboard. Plus, the chalk can be stored on the ridge around the frame.
Chalkboards are great for kids to do art, practice reading or spelling, or even play games like hangman.
Parents can help their children with learning shapes, colors, math and reading skills by writing on the chalkboard.
They are also fun for parents to use for writing reminders to the children, or drawing funny pictures to make them laugh.
Chalkboard paint is also good for many other surfaces, also. Try painting a small rectangle of chalkboard paint on a kitchen cabinet or portion of the wall near the phone in the kitchen.
You will have an instant message board or a place for writing shopping lists.
You can also use it on toy boxes made of wood. Try painting the lid of a wooden box with the paint, and putting the chalk in a box inside.
The children will have a great time decorating the top of the box and will have a place to store the chalk right there.
This is something that can be used in the bedroom or playroom.
Another idea is to paint the top of a small table with it. The table is then more than just a workspace for a child, but it is also something a child could decorate!
There are even chalkboard paints and primers that have metal dust incorporated into them, rendering whatever you paint magnetic.
So, you have the option of making a magnetic board for the kitchen, or a magnetic chalkboard surface which can be even more useful and fun for whatever you are painting.
If you are looking for a gift idea for a child, or a way to improve your home, try making a chalkboard out of an ordinary surface.
It will add fun and convenience to whatever you use it for!
Painting with Chalkboard Paint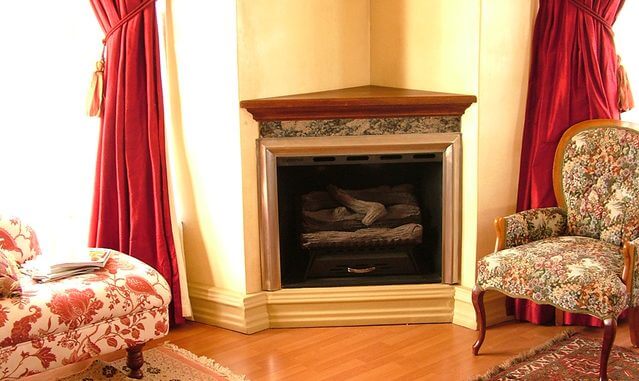 Step One – Surface Preparation:
Dull any glossy areas of wood ("mill glaze") by sanding with medium (#120) grit garnet paper; wear eye protection, dust mask, and work gloves
Fill any gouges with wood filler; let dry and sand flush
Lightly sand the entire area to be painted with fine (#220) grit garnet paper, then dust off with clean rags
It's VERY important to remove all dust or wood fibers so chalkboard finish will be smooth.
Step Two – Priming:
Priming is needed to ensure adhesion of topcoat, stain blocking, and sheen or gloss uniformity
Prime all surfaces to be painted, using a top quality stain blocking primer

Many chalkboard paints are water based, and a top quality interior stain-blocking latex primer will work well
Some chalkboard paints are supplied in spray cans. Be sure to check with the paint professional at the store for recommendations on primers for this type of chalkboard undercoat.
Step Three – Painting:
Use top quality chalkboard paint in the color of your choice, following manufacturer
Recommendation for the application (either roller, foam brush or nylon brush). Two coats will give you the most durable finish.
Most latex paints require a one week cure before use. It is also recommended to "condition" the chalkboard by lightly rubbing chalk held horizontally over the entire surface, then washing the surface with a damp cloth. Your 'chalkboard' will then be ready for years of use.
How to Make Your Own Chalkboard Paint
Material:
3 teaspoons acrylic paint [color of choice]
1 1/2 teaspoons glazing medium [water based]
1/2 teaspoon powder tile grout
How to: 
Mix together all of the ingredients listed above, blend really well and that's it. You now have chalkboard paint! You should only mix as much as you will need for your project.
It doesn't keep well, but can be stored in an airtight container for a few hours. After a longer period of time, the paint will begin to thicken a little and become a bit brittle.
Helpful Hints:
Apply your paint with a regular paint brush and allow each coat of paint to dry completely, before applying the next.
After each coat of paint, gently sand the paint with a 400 grit or higher grit sandpaper and wipe away any dust. This will help keep your painted surface nice and smooth.
Glazing Medium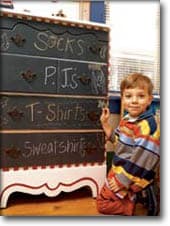 This is a faux finishing medium available at craft shops in small quantities and larger quantities at paint shops, Home Depot, Wal-Mart and similar retail stores.
Most major paint manufacturers carry their own brand of this product and it is readily available.
Please be sure to note that this recipe calls for a water-based glazing medium and not an oil base.
This is important!
You can not ever mix water-based and oil-based products together. Water and oil, simply do not mix!
You also need to condition your chalkboard, once you have finished painting. Be sure your paint is completely dry. Place a piece of chalk on the side and rub over the entire chalkboard surface, covering the entire area with chalk.
Using a felt cloth, wipe off the chalk you just applied. With a slightly damp cloth, wipe the chalkboard clean.
Now your chalkboard is ready!
Want more specialty painting tips? Check out our other reviews on: