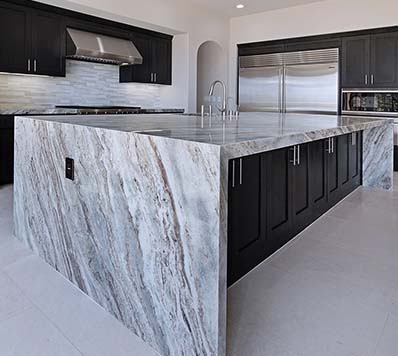 Want to learn about the top 5 kitchen benchtop materials you can use right now?
Then read on:
Today's kitchen benchtops are made from an exciting range of new materials.
LAMINATE, ACRYLICS AND RECONSTITUTED STONE
Timber had its heyday in the 1980s, colored benchtops have also been the rage but now tasteful neutrals, such as soft creams and muted beiges, are what we want.
The shape of benchtop edges goes in and out of fashion.
Rounded edges have been popular for years but square edges, which are slimmer and more sophisticated, have made a comeback.
You may even wish to up the glam factor of your benchtop by applying different materials to the edges as a fashion statement, such as PVC plastic that imitates finishes from stainless steel to wood.
These are some of the most popular kitchen benchtop materials you may want to consider when revamping or updating your countertop:
1. Laminate
Laminate is by far the most popular kitchen benchtop. It's easy to clean, resists stains, comes in hundreds of colors and can imitate looks from marble and granite to timber and stainless steel.
Best of all, it's affordable.
Laminate is decorative paper impregnated with a strong melamine resin. Manufacturers include Laminex, Formica and Wilsonart. Laminate is available in finishes from matte to glossy.
Bear in mind that while glossy looks good and gives depth to the pattern, it will show marks. A good compromise is to use laminate with sheen. The latest development in laminate benchtops is square edges made by the post-form process.
This results in no joint between the top of the bench and the sides (in the past, only rounded edges could be achieved with this process).
The result is a benchtop that flows over the edge, and a laminate that won't peel off the side.
You should get about 10 years from your laminate benchtop. Don't rest hot items or cut it directly, and don't use abrasive cream cleansers that will leave scratches.
2. Acrylic
The second-most popular choice for benchtops is a composite of acrylic resin and natural minerals. Acrylics last longer than laminates, are stain-resistant, come in a huge range of colors and patterns, and are a notch up in price to laminates.
The big advantage of acrylics is that repairs look invisible. Slight scratches and burns can be buffed away with sandpaper or, if a bigger repair is required, the problem section can be cut out on site and replaced with liquid acrylic, which is then buffed after setting.
Popular composite acrylic surfaces are Corian by DuPont, Azteque by Laminex and Trezzini by Parbury. Finishes range from matte to glossy.
3. Reconstituted stone
Made of crushed stone particles blended with resin, reconstituted stone makes a fantastic looking and resilient benchtop.
It's available in several types of stone including quartz and marble.
A reconstituted quartz benchtop is harder than most natural stone, is scratch and heat resistant, is impervious to stains and will withstand intense wear and tear (reconstituted marble is not quite so hardy).
Reconstituted stone benchtops also come in a wide color range. Manufacturers of reconstituted stone include Stone Italiana, Caesarstone and Quarella. Prices are at the higher end of the scale.
4. Natural Stone
The beauty of natural stone such as granite and marble is that it always looks stylish. Many people fall in love with the opulence and won't consider a benchtop in anything else.
Granite and marble are strong but they are porous (especially marble) and need sealing every six months. The problem is people forget to seal them, and stains like cooking oil and red wine are given the opportunity to leave their mark. Light colors are especially prone to this.
Granite and marble can show dramatic variations in color and pattern, even in the same slab. You can get away with cutting directly onto granite (although it won't do your knives any favors) but it's probably not a good idea to place hot pots on either material.
Granite and marble are cheaper than reconstituted stone.
5. Porcelain
This is brand new for kitchen benchtops and it's another beauty. Porcelain is a blend of natural minerals fused with intense heat and pressure into porcelain slabs. It is non-porous, tremendously strong, long lasting and comes in different colors and patterns, from speckled to plain.
It mimics natural stone such as granite and marble but has an advantage in that the color and pattern are generally pretty consistent. Porcelain is similar in price to granite and marble and is heat and scratch resistant.
Other materials
Other benchtop surfaces include stainless steel and timber.
Stainless steel gives a clinical, industrial look that really suits a minimalist space. It won't stain and can take hot pots but it does scratch. Some home decorators put stainless steel in and around their sink and complement it with a warmer material for the island bench.
Timber has pretty much gone out of fashion for benchtops, although it does have a warm, natural look. To make it durable, it can be covered in a two-pack resin, but it will still slowly scratch and wear over time.
Summary of the top kitchen benchtop materials
Today's kitchen benchtops come in a diverse range of materials from laminate to stone.
Rounded edges have been popular for years but square edges are making a comeback.
Make a statement by applying different materials to benchtop edges such as PVC plastic, which imitates finishes from stainless steel to wood.
With these kitchen benchtop materials, you can make your kitchen look stunning. You don't even need to choose the best to revamp the look of your kitchen.
Rather all of the materials in this post are popular and will serve their purpose well.
Now that you know the top five kitchen benchtop materials to use for your kitchen, the next thing is to begin your next project with the right tools.
Want to see more DIY Tutorials? Check out the following: