First time painting cabinets? Don't worry we've got you covered! We take you through the process step by step from start to finish.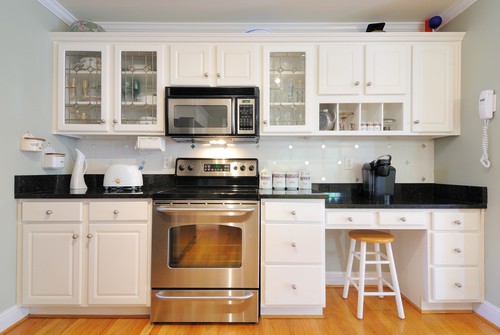 Before you begin spray painting kitchen cabinets, it's really important you prepare right and do the prep work. Prep is key to getting that awesome finish everyone desires.
Being organized from the start makes sure the whole process goes as quickly and as smoothly as possible. Don't waste your time by mixing up screws for cabinet hinges!
The whole process of spray painting cabinets can be split into 3 parts and that's how we'll base the format of this guide:
Getting Organized
Prepping the Wood
The Painting
If you're short on time then this video gives a great overview of the whole process.
1. Getting Organized
In this section, we'll explain what tools you'll need besides the spray gun and paint.
If you're still looking for the perfect gun don't miss our guide to the top sprayers for cabinets.
We'll also explain some of the first steps you need to take before you paint or prep the wood.
What materials do I need to spray paint kitchen cabinets?
Depending on your situation you may need much more than just the basics. Here's a list of the supplies you might need when spraying cabinets:
Painters tape

Screwdriver

Wood putty

Drop Cloths or Painter's Plastic

Painting mask

Sanding sponges

Primer

Caulking

Masking Tape

Disposable gloves

180 grit sandpaper or Klean-Strip sander deglosser
The caulking and putty are only needed if you need to fill holes or cracks in the wood that you are going to paint. We'll go into this in more detail in the next section.
Step #1: Set up your work area
This can be either indoors or outdoors but needs to be somewhere with plenty of space. This will serve as the location to paint your cabinet doors and drawers.
Outdoors is best as you don't need to worry so much about covering walls or making a spray room. If it has to be indoors then you need to consider making a DIY spray booth or just covering everything in Painter's Plastic or drop cloths. Check out the video below which shows how to make a simple spray booth,
You will also need a pair of sawhorses (or something similar) to support your cabinets. They are perfect for holding the cabinets while you prepare them and also when you paint them.
Don't worry, they can be made very easily (check out the video down below) or even bought from a store like Home Depot. If you don't like the idea of spending money on something you might not use again then it's time to get creative!
Step #2: Disassemble the cabinets
Remove the doors, hardware, hinges, and place them in a safe place. It's really important that you have a system in place to keep things organized here. You're going to have a lot of pieces that need to fit back together. Numbering or lettering the cabinets and they're pieces is good practice.
Step #3: Tape over the areas you don't want the paint to reach
Ensure you use a good tape that will not peel off after you start working. Instead of emptying all of your cabinets of their contents you can tape plastic sheets over the openings so that the insides of the cabinets don't get filled with paint.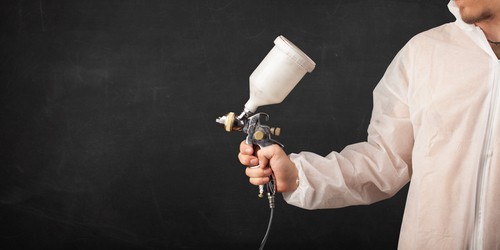 2. Prepping the Wood
It's no good splashing money on an expensive spray gun if you don't get the prep right.
The key to getting a professional looking finish when cabinet spraying is in the preparation. Here's how to make sure you get a great looking coat of paint.
Step #1: Time to clean
This stage is often overlooked but it's critical to getting a good finish on your cabinets.
This is especially true if these are kitchen cabinets. Over time, kitchen furniture gets covered in residues from cooking. This is mostly grease and everything that has stuck to it. Even if your kitchen is really well ventilated and the cabinets were nowhere near the fryer or hobs, they will still need to be cleaned.
If you skip this stage or do it poorly then the grease will cause craters to appear in the finish.
You first want to start by cleaning the cabinets with an all-purpose cleaner. Then something that contains cleaning alcohol just to make sure everything has been removed. You really need to scrub the surfaces to get all this grime off.
Step #2: Repairing the wood
If your wooden cabinet doors are particularly old then they could well have some unsightly cracks in them which need to be treated before painting. Knots in the wood are another visual defect that need to be dealt with at this stage.
Thankfully, the remedy is really simple and won't take much time at all. An awesome "hack" for this that you can see in the short video below is to use baking soda and super glue (cyanoacrylate).
Simply, fill the cracks and holes with baking soda, cover with glue, then sand down to a smooth finish.
Using wood putty or filler is the more traditional method of repairing cracks and holes in wood.
Step #3: Get sanding!
Once the cabinets are free of dirt, grease, and grime, and the holes and cracks have been repaired we need to make sure that they are totally smooth. You'll want to use a 180 grit sandpaper (or something close) to get rid of all those little bumps that might ruin our finish.
You'll also need sanding blocks of the same rating for any awkwardly shaped corners or edges.
What about metal cabinets?
Many of the cleaning and preparation methods I have discussed so far are good for wooden cabinets, but what about cabinets that are metal?
The good news is, the methods explained in this article will work equally well on cabinets which are made from metal.
However, it should be noted that working with metal cabinets can be very difficult if you don't take off the old finish prior to adding the new coat.
You will also need to use numerous coats of primer, and you will need to sand between each coat.
As you do this on scratches and other blemishes, they will eventually become shiny and smooth. The primer should only be used in areas which need it.
In addition to this, there are a number of other methods which can be used to redo the cupboards for your kitchen.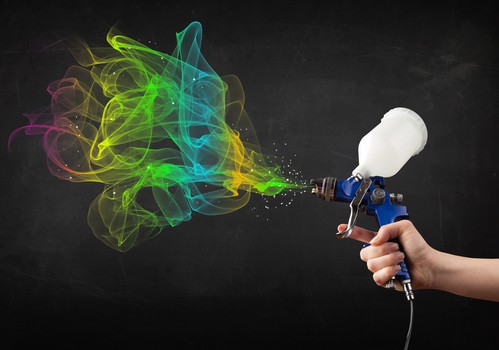 3. The Painting
We're on to the final stage. Almost there!
Step #1: Safety first!
It's really important that we do this in a safe way. Make sure you use a painting respirator (mask) when spraying paint as you really don't want to be inhaling those paint fumes. It's good practice to cover your eyes with goggles too.
Step #2: Don't forget the primer
The first thing you need to use is a primer. The primer is the undercoat layer that makes sure that the paint sticks to the surface well and helps to give a smooth finish. It also has the benefit of stopping the paint soaking into the wood so that you don't have to use as much paint. 
If you want to use a finish which won't bring you many problems, a shellac primer could be useful.
If you would rather use a primer which is water-based, you can use Zinsser 1-2-3. This primer uses latex and has excellent adhesion capabilities.
One layer of primer is perfect.
When dry, you'll want to very lightly sand the surface with a sanding sponge and brush off any dust before finally painting them
Step #3: Painting your kitchen cabinets
Time to harness your inner Picasso!
We want to add two layers of paint for a really nice finish.
It's best to practice on something first if you are an inexperienced paint sprayer. Experiment with different tip sizes, flow rates and distances from the object. A larger sized tip of at least 4mm is ideal for this.
Be sure to spray cabinets in a smooth motion at a consistent distance and speed. That way the coverage will not be patchy or inconsistent.
If you are working with large areas, a nap mohair roller is perfect for the tricky cabinets themselves. 
We'd love to know how you got on with your painting project. Leave us a message in the comments section!
Likewise, if you have any more tips on painting then be sure to let the community know down below.