This review of the Wagner 0518080 HVLP Sprayer is unbiased, detailed, and covered the essential things you need to know about this sprayer.
I have researched previous experience of users, other reviews, and available manufacturer information to ensure you get all the information you need in one place.
At the end of this review, you should be able to decide if this unit is for you or not.
If you have a paint job to be done, and you want to avoid the paint rollers or brushes, then a sprayer is a great option. Among the options that you have when selecting a sprayer is Wagner 0518080 HVLP Sprayer.
The Wagner 0518080 is compact and lightweight. Its design makes it the best for hard areas. This sprayer comes with variable air pressure control to control overspray on small or thin materials.
In this article, am going to take you through the features, advantages, and disadvantages of the Wagner 0518080, and why you need it.
Customer Ratings and Reviews
Most of the customers who have used this prayer have a positive review despite notifying some minor flaws. Some customers have raised concerns that the price is too high, but we disagree with that.
I believe that the cost of this sprayer is right for this product.
The Wagner 0518080 HVLP Sprayer has been innovatively designed with the best available tech- two-stage turbine.
This turbine is so powerful that it makes the gun suitable to spray any material.
The spray gun has been equipped with adjustable air pressure control allowing it to operate on the various pressure of stream.
To ensure that the spraying work easier and less clumsy, a 20-foot high Flex hose lengthens the working range.
These features in a nutshell are:
Grade metal cup for smaller fine finish applications
Variable flow triggers dials in spray pattern width from 1 inch to 10 inches
Three spray patterns, so you choose the best one for your job
Variable flow control to cover large surfaces of work in detail
Powerful Two Stage Turbine to ensure that it Sprays latex & thinner materials like lacquers & stains
Variable Air Pressure Control to guarantee Less overspray with thin materials
20 Foot High Flex Air Hose to extend your reach
3 Spray Patterns to enable you to select the best pattern for your job
What We Like: 
It is easy to use due to easy and fast assembly process explained in the user's manual
Parts come off providing an easier way to clean it
It is light and compact, i.e., it can be moved quickly around the working area
The variable flow control enables spray to be done on a large surface
Guarantees neat finish even with detailed work to ensure quality.
What We Dislike: 
Not good to work with latex
It shuts off, and one has to wait to for it several minutes to turn on again
Wagner 0518080 HVLP Sprayer: Things You Should Know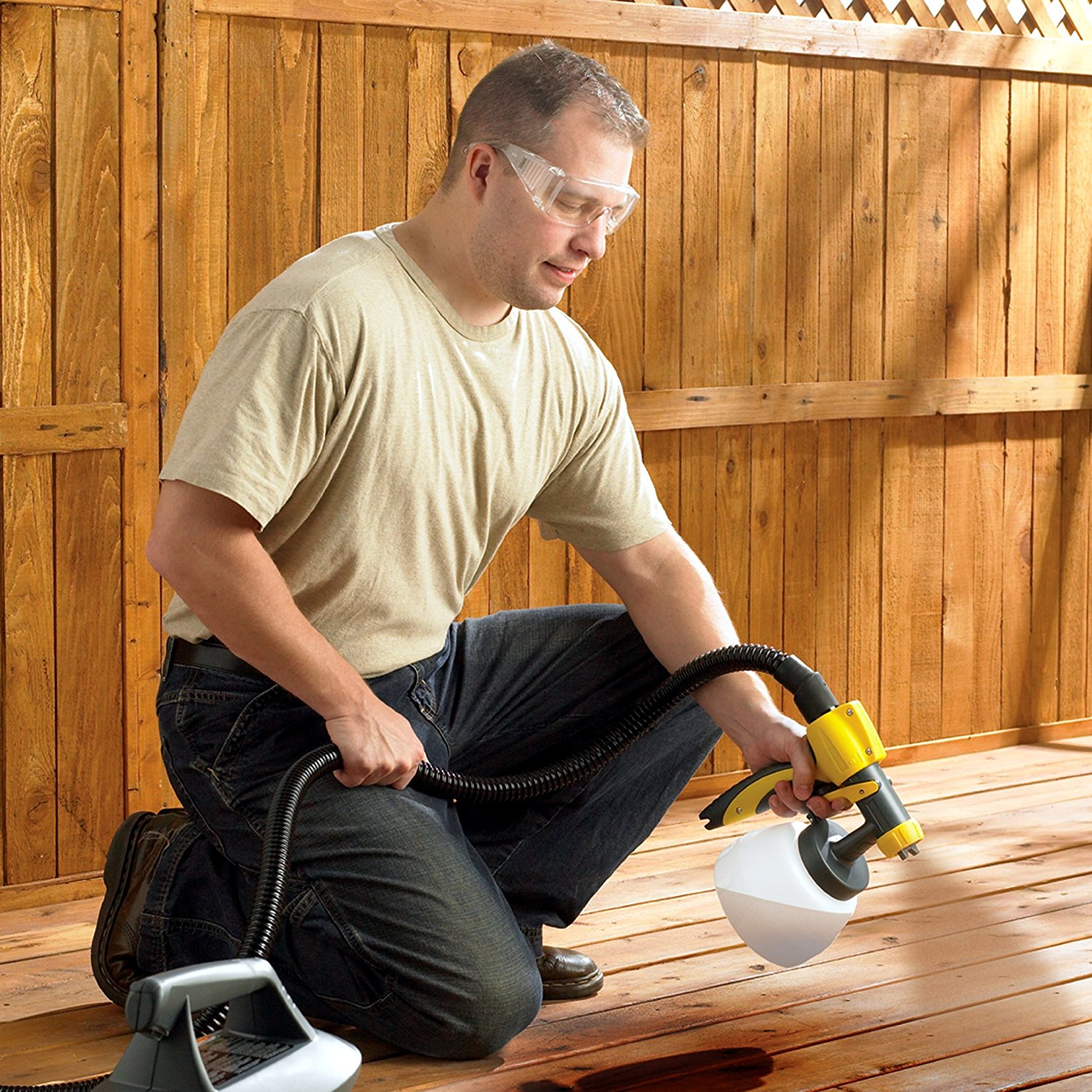 The Wagner 0518080 HVLP Sprayer is a sprayer you can buy to remodel the interior design of your house with ease. After repairing your door frames and fitting in other panel doors, you can use this sprayer to paint your new designs.
A heavy-duty sprayer like this Wagner 0518080 makes the time-consuming task of hand-painting 12-panel doors into a job you can finish in a short time.
One of the users reported that they were able to use this Wagner 0518080 HVLP Sprayer as a spray tan system. While it works and accomplished the task, the user complained that the cup size is too large and may result in overspray because of the spraying pattern on the nozzle.
If you are looking for a professional result, you may be disappointed. But if you are only looking for a decent tanning, then this should serve your purpose.
If you are interested in painting oil-based paints, you are fortunate. The Wagner 0518080 HVLP Sprayer can do a good job with oil-based paints although that may require you to clean it thoroughly, which might be time-consuming.
You have to use mineral spirits and to get every bit of it from the internals of the sprayer, you will have to spend a considerable time depending on how fast you are.
The Design and Other Features
If you are using latex paint, you don't need to thin with this unit. It sprays a variety of latex paint brands and some users have found it effective without thinning.
Also, latex-based primer and paint may require some efforts to clean off from outside the sprayer and pump. It is even more important if you intend selling it off after completing your project. Having a nicely cleaned, neat looking unit will definitely attract prospective buyers.
Another thing that you should know about is that you don't need an air compressor for this sprayer. It has a very small compressor, that sits on the floor, the size of a big loaf of bread which connects directly to the gun.
It features a long cord and also allows you to paint on a ladder while the compressor is on the floor because the line that connects the gun and compressor is up to 15 feet length. This will help you enjoy the unit without having to experience hand fatigue.
It is recommended that you don't use cheap paints with this sprayer, whether you are spraying inside or outside. With quality paints, you can expect to get a better coverage with just some light spray and because you don't need going a second time, you can work faster.
More: Best Paint Sprayers of 2018, Best Paint Brush for Trim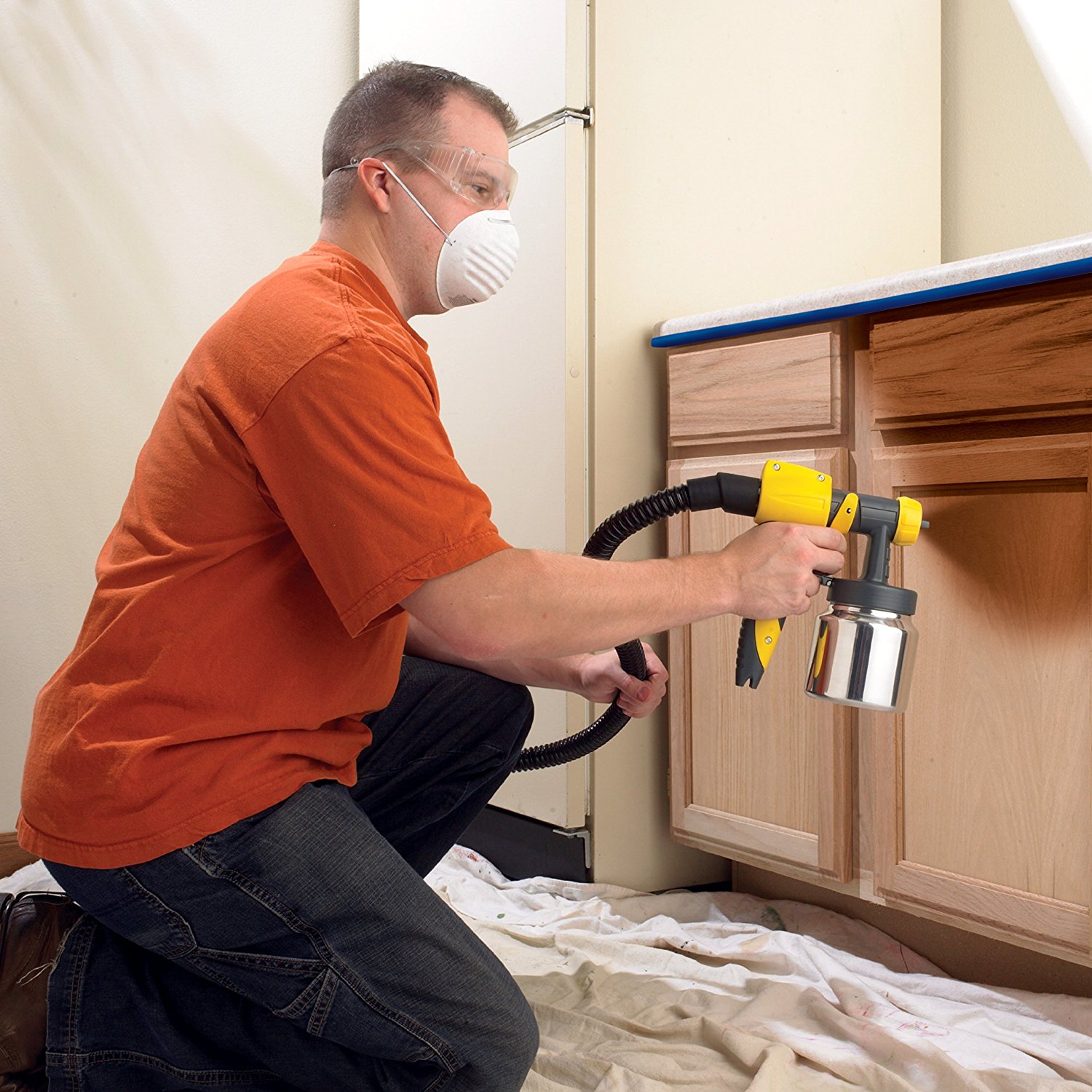 Overall Review of the Wagner 0518080 HVLP Sprayer
Saves on energy. The Wagner 0518080 HVLP Sprayer saves a lot of energy because of its lightweight property. It can also be used when painting different materials. Just remember that you have to set it up correctly to get the right flow and power.
Works with different paints. This sprayer is a flexible, adaptable sprayer, even if it is white gloss latex enamel paint. The best tip for using the Wagner 0518080 is following its user manual correctly.
Good Performance. The unit is sturdy and light. Those who bought it enjoy how fast their work gets done with this sprayer. Its power, versatility, and effectiveness make this the perfect tool to handle all of your basic painting needs.
Great Value. At this price point, it is significant enough to let your paint job look impressive and professional without spending a lot of cash on buying other expensive models. This model is cheap, but with it, you can achieve a lot.
Easy to Clean Up. Surprisingly, it is very easy to clean. The sprayer is made of 5 parts which come off easily for cleaning purposes after your work gets done. You'll spend very few minutes cleaning it.[/su_box]
Final Words on the Wagner 0518080 Spray Gun
This Wagner 0518080 Spray Gun is an excellent choice in terms of budget and quality of the painting. The features of Wagner 0518080 HVLP Sprayer are marginally better, it offers more versatility and is a perfect choice for those small and easy paint tasks at home.[/su_box]
Want more Wagner paint sprayers reviews? Check out our other reviews on: