This is an unbiased review of the Wagner Flexio 890 HVLP Paint Sprayer.
In order to provide you with complete information and a detailed guide, I have researched the experience of users on the product, expert advice, and other reviews before coming up with this article.
By the end of this review, you should be able to confidently purchase this product.
Main Features of the Wagner Flexio 890 HVLP Paint Sprayer
Suitable for painting small exterior surfaces, fine finishing, and large interior spaces
Turbine weight stays on the ground to reduce hand fatigue
Able to spray unthinned interior, stains, urethane, exterior latex
Features Lock-N-Go split gun for quick nozzle change
The iSpray nozzle is adjustable
Accessory detail finish nozzle for creating a fine finishing
X-Boost turbine for full coverage and low overspray
Pattern adjustment ring for spraying in different positions
Comes with a 1-year warranty
It has a portable and compact carrying case
Overview of Wagner FLEXiO 890 HVLP Paint Sprayer Station
The Wagner FLEXiO 890 HVLP Paint Sprayer Station is a portable sprayer you can use for both indoor and outdoor painting.
Cleaning it is easy and straightforward and is only demanding if you are looking to achieve a better cosmetic cleaning.
With hot soapy water, you should be able to clean it moderately. Not only is it a good quality sprayer, but it has the capability to paint large areas quickly.
And the integrated storage on it makes storage easier and less messy.
The FLEXiO 890 is more like an HVLP sprayer as it comes with a turbine at the base with the air hose connecting to it.
Because there are some little parts to assemble, the FLEXiO 890 Sprayer is not a plug and play device and might not take you some time to fully assemble if this is your first time.
But after you get the hang of it, it is going to be much easier when you are using it.
The FLEXiO 890  is a good option for you if you are a homeowner because you will be able to use it to handle most of your interior projects like trim, cabinets, furniture, entry doors, etc.
It will save you more time and give you better results than if you were using the old school rollers or brushes. And you will enjoy it because it doesn't cause too much hand fatigue.
And the Wagner FLEXiO 890 Powerful X-Boost Technology:
The X-Boost Power Box is always on the ground with most of the weight so you will just be holding the air hose and concentrate on your painting.
If you are a contractor, you will be able to use it for jobs like shelves, built-ins, doors, trims, and it will hold up well.
Because this sprayer comes with high-quality materials, it will be a good investment for the long term.
In order to enjoy this unit to the fullest, make sure you read the manual and follow the instructions diligently.
Many users who failed to do this often experience unprofessional results and thereafter put the blame on the machine.
If you are ready to start your painting voyage and avoid paying a ridiculous amount to the handyman, you should buy this unit by clicking the button below:
Wagner FLEXiO 890 HVLP Paint Sprayer Station: Things You Should Know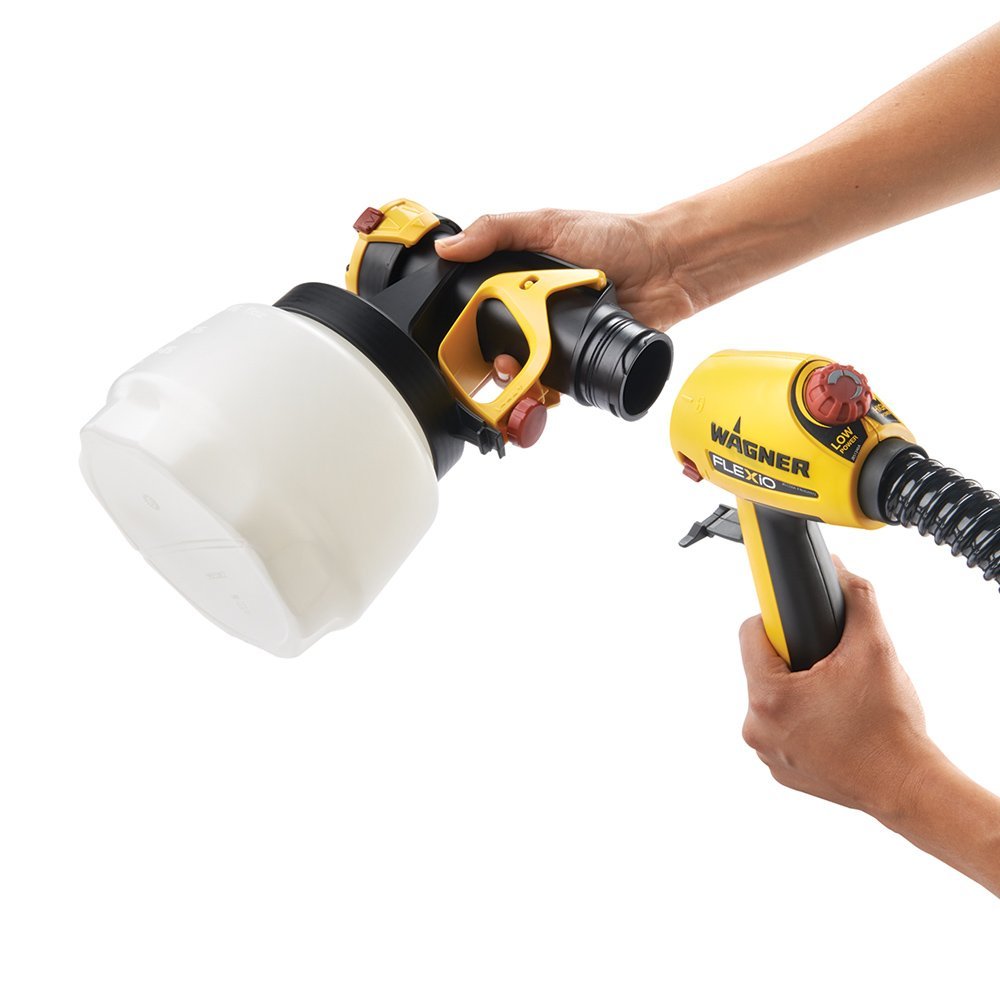 Before buying this sprayer, it is important that you learn all you can about it. If this is your first time reading Wagner FLEXiO 890 reviews, you will definitely find there are a lot of things you need to know about this model.
Going through these reviews will help you understand what the product is about and be able to decide if it is for you or not.
Some of the most important things you need to know are here in this section and the next section as you read on.
Here we go:
When using the FLEXiO 890 Sprayer, it is possible you may not get a very large volume of paint because of the tip. However, it gives a better paint flow compared to competing models because of its two flow adjustment mechanism. With this, you can adjust the turbine speed and the material flow and if you are able to harmonize the two, your painting will be smoother.
The 890 combines power, low weight, and the ability to adapt to painting projects (such as fine or wide). Most users also get value from their purchase because of the low cost involved with buying this sprayer.
You can pack the unit in its carrying case with ease. Compared to other models I have reviewed on this blog, I find this to be a good advantage especially if you have a small space to keep your sprayer when it's not in use.
Although the cup on this sprayer is not that large, the versatility of the model, ability to change containers on the fly and the being able to paint un-thinned latex and primers is a great advantage that you should not miss. Most importantly, you can use it for most painting jobs and it works right out of the box according to the maker.
Full Review of the Wagner FLEXiO 890 HVLP Paint Sprayer
Wagner 0529021 FLEXiO 890 comes with various features that make spray painting an effortless and convenient process. Some of the features you will find in this modern sprayer include:
X-boost Turbine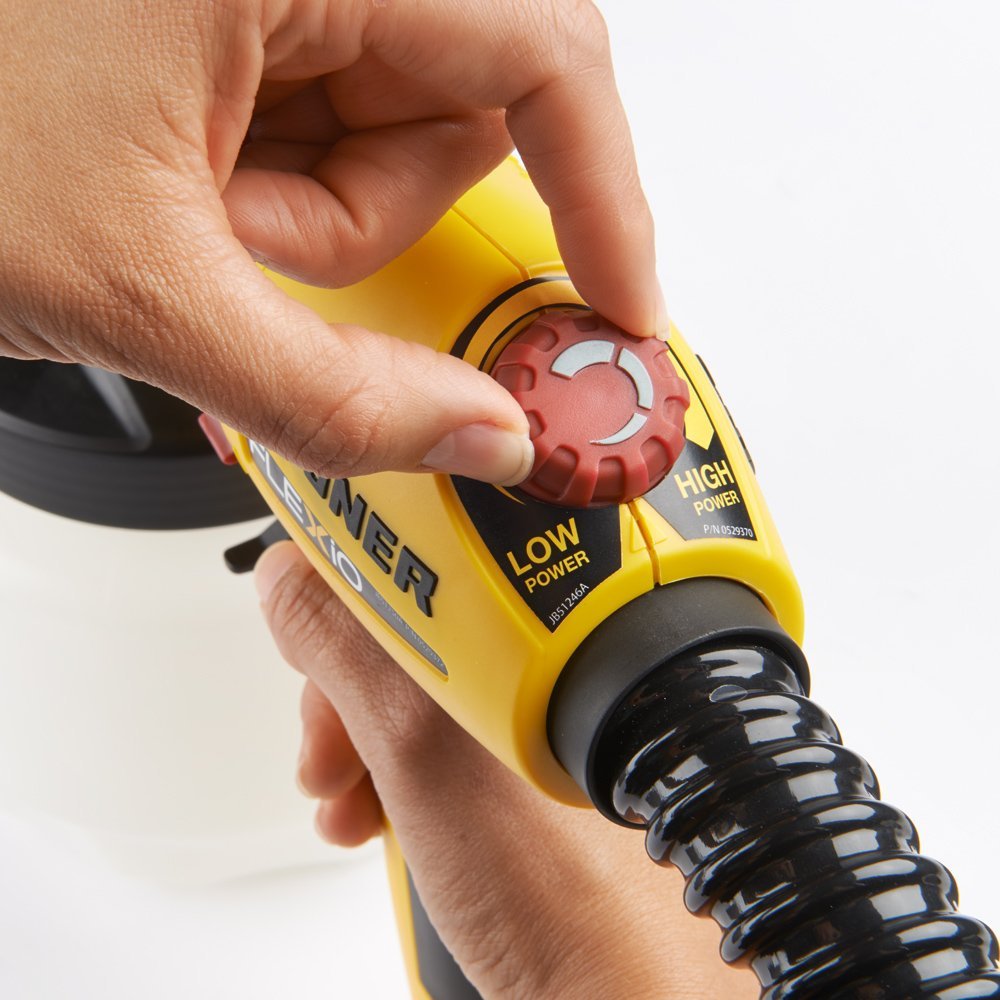 Like most paint sprayers from Wagner, 0529021 FLEXiO 890 features the powerful X-boost turbine that provides incredible spray power as well as adjustable control.
You chose between full coverage and low overspray depending on your needs.
The turbine is in the X-Boost Power Box and it holds the unit's weight on the floor, thus providing a lightweight painting experience.
This reduces fatigue especially if you are working for long hours (on a large project).
Compared to working with conventional rollers or brushes, you will also experience less aching in your back when you are carrying out bigger projects over a considerable period of time.
This is why people now prefer to have a sprayer over a paint brush.
iSpray Nozzle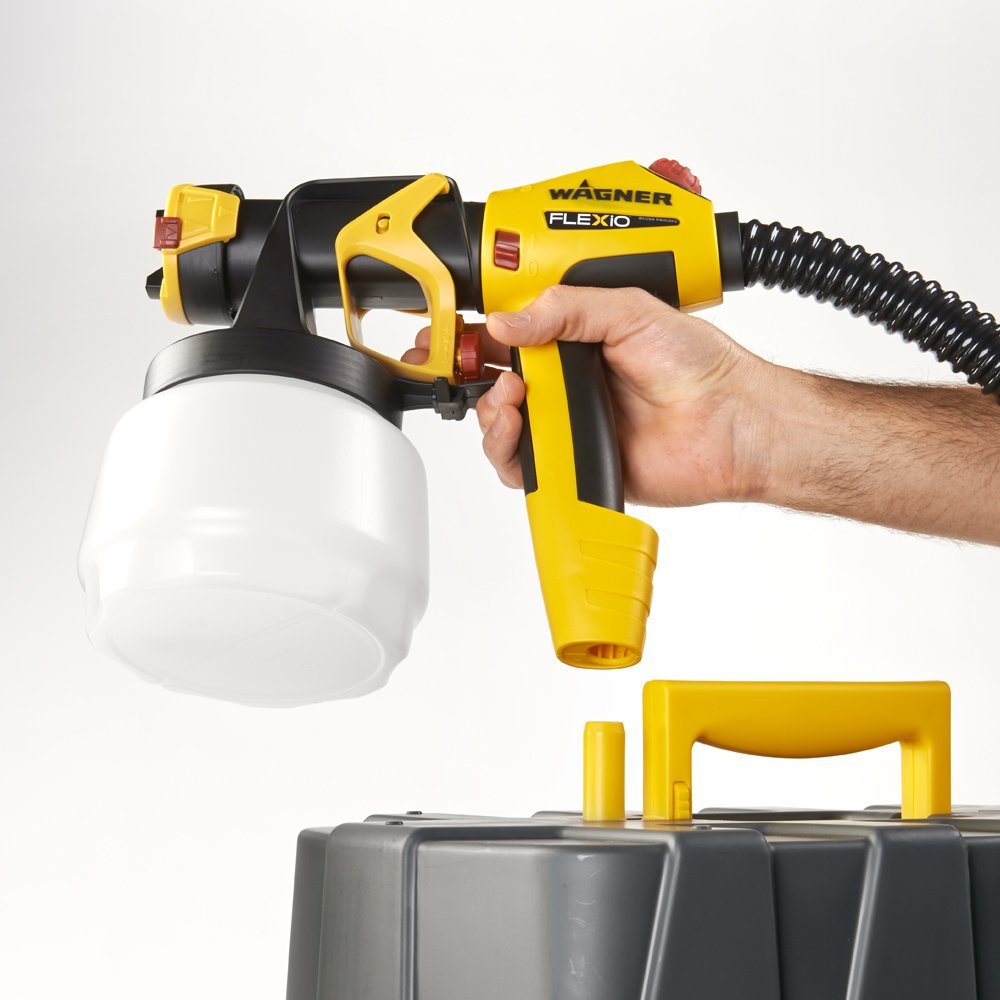 If you read any of the Wagner FLEXiO 890 Reviews, you will find this innovative spray nozzle that has become a trademark feature of their models.
It does not only enable pattern spraying but also uses various kinds of paints.
You can spray latex and oil-based paints as well as urethane and stains.
It is ideal for un-thinned interior and exterior paints making it perfect for completing projects that involve interior walls and surfaces as well as small exterior walls.
The nozzle is fitted using a Lock-N-Go split which is basically a gun-like feature that allows quick removal and replacement of the nozzle.
I like that this is a feature that is available in the FLEXiO 890 along with other models in this series as it prevents the restriction to just one type of paint for your projects.
Extended Hose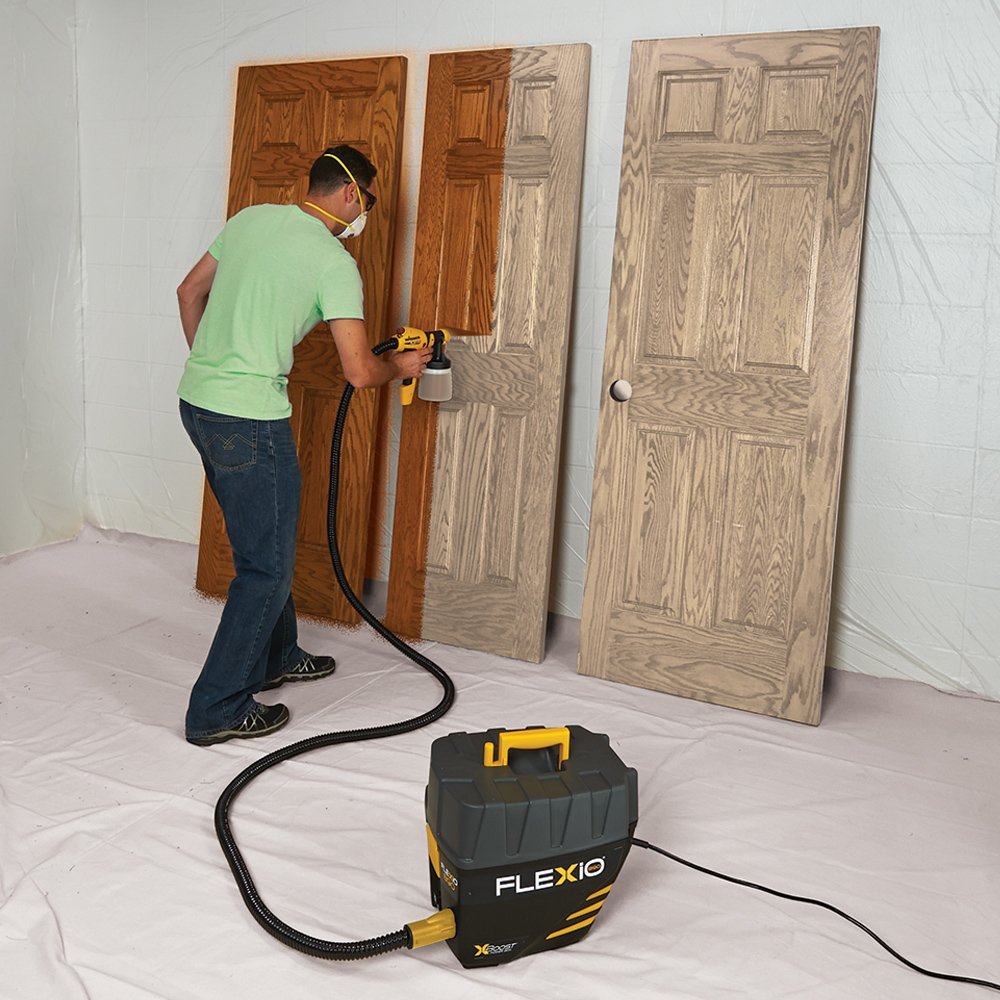 The hose is one of the focal points of any paint sprayer.
The reason for this is that it will determine the kind of projects you can carry out with any paint sprayer that you are interested in.
If you have a very short paint hose, you will find that it will be difficult to paint things like ceiling, fences, and generally other items that have a large coverage area.
Fortunately, the hose that comes with this one is good enough for most projects.
This is a bonus feature in the Wagner FLEXiO 890 review.
The 11.5 ft extended hose provides enough length to help you reach all corners of the room without frequently moving the power box.
Combined with the speed efficiency of using X-boost turbine and lightweight nature of the handle, painting with this sprayer is quite convenient.
Warranty
The sprayer comes backed by a 1-year warranty and sells at an affordable price compared to alternative brands within the category.
Make sure you purchase from credible stores that will give you original genuine quality from the official manufacturer.
Positive Reviews
Most reviewers of this product are okay with the fact that it is versatile and so low in cost.
There is an overwhelmingly positive review that borders on the fact that the sprayer has no leaks, no runs and comes with minimal overspray.
Organized Storage
The X-boost power box is designed to help you organize your spray painting unit with ample space to fit your handle (with the power dial), 11.5 ft hose and 2 nozzles.
The power box also holds your motor in place during painting so you do not have to carry the entire unit while painting and has an ergonomic handle to help you lift it to the storage location.
Spray Pattern Adjustment
This is one of the amazing features of the unit. A spray pattern-adjustment ring is included to help you paint both vertically and horizontally. The ring also has a lever that can be used to accomplish wider and narrow sprays.
This is particularly helpful when you want to quickly spray a wide area, or need to patch up small sections without impacting the surrounding surface with more paint. An innovative nozzle is integrated into the design to help you achieve the spray pattern control.
If you are looking for the ideal sprayer for spraying unthinned paints or stain and for handling your remodeling jobs such as painting your cabinets, furniture, fences, deck, this is it. It is very easy to use and clean and has all the features you will need to accompany you on every project you are doing. Check Out More Reviews and Ratings Here!
Advantages of the Wagner FLEXiO 890 HVLP Paint Sprayer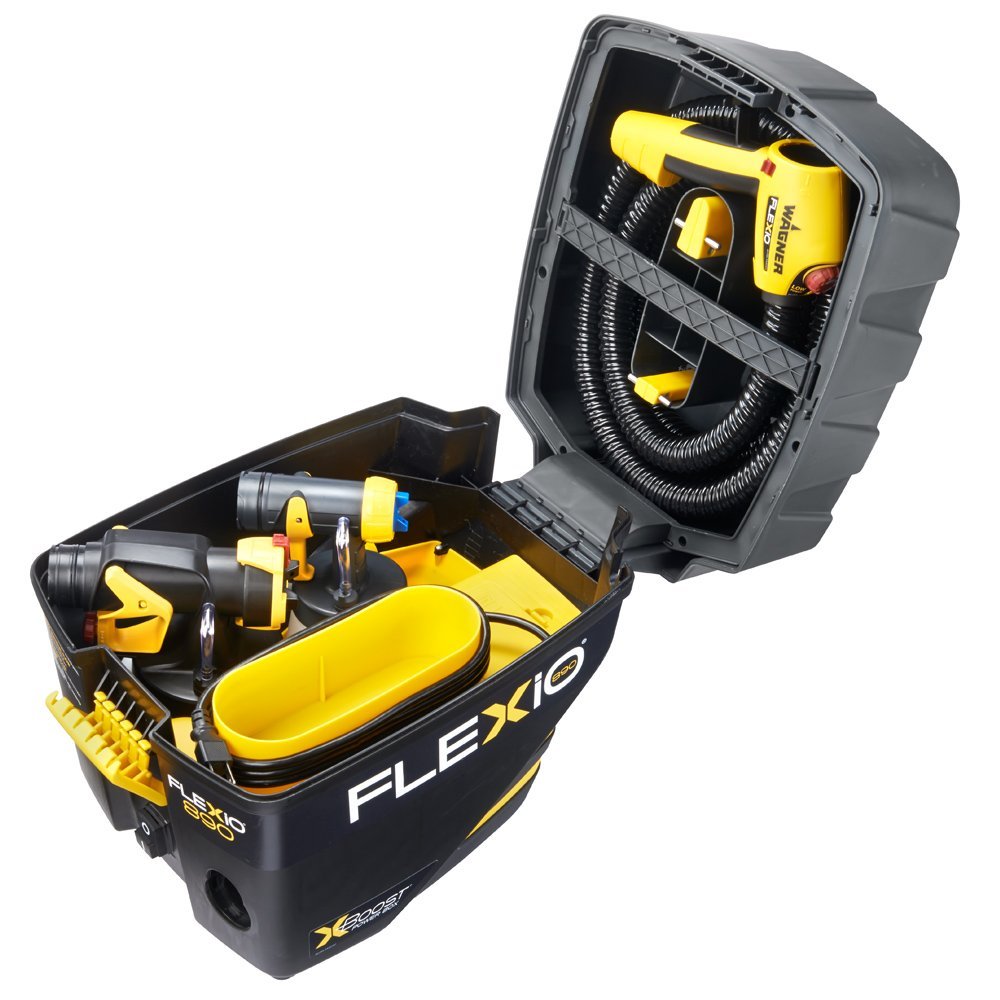 From the above features, the benefits of Wagner 0529021 FLEXiO 890 could not be more obvious and straightforward. This paint sprayer is one of the easiest to use and has a simple design for quick set up and painting. The Lock-N-Go gun makes nozzle fitting, cleaning and replacement very easy.
With a performance of 8.4 gallons per hour, you can quickly complete your project as it completes an 8' x 10' wall in 5 minutes. The Wagner 0529021 can handle small to medium size projects without any challenges, thus improving your efficiency. With an extended hose and floor-based powering system that relieve your arms of any excess weight, you can focus on achieving an excellent finish on your interior and exterior walls.
The nozzle also provides a professional even finish with perfect consistency and detail. When looking for paint sprayers for un-thinned parts, aspects like detail finish, pattern and adjustments are some of the priority features.
The design of the Wagner Flexio 890 Paint Sprayer equally ensure you have an awesome painting experience despite the size of your walls. It is simply fast, efficient and tidy.
With the option of using various kinds of paints, Wagner 0529021 FLEXiO 890 is a versatile sprayer that can be used for different walls and surfaces including fences. Adjusting your patterns and sprays is as simple as pulling the trigger.
The sprayer can hold 1/2 quart cup and a 20-ounce fluid cup to keep you spraying a large section before you need a refill. Once you are done spraying, simply clean your nozzle and cups before organizing them perfectly inside the power box for safe storage.
Final Words on the Wagner Flexio 890 HVLP Paint Sprayer
If you are in the market for paint sprayers, you have lots of choices. You can choose from airless, HVLP, hand-held and the traditionally styled models. You can even choose from low, medium and high-end sprayers depending on your budgets and the capability you are looking for.
But if you want to save yourself half the time, energy, and costs when buying a new sprayer, you should buy this model.
Remember you could do less than $2000 with this sprayer (with paint, materials, and accessories) compared to the above $5000 contractors will quote you when you want to carry out any significant painting project or remodeling.
This shows that the Wagner Flexio 890 HVLP Paint Sprayer is one of the best you can get in terms of the value it offers you for your investment.
Want more Wagner paint sprayers reviews? Check out our other reviews on: