When it comes to buying paint sprayers, people like to see what reviews are available on each brand, which explains why you may want to read Wagner Paint Sprayer Reviews.
People tend to follow the popular brands and those that have proven to produce the best sprayers on the market.
As a result, I have seen a couple of queries from people who want to learn about each of the brands manufacturing sprayers – especially the popular ones.
I have taken it upon myself to review each of these brands and their high performing products.
This is the second in the series. The first one in this series is [here]
About Wagner Spray Tech
Wagner Spray Tech is the company behind all the Wagner sprayers I'm going to review in this article. As stated on the company's website:
Minneapolis-based Wagner SprayTech Corp., a wholly-owned subsidiary of Wagner Holding, Inc., is a market leader in advanced paint applicators. It develops and markets a wide array of painting and decorating products used in home improvement, commercial painting, and industrial fine finishing. They make it easier to prepare surfaces, apply paints and other coatings, and clean up after painting. Wagner supports its customers through innovation, high tech engineering, quality manufacturing, and service.
The company brand is well known and has been in the business for several decades. What's interesting is that this company has received a ton of positive reviews and ravings from customers across the globe.
The company is the maker of leading paint sprayers including the FLEXiO and Power Painter Plus line.
With the increase in the company's global reach, more and more people are interested in learning more about this company.
But with all the different paint sprayers from the manufacturer on the market, it can be difficult to figure out which one is right for you.
The Goal of this Reviews
With this review of the top Wagner paint sprayers, I'll break down the best sprayers currently available from this manufacturer and examine why these are the best of the best.
This way, you'll have all the information you need to determine which one of the Wagner sprayer is suitable for you.
But first:
How Do I Rate These Sprayers
So, when it comes to determining which is the best Wagner paint sprayer in 2018, how do I go about it? In measuring these Wagner paint sprayers, I use a set of five criteria.
I looked at the overall features offered by the manufacturer relative to how the sprayer performed in the past.
Then I carry out a survey and review customer ratings on a variety of platforms to determine the greatest customer experience.
After which I consider to what extent consumers report problems with their machines relative to the severity of those problems.
I considered how durable the sprayers are and to what degree the manufacturer's warranties provide for the longevity of each item.
And lastly, I looked at the customer service responsiveness offered by the manufacturer relative to the one offered by other brands.
Based on these criteria, what are the best Wagner sprayers in 2018? Let's take a look.
Best Wagner Paint Sprayer Reviews:
Wagner 0529010 FLEXiO 590

The Wagner 0529021 FLEXiO 890 HVLP Sprayer
Wagner 0525027 Power Painter Plus Sprayer
The Wagner 9175 Airless Twin Stroke Piston Pump Paint Sprayer
Wagner 0529033 Home Décor Sprayer
The Wagner 0529002 PaintREADY Paint Sprayer
Wagner 0529010 FLEXiO 590 Paint Sprayer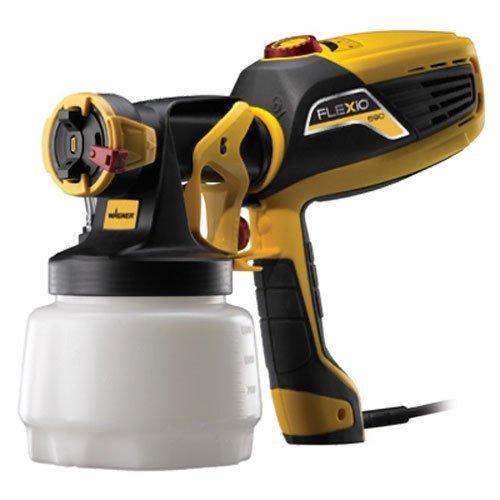 This is the first model on our list. One of the strong points of the Wagner 0529010 FlEXiO 590 is the X-Boost Turbine technology.
It is mainly designed to give you more control over the paint flow and good coverage.
When you look at the FLEXiO 890 too, you will find the same technology on it two and they work similarly.
The X-Boost has an in-built Power Dial that can be turned in to adjust the air pressure and this is where the unmatched power of the 590 is created.
Because of the spraying power and the ability to control the coating, you can expect a low overspray.
This is why I think this unit is more powerful than the traditional HVLP because you can expect more power as well as total control during any painting session.
iSpray Technology
The iSpray technology is important for modifying spraying patterns. The unit has a pattern adjustment ring with the spray technology that will allow you to spray in horizontal and vertical spray patterns.
The design also makes it easy to spray wide and narrow patterns with the help of a spray width lever.
One reason users often choose this model is that it allows both professional coverages with any sort of coating which may only be available with high-end airless sprayers.
Powerful Painting Solution
The FLEXiO 590 is a very powerful painting solution with many users attesting to this in their reviews.
This sprayer will help you apply as much paint as quickly as possible, thanks to its iSpray nozzle, detail finish nozzle, and X-Boost turbine.
When painting with it, you have to ensure you place plastic around it and ensure it is tape down well because the powerful air blow will move them around when not properly secured.
In addition, you will not be limited to only water-based or light painting materials. You will be able to spray stains, urethanes, latex paints, sealers, lacquer, and oil-based materials unthinned.
The problem you may likely encounter with this unit is what you will encounter with other models in this range.
When it's full of paint, it's very heavy. This makes it inflexible for use in large painting projects.
However, if you are only looking for a suitable sprayer for smaller home assignments, you will not have any problem with this.
Click here for the full review of the FLEXiO 590 HVLP sprayer
Wagner 0529021 FLEXiO 890 HVLP Sprayer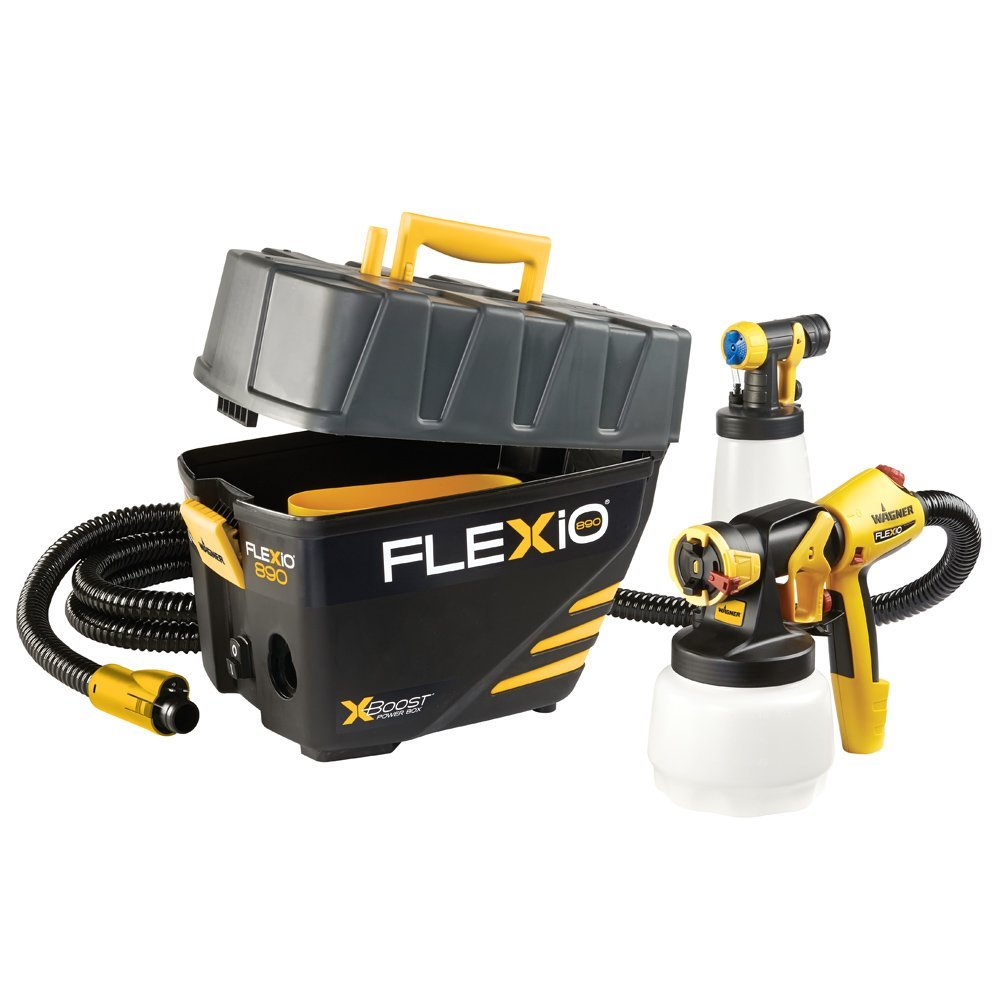 While the FLEXiO 590 is most suitable for painting small household jobs, the 890 is more suited to larger jobs.
Many users have found that the 890 performs excellently both indoors and outdoors even when used in a poor weather.
The 890 is very powerful and is able to deliver that power and control for all painting projects.
It is built strongly so that you enjoy it for a long time before needing replacement.
The FLEXiO 890 allows you to paint longer and with more precision because the expose power box keeps the weight on the floor and controls in your hand.
It is one of the sprayers that allows you to paint interior walls and fine finishing projects very quickly with a high level of control.
Patented X-Boost Turbine Technology
The patented X-Boost Turbine on the FLEXiO 890 allows you to achieve a quality finishing. It provides the power for full coverage with adjustable control and low overspray.
This feature with the power box allows you to put the weight of the turbine on the ground which makes it lighter and allows more flexible handling intricate spraying longer projects.
The power box also doubles as its own storage system for easy transport and organization.
Both trim, furniture, and broad interior surfaces can now be sprayed instead of using a traditional roller, saving you time for other projects.
The Innovative iSpray Nozzle Design
The iSpray nozzle design on the FLEXiO 890 sprayer is versatile enough for all your painting jobs and when you're finished, it is easy to put away with its self-contained storage design.
This exclusive nozzle technology has the ability to spray any residential coating even on thin latex.
It's also great for broad surfaces and fast coverage plus you can easily adjust the flow rate and the spray pattern during your painting.
This sprayer has Lock-n-Go feature that allows you to quickly attach the nozzle to the turbine assembly. It's important to properly set your controls for your specific project and material.
It comes with integrated spray controls that let you adjust the power material volume spray width and spray shape to achieve your desired results.
While there are a lot of great points about this sprayer, it may not produce a great result for fine finishes such as trim, cabinet, or entry door.
However, it still combines that power, low weight, and the ability to adapt to painting objectives (fine vs. wide). And because it supports a large paint type and a low cost, it's worth trying out.
Click here for the full review of the Wagner FLEXiO 890 HVLP sprayer
Wagner 0525027 Power Painter Plus Sprayer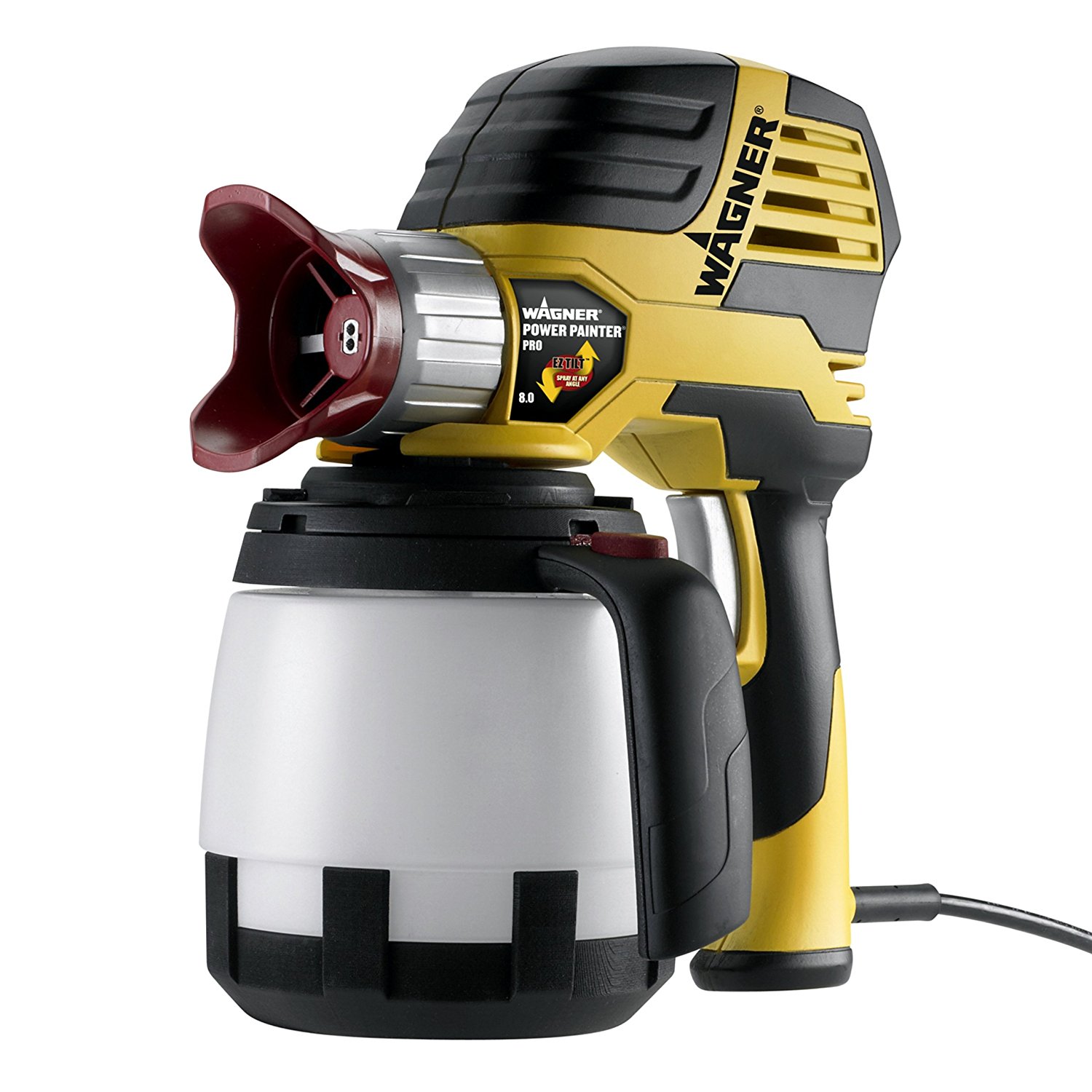 Unlike both the FLEXiO 590 and 890 sprayers, the Power Painter Plus is an airless sprayer.
The Power Painter Plus is a small sprayer for painting that is designed for small projects but can be used for some medium range projects.
What that means is that you can use it to paint a latticework or large deck but not full-sized project like a house.
You'd better off getting a full-size sprayer or another model that is able to pump directly from a five-gallon pail.
The Power Painter comes with Optimus Dual Tip with two tips as opposed to one that's mostly seen on traditional models.
These two tips give you a wider core pattern and better coverage, which means fewer passes and then a single orifice tip and a better finish.
With this, you can do a better job while still saving time on your painting projects.
The Power Painter looks more like a coffee maker than a traditional sprayer.
While older models have a thread on the cup or a mason jar cup, this unit comes with a twist lock that's just a quarter turn and the cup comes up easily so it's easy to clean.
The Innovative EZ Tilt Flex Tube
It has an EZ tilt flex tube that allows you to use more of the material in the cup if you are spraying up.
And when you are spraying down, you turn the gun to the side and the tube will continue to flow the paint inside the cup so that you will not lose suction.
The EZ Tilt Technology allows you to spray at any angle.
Easier to Gauge
Thanks to the gauge on the model, you can also prevent spitting on your paint surface so you don't get to ruin your finish.
A low-level indicator is attached so that you get a warning that the cup is getting low on the material so that you can stop painting before you run out of material.
There is also a Sure flow Valve on the bottom of the Flex Tube that helps to retain the paint inside the Flex Tube and inside the pump.
This is a great feature that when you go back to paint, you don't have to reprime, just continue to paint like you were before you refill.
In short:
The unit comes with 8.0 GPH flow to tackle large jobs
Easy twist 1-1/2-quart paint cup for quick painting filling
OPTIMUS Dual Tip for a professional result
Multi-directional paint suction tube lets you spray up, down, or sideways
Tungsten Carbide piston and cylinder for long life
Click here for the full review of the Power Painter Plus sprayer
Wagner 9175 Airless Twin Stroke Piston Pump Paint Sprayer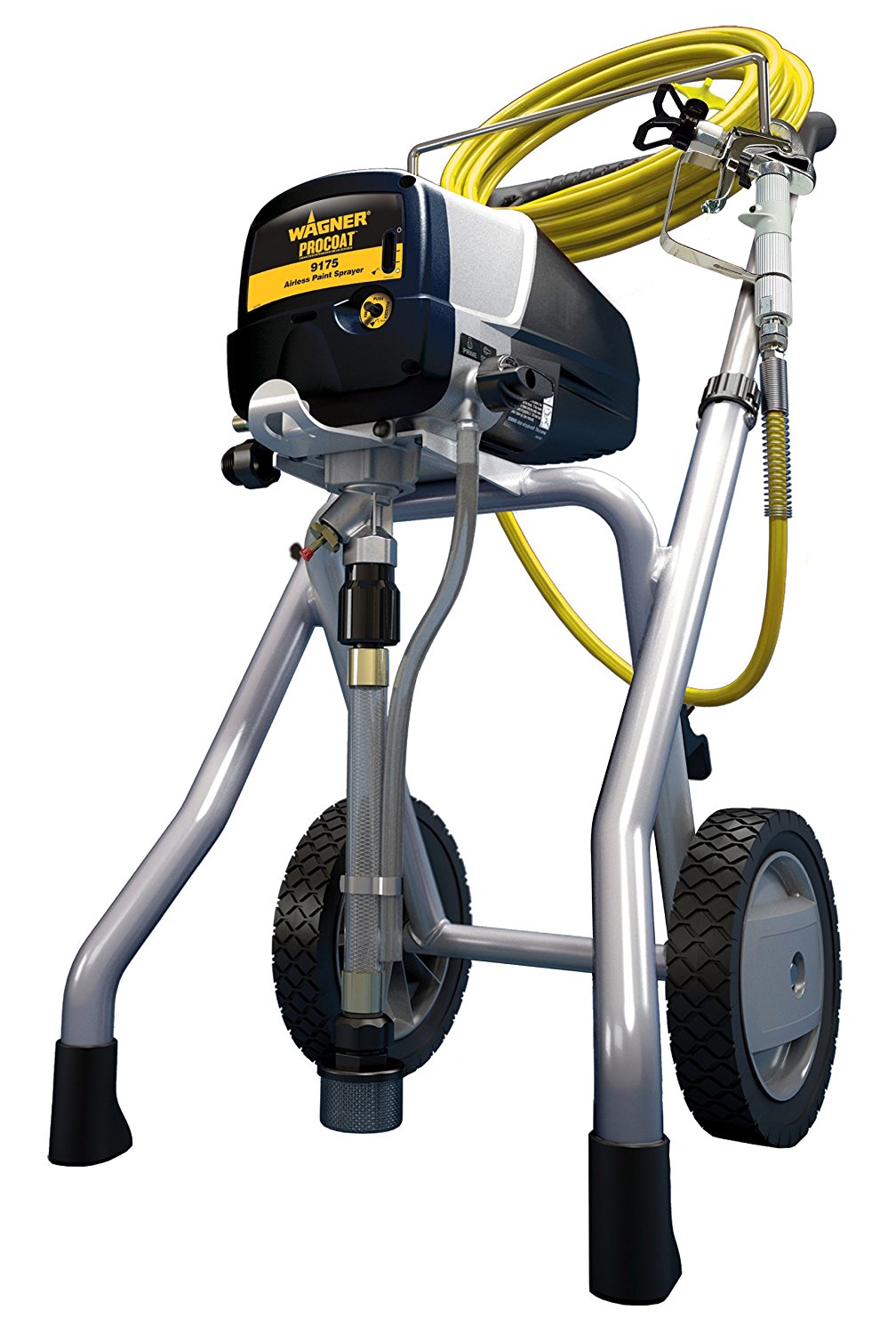 The Wagner 9175 Airless Twin Stroke Piston Pump Paint Sprayer is suitable for contractors who are looking for high performance, portable, and large capacity sprayer for monthly spraying in residential and light commercial applications.
It is also suitable for both homeowners and property managers.
The Wagner 9175 Airless Twin Stroke Piston Pump Paint Sprayer has been the choice of professionals as it delivers even paint flow for both down and up strokes.
Thus, providing the user a powerful and smooth operation on every project.
If you are a DIY homeowner, you can paint your home, trim block wall or stain your deck.
Most users have also reported that the sprayer does a fantastic job for similar household projects.
Although it is a big sprayer, it is fairly easy to use and instructions are easy to follow.
If you are looking to painting your whole house and you have the money, I'll advise you to invest in this sprayer.
Unlike other units, it comes with a 0.29 GPM and 5/8 HP Motor, which makes it one of the powerful heavy-duty airless sprayers on the market.
Strong and Durable
Another exciting feature of the Twin Stroke is the durability.
Most users are able to use their model for more than 5 years, at which most people would have changed their unit a couple time with less durable models.
With its amazing power, it is what you need if you have a large amount of painting job to get done.
Powerful Motor
This sprayer comes with a 3/4 HP motor and can spray up to .35 gallons of paint per minute.
It comes with 50-feet airless high-pressure spray hose which is longer than most of the sprayers I have seen from other brands.
Both the X5 and X7 airless sprayers from Graco has less than 30-ft airless hose.
Even the HomeRight C800 series from HomeRight doesn't come with as long a hose as that on this one.
The advantage of this is that you won't have to change the hose even if you are painting a project with a large surface area.
And because it comes with commercial grade spray gun, you will be able to spray thicker paints right out of the box.
A No-Frills Upright Cart
It comes with a heavy-duty upright cart with 5-gallon pail bucket and Space-Saver Telescoping-Handle.
This means you don't have to be carrying the sprayer around, which can be quite fatiguing if you are working on a large project at a time.
The handle also removes the stress when carrying the sprayer itself as it's ergonomically designed.
Wagner 0529033 Home Décor Sprayer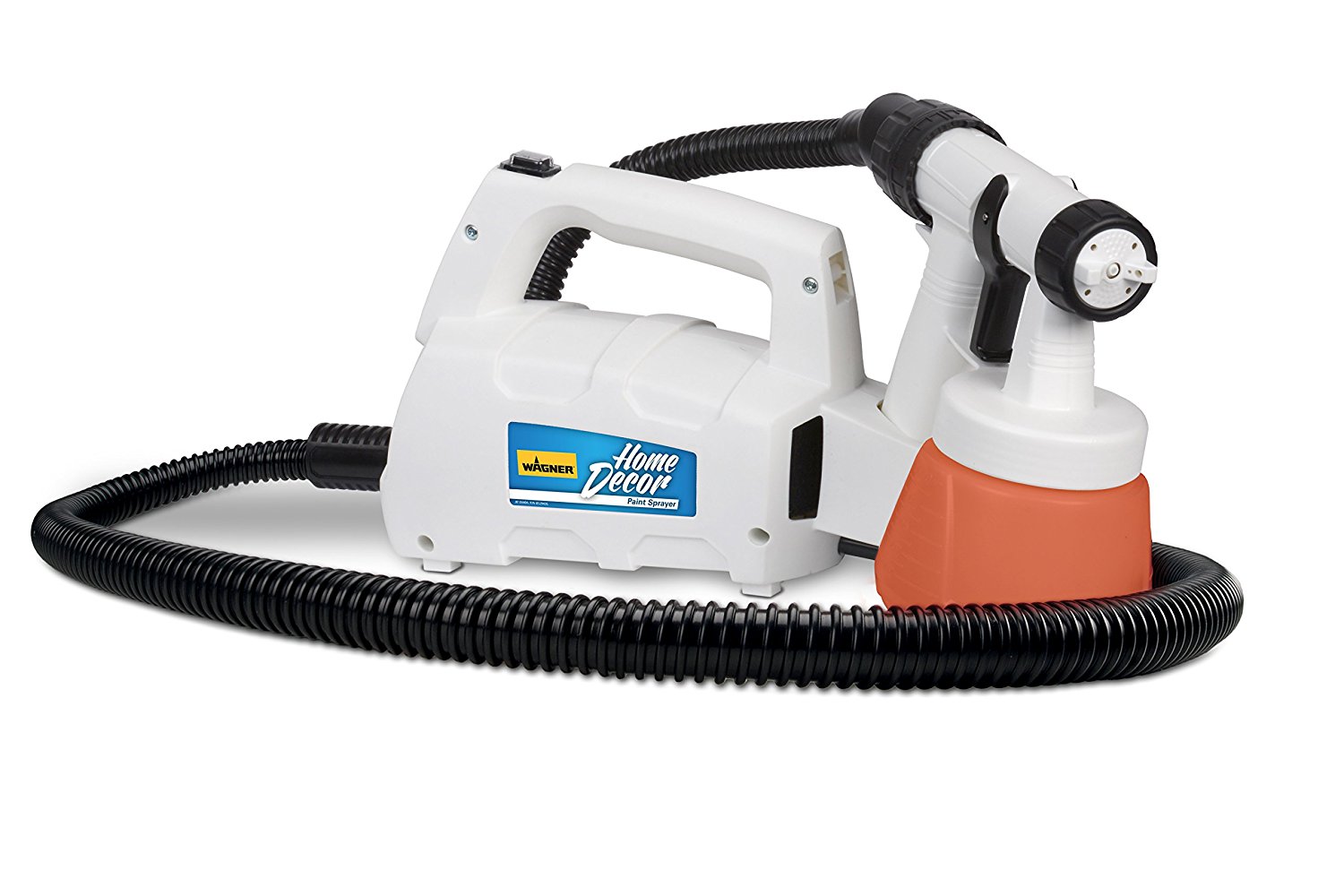 While I was researching the Wagner Home Decor Sprayer, I saw someone ask this question, how much noises makes the sprayer?
Jokes aside, this sprayer does make some noise, but not to a level that is uncomfortable.
Another description to make it clearer is this: the turbine makes about as much noise as a loud vacuum cleaner.
The Wagner Home Decor Paint Sprayer is the perfect solution for a great finish on all of your home decorating projects.
Takes about half the time of hand painting and creates a smooth and even finish with fewer coats and no brush marks.
The Home Decor Sprayer works with chalk type paint, melt paint, and most other decorative paints in addition to stains, clear top coats, and lacquers.
While the both FLEXiO 590 & 890 may be good for indoor and outdoor painting jobs, the Wagner Home Decor Sprayer is suitable for smaller jobs like painting furniture cabinets, tables, and similar kinds of projects.
It measures 12 x 10 x 10 inches, weighs 5 pounds and is backed by 1-year limited warranty.
Flexible Spray Patterns
It allows horizontal, vertical, and narrow patterns which makes it easy to use for spring, dresser chairs, patio, furniture, cabinets and pretty much anything in your home.
In addition to the spray pattern controls, the Home Decor Sprayer comes with an easily adjustable paint flow dial allowing you to save paint.
The motor is housed in the base of the unit so the weight is on the ground, not in your hands.
Spray Gun and Better Hose
With a six foot hose and lightweight spray gun, you can easily maneuver around pieces as well as into small spaces and tight corners.
The Wagner 0529033 Home Décor Sprayer is compact for easy storage and it has the power to handle small to large sized projects.
Ease in Cleaning Up
Cleaning is simple and you can clean in two ways. Either use the quick clean method when switching colors or the complete disassembly method when the project is done and storing the sprayer.
With the Wagner 0529033 Home Décor Sprayer, you can paint like a pro and achieve a flawless finish for any decorative piece in your home.
Setting up this sprayer is no more than removing all the components of the sprayer from the box and reading the QuickStart Guide and manual carefully.
Wagner 0529002 PaintREADY Paint Sprayer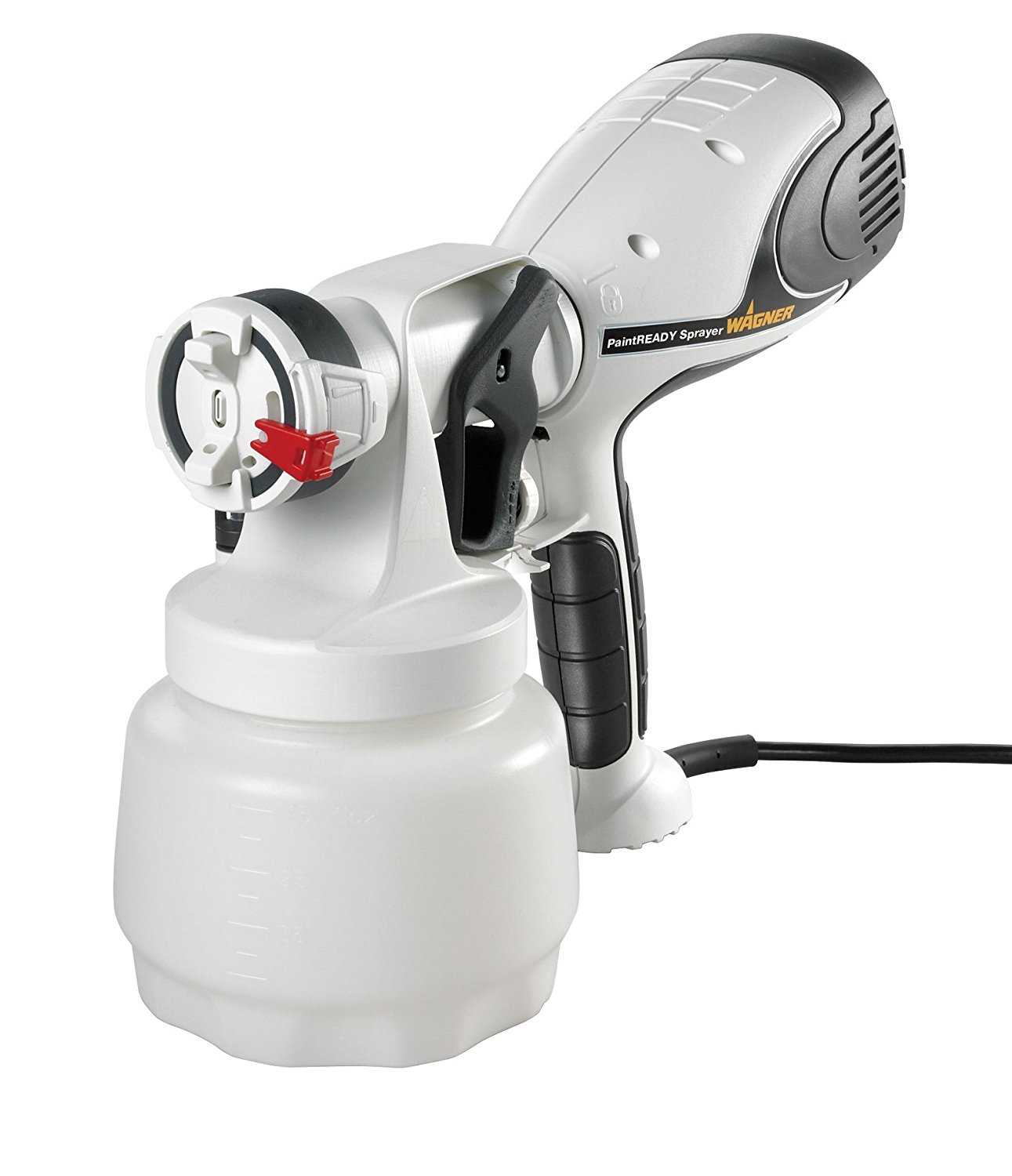 With the PaintREADY Paint Sprayer, Wagner is delivering new technology which makes it possible for even the inexperienced DIYer to achieve a professional spray on the finish for your walls and ceilings with ease.
The Wagner PaintReady sprayer sets new standards in interior painting.
The patented flow through the turbine and split gun design means the PaintReady Sprayer gives you total versatility for all of your painting jobs.
Same iSpray Technology With Xtras!
The iSpray technology and simple adjustable controls on the PaintReady let you control the spray volume and pattern giving you a professional finish every time.
Edges, corners, and broad interior surfaces can now be sprayed with some basic masking and without the tedious effort of a brush, saving you time for your other projects.
And with the extra-large 1-1/2 quart cup, you can paint up to 125 square feet in one fill.
With this sprayer, traditional brushes and rollers are a thing of the past.
The canister holds 48 ounces of paint so the gun might get a little heavy when filled. What you can do is to adjust the nozzle so that the paint can be sucked in from either the back or the front.
And Finally, Integrated Spray Controls
Using the PaintReady Paint Sprayer is simple. The integrated spray controls let you adjust the material volume spray width and spray shape to achieve your desired results.
For thicker materials, you can use the highest flow settings and dial to suit your spraying needs.
One of the things that people have complained about is cleaning. However, I don't think it's any worse than any other piece of equipment like this.
Final Words on the Wagner Paint Sprayer Reviews
At this stage, you should have a good idea what the best Wagner Paint Sprayers are and what they can offer you.
There are a lot more units on the market, but these are the cream at the top. Among these sprayers, you will find one that is suitable for both indoor and outdoor sprayer.
While some of them perform great for small painting tasks, others are ideal for larger jobs. Look through the features of each of them and determine what they can do for you.
I hope you found value in this Wagner paint sprayer reviews.
Want more Wagner paint sprayers reviews? Check out our other reviews on: