This review of the Wagner Power Painter Pro Sprayer is unbiased, detailed, and to the point. Before writing this review, I have researched the experience of previous users of this product, expert advice, and other reviews.
This is done to provide you with accurate and complete information. So, at the end of this guide, you should be able to decide whether the Wagner Power Painter Pro Sprayer is for you or not.
Overall Rating
The Wagner Power Painter Pro is another high-end paint sprayer from Wagner with all the features you will need to have total control while painting your home, furniture, or fence. It lets you finish outdoor projects faster and quicker.
Moreover, you can use it in painting your decks, fences, and other house painting needs. Thanks to the selection settings and the multi-production speeds, you will be able to finish professionally when you apply it to different needs.
It comes with an Optimus Dual Fan Tip which produces a professional spray pattern and a Remote Suction Set that helps you draw materials from your backpack for big projects.
Fortunately, it is able to spray up to 7.2 gallons per hour and has a carry case for storage as well as additional Atomizer for painting oil-based materials.
Full Features of the Wagner Power Painter Pro
Lubricant backpack kit and cleaner nozzle
Remote suction hose kit and lid adapter (for threaded containers)
Electronic speed control and low cup level indicator
Electronic material selector and attached 1 ½ Quart Cup for quick refilling and color changes
The multi-directional paint suction tube allows you to spray in any direction
There is a two-setting power module  on the sprayer that helps to reduce overspray with thin materials
Adjustable spray tip assembly
Spray adjustment guide and Cup release button
Cup handle and trigger
It features EZ Tilt technology that allows you to spray at any angle
Wagner Power Painter Pro Sprayer Full Review
In this section, you will find all the information on the design of this sprayer, how it works, what benefits you can expect to derive when you buy it and so much more!
After reading this section, you should be armed with the necessary information that will help you to make an informed decision.
Moreover, you will also be better off than most people who just buy without getting the complete review of the product first. So, let's dive into the specifics!
Design of the Wagner Power Painter Pro
The Power Painter Pro comes with the new EZ Tilt Suction Tube, which makes painting easier.
It has a weighted one-way nozzle in the supply bucket so that when you tilt the sprayer up, the EZ Tilt Suction Tube and the sprayer drops to the bottom of the 1 ½ quart attached cup.
Therefore, you should sometimes do the tilting so that you will be able to work vertically while still being able to supply enough paint through the suction tube to the sprayer.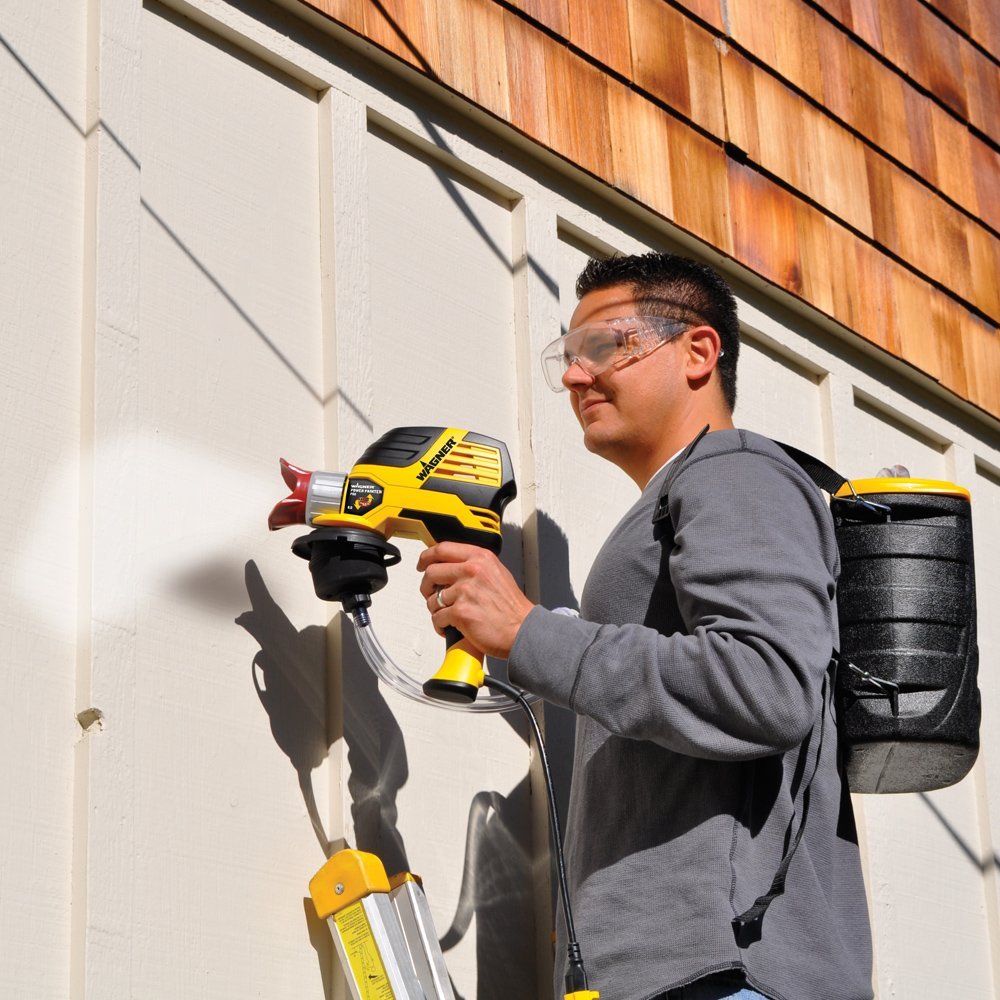 Build Quality of the Wagner Power Painter Pro
The Power Painter Pro comes in a plastic packaging with a hinge for opening and a clasp for securing the open space on the pack. While it's basically easy to remove the paint sprayer from its bag and attach other accessories to it, some users have complaints about repackaging it.
This means putting everything back into the plastic packaging is difficult and may require that you have patient while trying to put everything back after using. However, this shouldn't continue after you have used it back and forth.
In the packaging, you will find the remote suction hose kit, a user manual, the cleaning and lubricant accessories, fill lid, threaded adapter and the sprayer itself.
The 1 ½ quart cup comes fully loaded so the first time you are using it, maybe quite heavy as well as when you fill it up with subsequent use.
The first thing that will first draw your attention is the Optimus Dual Tip, which is designed to offer you wider coverage.
It has a few spaced holes that are lined with thin plastic that spits out a good amount of paint during any project so that you can get the paint on the surface quickly and save time.
The tip also adjusts easily so that you can use it in both vertical and horizontal positions.
Design of the Wagner Power Painter Pro
You will also find the Optimus Dual-Orifice technology on the unit for spraying both oil-based and water-based paints and stains.
With this technology, you don't need to buy or use different spray tips when it's time to spray different materials.
This is very handy for professional painters who want to complete a painting project with different painting materials quickly and also for homeowners who want to paint different furniture with varying materials in a short period of time.
The Wagner Power Painter Pro also has a cord which is 12" long. Some customers claimed that they experience some difficulties in using this hose as there is no string that attaches it to the sprayer and so it falls now and then.
One hack to stop this problem is to use a hook and loop strapping to stop the hose from falling. The company can also make this easier for users by offering a longer and better hose. Also, the 1 ½ quart cup attaches to the bottom of this unit so you can enjoy longer spraying sessions before filling up the cup.
This is possible as the container is very large and allows you to do lots of painting in one goal but be aware that this will add more weight to the unit when you fill it up. Fortunately, there is a side handle that can make things easier for you since you can comfortably carry everything while using the sprayer.
The Wagner Power Painter Pro In Use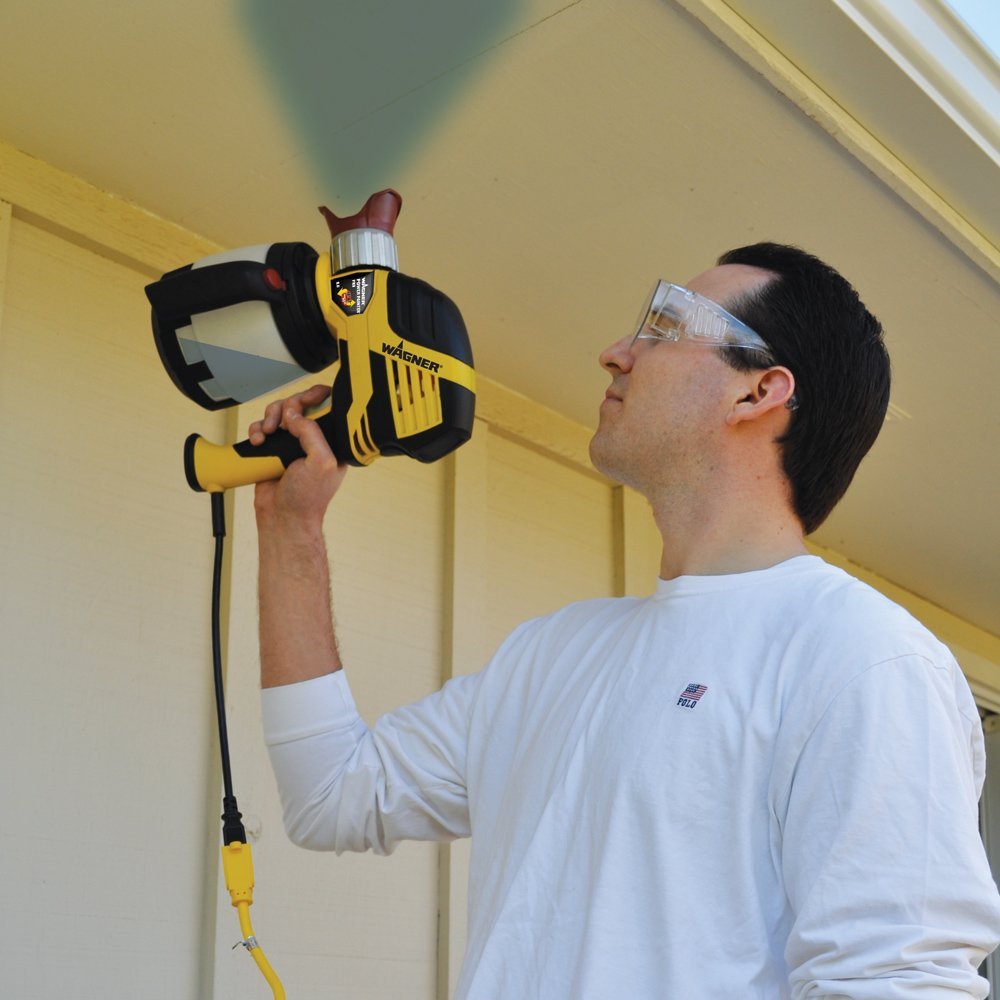 One of the beneficial features of the Wagner Power Painter Pro is that it is easy to use especially when it comes to painting those crevices and other spots that are hidden from direct view.
It does this without dripping plus there is a low-level light on the back of it that beeps just to alert you when the paint has reached the bottom. This is a nice thing as you can easily monitor it and prevent the paint from exhausting before refilling the container.
When working with this sprayer, make sure you mix the materials you want to use thoroughly. When doing this, avoid shaking it vigorously, rather it just needs a gentle stirring and you will be good to go.
This paint sprayer may not be suitable for painting your entire house, but suitable for carrying out smaller projects such as painting small rooms, sheds, and the like.
The unit comes with a Hi and Low setting that you can utilize to obtain more control over it and you may even have to work with this setting to reduce your overspray especially if you are doing a delicate job.
With this unit, you should expect painting 500 square feet of siding, posts, eaves, and your ceiling in about 2 hours. This will certainly save you more time compared to using paintbrush or roller that will take you 3x more time to complete.
What About Cleaning?
Cleaning the Wagner Power Painter Pro is also a straightforward matter. While cleaning, ensure the unit is fully dissembled and it is recommended that you use the tool that comes with the packaging for cleaning the piston chamber.
Make sure you adhere to cleaning the piston chamber and other areas so that the paint doesn't dry up and stain the unit thereby causing clogging. Moreover, you should try to rinse the filter after cleaning so that there is no remnant of water that could lead to rusting.
Moreover, you should try using textured materials, lacquers, industrial enamels, asphalt material or those materials that contain HHC with this product. This is because the manufacturer recommended this if you want it to last longer.
Finally, this sprayer can spray primers, stains, preservatives and other non-abrasive materials, which gives you a wide selection to choose from.
More: Best Paint Sprayer, Best Paint Brush for Trim
Advantages of the Wagner Power Painter Pro
The Wagner Power Painter Pro is able to produce a consistent spray as well as spraying a variety of painting materials. One that is clear from most users' reviews is that this unit is great for small jobs but may do a poor job with extended or larger projects. With this in mind, you can set to produce professional finishes with all the small jobs you will be carrying out with this unit.
Cleaning the unit is not complicated and not tedious, although some users opined that it may be tedious. One tip you can take home is to always clean the spray tip, Atomizer, suction tube and similar parts thoroughly. This will ensure the unit doesn't develop clogs (thus making it easy) when next you want to use it. This also means you will be able to use them over and over again instead of buying replacements.
The performance of this sprayer is decent. Many have worked with it in paint their bam, rooms, and carrying out exterior projects without any problems.
Disadvantages Wagner Power Painter Pro
This unit may not be suitable for extended projects as it's quite heavy. A way around this – which is not foolproof – is to not fill up the cup. The fuller it is, the heavier it is. Remember, when the cup is also not full, you may have to spend more time filling it up during your project. It all depends on your preferences.
Cleaning it is not that bad. However, as with every other paint sprayer, you should expect to experience a reduction in the level of effectiveness as the unit ages. This is because you won't be able to have a full cleanup of the attachments such as they are clean as they were when the unit is new. This is known to reduce performance.
Should You Buy the Wagner Power Painter Pro with EZ Tilt?
If you are looking for a paint sprayer that can deliver stunning results for smaller projects and occasional use, you should look into buying this unit.
It can save you a lot of time and it is well worth the cost, compared to when using a paintbrush or roller.
Wagner Power Painter Pro is easy to assemble and running it is not so stressful that you don't achieve your desired result.
Want more Wagner paint sprayers reviews? Check out our other reviews on: