This is an overview of the Wagner Power Tex Texture Sprayer which I've tried to make unbiased and completely honest. It is full of all the information you will need about this sprayer.
In order to ensure the information is correct and that it is complete, I have to examine user ratings and experience and read other website feedback on the sprayer.
For this reason, you should have everything you need to make a confident purchase after reading this article.
Key Features of the Wagner Power Tex Texture Sprayer
Power texture sprayer for walls and ceilings
Applies popcorn, orange peel, and knockdown textures on walls and ceilings
Powerful air turbine and 1-gallon adjustable hopper for fast coverage of large surfaces
Includes 3 spray nozzles and 1-gallon adjustable hopper
Weighs less than 5.7 pounds
Backed up by 1-year limited warranty
Comes with three spray patterns (knockdown, popcorn, and orange peel)
Accommodates the use of non-aggregated and aggregated materials for flexible applications
Features and in-built air turbine that eliminates the need for a separate air compressor
Capable of producing a maximum pressure of 2 PSI and sprays at 0.2 GPM for optimal coverage
Advantages of the Wagner Power Tex Texture Sprayer
Geared towards a DIY geared homeowner
Comes with only a few moving parts to ensure it lasts longer
No air compressor needed, only extension cord needed
It's quick and fast
It has a nice design and is suitable for smaller jobs
Reliable product for a great job on textured walls and popcorn ceiling
It's self-contained and inexpensive
Disadvantages of the Wagner Power Tex Texture Sprayer
Sprays air when it's on, which might blow off plastic coverings
Requires a steep learning curve
It is a bit noisy and underpowered
The Wagner Power Tex package includes:
Wagner Power Tex

One-gallon hopper

Three nozzles (small, medium, and large)

Cleaning brush

Lubricant
Wagner Power Tex Texture Sprayer: What You Should Know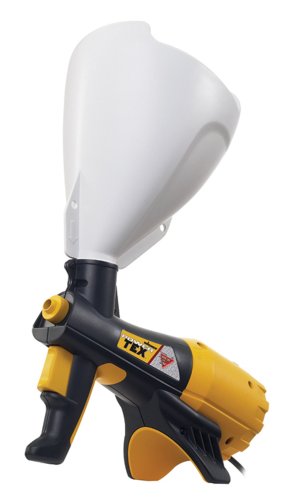 Before buying a paint sprayer, it's important to learn all you can about to help you make an informed decision. If this is your first time of reading reviews of the Wagner Power Tex Texture Sprayer, you will find there a lot of things you don't know and need to learn about this product.
To make it easy, I have separated this review into two sections. Going through each section will help you understand what the product is about and be able to decide if it's for you or not.
These are the most important information about this sprayer:
The Wagner Power Tex is a texture spray and it's got a one-gallon hopper and is driven by an air turbine which is powered by a 3.7 amp motor. The easy trigger allows you to aim it up and shoot your ceilings or your walls while working on both medium and large work.
There are three tips on this Wagner Power Tex Texture Sprayer: small, medium and large. This unit is homeowner grade. Ask yourself, how hard or easy is it to take it out of the box and start putting texture on the ceiling? All you need to do is read the directions and go from there. It is not really difficult at all and is self-explanatory.
If you are needing to do a small area like a patch or bedroom ceiling you shouldn't experience a problem with this unit. The Power Tex all-in-one powered texture sprayer is easy to assemble, easy to use, and easy to clean. It's the perfect tool for professional-looking textured ceiling and walls only from Wagner.
If you are wondering what kind of dry mix to use for the knockdown texture, you need not because you can use all kinds of dry mixes, although you may still have to mix it with water to get the right mix to spray.
You should also note that it is very important to clean it immediately after each use. Cleaning it while the material is still wet is best because then it is easy to clean. And for your information, you can only use it for texturing only and not for oil, latex or deck stains.
Wagner Power Tex Texture Sprayer: The Complete Review
The beauty of textured ceilings and the polished finish of textured walls give any room a warm and inviting look.
Now, Wagner has developed a product to create this kind of look for an entire room or a smaller area or if you are looking to do a patch job.
Introducing the Power Tex: the all-in-one powered texture sprayer.
The Built-in Air Turbine
The Sprayer Power Tex Sprayer features a built-in air turbine with enough power to spray an entire ceiling yet, it has the simplicity needed to make it perfect for small touch-up jobs.
Until now, getting a professional quality texture on walls or ceilings was a cumbersome expensive job using air compressors and large hoppers.
Other methods such as the aerosol can and manual pump gun don't require a compressor so they're easier to use but a messy application and inconsistent results make them less than desirable.
Wagner's Power Tex takes the best of these units and rolls them into one unique sprayer.
The professional results of the air gun and the simplicity of the pump gun and the ease of the aerosol can. Simply fill the hopper, plug it into a standard socket and spray.
You don't need a separate air compressor or any long air hoses. It couldn't be easier.
Lock-N-Go Technology
Wagner's Lock-N-Go technology on the Power Tex allows the turbine to lock on to the back of the spray gun and the hopper to twist on to the top screw on the desired nozzle and that's the end of the assembly.
No tools, extra parts or pieces to make it work.
The key to the Power Tex performance is the self-contained air turbine that pulls in air from the back of the unit. As the texture material mixes with the air it sprays through the nozzle.
The one-gallon hopper of Power Tex can be configured for spraying either walls or ceilings without the use of adapters.
This makes it easy for combining one of the three Power Tex nozzles with the same material the pros uses to achieve the desired look of acoustical popcorn, knockdown or orange peel.
Adjustable Spraying Pattern
To begin spraying, simply put the sprayer in motion and pull the flow trigger.
If you are a contractor, you will find that combining the Power Tex with their professional techniques yields the result similar to large professional units.
And homeowners will appreciate the simplicity of Power Tex and the versatility to complete both large and small projects.
Appropriate tools and methods can be used to achieve a knockdown effect on either a wall or a ceiling. Painting is required to finish both knockdown and orange field textures but not for popcorn ceilings.
The Lock-N-Go technology also makes cleanup a breeze. Simply empty the hopper, unlock the turbine from the sprayer and set it in a dry area.
Thereafter, every other component can be submerged in water.
Downsides of the Wagner Power Tex Texture Sprayer
The downside to this unit is that it is very loud and may require a longer learning curve. Some users have found it is very difficult to use.
You will have to try different batches at different consistencies before you come down to your own pattern. Once you get that down, you will quickly discover that it is a great sprayer for a DIY geared homeowner.
Others also complained that the machine blows a strong blast of air as it sprays. Most likely, the air will blow the texture away from some areas such as where the wall and ceiling meet.
In order to stop this, you have to cover everything with plastic sheeting. However, the fact that it has only a few moving parts shows it will last longer.
Final Words on the Wagner Power Tex Texture Sprayer
Although some of the previous users complain that this unit is tricky to clean, a surprisingly large number of users have reported that it's very easy to clean.
Following manufacturer instructions and applying appropriate tips will not only help learn to use the sprayer quickly, it will also help you clean it with ease.
If you follow the instructions properly, you should not have any problem with cleanup, even if you are a beginner.
And if you don't have any previous experience, don't expect to see great results the first time.
As with any tool, you should have measured expectations and make sure you practice proper techniques with Wagner Power Tex Texture Sprayer.
Want more Wagner paint sprayers reviews? Check out our other reviews on: