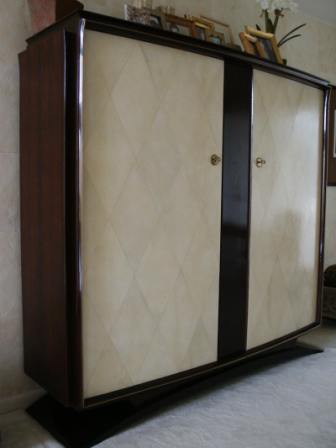 Have you ever asked yourself, "What are custom cabinets?"
If so, this post will answer your question.
Custom cabinets are designed to fit a certain area, space or need.
It is specially made with a touch of personal style.
With a custom-made cabinet, you can virtually accommodate dimensions, style, color, shape, moldings, wood finish, cabinet finish and special detailing or any other personal preference.
Custom cabinets are also made to match an already existing architectural detail.
Its height and depth can be altered to fit the need of the homeowner.
The interior finishes of the cabinets may also be varied and modified to give it its own look.
Among the features of a custom cabinet are:
Various cabinet length and depths
Matching cabinet exteriors and interiors
Special cabinet finishes
Inverted frames
With custom cabinets, the options are indeed endless but it can undoubtedly be much more expensive than a stock cabinet.
Stock Cabinets vs. Custom Cabinets
Unlike stock cabinets, which already come in standard sizes, custom cabinets are made based on order and specifications.
Stock cabinets, though a lot less expensive, are mass produced and identical, while custom cabinets are one of a kind. You can add your personal touch to it.
Custom cabinets require a lot of time and craftsmanship before you are able to install them in your house. Stock cabinets are readily available in stores and through dealers.
Custom cabinets are not do-it-yourself projects.
A lot of personal care and attention must be put into it and it should be done by specialized and skilled craftsmen.
A skilled craftsman knows how to make sure that the cabinets are installed, leveled and hanged properly, and that doors work perfectly.
Type of Cabinets
Whether you choose a traditional or contemporary design, the look of your cabinets must not only be decided based on personal style or taste and budget.
The choice of materials must also matter.
Below are some of the materials you can choose for your custom cabinets:
1. Melamine
Cabinets made of melamine are chic and sporty. Melamine cabinets are incredibly flexible and come with various selections of trims and moldings with the most popular colors.
The material is very affordable, while not sacrificing appearance. They are, however, less scratch resistant, compared to other kinds of materials.
And if damaged, may be harder to repair. To care for melamine cabinets, you must need to regularly check for cracks.
A thicker melamine is what you will need if you would like to have cabinets that are extra durable and resistant.
2. Laminate
These laminates are made of sheets with resin paper and are also made of versatile materials.
They come in a wide selection of colors, as well as textures. Compared to melamine, laminates are more durable and cost a lot less.
3. Enameled
This material closely resembles melamine but unlike it, enameled boards are made of medium density fireboards.
It is also flexible and can be shaped to any form or sculptured with the desired design.
It comes in many colors, with satin or glossy finishes.
An enameled cabinet gives a modern and elegant look but has the tendency to yellow as the years go by. Enameled boards can also be quite expensive.
4. PVC
PVC panels are also called thermoplastic. They are made of PVC sheets and wood fibers.
As such, they are more durable than melamine or even laminate.
While PVC panels look elegant, they are particularly low maintenance. They cost a little higher than melamine and the colors can be quite limited.
5. Wood
Wood can actually coordinate with many types of interior decoration.
As such, it is the most popular choice. They come in many varieties and can be stained, varnished, glazed, painted or sandpapered on.
Choosing wood will give you sure value for your money, as it is never out of style. Wood materials though are vulnerable to humidity.
The kinds include:
Maple – most popular choice because it is light and adaptable to any design.
Yellow birch – it is very traditional, hard and strong and best with a stained finish.
Pine – the least expensive, but its also the most vulnerable.
Mahogany – the most luxurious material.
Oak – it is resistant and ages well over the years.
Also, read the best paint sprayer for cabinets.
Useful Tips For Choosing Your Kitchen Cabinets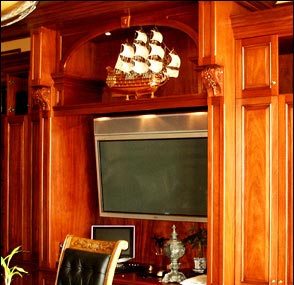 In choosing what cabinet best fits your need, the first thing to consider is the style you prefer.
The most common option is whether to go traditional or contemporary.
Select a cabinet style that comes together with the overall design of the house.
Browse through showrooms and check design magazines or visit model homes, to gather information and inspiration.
Decide about space and what the cabinet will be used for and how you would like to use it.
Think of the number of shelf space and drawers you would like to have and how the doors should look like and the way it should open.
Gather Enough Ideas First
When you have enough ideas, you could probably put it down on paper.
A crude sketch can help the decorator or the craftsman capture what it is that you would like to have and can, therefore, give you the measurements and requirements for the cabinet.
Cabinets can become the centerpiece of a room, so details must be thoroughly discussed with the people who will help you with it.
Custom cabinets are very useful, especially in the kitchen where special cabinets are needed, for example, for pantry, microwaves, and refrigerators. It is the key to a kitchen's organization.
Additionally, they provide storage space in bathrooms, bedrooms or the home office.
With this, you should now have a satisfactory answer to the question, "What are custom cabinets?"