The question most people ask is "whats the best paint sprayer?" Granted, this is a good question and I will answer that in this post. This article will answer questions like the following:
What is the best airless paint sprayer for home use
Then, what are the best airless paint sprayer reviews
What is the best paint sprayer to buy
So, if you are looking for an answer to any of the above, you are on the right page. You will find your answers here as well as links to more resources.
Don't forget to share if you find this post "what's the best paint sprayer" useful.
It's good you want to learn about paint sprayers because frankly, they are the next big things when it comes to painting.
With a paint sprayer, you can apply coating four times faster than a roller and ten times faster than a paint brush.
It even gets interesting if you have your own techniques or prior experience. You should also know that they give you more uniform finish and are the best to use when you are painting tight areas.
Professional Sprayers Versus Consumer Sprayers
Professional Paint Sprayers:
As someone else has already hinted, you have to first decide what you are going to be using your paint sprayer for. Some buy their paint sprayers for automotive projects while others buy for their home-based projects.
You should even think about how often you want to be using it. I wouldn't spend more than a few hundred dollars on a paint sprayer I'm only going to be used occasionally.
If you are doing a one-time job, it might be more prudent to rent one from a rental center.
If you are painting everyday items like your deck, furniture, cabinets, or doors, I'll recommend the Graco X5 or X7 because both have been proven to be a nice piece of equipment for these tasks.
For small touch up jobs or patching, you can choose a Wagner sprayer such as the Plus Painter or 590 or 890 models.
They do a good job and from my research, most users are pretty much satisfied with their performance.
There are heavy-duty professional-grade paint sprayers with high-pressure air compressors for atomizing paint or stain for a fine finish.
The problem with these is that they are very powerful and if you don't have hands-on experience, you may not be able to use them to achieve a desirable result when painting.
It's better to go with lower-spec models that require a short learning curve and with a few tries, you can start painting good.
Consumer Paint Sprayers:
Most airless sprayers are considered to be friendly to beginners because of their design.
The come with a trigger like that on a gun, a pump where the paint is pushed through, and a tip where the paint passes onto the surface you are painting.
Operating them could be as simple as pressing a trigger and directing a tip to the painting surface (maybe more complicated but you get the idea).
The tips come in a variety of styles and shapes depending on the surface you are spraying, the paint/stain you are using and the power of the pump/spray gun.
It takes practice to develop an easy, effective painting motion, because you must spray side to side, overlapping on each pass.
Sprayers are not intended to cover on the first stroke. A good way to practice is to spray water on a board to check how the machine performs and how effectively you cover the surface.
Also Read: Best Stain Sprayers
Whats the Best Paint Sprayer: How to Select the Right Paint Sprayer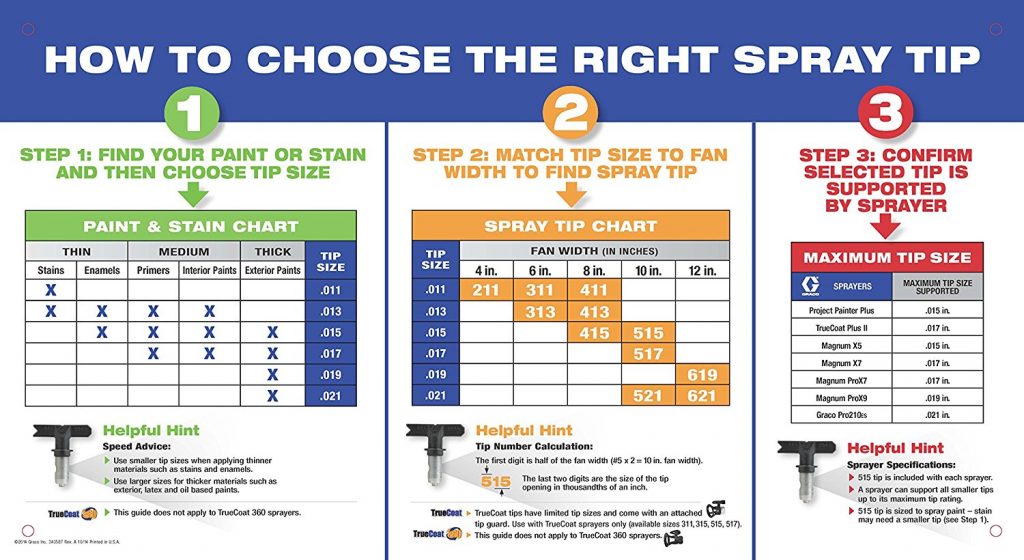 If you are just starting out, I'll suggest you go with an airless sprayer as they are simple and easy. Just a few parts namely the pump, gun, tip, and hose is all you need for your next project.
You can look at those that have larger horsepower if speed is your thing. With those, you can get more gallons per minute and get your project done faster.
The caveat is not to get one with the power you can't handle yourself.
Project size also determines how much power you need. A large project requires a broader spray pattern and more pressure behind it. A smaller project may only need a self-contained handheld unit.
Another thing that will help your decision easier is to consider the type of coatings you want to use. If you are going to be using thicker coatings like latex, lacquer, enamel, etc., you want a bigger tip.
Although you can change tips after you buy your paint sprayer, it's better to buy one with a bigger tip from the onset so that you don't spend more than you should be spending on a sprayer.
This is a simple concept because a paint gun that does not have enough force to handle a larger tip may have problems with clogging.
Picking the Right Sprayer that will solve what's the best paint sprayer
Consider the job you want to do. If your job requires some distance like painting a fence or shed, you need sprayers that come with at least 25 ft. flexible hose or extension cord. If there is an extension cord, you will find it easier to clean after you're through with your project.
Another thing to consider is that some sprayers allow you to use a longer hose if you choose. For example, the Graco X5 comes with a 25 ft. hose but allows you to attach a longer one.
Think about cleanup and whether you want a unit that comes apart for easy cleaning. Smooth interior surfaces and units that draw from the can make cleaning easier, too.
If the project requires pushing your painting supply to a long distance, you should buy one with a wheel or backpack. Some models come with a stand too that you can put your bucket or gallon for easy reach.
Consider an adjustable pressure control with high, low, cleaning, or roller settings to help extend the life of your spray tips.
hopper Before you buy, try to know your paint capacity and how often you can keep up with a refill. If you are totally new, you will be refilling during every project and that means if you get bored easily, you can abandon the project. Solution? Opt for a unit that draws straight from the canister or has a larger hopper.
Make sure replacement parts are available.
Other Important Factors to Consider
Buy a sprayer that doesn't go warm or loud while it's operating. It can be frustrating if you have to keep up with annoying noise for the entire time you will stay on the project.
Check if there are digital how-to manuals or online resources for your project. Some popular brands like Wagner and Graco and Astro often have a large number of Youtube videos and how-to guides from some of their popular products, these are the ones you want to look into.
If you are doing foyers, high ceilings or generally hard to reach spaces, consider sprayers that take tip extensions.
So, Whats the Best Paint Sprayer?
With this guide, you should now understand what to look for when selecting a paint sprayer. However, it should be noted that a lot goes into choosing the right paint sprayer.
Whether you want to know whats the best paint sprayer for your kitchen cabinets or furniture, you can find an updated list in our guide [Best Paint Sprayers].
If this helps you answer "whats the best paint sprayer" don't forget to share it with others that may benefit.
Want to see more popular guides? Check out the following: