Get the perfect airless sprayer for your next paint job with our ultimate guide. We recommend the best tools for the job, including the best sprayer for the money and our overall top pick.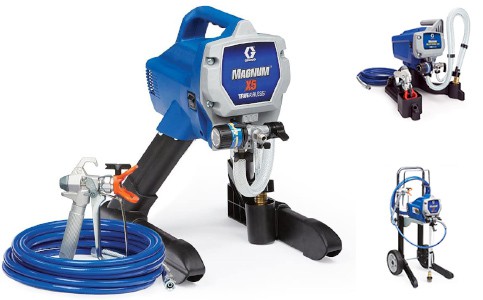 A fresh coat of paint can make all the difference to a room. However, getting to the finishing stage, particularly when you're working on large walls, can be a long and drawn out experience.
That's where airless paint sprayers come in handy.
They not only greatly reduce the time you'll spend painting with a roller or brush, but they also help to finish the job to an exceptionally high standard. Say goodbye to uneven and patchy paintwork.
If you want to buy one, how do you know which is right for you? Let us help, with our guide to the best airless paint sprayers on the market right now.
Our Recommended Airless Paint Sprayers Compared
Let's begin by taking a quick look at the products we review in this guide.
Begin by comparing them in the following table before reading about them in more detail in the next section.
 

Our Top Pick

Graco Magnum X5

– Adjustable pressure

– Easy clean hose kit

– Reversible tip

Budget Choice

Graco Magnum Project Painter Plus

– Stainless-steel piston pump

– Adjustable pressure control

– Storage compartments

Great Alternative
Graco Magnum X7

– Easy transport cart

– Suitable for multi-story buildings

– Serious spray power
Airless Paint Sprayer Reviews
Read about our recommended airless sprayers in more detail as we explain the features that make them the best in class. Find out what we think and why.
Overall Best Airless Paint Sprayer
Graco Magnum X5
A powerful airless sprayer that has quite a reputation.
If you're looking for the best airless spray gun, you need to familiarize yourself with the name Graco.
They're one of the leading names in the business and have been producing fluid handling solutions since 1926. So, they know a thing or two about making high-quality paint sprayers.
So, why have we selected, the Graco Magnum X5 out of the multitude of different Graco paint sprayers available?
Well, the X5 is considered the mid-range model in the Graco line up. It combines the key performance features that Graco are renowned for with a more attractive price point. It's more of a complete package in our eyes and represents the best value for money.
The X5 is ideal for a wide variety of applications, for those quick paint jobs around the house and more taxing projects too.
The airless Graco technology makes light work of thick, unthinned paints. The Graco X5 uses a 1/2 HP motor to provide piston pump pressure of up to 3000 PSI. This offers a performance rate of 0.27 gal/min of paint application, which is a heck of a lot!
A paint sprayer should be judged on its ability to perform its job to a high standard. The Graco Magnum X5 performs well, thanks in no small part to the inclusion of an adjustable pressure control.
This makes it incredibly versatile with regard to the type of surfaces it can be used on. By being able to adjust the paint flow, you get complete control over your painting project.
The X5 comes with a flexible suction tube that allows you to work with paint directly from a 1 or 5 gallon bucket. Just dump the paint by the motor and you're ready to go. It supports hoses of up to 75 feet for extra flexibility.
It's actually really easy to clean too. The ease of cleaning is something that's often overlooked by the cheaper models on the market. An experienced paint sprayer will know that the clean-up process can be very time consuming given a poorly designed sprayer.
Thankfully, the X5 is easily hooked up to the garden hose using the Power Flush Adapter for a simple flush.
One major issue that comes up time and time again with the Magnum X5 though is the overspray. We'd argue, though, that while there's overspray at times using this sprayer, it's not nearly as bad as the more inferior budget models you can get your hands on.
Interestingly as it's made from metal and plastic parts, you get the best of both worlds – it feels lighter than a wholly metallic model while being more durable than a wholly plastic one.
The sprayer itself weighs just 13 lbs which is pretty good going for something so powerful. It's also rated for 125 gallons of annual use. That's a lot of painting but should you need more, check out the monster Graco Magnum ProX17.
Pros
In-handle filter limits clogging
Adjustable pressure settings
Flushable with hose
Highly regarded in the community
Cons
No wheels
Uses more paint than normal
Bottom Line
In our eyes, the Magnum X5 is the best airless sprayer around right now. It's a quality piece of kit that lays down paint like there's no tomorrow!

Our Budget Choice
Graco Magnum Project Painter Plus
The best airless paint sprayer for the money.
Sticking with Graco for the moment, we now have the Project Painter Plus model in the range of Magnum paint sprayers to discuss.
If you're looking for a cheap airless paint sprayer that won't let you down, the Graco Project Painter Plus could be the one for you.
Like it's bigger, more expensive Graco siblings, it's got that adjustable pressure control. This makes it incredibly versatile for a budget airless sprayer. It really is the perfect airless sprayer for home use and for DIY enthusiasts.
Despite being the cheapest offering in the Graco range the piston pump is made from high-quality stainless-steel, so there's no worry about it suffering from wear and tear too quickly, even when spraying paint on the higher end of the pressure scale.
The Project Painter Plus actually retains pretty much all the key features of the more expensive offerings in the Graco range. The difference here is in the power on offer. It won't paint at the same rate as it doesn't have the same horsepower.
A 0.24 gal/min paint rate is provided by a 3/8 HP engine. This gives a slightly lower pressure of 2800 psi and a recommended annual usage of 50 gallons of paint. Just try painting at 0.24 gal/min with a paint brush and you'll realize how powerful that still is though!
One slight flaw we've noticed that lets it down, especially when comparing it to the X5 or X7 in the range, is the fact it doesn't deal with the the thicker of paints as well.
For smooth and responsive spraying, you'll normally need to thin them down. Which is not something you may be interested in doing if you've got a tight timeframe for completing your paint project.
Another great feature is the storage compartments this has incorporated into it, so you can always keep your sprayer attachments and accessories close to hand.
Pros
Stainless-steel piston pump
Easy hose flush to clean
Adjustable pressure control
Storage compartments
Cons
Need to thin down thicker paints
Bottom Line
When it comes to cheap airless paint sprayers this has to be in the conversation. It's not the cheapest model out there but it is a top quality piece of kit at the price point.

A Great Alternative
Graco Magnum X7
Professional quality airless paint sprayer
If money is no object in your quest for the top rated airless paint sprayer then the Graco Magnum X7 needs your close attention.
It's a seriously powerful airless sprayer that has large spray paint jobs finished in no time.
The performance is what makes this a winner. From the start-up, which it's worth noting, is easy and quick, to the very last drop left, it works like a dream. You don't even need to thin down those thicker, harder wearing paints. Just fill it up and it'll never let you down.
With a 5/8 HP motor capable of spraying paint at a massive 0.31 gal/min the X7 can lay down some serious paint! Overspray isn't as much of a problem as you'd think either.
It's well suited to painting multi-story homes as it can take a 100 foot hose. The addition of a cart into the design makes it really easy to carry around 5 gallon buckets of paint too. This model is considerably heavier than the X5 but the cart system makes transportation a breeze.
Again, this is fitted with Graco's ingenious PowerFlush adaptor for connecting it to your garden hose. It does make cleaning out the paint sprayer – normally a task most users would dread – a lot easier. However, it can take some time to do it.
So, it's not exactly a quick in and out and then clean kind of machine. But if you're using it in a professional capacity, you're probably not fussed about everything being too fast, as you'll want to do a good job.
Pros
Great for multiple story properties
Cart for easy transportation
Don't need to thin paint down
Fast painting rate
Cons
Only 25 foot hose included
More of a learning curve
Bottom Line
The X7 performs like a professional industrial paint sprayer but lacks the price tag. It has a bit more of a learning curve than our other recommendations due to its power but after a little practice you'll be laying down so much paint that you'll wonder how you ever lived without it.

Best of the Rest
These are the airless spray guns that didn't do quite enough to make our top recommendations.
However, if you still haven't seen a sprayer that suits your needs than maybe one of these will. They are still awesome paint sprayers!
HomeRight Power-Flo
Although it's been resigned to the 'best of the rest' section, largely due to Graco being an unstoppable force in the airless sprayer field, don't write the HomeRight Power-Flo Pro 2800 off too quickly. It is one of the more beastly optionswhen it comes to raw power.
Capable of 2800 PSI level of pressure thanks to the ½-hp motor, this is a force to be reckoned with. They've even provided two sturdy metal legs to ensure you have the stability necessary to control it.
It's ideal for all those DIY jobs you've got to complete, though we're sad to say it does require thicker paints to be thinned before using them.
This can be a time-consuming task, but it's almost standard with airless paint sprayers, especially those of a certain price tag. And there's no way this is as bad as some of the less expensive and less effective models.
A major roadblock many customers have come across with this sprayer, though, is the setup.
There's not really clear enough guidelines and instructions. Once you get it sorted and are ready to use it, the wait and effort will have been worth it though. As it's one of the easiest to use on the market.
It's not of you with tighter budgets, but the features, including the adjustable and easy to handle and control kink-free hose, make this a worthy contender to Graco's throne.
Pros
Adjustable pressure controls
Easy to use
Simple to clean
Perfect for homeowners
Cons
Bottom Line
At the end of the day, if you're looking for a mid-priced, effective and easy to use airless paint sprayer, this could be for you. If you don't mind trawling the web for better setup instructions, that is.

Titan ControlMax 1700
There's a reason this company and their products are so popular and why their name is very apt. The Control Max 1700 sits nicely on the line between being a wholly homeowner/DIY enthusiast tool and being a professional painter/decorator tool.
One thing Titan have really put a lot of effort into working on with their airless sprayers is reducing the dreaded overspray. They've managed, reportedly, with this one, to reduce it by at least 55% thanks to their HEA technology. It simply delivers a softer spray, but without compromising on the quality or efficiency.
In fact, the softer spray offers a greater amount of consistency and control. Fans of constructing sturdy and reliable tools, the Titan Control Max features a spray gun made entirely of metal. So, no plastic in that part of the sprayer.
It also has a much longer hose than any of the others in our guide, measuring 30-feet for standard use. This can be extended to an outstanding 80-feet, as and when required. As you'd expect from the titans of industry (see what we did there?), it's got a meaty motor and is able to pump thick paints with little to no trouble.
Before you set sail on the good ship Titan, you should probably pay close attention to some unfortunate downsides. It's not the easiest to get started with as preparing it for each paint job requires a whole lot of effort and patience. At the other end of a hard day's work, it's not the most fun to clean up either.
With its sturdy wheels and the power, it produces though, it still deserves being noted as a true rival to Graco's dominance of the market.
Pros
Capable of spraying thick paints easily
Extendable hose from 30 to 80-feet
Durable all metal paint gun
Cons
Bottom Line
We love it, but although Titan like to market their products to both pros and amateurs, we'd say they've let amateurs down with the set-up and clean-up times. Having said that, it's one of the most powerful currently available.

Buyer's Guide
If you're new to the world of airless sprayers, you may not be sure which features are important and which aren't.
We wanted to give you a little insight into the key features of airless sprayers. This will help you pick out, even from our shortlist of just 5, the one that's perfect for you.
In our guide we will discuss the importance of:
Weight/Size
Paint Spray Rate
Construction
Adjustable Tips and Pressure
Portability
Cleaning Up
Weight/Size
While the weight and size of an airless paint sprayer would be more accurately described as being specifications, they are nevertheless very important. These are factors that'll have a bearing on where and for what applications you can use it.
You'll find compared to HVLP (High Volume, Low Pressure) sprayers, airless models are more powerful and therefore chunkier and heavier. The bigger motors used to power them makes them that way.
Will you need to freely move around when using one or will you just be working in the same place?
If your plans are more the former rather than the latter, you may need to find one with wheels. It's also worth remembering heavier, more powerful tools and especially those with wheels are more expensive.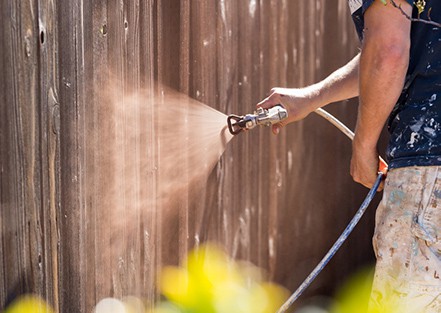 Paint Spray Rate
The paint spray rate is basically how much paint a sprayer can project over a period of time. It's usually measured in gallons per minute.
In theory, the higher this number is, the faster you can finish the job. However, a big downside to the more powerful airless paint sprayers is that they are prone to overspray. Overspray causes paint to be wasted, which is going to cost.
Typically, overspray can be reduced with a bit of practice but it is an issue that you'll likely have with most airless spray guns.
Construction
Another aspect that's vitally important to consider when choosing the best airless paint sprayer, is the materials used in its construction. Why? Because you'll either be wanting to use it indoors, outdoors or a little of both and the material individual models are made from determine whether those applications are possible.
As is the case with a lot of products across the marketplace in different sectors, many are made from plastic. This is especially true when it comes to smaller, more portable sprayers, targeted at customers with smaller budgets.
While it's true that plastic is never going to be as reliably strong and durable as metal, people are often tempted by the lightweight appeal of a plastic sprayer.
If you don't intend on using it for any particularly big projects and only image, you'll be using it occasionally rather than regularly, a plastic model is probably going to do the trick. If you have a lot of bigger projects lined up or are even considering using it in a commercial capacity, you'd be better off investing in a metal sprayer.
As well as being more robust and feeling sturdier, they are better at handling the power generated by the motor and will fare better against the wear and tear that comes with constant use.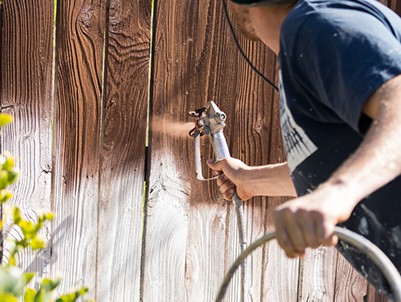 Tips and Adjustable Pressure
You'll notice many paint sprayers on the market feature an adjustable pressure setting. This is something you should consider carefully, even if it means spending a little extra for, because it offers flexibility, giving you greater versatility with regards to the jobs you can use the sprayer for.
Higher pressure settings are best when you're up against it and just need to cover a large surface in a short amount of time, whereas lower pressures are for those jobs that require a more detailed finish.
When it comes to the tips you use on the end of the nozzle of the sprayer, where the paint or wood stain, varnish or whatever material comes. It really depends on the material you're using and its consistency, whether it's thick or quite thin and runny.
As the tips are one of the components that often wear out first, you'll want to ensure you invest in a machine whose tips have a good reputation for lasting a long time. But further to that, it also means you need to pay close attention to following good working practices and a good maintenance routine.
Portability
As the motors get more powerful, airless spray machines can get pretty big and heavy. Remember to factor in a 1 or 5 gallon bucket of paint too.
The more powerful options usually include handy features like built-in carts or wheels. This is something to pay attention to when browsing.
The length of the hose is also something that needs checked. Most manufacturers will boast of their sprayers being able to use massive hoses of 75-100 feet but in reality they will only provide you with a shorter 25 foot hose and expect you to pay extra for the extension.
If you plan on painting multi-story buildings then a long hose and powerful motor is a must.
Cleaning Up
Besides the actual process of painting, the other big part of using a paint sprayer is cleaning up afterward. This is something you simply must do after every spray job.
This can be incredibly time consuming when using the cheaper models on the market. Look for special features like hose adapters. These will make your life a whole load easier by allowing you to effectively flush the system using a garden hose.
[/et_pb_text][/et_pb_column]
[/et_pb_row]
[/et_pb_section]