We recommended the best paint strippers for wood, metal, concrete and latex in our comprehensive guide. Get the perfect paint remover for your project today.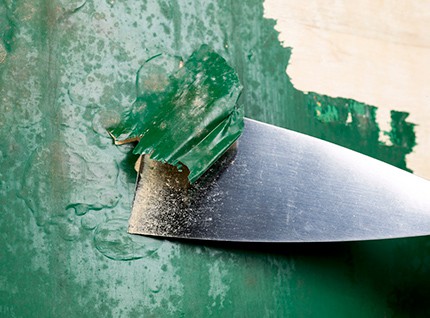 Removing paint from any type of surface can be a fiddly and time-consuming job – whether it's concrete, tile, wood or metal, you'll usually need a specialized piece of machinery to get it done well and without causing damage.
If you're simply removing a few flakes (for instance, from a piece of furniture or a patch on a wall), you can probably use traditional sandpaper or a wood scraper.
If, however, you're working on a bigger project that requires large areas of paint stripping, or even has multiple layers, you're going to need a more advanced paint stripper for the job.
A professional paint stripper not only gets great results, but it means you need to spend less time and effort doing the stripping by hand.
Before jumping into buying a paint stripper, you need to be aware that there are several different types to choose from, and they're not all designed for the same type of work.
Some contain chemicals that can be potentially dangerous if not handled correctly, or could damage the surface you're applying them to.
Make sure you read the instructions and choose the right paint stripper for the job, and above all, check out this guide to choosing the best paint stripper for wood, metal and any other project you may be working on.
Our Recommended Paint Removers Compared
Let's begin by taking a quick look at the products we review in this guide.
Begin by comparing them in the following table before reading about them in more detail in the next section.
Model

Details

Best for Wood

Woodrich Heavy Duty Wood stripper

– Easily applied

– Returns wood to original state

– Quick action

Best for Metal

Dumond SmartStrip

– Non-toxic

– Biodegradable

– No odor

Best for Concrete

Dumond Peel Away

– No VOCs

– Powerful paint removal

– No odor

Best for Latex

Motsenbocker's Lift Off

– Effective latex paint removal

– Easy to apply

– Non messy
Our Paint Stripper Reviews
Read about our recommended paint removers in more detail as we explain the features that make them the best in class. Find out what we think and why.
Overall Best Paint Stripper for Wood
Woodrich Heavy Duty Wood Stripper
Perfect for wood restoration. In our eyes, the best paint remover for wood right now.
Whether you need to remove paint from wooden paneling, a staircase or you're revamping an old chair and need the best furniture stripper on the market, this heavy duty paint stripper from Woodrich is designed especially for removing paint from wood without damaging or staining the surface below.
This paint stripper for wood is ideal for work on wooden furniture, decking, banisters and wooden side paneling; whether you're looking for a fresh, stripped-down look, or you're prepping it for repainting, you'll be able to remove any paint in no time with the help of this heavy duty solution.
It restores wood surfaces to their original appearance with the help of a little bit of elbow grease! You didn't think this would be easy did you?
We've featured a double pack that contains a heavy duty paint stripper and also a brightening kit.
The 2 pound HD80 wood finish and paint stripper and 2 pound citralic wood brightener are used in combination to treat up to 750 square feet of wood.
The stripper does the dirty work, while the citralic brightener neutralizes and brightens any long-term unwanted damage or bleaching to the wood. This two step process is what professionals do to achieve the perfect wood restoration.
Pros
Quickly and effectively strips stubborn paint and coloring from all kinds of wooden surface

Causes no damage or staining to the area it is applied to

Makes wood look fresh and clean – like new – whether it's indoors or outdoors

You don't need to be a DIY expert to use – easily apply and see results within minutes
Cons
Need a pressure washer for best results

For best results apply more liberally than stated
Bottom Line
A reliable paint remover for wood that deserves its 'Heavy Duty' name. It's perfect for restoring wood to its original glory.

Overall Best Paint Stripper for Metal
Dumond SmartStrip
The tried and tested paint remover for metal.
Dumond SmartStrip Advanced Paint Remover is leading the way with the new breed of paint strippers that are both non-toxic and biodegradable.
Powerful paint removers for metal no longer need to be extremely toxic and full of carcinogens. Dumond SmartStrip is an effective paint removal tool that is safe for the user and the environment.
It's free of harmful methylene chloride and VOCs, which were common in paint strippers of the past. It also lacks the strong odor associated with metal paint strippers.
It provides a coverage rate of 45-50 square feet per gallon if adhering to the application instructions of 1/16″ to 1/8″ thickness. I always prefer to add a bit more than the instructions state though.
The water based paste can be applied easily using a roller, brush, or sprayer. The coating is best left on for 24 hours (despite what the instructions say) and then can be pretty easily removed.
It should be noted that it doesn't "wipe right off" and it does require a bit of work with a scraper or brush, but it will come off with the minimal amount of effort possible.
Pros
Non-toxic

Biodegradable

Effectively removes paint from metal (and other surfaces)

No odor

Easy to use
Cons
Bottom Line
In our eyes, this is hands down the best paint remover for metal. It's easy to use and much safer to use around the house than metal paint stripper of the past.

Overall Best Stripper for Concrete
Dumond Peel Away
Perfect for concrete, brickwork, and masonry.
Caustic paint strippers are highly effective at removing paint from masonry – stonework and brickwork areas are easily stripped of any excess paint without damage or staining being caused to the surface.
If you've been looking for great stonework or concrete paint removers for either exterior or interior use and you're still not sure which one to go for, we recommend this product from Dumond Chemicals, Inc.
Whether you need to strip a large area of concrete as part of a commercial project, or you're renovating your home and want to strip a fireplace surround, this is arguably one of the most reliable stonework, brickwork and concrete paint remover options available to today.
It's highly effective at removing lead paint from concrete and other stone surfaces. The heavy duty formula gets into all the nooks and crannies – ideal for stripping from intricately carved masonry and fiddly edges.
The specialized 'Peel Away' system means you can soak and strip away the paint in moments, and without prior experience as a DIYer.
Pros
No VOCs

No harmful odors

Powerful paint removal

Easy to apply
Cons
Bottom Line
Powerful paint removal for concrete from a name synonymous with quality paint strippers.

Overall Best Latex Paint Remover
Motsenbocker's Lift Off
Top latex paint stripping performance
This latex paint stripper works equally well on both old and fresh paint. It can be easily applied to trim, molding, floors, walls, vinyl, brick, metal, tiles, and even vehicles.
Unlike some paint removers it doesn't thin the paint, it breaks the bond between the surface and the paint. This makes removal much easier and cleaner. It also protects the surface much more.
It is water-based and biodegradable but isn't without VOCs. It has a low count according to their literature but still contains these harmful compounds none the less. Just remember to ventilate your workspace well and employ the necessary safety precautions.
That being said, it's a great little tool for stripping latex paint. It's easy to use and apply and produces great results.
Pros
Effective latex paint removal

Easy to apply

Not messy
Cons
More caustic than claimed
Bottom Line
Motsenbocker's Lift Off is the best latex paint stripper on the market right now. It's a powerful tool that you won't want to paint without.

Conclusion
Wherever you need to remove paint from, there are tons of fantastic products available on the market to make it easy and straightforward, and you don't need to be an experienced DIYer to get started. Freshen up your space today with the unique power of a high quality paint remover.
There are tons of wood, metal and concrete paint removers available to buy for your home, and all have their own benefits and advantages. Whatever your project scale and type, and however much money you want to spend, you'll find there is plenty of choice for both amateurs and professionals to browse online.
We hope you've found our wood, value and concrete paint remover reviews helpful when making the right decision for your project, and that you'll be satisfied with the results of using paint stripper in your project.
Read the safety and usage instructions thoroughly, ensuring the area is correctly ventilated and that you're wearing the right protective clothing, and you'll have no problem removing the paint or other material you need to strip. Best of luck!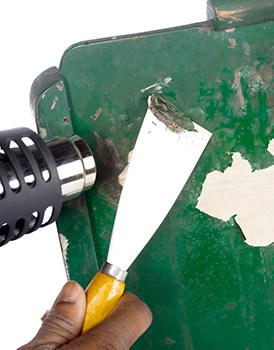 Buyer's Guide
What Kinds of Paint Stripper Are Available?
So, where do you begin when choosing the right paint stripper for your particular project?
It helps to know that, in general, you've got four different types of paint remover to choose from, each designed for specific purposes and surface types, and some are specially designed to effectively remove certain paint types (such as epoxy paint and polyurethane paint, both of which tend to be used on concrete surfaces).
Without further ado, here are the four main types of paint stripper to choose from:
1. Solvent Paint Strippers
Solvent paint strippers have more versatility than other solutions, and use a chemical solution (usually methylene chloride or a mix of methanol, toluene and alcohol) to break down the paint and remove it from the surface.
They can be used to remove most types of water-based and oil-based varieties of paint, and are also great for removing epoxy paint and polyurethane paint.
They are highly versatile and are excellent for use on painted wooden surfaces, as well as on stonework, brickwork and metal, without causing damage to or staining the surface beneath the paint.
This type of stripper is highly effective, and is regarded as one of the best paint remover options on the market today.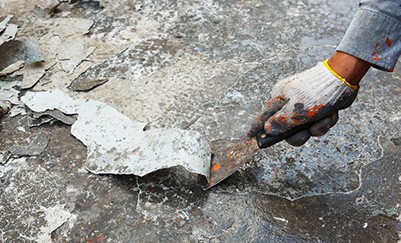 However, the solvent can make it a more hazardous choice of machine as the fumes from the volatile organic compounds (VOCs) it contains can be headier and more toxic than comparable machines.
The risks of inhaling these fumes include damage to the brain and it can even affect fertility. To protect yourself from these risks, you must always wear the correct protective clothing (such as goggles and a mask) when operating a solvent paint stripper.
Luckily, this type of machine makes light work of paint stripping, and you only need a very thin layer of solvent to get the desired results.
You should be able to remove all the paint in under 20 minutes, after which you can use a regular paint scraper to remove the now dissolved paint. After this, all you need to do is wash the surface with warm water, allow to try and you're ready to repaint (if that's your goal).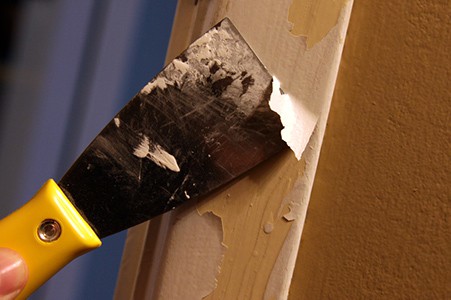 2. Caustic Paint Strippers
This type of stripper is designed to transform the layer of paint into soap by soaking it in caustic soda (another name for sodium hydroxide).
By converting the paint to soap, the paint becomes loose and easy to remove. This type of machine is ideal for stripping oil-based paint that is stuck to stonework and brickwork, such as on a garage floor or on the bricks around a fireplace.
In some cases, caustic paint strippers can be used to strip water-based paint from other surfaces, they often erode metals (especially aluminum) and stain wood, although the latter can be fixed with the help of bleach.
While caustic paint strippers can cause irritation on the skin and eyes, and should not be inhaled as this can cause damage to the respiratory system, they are generally considered to be less dangerous than solvent strippers.
However, safety equipment is essential when using one – you need protective gloves and goggles.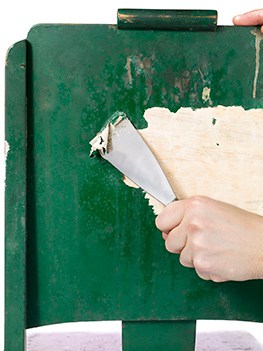 3. Biochemical Paint Strippers
This is a popular choice of paint stripper for those who want to avoid toxic chemicals, as they used solvents made from natural ingredients (usually extracted from pine trees and citrus oils) combined with a naturally occurring compound.
This type of solvent is much less hazardous, although skin and lungs should still be protected with the correct equipment.
Biochemical machines are one of the best paint remover for wood options, and they are also highly effective at removing oil-based paint from metal and stonework. However, they do not work well when trying to remove epoxy or polyurethane paint.
4. Non-VOC Paint Strippers
As mentioned before, strippers that contain VOC and other toxic chemicals are more hazardous to the user's health; thankfully, there are VOC-free paint strippers available.
These contain a mix of natural solvents, such as benzyl alcohol, which work effectively on both oil-based and water-based paints.
Non-VOC paint strippers are among the best paint stripper for metal solutions, and can remove paint that is stuck to wood, metal and stone or brickwork.
Disadvantages include that non-VOC strippers do not work nearly as well on synthetic paints such as epoxy and polyurethane, and they can still be hazardous against the skin or if they're inhaled, so be sure to wear the correct safety equipment when using.