Looking for the right exterior paint sprayer for your next job? We take a close look at the best in the business and recommend one outstanding sprayer that we think deserves your special attention.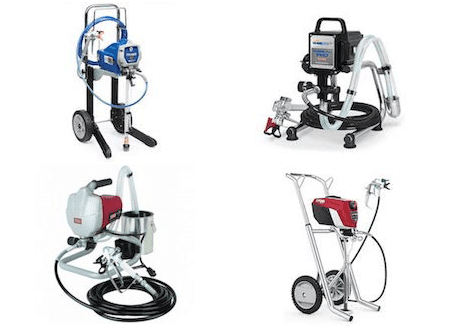 It's not easy choosing a heavy duty paint sprayer for exterior walls. There's a lot to choose from and so much confusing jargon banded around.
We aim to make things easy in this post where we review the top models on the market.
There's one paint gun in particular that we think is better than all others and we'll discuss why in some detail. Pros, cons, facts, stats, opinions, and all!
Start off by seeing how the top models compare in the comparison table, before reading our detailed reviews that follow.
Some of the links below are affiliate links, meaning, at no additional cost to you, we may make a commission if you click through and make a purchase.
The Top Exterior Sprayers Compared
Check out the top models in the comparison table below.
Our Top Pick

Graco Magnum X7

Price: $$$

Warranty: 1-year

Type: Airless

Price: $$

Warranty: 2-years

Type: Airless

Price: $

Warranty: 2-years

Type: Airless

Budget Choice

HomeRight Power Flo Pro

Price: $

Warranty: 2-years

Type: Airless
The Top Exterior Sprayer Reviews
Now, see exactly what we think of each model. We've got all the details that you need to make a decision.
Graco Magnum X7
OUR TOP PICK
We'll cut to the chase. In our opinion, the Magnum X7 is the best paint sprayer for exterior house walls.
In short, there are three areas where it especially shines:
It handles heavy materials with ease.
It sprays paint at an impressive rate.
It's easy to clean.
But let's go into some detail about how it achieves these feats.
Speed and Flow
With a flow rate of 0.31 gallons/minute, it's not got the fastest paint delivery rate of our recommended sprayers. However, it's only second to the Titan ControlMax (0.33 gal/min).
The key here is in the range of pressure that the X7 gives. With a much wider range in operating pressure, it gives much more control to the user over the paint delivery.
It achieves this with a 5/8 hp universal motor, which allows a maximum pressure of 3000 psi (compared to the 1500 psi of the Titan ControlMax). In fact, if you need more "juice" then the Pro and Commercial models are exactly what you're looking for.
Flexibility
The Magnum X7 is suitable for a wide range of applications. Primarily a paint sprayer for house exteriors due to its ability to handle unthinned paint with ease, it could also handle smaller jobs due to the wide range of operating pressures. It features a durable stainless steel piston pump which gives it the strength to spray unthinned paint at high pressures. It's just as at home with stains as it is with heavy latex.
The paint can be delivered to the gun through a flexible suction tube. This gives the option of spraying directly from a paint bucket, which as you will know can save so much time. It actually has the power to support up to 100 feet of hose. This gives the ability to paint a second or third storey of a building and also gives you a greater degree of freedom in planning your painting project.
Maintenance
If you've used a paint sprayer before you'll know that maintenance is a big deal. Thick paints are a pain and you've got to make sure you spend the time keeping your sprayer in tip-top condition.
Thankfully, this is an area where the Graco Magnum X7 excels.
For starters, it comes with what Graco call the PowerFlush Adapter. This is a very grand name but it's a very simple piece of kit. It allows you to attach the sprayer to a garden hose for fast cleaning after a heavy spray session.
Then there's the Switch Tip. This feature is a small switch located at the tip-end. It allows clogged tips to be quickly and easily unblocked with a simple twist. Again, this feature will save you time and it's an excellent addition.
Pros
Cons
Fully adjustable pressure




Reversible tip for unclogging




PowerFlush Adapter for quick cleaning

check


Takes paint straight from the bucket
Standard hose just 25 feet long





Bottom Line: In our book, the Graco Magnum X7 is the best exterior paint sprayer in the business. It delivers heavy paints smoothly with its wide range of operating pressures and importantly will save you time with Graco's smart maintenance features.

​
Titan ControlMax 1700
The ControlMax is an Amazon Best Seller with an outstanding 2-year warranty. We touched on it earlier when we mentioned the impressive paint flow rate of 0.33 gallons/minute, but that's not the only thing this airless paint sprayer for exterior walls has going for it.
Perfect for plowing through large surfaces areas in little time the ControMax packs a 0.6 horsepower engine that delivers spray with a consistent finish. It easily handles unthinned paints thanks to the new tip technology which reduces overspray by up to 55% in the words of Titan.
Overspray is a big deal with these powerful exterior sprayers and will cost you a lot of money in terms of wasted paint. It's not to mention terrible for the environment too, as the wasted spray pollutes the air.
A big part of the this reduced overspray comes down to the reduced pressure it works with when compared to rival models. At just 1500 PSI compared to the Magnum X7's 3000 PSI this exterior spray gun has a much softer finish that is easier to control (and wastes less paint).
The new ControlMax tip can handle up to a 0.017″ fitting and improves on control and consistency. The fluid section is also able to be broken down into its component pieces so they can be easily cleaned or replaced when needed. By ensuring these smaller, cheaper pieces are running efficiently you can prolong the life of the motor.
The standard 1700 model lacks the cart-style wheels of some other models on here, but the Pro version fixes this.
Pros
Cons
Handles thick materials with ease

Produces minimal over spray

Sprays efficiently at lower pressures

check

Great warranty
Not appropriate for spraying stain

Not as maintenance friendly as the X7

Hose just 30 feet as standard
Bottom Line: In terms of value for money and paint delivery the ControlMax 1700 is hard to top. It lacks a few of the handy features of the Magnum X7 however.

​
Krause and Becker Airless Sprayer Kit
This exterior spray gun from Krause and Becker is lightweight but powerful. It's one of the more wallet friendly airless guns but doesn't skimp on features.
The 3000 PSI (5/8 horsepower) stainless steel piston pump is built to last and will resist corrosion and rusting while remaining easy to clean. The pressure is easily adjustable with a control knob giving the perfect coverage for each painting scenario. This helps to eliminate wasteful overspray that can tarnish big outdoor paint jobs when using high-pressure guns.
The gun itself has a trigger lock to maintain the desired pressure and a built-in filter. It's capable of covering exterior walls in no time but can also be used on decks, doors, and ceilings too.
Pros
Cons
Adjustable pressure

Durable stainless steel construction

Lightweight frame

check

Trigger lock
No cart

25-foot hose

Not as refined as the others
Bottom Line: A solid paint sprayer for house exteriors that isn't fancy, but is durable, dependable, and great value for money.

​
HomeRight Power Flo Pro
The Power Flo Pro is an ideal paint sprayer for big exterior projects that require a high-quality finish. It loves unthinned latex as well as oil-based paints and stains.
At 0.24 gallons per minute spray capacity, it isn't the most powerful sprayer on our list but it delivers on features.
Like the Magnum X7 it too has a reversible tip to remove problematic clogs. This is a wonderful feature that saves time and headaches.
The motor gives a maximum 2800 PSI which is less than the 3000 PSI offered by the X7 and Krause and Becker but beats the Titan ControlMax. The pressure is fully controllable with a knob allowing the user to get the perfect paint spray pattern for each application.
While the Flo Pro has some handy features, I'd only recommend it for light users at home. It just doesn't deliver the flow rate of some others on here and the difference is quite noticeable, especially when compared to the ControlMax.
Pros
Cons
Reversible tip

2-year warranty

Durable ceramic valve
Spray rate lags behind rivals

For the novice/home user
Bottom Line: The perfect entry level exterior paint sprayer. It's easy to use and look after and won't break the bank.

​
DUSICHIN Airless Paint Spray Gun
The DUSICHIN DUS-236 airless outdoor paint sprayer gun can be put to use on most motors. It's a really solid gun, just bear in mind that's all it is. No motor with this, JUST the gun.
This spray gun has an inlet fitting of ¼ inch thread and a swivel joint. It comes with a changeable No. 517 tip and it also has a universal tip guard affixed to it.
It can handle the huge pressure of up to 3600 PSI and comes with a four-finger trigger with a soft pull mechanism.
This spray gun also comes with a 100-mesh gun filter inside and a forged gun head.
Pros
Cons
Very affordable

Comes with a universal tip guard

Handles high-pressure motors
Bottom Line: If you're in the market for solely a spray gun then this deserves your consideration. It's durable and able to handle high pressure and not to mention good value for money.

​
HomeRight Super Finish Max
BUDGET CHOICE
The Super Finish Max Extra Fine Sprayer is useful for a wide range of painting jobs from like walls, furniture, cabinets, and fences.
It's perfectly happy using oil-based paints, latex, enamel primers, varnish, stain, primer, polyurethane, and sealer.
It uses two dissimilar air caps to help regulate the circulation of material.
The pickup tube and cup vent are newly designed. It is powered by a 450-watt motor that sprays thicker paint from a 39-ounce container volume. That's the main drawback of this model when compared to the others. It only holds a limited amount of paint in a container which you have to support the weight of. That means frequent refills for big projects and also a fair amount of strength is needed.
The sprayer comes with interchangeable tips of 1.5mm, 2.0mm, and 4.0mm.
The spray pattern can be adjusted from 1'' to 12'' wide by regulating the trigger control knob. But you have to tape and cover surfaces because of overspray to avoid extra clean up before painting.
Pros
Cons
Handheld container can be heavy

Only suitable for smaller jobs
Bottom Line: A top entry-level sprayer that's great for small projects. Just don't choose this for large areas of painting or if you're not particularly strong.

So, which one should I buy?
In our opinion, the best paint sprayer for exterior house walls is the Graco Magnum X7. It's able to deliver a wide variety of paints with a smooth finish and is the easiest to look after too.
Yes, it's one of the more expensive exterior paint sprayers on this list, but if you're a regular user of spray guns then it's a sound investment. The attention to detail that Graco have gone to will make your life much easier.
If you're looking for something a bit less "serious" and a bit friendlier on the wallet then the HomeRight Power Flo Pro is an excellent choice.
It's one of the most user-friendly exterior spray gun kits out there and is still capable of covering large surface areas quickly. It comes with an impressive 2-year warranty too, which is about as good as it gets with these devices.
If you have any questions about any of the models we've included in our round-up of the top sprayers for exteriors then don't hesitate to leave us a comment down below.
​
Why use a paint sprayer for the exterior of your house?
When it's time to paint your house exterior, you have the option of either using a paintbrush or a paint sprayer.
On the face of it, a paintbrush seems an easy, cheap, and quick way to get the job done. But if you have tried painting large areas with a brush in the past, you know how tedious it can be.
A paint sprayer, on the other hand, makes painting your home exterior easier than ever before because you are able to cover more area quicker than ever before. Yes, they're much more expensive than brushes, but how much do you value your free time?
Another counter to the 'cost' argument is the fact that the alternative might be hiring a painting and decorating company. In comparison to the expensive fees they may charge, the cost of a paint sprayer really isn't that bad. Plus with one of the best exterior sprayers, the difference in finish won't even be noticeable.
Whether your exterior is made of wood, masonry or plaster, you have to maintain the coarseness of it based on the polish.
When using a paintbrush, you end up having strokes or marks on the surface, which can mar the fine finish that you desire.
With a paint sprayer, you will be able to maintain the original texture of the surface effortlessly.
Add to this the fact you are likely to be faced with a large area to coat, so if you don't have the right tool, you might develop hand fatigue or even back pain.
​
Airless or HVLP?
This is the first question you'll have to ask yourself when looking to purchase an exterior paint spray gun.
For most big outdoor projects you'll be wanting an airless gun. There are a variety of reasons for this. Here are just a few:
The generally give a smoother finish

They handle thick outdoor paints easier

The produce less overspray (waste less paint)

check

Paint is drawn straight from the bucket

check

They deliver a faster flow of paint
HVLP sprayers (high volume, low pressure) sprayers on the other-hand, are better suited to smaller, more intricate jobs.
They tend to need filled and deal with a lot smaller volumes of paint. Generally speaking you'll want to use an HVLP gun for small projects that use thinner paint. They're also much better for adding detail when space is restricted.
The basics of exterior house painting
The video below gives a great overview of what you can expect if you decide to paint your house yourself.
If you're not a fan of videos, don't worry we'll explain the steps too.
1. Get the pressure washer out
This step is really important. We need to get rid of all dirt and dust from the exterior wall before we even think about painting it. If we leave any residue then we'll get a poor finish that won't last.
2. Do any outstanding repairs
Carefully check the entire area that will be painted. Keep an eye out for any cracks, indents, or holes that might affect the quality of the finish. You can use an epoxy resin filler to fill any uneven surfaces. Be sure to sand the filler down after it dries.
3. Check for any loose paint
Chipped or loose paint is a problem that needs to be fixed. A paint scraper will easily remove any problem areas and a sanding block will give the smooth finish that we desire.
4. Fix any loose trim
We need to fill any gaps between the painting surface and the trim. Exterior caulk is needed for this and it can be easily applied with a caulk gun.
5. Treat knots and stains
If the exterior surface has any wood knots or is stained/marked in any way we need to cover it with a primer. A wood primer can be applied with a brush and ensures that we don't see this undesirable marks through our coat of spray.
6. Cover any special surfaces
When using a powerful exterior paint sprayer we will be applying our coat very liberally and it's not a device that does intricate designs. For this reason, we need to ensure that any surfaces like windows, light fittings, and doors are protected. We need to cover any surfaces close to the wall that we don't want to paint so they can stay paint-free. Use plastic sheetings and tape to protect them from being covered with paint too.
7. Paint in a systematic way
There's a technique to using a spray gun on exterior surfaces and if you're not careful with your application, you'll end up with an inconsistent finish that will need an extra coat. It's easiest to start at the top and work down in a slow motion. Make sure there's an overlap in your lines or you'll end up with stripes! By taking your time and working in a controlled manner you'll save yourself time in the long run. Believe me, it's pretty depressing to find out you've got to redo a whole wall of your house!
Five tips for painting your house exterior
If you're a first timer then you might find these bits of advice save you some time.
1. Start slowly
Holding a paint sprayer gun in your hand for the first time will probably have you a bit excited (however, after a couple of hours you'll soon wonder why you felt like this).
Don't go crazy in the beginning, it will take you some time to get the right settings for the surface you are painting and the paint you are using.
Take your time to get the right set-up in the beginning and you'll save yourself lot's of time in the long run.
You shouldn't try to cram everything into a day, especially if you are painting a very large surface area.
Instead, take one part and paint it perfectly, then plan to continue the rest after resting or coming back the next day.
This way, you will be able to build your momentum and maintain the zeal you first had all through the project.
2. Take care of the boring parts first
Before you start, map out all the areas you want to work on. Pinpoint those tricky areas at the start and get them out of the way first. They'll take most of your time, and you'll feel more positively about the overall project when they're out of the way.
3. Reward yourself
Painting large surface areas can get boring. When you are going through a boring part of your project take a break!
Come back to it another time with renewed energy and focus. Some good music doesn't hurt either.
4. Don't forget the prep!
There's no point indulging on the best house paint sprayer if you don't do prepare properly.
Your prep work has to be spot on so that you get the perfect finish for your home. Prep is boring in any walk of life or scenario and I'm afraid that spraying is no different.
It is even more difficult if you are trying to paint furniture with hinges and hardware.
But since you are only painting your house exterior, the amount of work you are going to do is minimal. You have to mask everything in sight that you don't want the paint to get to.
Depending on how fast you are, this can take a day or less.
This is the only price you pay for not using paintbrush or roller (aside from the cost).
5. Choose the right season
Outdoor painting is not something you can do in any season or in any weather condition.
In fact, there is little more frustrating in the spraying world than having to redo hours of work because of some rain.
Make sure you are well prepared and the weather is calm for the next few days or however long the project will run.
​
That's a wrap for another comprehensive sprayerguide.com article. We'll add to this list of the top exterior sprayers when something catches our eye and we believe is worthy of outdoing any of the spray kits in this post.
Likewise, we'd love to know if there's a sprayer that you think should be on here, or what you think after using any of these models.
Just drop us a quick comment down below or over on the contact page. We promise to get back to you as soon as possible. The same goes for any questions you might have about anything we've covered today. We'd be happy to help!
'til next time, from the team at Sprayer Guide!
Add Icon