If you are looking for the manual of the Tacklife SGP15AC Paint Sprayer, check it out here: TACKlife Manual
If you are here to read the review, continue reading:
This is an unbiased review of the Tacklife SGP15AC Paint Sprayer.
In order to provide you with complete information and a detailed guide, I have researched the experience of users on the product, expert advice, and other reviews before coming up with this article.
By the end of this review, you should be able to confidently purchase this product.
But first, what are the key features of this product? I've listed them below:
Some of the links below are affiliate links, meaning, at no additional cost to you, we may make a commission if you click through and make a purchase.
Main Features of the Tacklife SGP15AC Advanced Electric Spray Gun
You can adjust spray patterns to vertical, horizontal, or circular
It comes with three different nozzle sizes to suit different jobs
Adjust valve knobs helps you adjust the flow rate for any project size
The easy fill canister is suitable for stains and thin paints
All the parts of the sprayer are removable
Suitable for wooden materials, car parts, steel furniture, and more
It measures 10.9 x 10.2 x 5.3 inches and weighs 3 pounds
The power rating of 400 wattage
What's Next: 
Check out the advantages and disadvantages of this sprayer below…they should help you better understand if this is for you or not:
What We LIKE About the Tacklife SGP15AC Advanced Electric Spray Gun
It gives a fast and easy paint application surfaces, corners, and edges
It provides a professional finish with no brush marks or roller marks
You can achieve a uniform coverage of paint from the first coating
It includes three different spray patterns
It comes with adjustable valve knobs
We like that it carries a 24-months warranty
The detachable canister for ease of use and faster filling
What We DISLIKE About the Tacklife SGP15AC Advanced Electric Spray Gun
The ABS plastic is not as strong as polycarbonate materials
The detachable canister is smaller compared to other brands
No color options available due to high demand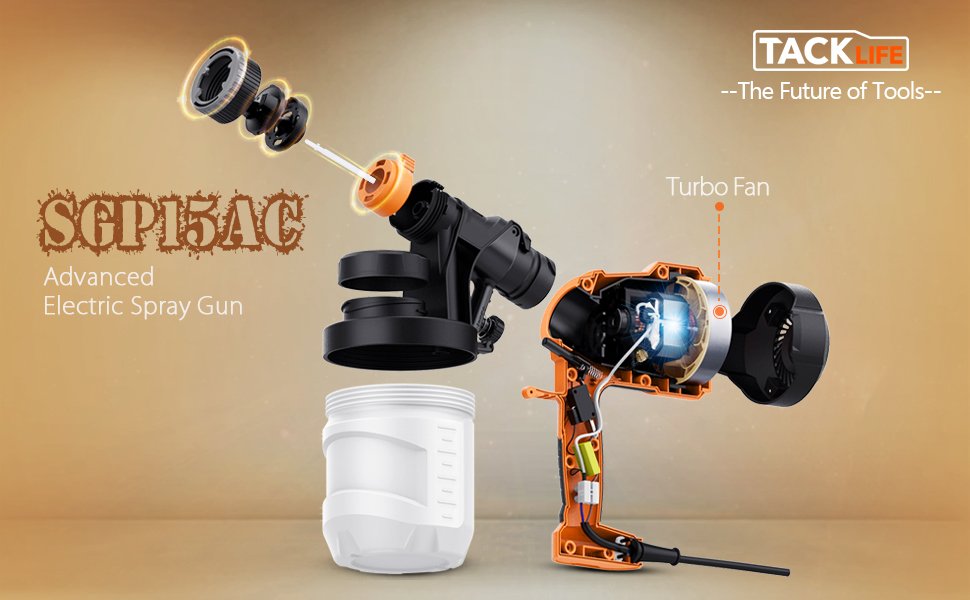 Tacklife SGP15AC Paint Sprayer: Things You Should Know
In case you are not yet convinced, you'll find more information on this sprayer below: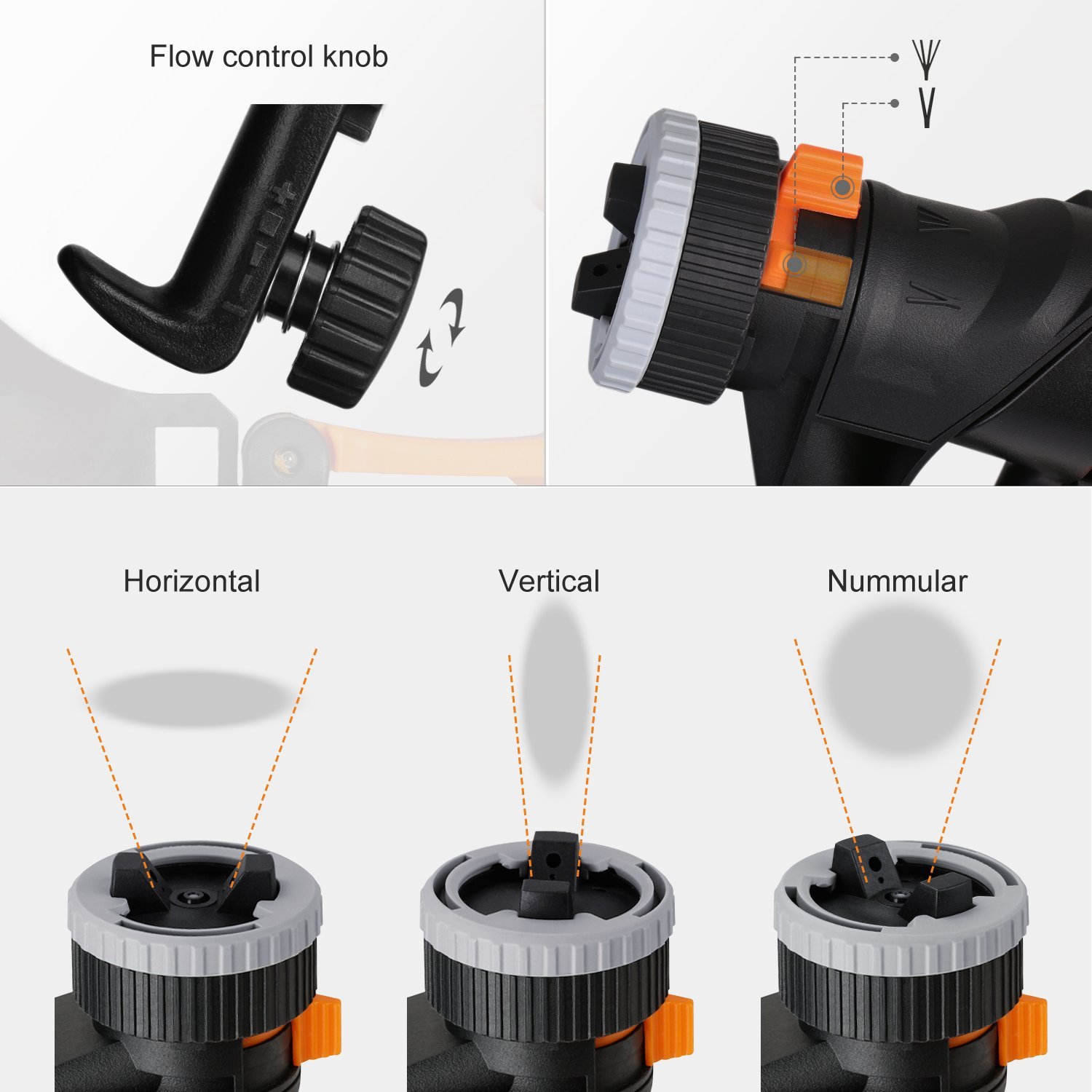 Before buying this sprayer, it is important that you learn all you can about it.
If this is your first time reading Tacklife SGP15AC Sprayer reviews, you will definitely find there are a lot of things you need to know about this model.
Going through these reviews will help you understand what the product is about and be able to decide if it is for you or not.
Some of the most important things you need to know will be covered in this section and the next section as you read on.
Tacklife SGP15AC Sprayer is an affordable spray gun for homeowners designed for small household projects.
It can be used for painting car parts, wooden and steel furniture and other home appliances.
Though it is made of ABS Plastic, it is the latest model available in the market.
It is durable, versatile and above all a quality product with good reviews.
A 900 ml detachable canister comes along with it for easier use and faster re-filling of the paint material. It is suitable to use this product either at home or at work environment.
Almost all parts of the spray gun are removable and allow you to clean it easily.
It makes it easier to control the smoothness of the paint material. This easy fill canister gives you a faster action while filling and cleaning without requiring to remove it from the sprayer.
It is most suitable for thin and free-flowing paints and stains.
The entire package includes the spray gun, a detachable canister, a funnel, a cleaning needle and a brush, a set of gaskets, three different spray nozzles, and a user manual.
Features on the Tacklife SGP15AC Paint Sprayer [And Explanation of Each One]
Here, you'll find the complete review of this sprayer.
Let's get start…
But first, check out this picture: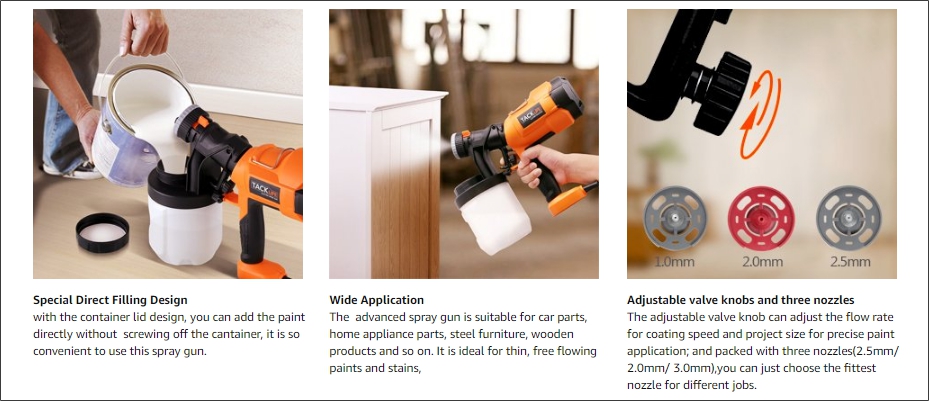 Now that you know the necessary things about this sprayer, the next thing is to know what the features of this sprayer are and what they can do for you. These features are explained below:
Features:
This spray gun uses three different spray patterns and includes three nozzles giving maximum versatility during paint spraying. You can also control the flow rate of the paint material using the adjustable valve knobs.
There is a detachable canister included in it which allows adding your paint material and cleaning it easily after every use. After all, it comes with a 24 months warranty, and if you are not satisfied with the product, you can return it as they offer it for a full refund.
It also includes three different nozzle sizes of 2.5mm, 2.0mm, and 3.0mm. Before using the sprayer, one must check that the nozzle-washer is installed in the right position. You can choose the right nozzle size that fits your different work types.
Adjustable valve knobs are also included that helps secure precise paint application. The funnel allows you to measure the viscosity of the paint material that you are using. It helps in adjusting the flow rate to control coating speed as per the project type. You can use it for a precision-oriented paint application as it sprays paint uniformly without leaving any brush marks.
There is also an integrated, clear and easy to understand smart select spray-tip. The adjustments are user-friendly as one has to simply rotate the spray-tip to select the different spray patterns – horizontal flat jet, vertical flat jet, and round flat jet.
Others:
The spray width lever allows you to adjust the paint output for large or small surfaces and the variable trigger controls the actual paint flow rate. The quick refill lid helps you to add paint material very quickly.
This paint sprayer has an outdoor air-turbine for a continuous flow of paint material and air while producing a professional fine finish. It works easily for your deck staining or re-finishing your lawn furniture etc.
It provides an extra-fine atomization resulting in more uniform paint coverage from the first coating itself. There is also an air jacket that surrounds the spray-jet to minimize overspray, thus minimizing wastage.
What's in the Box?
This is the list of everything you will find in the box:
1 Tacklife SGP15AC Spray Gun
24 Months Warranty Card
1 User Manual
3 Different Spray Nozzles
1 Detachable Canister and Viscosity Funnel
2 Gaskets
1 Cleaning Brush
One Cleaning Needle
Tips on Using the Tacklife SGP15AC Paint Sprayer
Whether you already have this product or about to buy it, you will find the following tips useful:
First of all, please go through the manual instructions carefully and kindly follow the recommended settings and requirements before using the device.
Then we need to assemble the paint spray as per the instructions provided in the manual. We then need to test spray with normal water. Then, we need to detect whether the water comes out intermittently. Also, we need to check whether we have tightened the pot and the lid as well.
While diluting the paint material, we need to check the recommended viscosity level which is 35-70Din-s.
While spray painting, it is highly recommended to use safety apparatus including protective glasses, gloves, masks etc. Paint spraying is not recommended when the wind is too strong.
Also, the distance which needs to be maintained while spray painting is 50-300mm. You need to move in the parallel direction along with the spray gun while spray painting. The spray gun on the Tacklife SGP15AC Paint Sprayer should direct vertically to the surface we are painting for ensuring uniformity.
Check our Tacklife category for more ideas.