Some of the links below are affiliate links, meaning, at no additional cost to you, we may make a commission if you click through and make a purchase.
Imagine this:
You're standing there and looking at the old, worn out paint. It might be your door, your walls, or the house itself.
Whatever the case is, you need to repaint it now.
You want to do it quickly and still get beautiful results. At the same time, you want it to be the most cost-efficient choice available.
We all know what it's like to have kids who draw on the walls or have the paint on the gate become faded and ugly.
We all know what it's like to want to have our house repainted only to find out that professional painters cost thousands of dollars. That's why you should use a paint sprayer.
It's cost-effective and fast.
You get the results you would like while also having it at your disposal whenever you want to use it.
Typically, it's also ten times faster than a paintbrush and four times faster than a roller.
You also get a clean, smooth finish as opposed to the strokes you will see in brushes.
This page is to help people like you who are looking for the best house paint sprayer to use at home.
We have researched many different types of paint sprayers to help you choose the best possible one. We list the pros and cons of each paint sprayer so that you can find the one that's right for you.
Want to get the best one straight away?
If you're curious (or in a hurry):
Whether you are a homeowner learning how to paint your home with a sprayer or a handyman searching for the best sprayer for use at home, you will find the Fuji 2903-T70 Mini-Mite 3 PLATINUM Spray System to be suitable for your needs.
In addition, the Fuji 2903-T70 Mini-Mite 3 PLATINUM Spray System provides a flexible solution for any other type of home painting project.
With it, you can paint your fence 10x faster than using a roller or paintbrush.
And if you want to put a fine finish on your furniture, you can save more time and effort because of the less strain during painting.
It comes with everything you need to complete most, if not all home-based paint spraying jobs.
If you want to compare other paint sprayers for your small job, read on…
Instead of researching yourself – which could take several hours or days – you can follow a proven guide that has helped many homeowners choose their desired paint sprayer.
We have done all the legwork and consider the following some of the best for your home use. All you need to do is look through the features on each and see which one fits your criteria.
Having a paint sprayer at home is a must, considering its usefulness in smaller projects and other household activities. The best house paint sprayer is those that are lightweight, compact, and are fairly easy to use.
Comparison Reviews of the Best Paint Sprayer for Home Use
Fuji 2903-T70 Mini-Mite 3 PLATINUM – T70 HVLP Spray System
Graco 16Y385 TrueCoat 360 Paint Sprayer

Wagner 518080 Control Spray Max HVLP Sprayer
Fuji 2903-T70 Mini-Mite 3 PLATINUM – Best Paint Spray System for Home Use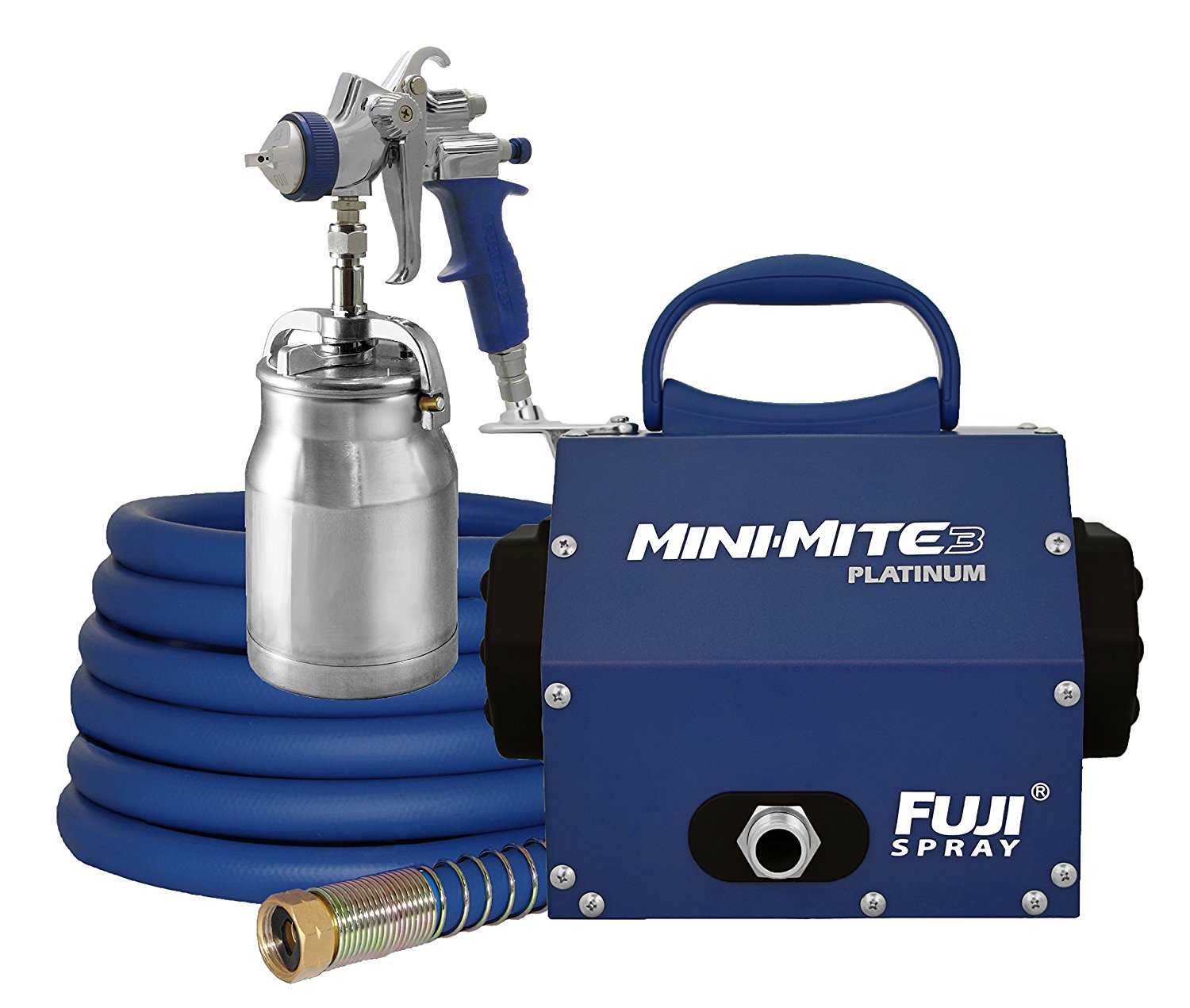 So far, most of the products that have been reviewed were intended for the do-it-yourself homeowner or beginners/casual painters.
This Fuji model is intended for those that want extremely professional results at a surprisingly inexpensive price.
Most professionals spend $1000 or more for the right paint sprayer, but the Fuji 2903-T70 Mini-Mite 3 PLATINUM Spray System gives you similar professional results for almost half the price.
If you're looking for fast and professional results, you will want to read this.
What We Like 
Relatively quiet
Incredibly flexible for the best results
Very smooth and professional results with minimal overspray
What We Dislike
More expensive than the other models I have reviewed so far (although it is much cheaper than other professional-level models).
Fuji 2903-T70 Mini-Mite 3 PLATINUM – T70 HVLP Spray System

: Technical Information
This professional paint sprayer has a knob that allows you to adjust the size of the pattern. In addition, it has an air cap (picture below) that allows the user to choose the desired pattern.
For example, you can choose a horizontal or vertical pattern. If you turn the air cap to a 45-degree angle (in between the horizontal/vertical patterns), you get a nice circular pattern.
The air cap is also highly designed to minimize overspray, which is a painter's worst nightmare. In addition, this paint sprayer comes with 4 different air caps for specialized projects. These air caps range from 1mm (0.039″) to 2.2mm (0.086″).
The spray gun itself is made entirely of stainless steel so that it allows for both water-based and oil-based materials.
However, the handle itself is coated with a different material to keep the user from getting burned. You get the best of both worlds, and it's actually pretty comfortable.
Other paint sprayers are so uncomfortable that you would get tired after just 20 minutes of painting. You will not have that problem with the Fuji 2903-T70 Mini-Mite 3.
Unlike the Wagner 518080 Control Spray Max HVLP Sprayer, this Fuji model is a non-bleeding type, making it highly convenient.
The bleeder types have air constantly coming out, which can cause overspray or dust to accumulate on the project.
This model uses a 3-stage turbine, which allows for higher pressure and a more refined finish. The 3-stage turbine is generally in more expensive models as opposed to the 2-stage turbine.
It allows for greater pressure, which in turn causes the paint to atomize into smaller particles. This results in a better, smoother finish.
=> Air Hose <=
The 25 FT air hose also allows the painter with enough freedom to do most large projects with minimal adjustments.
In addition to the air hose, it also includes a separate hose that reduces air temperature.
This will be extremely helpful for fast-drying paints. The air hoses also come with a control valve that lets you control the air emitted, which ultimately lets you adjust the amount of paint and size being sprayed.
You should be seeing very minimal to no overspray with these features. It's incredible.
Fuji 2903-T70 Mini-Mite 3 PLATINUM

: Minor Problems
I really have not seen any complaints about this paint spray system. Some prefer the Fuji models that were designed to be quiet, but this is relatively quiet. Other models can actually be damaging to the ear. This one isn't as bad.
Our Verdict on the Fuji 2903-T70 Mini-Mite 3 PLATINUM

Spray System

The Fuji 2903-T70 Mini-Mite 3 PLATINUM Spray System is incredible. It's a steal at its price. This paint sprayer is easy to use, comfortable, and quiet.

As a result, you can be painting for a long time without needing continual rest. The results are also professional even when used by beginners.

The powerful 3-stage turbine with the 25-foot hose allows the painter to use this for both large and small projects.

Its flexibility optimizes your abilities and helps achieve your most beautiful outcome.

Overall, this paint sprayer is a great choice for people of all levels. At half the price that professionals pay, you will get similar results.
Graco 16Y385 TrueCoat 360 Paint Sprayer – Best Airless Paint Sprayer for Home Use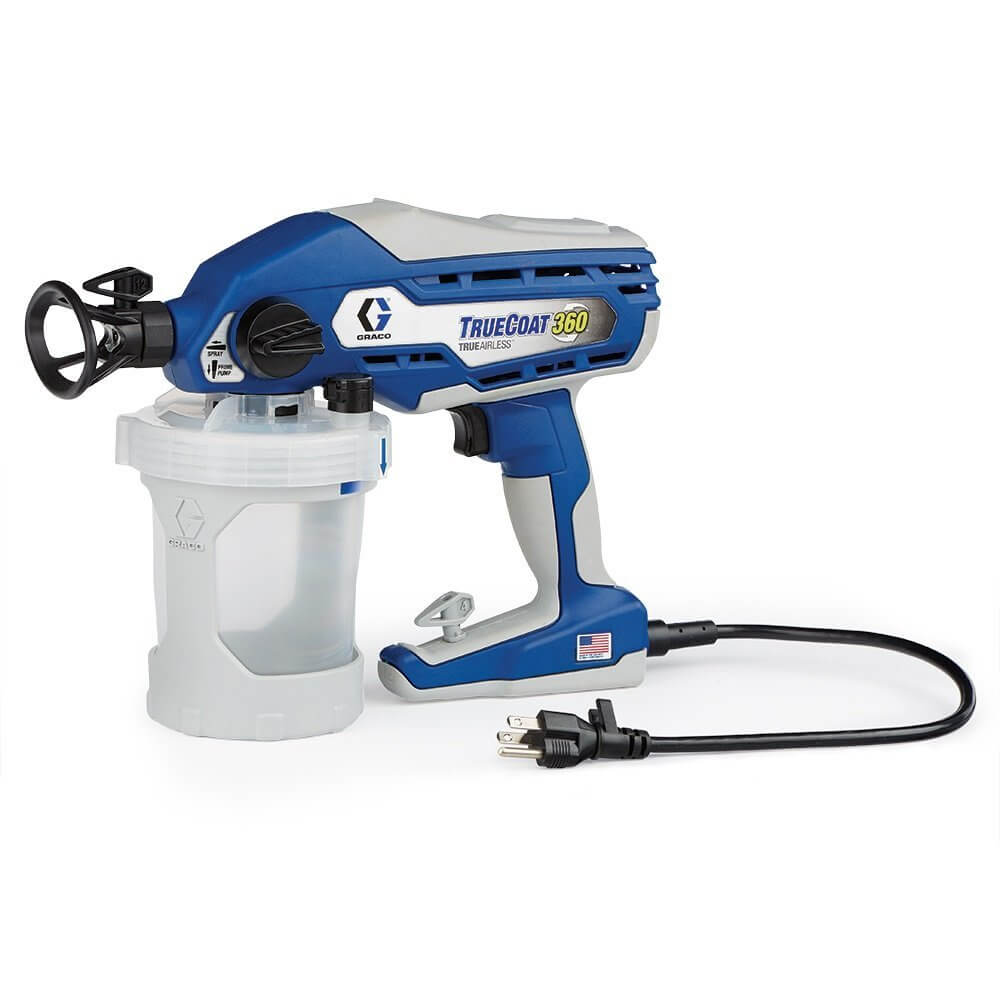 Aside from getting professional results, Graco is also known for their innovative ideas. They don't simply try to improve on existing products; they try to make new ideas to start a new line of products.
That's what makes them the most popular brand among professional painters.
This model falls under the "innovative" category. However, because it's one of Graco's earliest prototypes, it's not quite "perfected".
It still has room for improvement, but I have no doubt that the TrueCoat model will soon become popular.
What We Like
Reversible tip to help with clogging
Ability to spray both stains and latex
Ability to do small jobs quickly and efficiently
What We Dislike
Will not last over 50 gallons (this will be years for most people)
Cannot paint vertically (i.e. ceilings)
Graco 16Y385 TrueCoat 360 Paint Sprayer: Technical Information
The TrueCoat paint sprayer can spray both stains and latex. You will not have a problem. You will get two types of tips to use for each one.
The 311 spray tip (narrow) can be used for stains while the 517 spray tip (wide) can be used for latex. The Graco TrueCoat can use other tips as well, but they do not come in this package. You would have to purchase them separately.
It also comes with a reversible tip. Professional painters routinely use reversible tips because when the paint clogs, they simply flip the tip, pull the trigger, and clear it out again. It saves a lot of time.
This model has a max pressure of 2000 PSI. This is best suited for fences, gutters, doors, etc. It is not recommended for big projects like painting the entire house.
If you are trying to do a large project, please refer to airless paint sprayers like this Graco Airless Paint Sprayer.
The 32 oz cup only emphasizes the use of this paint sprayer to do quick jobs (not large jobs). While some other models use gallons, this model uses ounces.
The TrueCoat is convenient because It's quick and easy to use. You just pour the paint into the cup, attach it, and then prime it. After that, it's ready to be used.
Simple.
The cup liners make cleaning up easy as you just empty the liner to throw it away. It's a nice little feature, although cleaning the cup was never a difficult process to begin with.
Graco 16Y385 TrueCoat 360 Paint Sprayer: Minor Problems
The TrueCoat will start to lose effectiveness after 50 gallons have been used with it. This is not a huge problem since the TrueCoat was designed for smaller projects like painting a door.
To put things into perspective, it takes less than 1/4 of a gallon to paint a door. Overall, you will have to paint over 200 doors for the TrueCoat to truly wear out, and I'm sure most people will be done using this by then.
There was a complaint that this paint sprayer cannot paint ceilings.
This paint sprayer actually loses its prime when trying to paint vertically. Unless you are holding the paint sprayer horizontally, it will lose its prime.
That means it loses its pressure and that you need to wait to build it up again. In their next version, this will probably be fixed, but in this version, it's a flaw.
In other words, you do not want to get this if you plan on painting the ceiling. If you plan on painting the door, fence, or anything of the sort, then you'll have no problem.
In fact, it'll work beautifully.
Our Verdict on the Graco 16Y385 TrueCoat 360 Paint Sprayer
The Graco TrueCoat Plus is an easy-to-use paint sprayer that gets the job done for smaller projects. It's comfortable, not loud, and easy to clean.
It's not perfect though.
It cannot be used after 50 gallons. However, unless painting is your job, you do not need to worry about that.
In addition, this model is not recommended for projects that require you to hold this paint sprayer in a vertical position (like painting the ceiling). It will constantly lose its prime.
With the exception of these few problems, you will get beautiful, clean results. It's very user-friendly so that any beginner can pick it up and start using it right away.
It's comfortable.
Best of all, it's easy to clean (I hate cleaning). If you need to paint the ceiling or do bigger projects though, you will want to look at another model.
So if you are looking for the best airless paint sprayer for home use, try out this Graco sprayer.
Wagner 518080 Control Spray Max HVLP Sprayer – Best HVLP Paint Sprayer for Home Use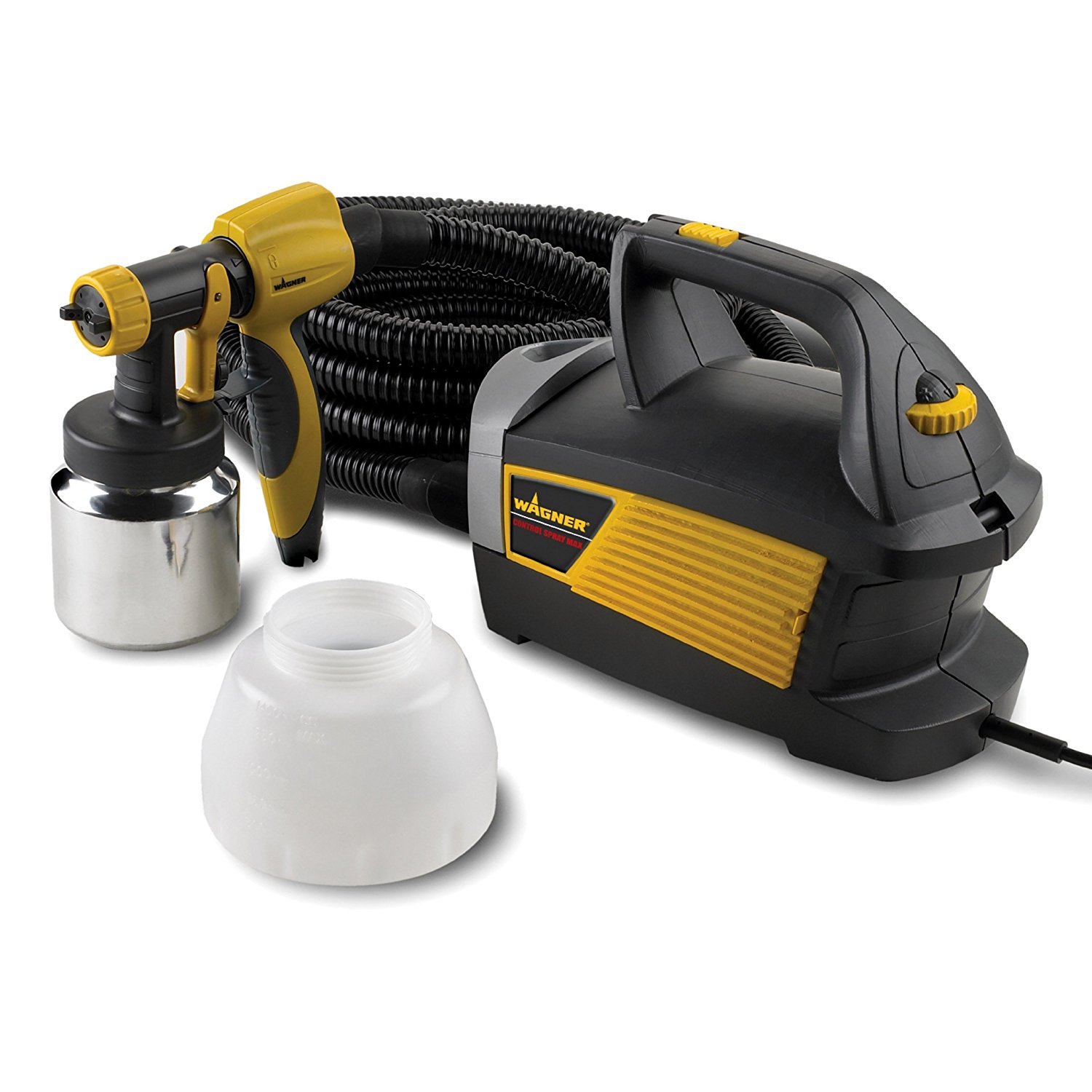 Wagner models are sold at basically any home improvement store. Being popular does not mean it's the best though. When it comes to paint sprayers, specific types fit specific needs.
The Wagner 518080 Control Spray Max HVLP Sprayer makes for a decent entry-level model. It's cheap and only effective on certain projects.
That's why if you're a professional painter or if you need the perfect results, I'd look at the Graco models.
On the other hand, if you want a quick painting job for a really cheap price, look no further. It's a good option for do-it-yourself homeowners.
What We Like
Affordable paint sprayer
Relatively versatile and flexible for multiple uses
Gets the job done very quickly
What We Dislike
Not ideal for huge projects like painting a house
Reportedly, a few people have had problems calculating the viscosity
Wagner 518080 Control Spray Max HVLP Sprayer: Technical Information
This HVLP sprayer has a two-stage turbine, which is what you would find in cheaper models. It makes painting easier.
Generally, though, the three or four-stage turbines are better and uses greater pressure, which ultimately results in a more refined finish.
With a 3 or 4 stage turbine, you can move more quickly on the intended object while also having more room for mistakes.
As a result, the two-stage turbine is generally for casual painters who want to spray outdoor furniture or other objects that don't require the perfect result.
You can control the air pressure of this Wagner model, which basically means that you have the ability to control the amount of spray that comes out.
With this feature, you can worry less about overspray. You'll be very happy with this feature since overspraying is just one of the most common painting problems.
The 20-foot air hose is also long enough for almost any project for the beginner, providing them with enough length and freedom to keep painting without having to readjust or stop.
In addition to these, the Wagner 518080 has 3 different spray patterns (circular, horizontal, and vertical). These patterns are versatile enough for you to get the very best results for any situation.
Finally, it has a 1-quart metal cup and a 1-1/2 quart plastic cup, depending on the size of the job.
These features in the Wagner HVLP paint sprayer make it very simple and user-friendly. In other words, it's a great choice for the casual or inexperienced spray painters.
Wagner 518080 Control Spray Max HVLP Sprayer: Thoughts by Other Reviewers
Most reviewers are happy that they bought this product. It has enough power, despite being light. Unlike other paint sprayers, it is also very easy to clean.
The painting is very smooth, consistent, and clean. It isn't ideal for large projects, but it does a superb job on smaller ones (like cabinets).
Nevertheless, there were a few complaints that I will highlight here.
=> Calculating Viscosity <=
Although the viscosity cup can measure the density of the paint, a few people tend to have problems actually calculating the right viscosity.
It might take a bit of trial-and-error to get the results you would like.
Some needed to dilute the paint in order to prevent overspray from happening.
Others turned up the velocity to the max and sprayed quickly to get fast results.
=> Air Movement <=
Also, when it comes to HLVP sprayers, there are both bleeder and non-bleeder types.
The bleeder types like this model will have air constantly coming out once you turn on the sprayer.
It doesn't matter if you aren't pulling the trigger. A few have complained that this can cause dust to be blown onto the surface and that his can also lead to overspray. Most have not had a problem though.
=> The 1-1/2 Quart Cups <=
The 1-quart and 1-1/2 quart cups are intended for quick jobs.
Even with a 1-1/2 quart cup, it's not ideal for large projects or people who paint as a profession as they would need much larger sizes (and I'm talking about in the gallons).
As a result, this Wagner model is perfect for people who want to do a quick job like a door or outdoor furniture.
Our Verdict on the Wagner 518080 Control Spray Max HVLP Sprayer
As already stated, this paint sprayer is not recommended for the professional painter. Instead, its simple yet versatile functions make it perfect for a beginner.
It's light but powerful enough to do most jobs.
The Wagner 518080 Control Spray Max HVLP Sprayer is intended for quick finishes.
Despite some minor problems, people still agree that this model is great for its incredibly inexpensive price.
You just might need a bit of trial and error to get things started, but once you do, you will see quick and smooth results.
So, if you are looking for the best hvlp paint sprayer for home use, try out the Wagner 518080 Spray Max.
Add a Decorative Touch With Crown Moulding!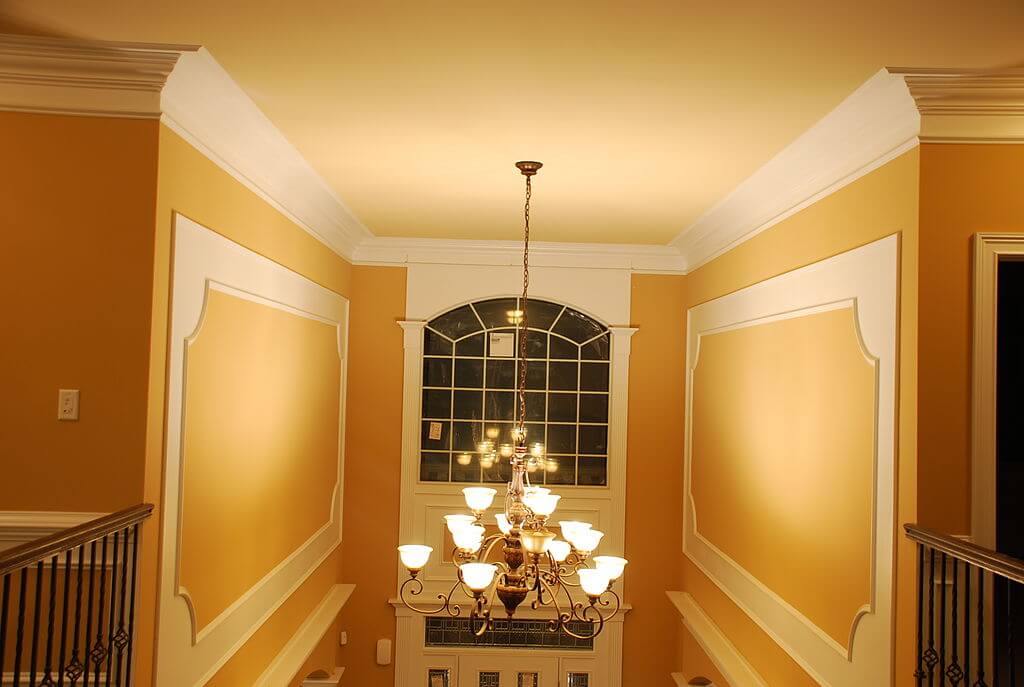 Okay, so you have finally decided to remodel your old house. You have thought of everything from the wall finish to the paint color to the blinds. The only thing that is left to deliberate on is the trim.
A really great and easy way to spruce up the look of any room is to add crown molding.
Crown molding varies in style, material and price range. There are crown moldings made of wood and some are made of a sturdy, polyurethane material.
The polyurethane crown molding is said to be a little easier to cut and fit into place. You can also find crown molding made of many different types of wood, including ash, cherry, cypress, knotty pine, mahogany, maple, red oak, soft maple, white oak and more.
Even if you do not want to completely remodel your rooms, but want to find a way to give them a bit of a makeover, crown moldings might just be the answer you have been looking for!
So, What Can You Get With Crown Molding?
They are stylish and really add a decorative flair to any room that they are installed in.
Crown molding is placed above eye level in a room. That means that it is installed, for the most part, along with the base of the ceiling/upper walls.
You may not think that a piece of crown molding can make that much of a difference in the way a room or home looks, but it really can!
There are many manufacturers that offer different styles, shapes and sizes of crown molding, including Century, Fypon, Spects, Focal Point and Resin Art.
You can find crown molding offered in many different colors, as well, but most homeowners prefer the tasteful look of white in their rooms.
If you want to really make a dramatic impact on your rooms, then you can put crown molding on the ceiling and at the halfway point of a wall.
This look can really change the whole appearance of a room. You can purchase stock crown molding at the local hardware store, order standard sizes Online or even hire a talented carpenter to create one of a kind molding for your house.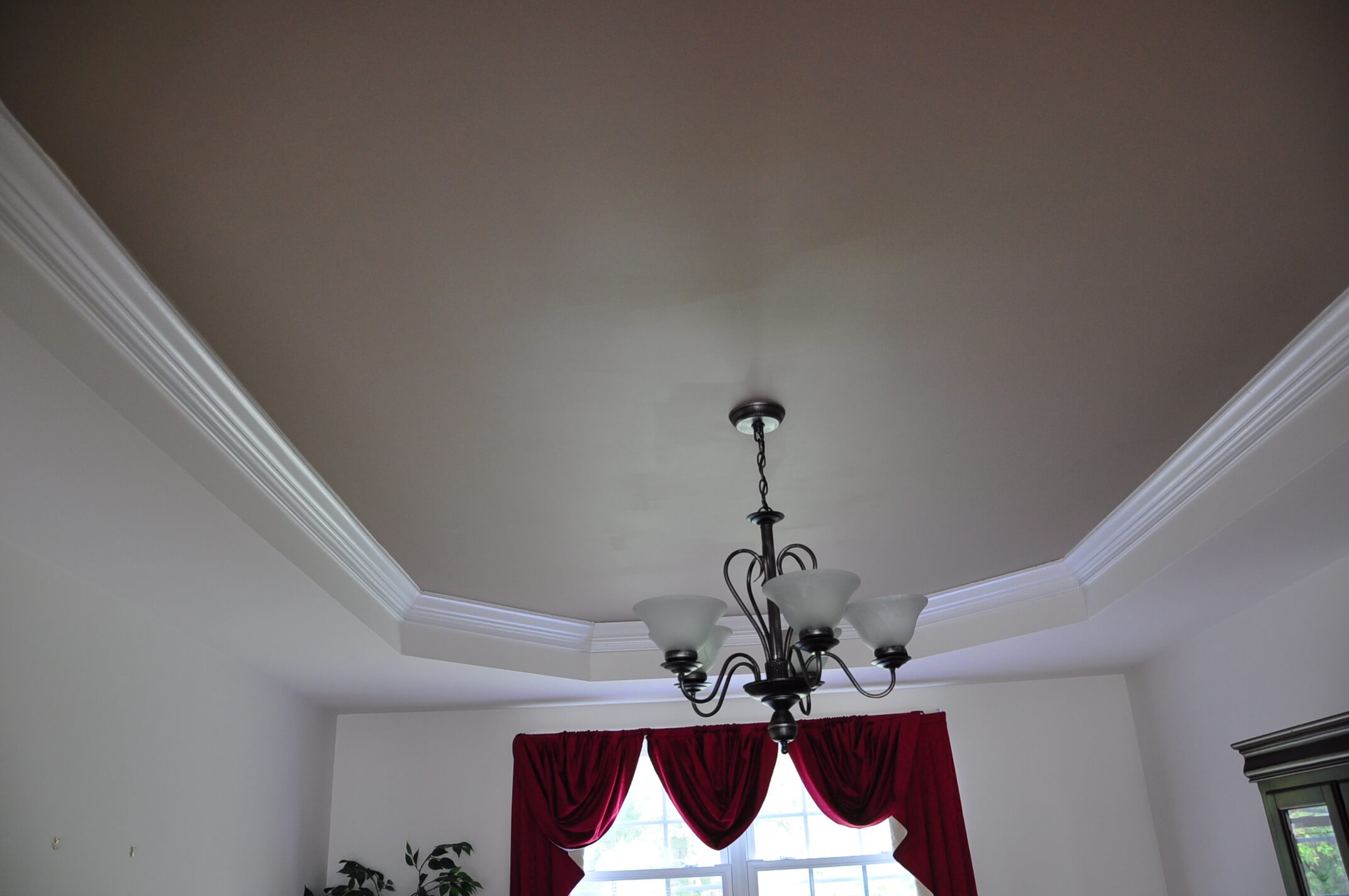 Hire An Expert Carpenter
Hiring an expert carpenter to create custom crown moldings may be a little more expensive, but it is the perfect way to make sure that the molding fits perfectly into every space of the room.
The crown molding can have many curves and bevels to it, though, so you will want to make sure you are working with someone that really knows what they are doing with crown molding.
If you choose to order your crown molding or find it at the local hardware store, you will need to take careful measurements of the size of the crown molding that you will need for each wall.
You will want to measure from the start of each corner of the wall to the next. Also, you will want to make sure that you allow yourself a little extra footage.
You will do this so that if you have not measured properly or you make a mistake, you will have some extra crown molding to make up for it!
Now that you know some of the basics of crown molding, all you need to do is decide on a design, material and price range.
If you decide to have something custom designed and built on site, start looking for a great carpenter to work with.
If you are planning to tackle the project yourself, make sure that you familiarize yourself with the best application methods so that your crown molding turns out just the way you want it to.
Final Words on the Best Paint Sprayer for Home Use
Choosing the best house paint sprayer can consume your time through researching, consultation, and comparison especially when you are looking at dropping a lot of cash.
The fact that people are buying these and are accomplishing their goal – a professional finish – should give you some respite.