Looking for the best homeowner paint sprayer?
Instead of researching yourself – which could take several hours or days – you can follow a proven guide that has helped many people choose their desired paint sprayer.
We have done all the legwork and consider the following some of the best for your home projects. All you need to do is look through the features on each and see which one fits your criteria.
Having a paint sprayer at home is a must, considering its usefulness in smaller projects and other household activities. The best small paint sprayer is those that are lightweight, compact, and are fairly easy to use.
You can say goodbye to repairmen as you can easily complete the minor household chores. You can now repair your old furniture, doors, and windows with some upbeat colors using the best paint sprayers.
Here is a featured snipped of some of the top rated homeowner paint sprayers:
Some of the links below are affiliate links, meaning, at no additional cost to you, we may make a commission if you click through and make a purchase.
Comparison Reviews of the Best Homeowner Paint Sprayer
Wagner 515010 Paint Crew Plus Paint Sprayer
Wagner Power Painter Plus Airless Paint Sprayer
Wagner 0518080 Control Spray Max HVLP Sprayer
Wagner 0515077 ProCoat V2 Paint Sprayer
Wagner 0520000 PowerTex Texture Sprayer
1. Wagner 515010 Paint Crew Plus Paint Sprayer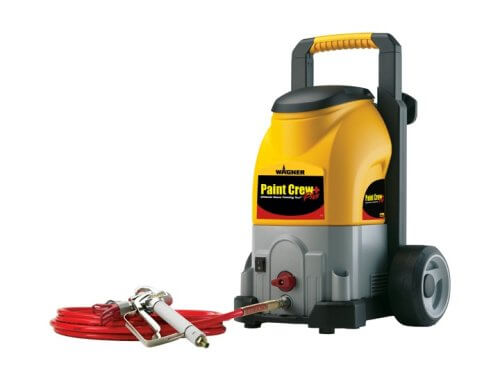 The Wagner Paint Crew piston pump paint sprayer is the ultimate house painting tool!
It delivers the professional performance, versatility and spray pattern of a high-priced contractor unit at a fraction of the price.
The unit maintains pressure as well as an air compressor would.
The high-quality sprayer nozzle delivers a micro-aerosolized output that covers beautifully.
No runs, drips, or missed spots. And rugged wheels and a telescoping handle make maneuvering and transporting the Paint Crew Plus quick and effortless.
With a convenient hose hook and tip storage, the Paint Crew Plus is ready to be stowed until the next job in just seconds.
The Wagner Paint Crew Plus works great for rolling if you want something that would deliver paint to the roller without having to return to the tray for more paint.
Here are some great features of the Wagner Paint Crew Plus
Adjustable pressure control
Removable hopper simplifies clean-up
Rugged large wheeled cart; easy to move
Telescoping handle
Integrated hose and cord wraps
If you have a wet cloth and a ziplock baggie for the spray nozzle, you can put this sprayer away for many hours without worrying about the paint hardening.
Now THAT is a blessing. No more cleaning your sprayer if you have a job that lasts more than a day!
The Wagner Paint Crew Plus Paint Sprayer is available on Amazon Now
2. Wagner Power Painter Plus Airless Paint Sprayer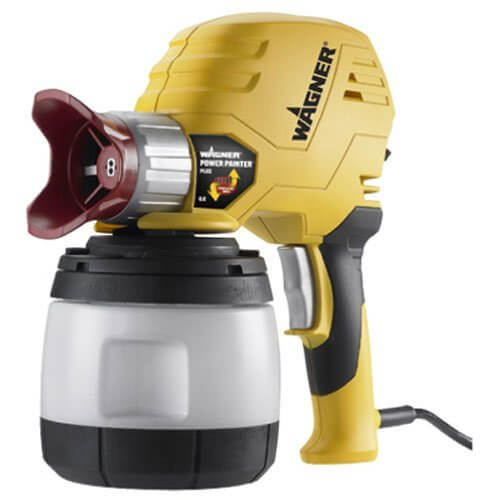 The Wagner Power Painter Max with Optimus Dual-Tip design creates a vacuum effect between the tips, which draws more paint particles into a single spray distribution than single-tipped sprayers.
The result is an even paint coverage, less overspray, and better control.
Because of its built-in electronic four-speed control, you can use the Power Painter Max to spray a variety of surfaces and materials with just one tool.
Powerfully built, the Wagner Power Painter Max lets you spray up to 7.2 gallons per hour, making fast work of big projects.
Power Painter Max's soft-grip handle provides all-day comfort for larger painting projects, and the sprayer's lightweight construction allows for comfortable one-handed operation.
The Power Painter Max sets up in less than five minutes. Cleanup takes less than ten minutes with the included cleaning brush.
The Wagner Power Painter is great for small jobs. For the price and the ease of clean up, it's a winner.
Here are some great features of the Wagner Power Painter
Optimus Dual Tip Technology provides even coverage, less overspray, and more control
1.5-quart cup – 7.2 GPH(gallons per hour)
Draw directly from the cup or can with 6-foot remote suction tube
Backpack for maximum mobility
Electronic 4-speed control for spraying large surfaces and detail work such as trim
Put it on number four, the highest speed, and turn the volume up to the max.
That way you are taking advantage of the 7.2 GPH power to get a real fine mist, especially with latex, which is what makes spray painting look good.
The Wagner Power Painter Plus Paint Sprayer is available on Amazon Now
3. Wagner 0518080 Control Spray Max HVLP Sprayer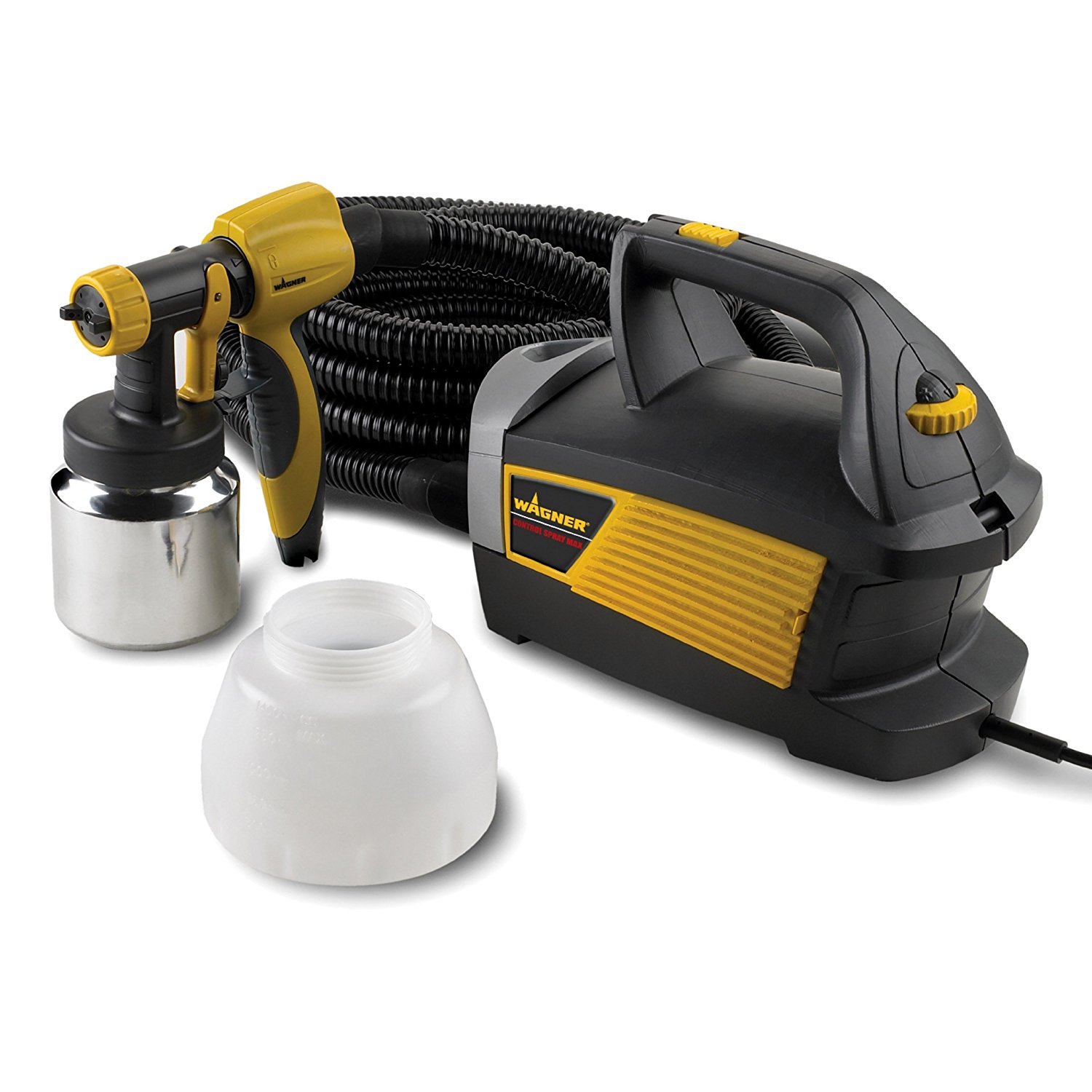 The Wagner Control Spray Features 2 stage turbine, variable air pressure control, lock n go spray gun, 2 spray patterns, variable flow control.
Lightweight yet powerful, this handy tool sets up in just minutes.
With the Control Spray Max, you can spray a variety of different paints, primers, lacquers, and stains.
This sprayer provides three spray patterns for versatility, and a 20-foot flex air hose to extend your reach.
The sprayer's powerful two-stage turbine easily handles thick material like interior latex paint, while variable air pressure control (1.50 to 2.63 psi) reduces overspray of thin materials like lacquers and stains.
Two large air filters prevent dust from marring the finish, so the result is smooth and even.
The Wagner Control Spray Paint Sprayer unit is light and has plenty of power. It takes some playing to understand the best settings for power and flow.
But, once you get those dialed in and are consistent in your spray angles and distance, the unit will give you professional results.
Here are some great features of the Wagner Control Spray
Powerful Two Stage Turbine sprays latex, as well as thinner materials such as lacquers and stains
Variable Air Pressure Control means less overspray with thin materials
20 Foot High Flex Air Hose extends your reach
3 spray patterns – select the best pattern for your job
Variable flow control covers large spray surface down to detail work
Clean up is a breeze and it has a hose long enough to reach several areas without moving the compressor.
The spray head is simple and only has three parts. Just have to thin the latex paint with some water until it runs through the viscosity cup in under a minute, and the sprayer is good to go.
About as loud as, and sounds like your average vacuum cleaner, no buzzing or obnoxious sound.
The Wagner 0518080 Control Spray Max Sprayer is available on Amazon Now
4. Wagner 0515077 ProCoat V2 Paint Sprayer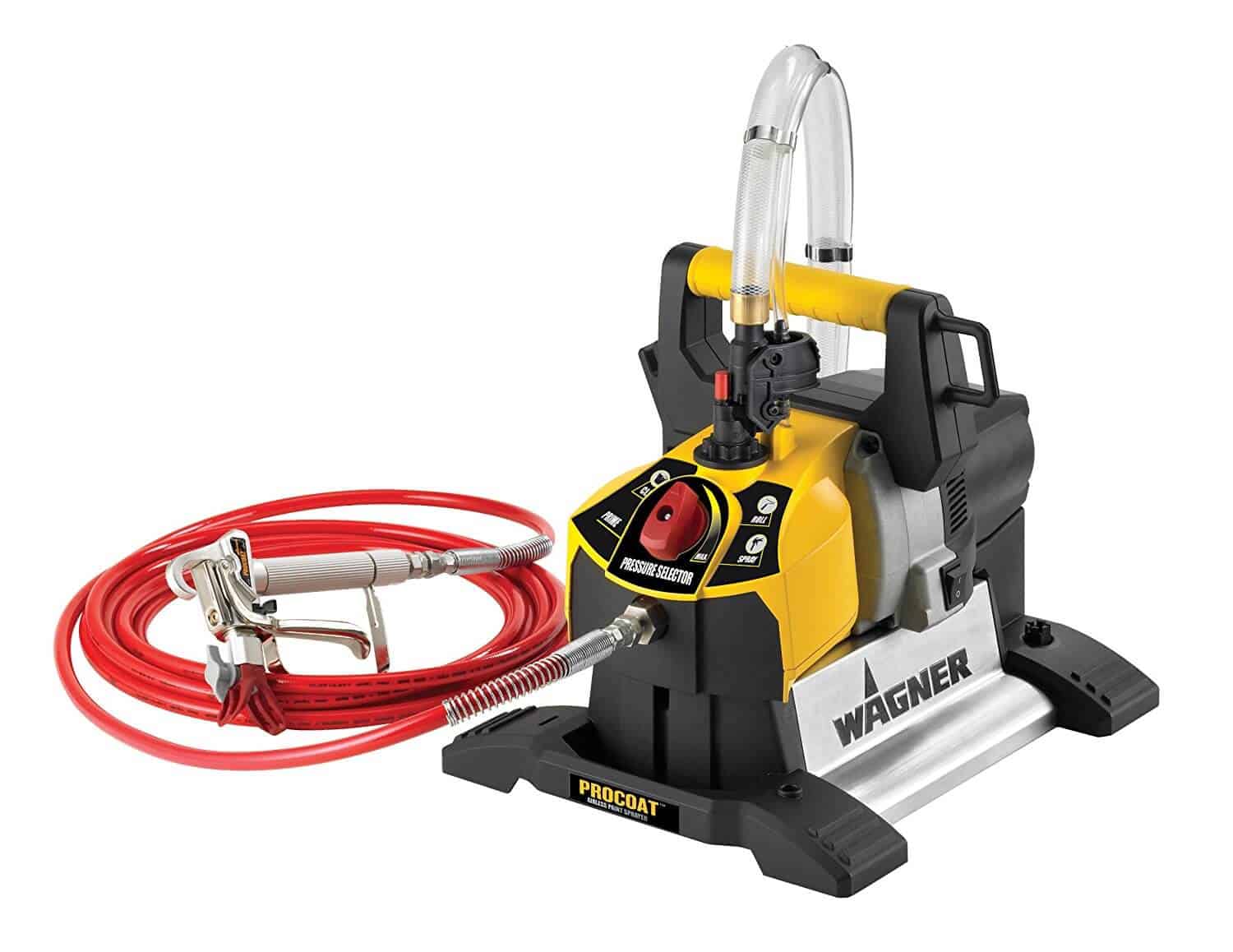 The Wagner Procoat is one of the featured sprayers from the high-performance series of Wagner products.
Great for whole house painting yet simple enough for sheds, fences, and decks.
This Wagner airless paint sprayer is a serious piece of gear, portable, versatile, precise get quality results every time.
The Wagner Procoat also has adjustable pressure up to 2800 PSI powerful enough to spray multi-story houses.
Spray gun swivel is attached for easy hose movement and less wrist fatigue.
The adjustable pressure controls over-spray while the spray gun swivel increases comfort.
The Wagner Procoat features a high quality 1/2 HP motor that runs off of regular household current.
The Wagner Procoat runs smooth and has ample pressure to spray Sherman Williams best paints straight from the can without thinning.
Here are some great features of the Wagner Procoat
2800 PSI .24 GPM
Sprays unthinned latex, oil-based paint, stains, and sealers
Draws paint directly from 1 or 5 gallons container
Pressure control for less overspray
35′ paint hose, commercial grade spray gun, and 515 reversible spray tip
The product is easy to set up and use.Adjustable pressure, Excellent spray gun, long hose, easy cleanup, accepts 1 & 5-gallon cans, and customers particularly like the anti-clog inlet button.
The Wagner ProCoat V2 Paint Sprayer is available on Amazon Now
5. Wagner 0520000 PowerTex Texture Sprayer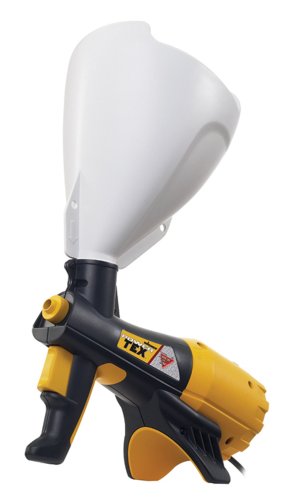 The Wagner Spray Tech All-in-one Wagner Power Tex powered texture sprayer features a built-in turbine with ample power to spray texture to the whole ceiling, yet simple enough for small touch-up jobs.
Contains one-gallon hopper, three nozzles (small, medium, and large), cleaning brush, and lubricant.
No separate air compressor or air hoses needed!
The Wagner Spray Tech features a large, one-gallon, two-position hopper that can be quickly configured for spraying either ceilings or walls without the need for adapters.
Featuring Wagner's Lock-N-Go Technology, the Power Tex is easy to set up and clean anywhere–no tools required.
And most importantly, assembly takes just minutes.
The Wagner Power Tex includes a variable-flow trigger for producing professional-looking textures: Acoustical Popcorn, Knockdown, and Orange Peel finish.
Even a complete novice when it comes to drywall textures can end up with a great looking paint job.
There is a learning curve and you get better with practice.
Here are some great features of the Wagner Spray Tech: 
Power texture sprayer for walls and ceilings
Applies popcorn, orange peel, and knockdown textures on walls and ceilings
Powerful air turbine and 1-gallon adjustable hopper for fast coverage of large surfaces
Includes 3 spray nozzles, 1-gallon adjustable hopper
Weighs less than 5.7 pounds
The Wagner Spray Tech is the ticket for small repairs or spraying small rooms.
When installing the hopper you can plug it into the gun oriented in either direction and turn it left or right for ceilings or walls and it locks.
The Power Tex makes easy, a job that pros charge you $60 an hour.
The Wagner PowerTex Texture Sprayer is available on Amazon Now
How to Choose Spray Paint Colors
There are many reasons why people need to use spray paint today because of its wide range of applications. Spray paint can be effectively used to paint anything from old wicker chairs to homes and even cars.
There are also many spray paint colors to choose from so no matter what style or design you are looking for it is easily achievable with spray paint.
No matter what type of spray paint colors you need for your project, it is important to also choose the right type of paint to ensure it goes on correctly and lasts for a long time.
Types of Spray Paint
Before you start any spray paint project, it is important to know you have chosen the right type of paint for the job.
There are several different types depending on your need.
Some projects require you use an epoxy spray paint which is going to stick best to heavy-duty items like metals.
They also use less energy than heat-cured powder coatings so they can be used for many things like office furniture.
If you do need a good spray paint for metal, you can choose any color from Krylon's spray paint options.
There are thousands of spray paint colors to choose from, so you'll surely find one you like.
When you need to paint your vehicle it is most often specialized spray paint that is used to ensure an even coat is applied.
There are many auto spray paint colors to choose from so whatever you want your car to look like when it's done is definitely possible.
Some of the most popular auto paint colors are red, blue, white and black but if you want something more out of the ordinary most auto paint shops can find spray paint colors to match your needs.
Picking the Perfect Spray Paint Colors
When you are trying to decide what spray paint colors to choose for a particular project, it is important to be able to see several options.
A good spray paint color chart can be helpful since it will put dozens of different colors right in front of you to choose from quickly.
Most people find that certain projects look good in a few specific colors.
For example, if you are painting a metal chair which will be used in an outdoors setting it is usually good to choose a natural color like a dark green or brown.
This way it fits in well with its surroundings in the area.
Moreover:
Some people like using graffiti colors to paint something which is going into a more urban setting, so it looks like the surrounding area or like it is an artistic piece.
There are many different options for spray paint colors depending on what the setting you are going to put the object to be painted in.
One thing to try to keep in mind when choosing the colors is how it will look like the other things it is next to.
It looks bad, for example, to put a table which is painted green next to a chair that is painted purple.
Most people agree that these two colors don't go well together, so even though the table and chairs look great when sitting alone, they begin to clash when put next to each other.
Why Spray Paint
Some people don't realize that spray paint can be used to beautify just about any surface quickly and easily.
With so many spray paint colors it is possible to really change the look of an entire area without taking up to much of your time or money.
If you have a deck, for example, you can find your favorite spray paint colors for metal and paint the deck's table and chairs which will give the entire area a new look.
As you can see:
Some people think that spray paint can only be used for small jobs or for painting the sides of buildings with graffiti.
This is not true though because with all the different spray paint colors and the high quality of the paint it is possible to be able to paint virtually any surface with it now.
Some people have found that spray paint is easier to use and far more versatile than more traditional paint due to the fact that there are so many spray paint colors and even different applicators for different projects.
No matter what you are painting or what color or material it currently is, there are spray paint colors that will put new life into it.
Final Words on the Best Homeowner Paint Sprayer
Choosing the best colors for each thing you are painting can be complicated but if you take the time to think about what the surroundings of the object will be it may give you some clues.
Choosing the right type of spray paint based on the material you are painting is also critical to ensure the paint sticks properly and the spray paint colors look the way they are supposed to on the finished product.