If you need to remove paint a power sander is one of the easiest ways to do it. Read more about the best sander for removing paint with our handy buyer's guide.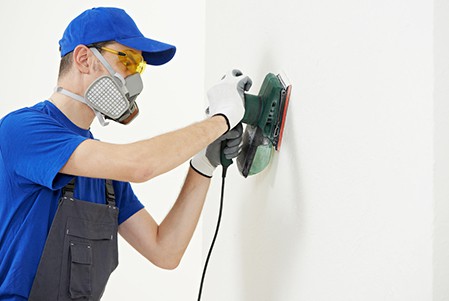 If you've ever tried to remove paint by hand, you'll know what a tough and arduous job it can be.
However, you can make the process much easier by using a sander.
A sander means that not only will you remove the old paint, you'll also leave the surface smooth.
If you're applying another coat of paint on top, sanding ensures that the new color will have a level surface to adhere to.
But with so many different makes and models in the market, which one is the best for sanding off paint?
Here's a close look at three of the best models and the main factors you should look out for when buying.
Some of the links below are affiliate links, meaning, at no additional cost to you, we may make a commission if you click through and make a purchase.
Our Recommended Paint Sanders Compared
Let's begin by taking a quick look at the products we review in this guide.
Begin by comparing them in the following table before reading about them in more detail in the next section.
Model

Details

Our Top Pick

Dewalt Orbit Sander Kit

– Dust sealed switch

– Powerful 3 Amp motor

– Ergonomic grip

Budget Choice

Wagner Spray Tech PaintEater

– Designed for paint removal

– Works well on uneven surfaces

– Outstanding value

Great Alternative

Bosch GET75-6N

– Variable speed

– Pad dampening system

– Efficient dust collection
Paint Sander Reviews
Read about our recommended orbital sanders for paint removal in more detail as we explain the features that make them the best in class. Find out what we think and why.
Overall Best Sander to Remove Paint
Dewalt Orbit Sander Kit
A powerful little sander for paint removal that's packed with useful features.
This orbital sander is powerful and fast, offering the capacity to deliver precise and rapid results with the minimum of effort.
The 3.0 amp motor provides 12000 orbits every minute which is able to create a silky-smooth finish.
Measuring just 10.4 x 7.2 x 6.2" it's a compact device and reasonably lightweight at 4lbs.
One quick glance at the design will reveal that it's rubberized in all the important places, allowing it to be held comfortably and reducing hand fatigue by minimizing vibration.
There's a counterweight included to balance up the tool, allowing smoother operation.
This palm handle doesn't just aid with comfort, it also provides an accurate grip allowing each piece to be sanded with absolute precision.
The shorter dimensions also assist, enabling you to get up close and personal with the piece you're working on.
The switch has been dust-sealed to prevent unwanted debris and helping to extend the life of your power tool. It's thoughtful touches like this which contribute to the formidable reputation of Dewalt.
The dust itself is collected via a bag and it also hooks up to an external vacuum cleaner system for easy disposal. There's a locking system which is so simple to use it can be operated with a single hand.
If you're planning on using an external vacuum, you'll need a DWV9000 universal connector which will allow you to hook it up to any 1 1/4 inch hose.
The design means that unwanted dust is removed rather than collecting on your work surface. The locking dust port holds all the dust securely until you're ready to dispose of it.
As this is one of the entry models in the Dewalt range, this sander only has a single speed. This is sufficient for most jobs but if you want the ability to vary the sanding speed you'll need to trade up for one of their more advanced models in the range.
The sander comes with a dust bag, a manual and a carrying case which is a useful addition. Its light weight case means it's the ideal tool to carry around on jobs but it's corded so you'll have to be close to an electrical source to use it.
Pros
Convenient dust-locking system

Dust-sealed switch for longer lifespan

Powerful 3 amp motor

Can be used to remove paint from wood, plastic or metal

Compatible with most makes of vacuum hose
Cons
Only has one speed setting

Vacuum connector has to be bought separately
Bottom Line
There are lots of intelligent design features about this paint sander that make it a top pick.
The counterweight helps to achieve an even result without effort and the rubberized handles are ergonomic and minimize vibration.
It would be more versatile if it had different speeds, and ideally was cordless, but for the money it's really hard to beat.

Our Budget Choice
Wagner Spray Tech PaintEater
A great value sander specifically designed for paint removal.
Unlike the Dewalt sander above, which can remove more than just paint, this Wagner SprayTech tool is specifically designed to get rid of paint from surfaces.
Wagner SprayTech are a company that produce tools for all things paint-related, including surface prep, paint rollers and sprayers.
Their Paint Eater works like a regular orbital sander, equipped with an enthusiastic sanding disk and you'll get the idea. It's a highly efficient tool for DIY enthusiasts who want to get rid of paint, clearing surfaces with ease.
Although in theory it could also be used by professionals, there are other tools on the market which cover larger areas more quickly that could be more suitable.
Under the casing you'll find a 3.2 amp motor which is powerful enough to leave you grinding away all day, should you feel the urge. Weighing 3.5lbs and delivering an impressive 2600 OPM, it's light enough to use without causing undue fatigue.
It works on uneven surfaces including masonry bricks but can't get into the tiny crevices on intricate work such as moldings.
This tool can be used either one or two-handed, depending on the task being performed. The flip-out handle makes it easy to switch between a single or double handed grasp.
Some users have reported that they get through a lot of pads, a factor which can make this far less economical. It's possible to improve the lifespan of each pad by making sure you aren't pressing too hard. Rough surfaces and very thick layers of paint will also take a heavy toll.
Like any larger sanding tool, you won't be able to get right into the corner, but the Paint Eater can reach the edge. You'll therefore need to protect any adjacent surfaces to prevent accidental damage.
The main issue with this paint remover is that there's no dust collection system. This makes working messy and can aggravate breathing due to the particles in the air.
For this reason, it's best used outside where the effects will be minimized and the mess less of a problem.
Pros
Specifically designed for paint removal

Delivers a smooth, even finish

Can be used with either one or two hands

Works well on uneven surfaces
Cons
No dust collection so recommended for outdoor use only

The fuse has to be replaced professionally as it's inaccessible
Bottom Line
Having a tool that's designed for paint removal is a big advantage and this one performs particularly well.
A powerful motor and rapid RPMs produce consistent results.
The biggest problem is the lack of a dust collection bag, so unless you're working outside this could be a dealbreaker.

A Great Alternative
Bosch GET75-6N
An extremely versatile sander that's packed full of features.
Bosch is one of the biggest names in the power tool industry so it's always worth taking a look at what they have to offer.
This electrical orbital paint sander is hard-wearing and robust, being recommended by professional users and DIY enthusiasts alike.
This is a far more expensive option than the other orbital painting sanders on our list, and this shows in the features included in the tool. The higher cost means that it's more likely to be purchased by professionals searching for hardwearing and reliable equipment than the average amateur DIY-er.
There are two different modes, a regular one and another which offers a turbo option which moves five times faster than normal.
A mode selector allows users to easily flick between the two as needed during use. A pad dampening system is effective in reducing the dreaded swirls which can be caused as the sander is lifted off the surface.
The powerful 7.5 amp motor is variable speed and provides 3300 to 7300 OPM. Vibration and wobble is reduced by the dual-bearing mount while the aluminum casing is lightweight yet robust.
However, it's worth mentioning that the whole unit weighs 5.3lbs which is fairly hefty for a hand-tool.
Unlike the Paint Eater, you won't need to worry about dust as there is an excellent capture system. The Bosch goes one better than the Dewalt too as it offers compatibility with vacuum hoses that are either 1-1/4" or 1-1/2" but you'll need the VAC002 adaptor. The adaptor is included with the sander, a helpful move that makes life much easier.
This Bosch comes with a 5mm pad wrench which stashes away nicely on the tool so you won't ever lose it. However, there's no carry bag included which considering the price and the fact it's aimed at professionals is a bit of an omission.
Pros
Variable speed system

Lever to switch modes quickly

Pad dampening system to minimize unwanted marks

Efficient dust collection

Compatible with different sized vacuum hoses
Cons
Much more expensive than other options

No carry case or bag
Bottom Line
The price point may be a major deterrent for many buyers, and its extensive range of features may not be necessary if you're looking for basic paint removal.
However, if you plan on doing some serious sanding then the speed and versatility that this offers could be well worth the investment.

Conclusion
Any of the above picks could be a contender for the best sander for removing paint, but much depends on your available budget.
If price is no object it's hard to see beyond the Bosch with its huge list of features and powerful performance. It's a heavy tool though and could leave you feeling fatigued after prolonged use.
However, if the budget is important then the Dewalt model is a great sander for paint too, and it'll save you some considerable cash.
There's no competition for the best sander for exterior paint removal, offering the perfect balance between price and performance it's the Paint Eater. The only shame is that it's not really suitable for use indoors due to the lack of dust collection.
If you're planning on a weekend of DIY work and removing paint is on the agenda, do yourself a favor and pick up one of the above tools.
You'll be amazed just how much quicker the task will take – leaving you time to sit down and relax with a cool drink as you admire your handiwork!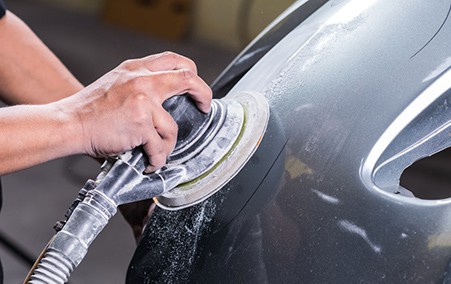 Buyer's Guide
Sanders are extremely effective in removing paint and offer a much less laborious option than using a stripper.
The work in two different ways: the moving parts of the sander loosening the paint while the abrasion from the sanding attachment grinds away any remaining color.
If you are sanding away very old paint, before you dive in and get started, you should arrange for the surface to be tested for lead. You can do this by either taking a chip of the paint to a local hardware store or by sending it off to a testing lab.
There are no safe levels for exposure to lead so this is a danger that must be taken seriously. Don't be tempted to skip the testing on old paint in order to expedite the job.
The more you are exposed to lead paint, the more serious the symptoms can be such as impaired function of the nervous system and brain.
When you have established that the paint is lead-free and therefore safe to sand down, the next step is purchasing a sander that you like.
This isn't as straightforward as it may sound as there are various different types of sanders. While all may theoretically be able to remove paint, there are some which work better than others.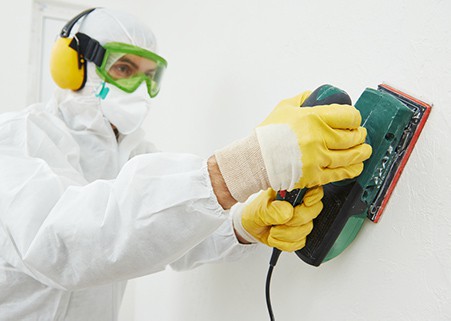 Types of Sander to Remove Paint
Belt sander
Belt sanders are capable of removing a large amount of material and work using a continuous motion. A powerful motor drives an abrasive belt which is able to cover large areas quickly.
Belt sanders come in small and large sizes so you don't need Herculean strength to be able to handle one.
They work on horizontal and vertical surfaces but the bigger machines are just too heavy to hold up for long. These are usually reserved for use on the floor, while smaller belt sanders can be used on walls and other horizontal surfaces.
To strip paint from wood you'll need to make sure you're moving in the same direction as the grain. Using any kind of machinery takes attention but doubly so with a belt sander.
If you don't keep the machine moving you'll find it eats up your flooring, doing some serious damage in the process.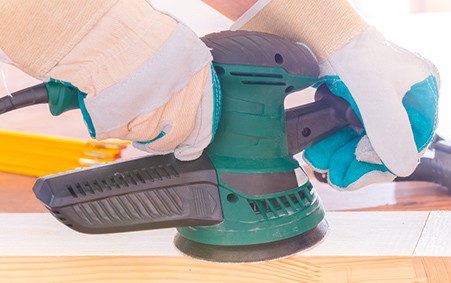 Orbital Sanders
Compared to belt sanders, orbital sanders are much simpler to operate and far less daunting for a beginner.
Sometimes known as palm sanders, they have pads attached to spinning and vibrating metal plates which work to scrape away any unwanted paint.
Choose the sanding disc that you want depending on the state of the surface you're working on. There are heavy-grit options when there's a lot of paint to be removed as well as fine-grit sanders for just finishing off the smoothing.
Unlike a belt sander, this tool won't gobble up your surface. However, if it stays in one place for too long it can leave a circular mark although the vibration helps to minimize this. It's advisable to keep your tool moving or switch it off if you need a break.
Orbital sanders can be used on both curved and flat surfaces, and are very portable. They can be controlled with one hand and on wood, can run either with or against the grain.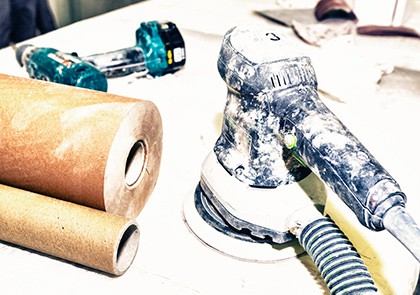 Drum sanders
If you're looking for the big boys, a drum sander is what you need. A freestanding piece of machinery, drum sanders both shape and smooth.
It works by using abrasive paper on a metal drum and delivers precise yet powerful sanding.
The designs of drum sanders typically have an open side so it's possible to get to work on larger items.
Key Features
Once you've decided on the type of power sander that you want to snap up, it's time to dive into the detail.
Every model has its pros and cons but there are some core features that you should look out for on them all:
Handles
The handle is how you'll manage to keep control of your sander and dictates how precise the end result will be. If the handle isn't well-designed and ergonomic, there's a risk that it will spin everywhere.
Many orbital sanders have a curved handle on top of the tool. This fits snugly into your palm, just like an old friend, helping to reduce hand fatigue as well as making the sander simple to move around.
Drum sanders tend to rely more on technology than physical controls while many belt sanders opt for a dual design with a piston handle and a front grip. This is a big advantage if you're trying to keep control of an over-enthusiastic tool!
Dust-collection
Dust is the enemy of any keen sander as it could affect breathing as well as messing up a smooth surface. Look for a sander with built-in dust collection such as an attached bag, or an outlet that connects to a vacuum cleaner.
No matter what dust-collection features your sander has, a dust mask and safety goggles are essential while working.
Pace
Sanders with variable speeds will give far better control over the end result, allowing you to work at your own pace.
As well as looking for a model with different speeds, it's also helpful to have a quick-slide switch so you can cut operation quickly if needed.