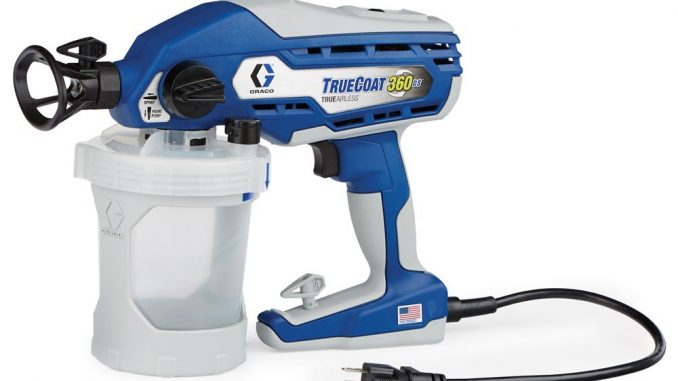 Are you looking for the best paint sprayer for small projects? Can you spot one immediately you see one? Of course, if you have been buying paint sprayers for some time. But If you are buying this for the first time, or replacing your old one and don't know where to start, you are on the right page.
Instead of researching yourself – which could take several hours or days – you can follow a proven guide that has helped many people choose their desired paint sprayer.
We have done all the legwork and consider the following some of the best for your small projects. All you need to do is look through the features on each and see which one fits your criteria.
Having a paint sprayer at home is a must, considering its usefulness in smaller projects and other household activities. The best small paint sprayer are those that are lightweight, compact, and are fairly easy to use.
You can say goodbye to repairmen as you can easily complete the minor household chores. You can now repair your old furniture, doors and windows with some upbeat colors using the best paint sprayers.
Full Review of the Best Paint Sprayer for Small Projects
1. HomeRight Finish Max Fine Finish HVLP Sprayer
The HomeRight Finish Max Fine Finish HVLP sprayer is a must have for all DIY household paintjob seekers. This paint-sprayer is affordable, yet built with quality and offers several useful features.
Overview of its Features 
It uses High Volume Low Pressure (HVLP) technology, which means a higher volume of air at a lower pressure, allows the paint to move through the nozzle. So, the first thing you will hear while using this product is the sound of a vacuum cleaner, rather than that of a pressurized container.
It is easy to use and it doesn't require any hands on experience to use this product. HomeRight's Finish Max Fine Finish is a self-contained paint-sprayer which requires no hose, pump, or even air compressors. It is a preferred brand for most DIY users to repaint and refinish furniture, windows and doors into high-quality works of art.
Its precision and control using the three-way sprayer patterns greatly reduces overspray and gives a factory finish. The brass spray needle and housing gives extra durability and improved performance Sprays coatings are evenly distributed leaving with no brush marks.
And lastly, it comes with a 2-years manufacturer's warranty.
Pros
It is easy to use
Rotating nozzle with three-way sprayer patterns
Additional accessories are also provided – nozzle-blower, viscosity cup etc
It is affordable and easy to maintain with just clean water
It is light-weight, compact and durable
Cons
It is noisy and is not suitable for bigger projects other than household chores
Latex paint is not supported
2. SPRAYIT SP-352 Gravity Feed Spray Gun with Aluminum Swivel Cup
The SPRAYIT SP-352 Gravity Feed Spray Gun with Aluminum Swivel Cup is a perfect spray-gun for household usage by any DIY lovers. This sprayer finds its way to those who are looking for a quality spray-gun with an affordable price-tag.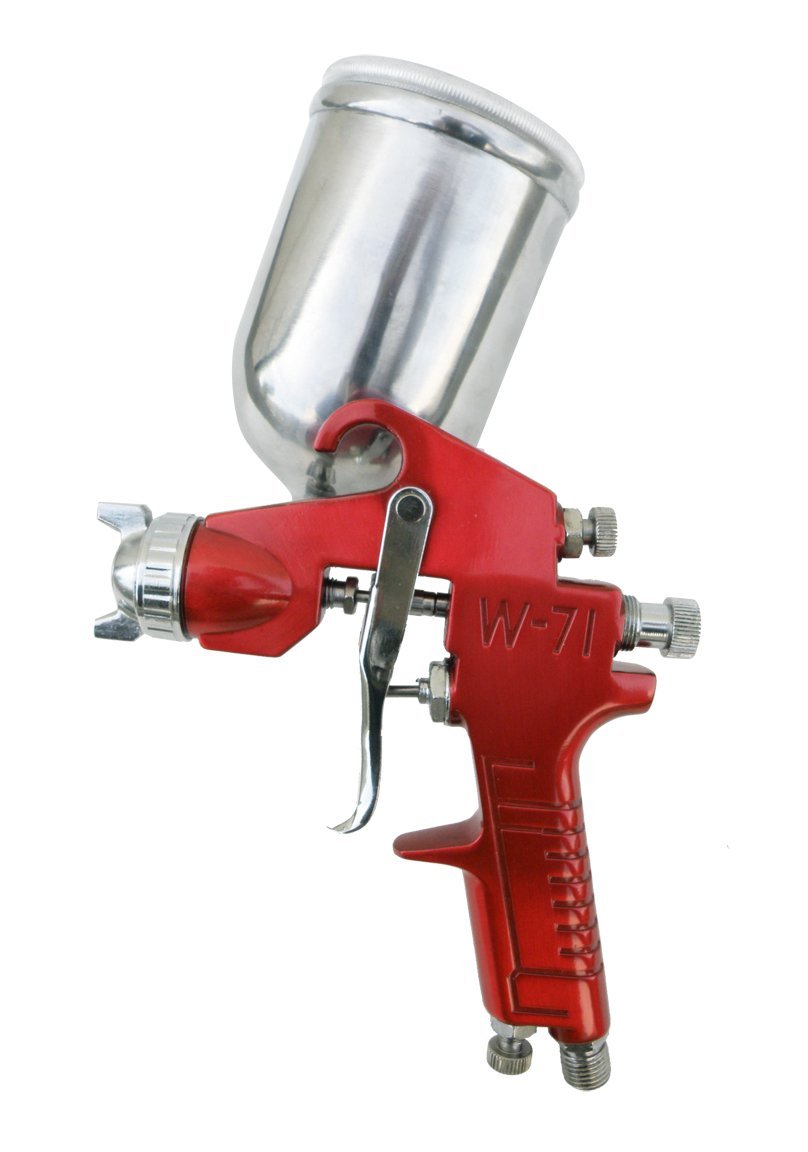 Overview of its Features
The California Air Tools' Sprayit SP-352 Gravity Feed Spray Gun can be used for different applications like automotive, industrial, marine and other woodworks. The one-piece light-weight aluminum gun-body, with 13.5 oz. / 0.4 l aluminum cup, makes it the best working experience ever with a spray gun.
The aluminum swivel cup allows you to rotate the gun and spray at desired places. The stainless steel fluid needle and nozzle are corrosion-proof.
The separate and adjustable fluid fan pattern and air control gives a precise control with less wastage. The tip size is 1.5 mm air consumption 4.2 to 6.0 CFM at 30 psi – working pressure 44/58 psi maximum pressure 60 psi.
It consists of an air inlet with a 1/4 NPT hose connector and is a general purpose spray gun with a smooth trigger pull action. It is best suited for lacquers, enamels, urethane and low viscosity paints. One of the best features is its powerful atomization. It includes extra spanner, brush, and socket although it doesn't have any adapter included.
Pros
It is lightweight
It is easy to clean
The product is offered at a great value
Cons
No instructions are provided
The loose nuts hold the cup
3. Astro 4008 Spray Gun with Cup, Red Handle
The Astro 4008 Spray Gun with Cup, Red Handle (1.8mm Nozzle) is designed specifically for fast application of heavy coatings, primers and glues. This tool increases productivity and saves money by minimizing wastage. It can be used in a wide range of applications – Industrial, marine, body work, wood working, production and cabinet shops.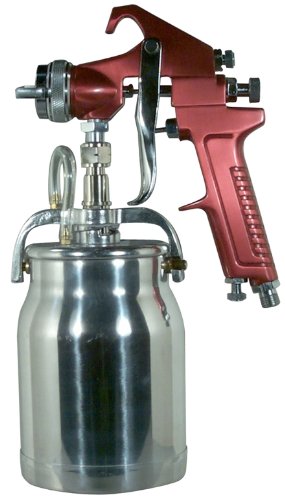 Overview of Features
It is an all-purpose spray-gun designed for quick application usage. This paint spray-gun is easy to clean when you want it to be ready for the next use.
It features a two-piece construction and has a distinct air-valve design. It also has a fully adjustable wide-fan pattern control. The cup doesn't drip and can accommodate one quarter of spray material.
The nozzle size of 1.8mm enables easy application and gives desirable result. This spray-gun is specifically designed to optimize productivity while checking wastage of spray material. The Astro 4008 Spray Gun with Cup is the best equipment for achieving factory-like paint jobs with greater efficiency. Some of the other features include –
It is an all-purpose spray gun which improves productivity, reducing waste and overspray with an exclusive air valve design.
Pros
The paint material lasts long
It is a compact one piece body
Easy to clean for next use and is affordable
It gives a wide variety of coatings options
The drip-less cup allows a continuous paint-flow without work disruption
It is lightweight and easy to handle while painting various angles and surfaces
Cons
1 quart capacity requires more fill-ups for larger projects
The user needs to buy a male-coupling before using the spray-gun
Setting the spray-gun may take extra hands-on time
4. Wagner 0529010 FLEXiO 590 HVLP Paint Sprayer
The Wagner Flexio 590 HVLP Paint Sprayer can be used for indoor or outdoor requirements of all projects. It has an X-Boost turbine which produces unmatched power, while also providing adjustable control, full coverage and lower ratio overspray.
It comes with two nozzles that meet the need of any project. The iSpray nozzle gives a professional factory-like finish, spraying broad surfaces with residential paints; while the other nozzle is ideal for smaller household projects and fine finishing. It is built for advanced user comfort, offering less noise with a lighter design than traditional airless sprayers.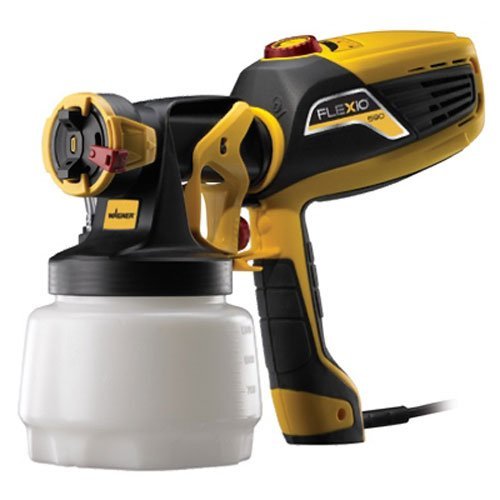 Overview of its Features
The pattern adjustment ring helps adjust the spray pattern either horizontally or vertically with a simple twist. The spray width lever allows you to adjust between wide or narrow paint strokes.
With the iSpray Nozzle, all unthinned materials are given a roller-like finish on large surfaces, leaving with no brush marks. Detail Finish Nozzle sprays thinner materials, like oil-based stains and paints, giving a smoother finish on detailed projects
The material flow control adjusts the flow-rate needed for coating speed and the size of your project. Cleaning is also an easy task at hand; rinse with warm or soapy water for latex materials, or spirits for oil-based materials.
It also includes convenient carrying cases for storage and transportation; also the ergonomically designed handle grip gives you less fatigue. It is backed by a 1-year warranty period.
Pros
Works well with latex surfaces. It doesn't even need to be diluted before every use
It gives a better spray flow-rate, so that work can be done quickly and evenly in all surfaces
It works well on wider surfaces
Cons
It collects a wad of paint on the sprayer
It gives an un-professional finish at times
5. Graco 17A466 TrueCoat 360 DS Paint Sprayer
It is perfect for DIY household users, including those first-timers for a variety of indoor or outdoor projects like doors, interior walls, ceilings, decks or any household projects. But, it works best with small-sized projects such as garage doors, furniture, or windows.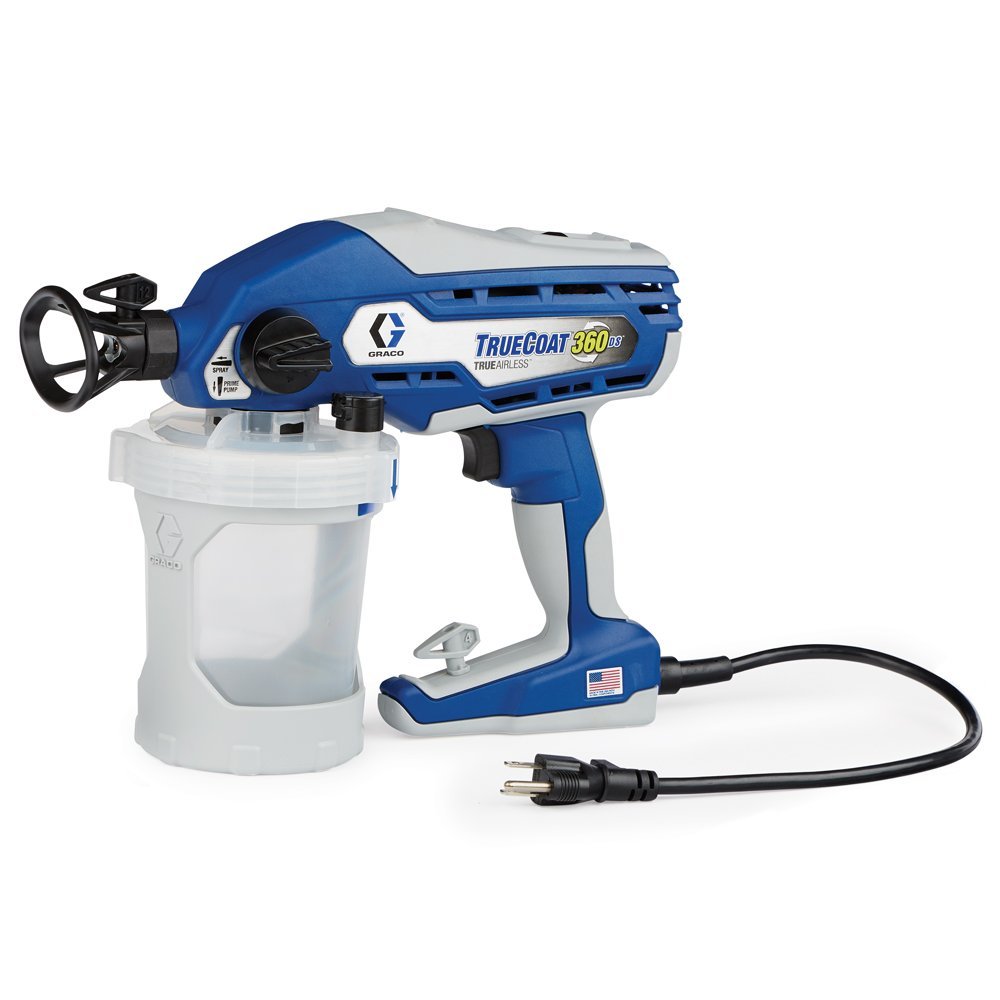 Overview of its Features
One of the best features of this unit is the full 360 degrees spray circle in any direction without leaks during work. This advantage is possible because of the FlexLiner bag system. Unlike other paint sprayers which uses tubes and pipes, this unit uses a vacuum system.
This technology helps prevent hiccups and shortage of the spray-material during work. Again, it is disposable so you don't have to wash the container after every use.
The piston pump is durable and it sprays the material well, and it doesn't require any thinners. The air-pressure control knob is located on the upper part of the casing, which determines the intensity of air-flow. For thin materials, the optimal intensity required is around 40%, whereas it requires more power for denser materials.
The cleaning part is also simple and you can use clean water along with a rag, and a sponge. You can wash the cup after every use, or you can simply change it with a new one. The downside is the smaller capacity of the container, so needs re-fueling the paint material.
Pros
It is easy to use and to maintain
Durability and quality of product, besides giving a professional quality paint-job
It is compact and easily stored
This is easily affordable
Cons
It has a short power-cord
It can get jammed without prior notice
It is noisy
Final Words on the Best Paint Sprayer for Small Projects
After going through these reviews, you should now have a good idea what a small project paint sprayer looks like. Because smaller jobs and projects don't require sophisticated features and expensive paint sprayers, we have selected only those that suit the project as well as being budget friendly.
And if you want to read even more details and read several reviews of previous uses of these sprayers, you can click on one of them. You will be taken to a page where you can read several customer reviews, ratings, and recommendations. With this, you should be able to select the best paint sprayer for small projects.