Need a dependable air compressor for your next paint job? We recommend the leading models for a variety of budgets and scenarios.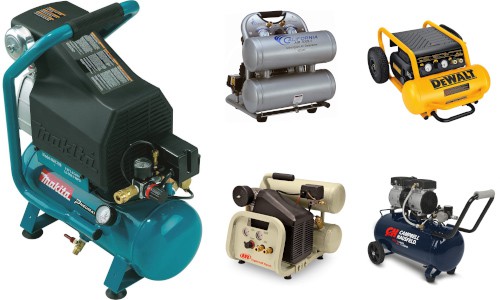 When it comes to painting either inside or outside the home, a paint sprayer can really make the job quicker and easier.
It's no wonder, then, that so many people are switching from the standard paintbrush or roller to one of these fantastic machines that can save them time and effort.
However, many of the better paint sprayers on the market require an air compressor to function, and choosing the right model is important.
If you're looking for the best air compressor for painting, we bring you our list of the top-performing models on the market today so you can make an informed decision.
Our Recommended Air Compressors Compared
Let's begin by taking a quick look at the products we review in this guide.
Begin by comparing them in the following table before reading about them in more detail in the next section.
Model

Details

Our Top Pick

Makita MAC 700

– Powerful 2HP motor

– Low amp draw

– Long last build

Budget Choice

California Tools 4620AC

– Long lifespan

– Low noise

– Outstanding value

Great Alternative

Dewalt D55146

– 78 decibel operation

– Dual connections

– Wheels for portability
Paint Sprayer Compressor Reviews
Read about our recommended paint sprayer compressors in more detail as we explain the features that make them the best in class. Find out what we think and why.
Overall Best Air Compressor for Spray Painting
Makita MAC700 Big Bore
A dependable air compressor that's built for the long haul.
The Makita brand is well known in the trade industry for being high quality, and the MAC700 Big Bore compressor is an excellent example of this brand's quality manufacturing.
It has been designed and built to the highest standards using only top quality components. Ideal for use with paint sprayers, this is a highly rated product for all the right reasons.
Its powerful 2.0HP motor comes complete with a cast iron cylinder which is incredibly durable and which has greater stroke and bore for even better compression, speedier recovery and lower noise levels during operation.
Its cast iron construction ensures a long lifespan, so you can be confident that you're getting great value for money when you choose this model.
Its 2.6 gallon tank may not be the largest but it can sustain a steady operating pressure of 130psi and it can deliver 40psi at 3.8 CFM or 90psi at 3.3 CFM.
Thanks to the low amp draw, there's also a much lower chance of voltage drops or tripped breakers which could cause the motor to fail prematurely. Again, this will ensure that this compressor will enjoy a long useful lifespan.
The pump is oil lubricated and comes with an automotive style large filter for higher efficiency and an increase air intake. Meanwhile, the roll bar handle ensures adequate protection on even a harsh job site while making it more portable and easier to carry.
Although this is a heavy model, it can still be taken between job sites thanks to this handle which gives you a useful form of leverage.
This model produces noise levels of around 80 decibels (about the same as a window AC unit according to this source) and uses an electric 120V power source, so it's compatible with your home power supply.
Although the oil lubricated pump requires more maintenance, it does ensure more smooth pumping, to minimize wear and tear and to ensure your paint finish is much sleeker.
Pros
Powerful 2 HP motor

Lubricated pump ensures smooth operation

Low amp draw for minimal voltage drops and tripped breakers

120V power source is compatible with home power supply

80 Decibel operation
Cons
Quite heavy to carry between jobs

Needs regularly cleaned
Bottom Line
in our opinion, this is one of the best air compressors for paint spraying thanks to its oil lubricated smooth operation and its cast iron construction which ensures a long lifespan.
It's durable, reliable, and built for the long-term.

Our Budget Choice
California Tools 4620AC
A great value compressor that happens to be one of the quietest of its size on the market.
California Air Tools are known for their high-quality products, and this air compressor is well-designed and is made using the highest quality components for outstanding performance.
Its oil-free design means that no ongoing maintenance is required while its ultra-quiet running makes it a perfect choice for use in any noise sensitive environment – perfect for working in your own garage or workshop at home without disturbing your neighbors.
This model markets itself as one of the quieter 2HP air compressors on the market today, producing only 70 decibels of noise.
While this is still quite loud, it's a lot less noisy than many of its rivals (the Makita MAC700 reaches 80dB) , and the level of performance that it offers makes the tradeoff worth it.
The motor only operates at 1680 RPM and while reducing the noise output by as much as 30%, this also reduces the amount of wear and tear on the motor to increase its lifespan.
The dual piston pump has been designed to have an impressively long lifecycle of at least 3000 hours before requiring servicing, and thanks to its oilless design, it can be used in all kinds of temperatures and will never have a problem with operating on uneven terrains or from cold starts.
The Easy-Start Valve which is incorporated into this model also makes start-ups easier with lower starting amps required. This minimizes the chances of voltage drops or tripped breakers.
The large air tank holds 4.6 gallons and is made from aluminum which is strong and durable without being too heavy to move. This model only weighs 67.2 lbs, and this makes it relatively easy to transport between job sites.
Pros
Oilless design means low maintenance

Long lifespan of 3000 working hours before servicing

Lower noise levels of only 70 Decibels

Motor operates at just 1680 RPM

Can be used in all temperatures and on all terrains
Cons
Can become quite hot during use

Can vibrate quite substantially
Bottom Line
A great value package that happens to be one of the quietest air compressors of its size out there.

A Great Alternative
Dewalt D55146
Hard to beat on performance. However, can be considered expensive.
DeWalt tools are well known in the industry for their high-quality design and durable components. You won't be disappointed by this 225 PSI air compressor, which is the perfect choice for any type of paint spraying activity, inside or outside the home.
One of the top features of this model is its collapsible handle and vertical stand which allow you to save on space by storing or transporting the air compressor vertically.
This is perfect if you're short of space in your vehicle or in your workshop since it only has a very compact footprint.
Operating a 5 SCFM at 90psi, this compressor recovers very quickly once its tank charge has been exhausted, and this ensures continuous use is possible.
It also operates relatively quietly at only 78 decibels. While this is still quite noisy, it shouldn't be so loud that it disturbs your neighbors if you're working in a noise sensitive environment such as your home garage or workshop.
This is a surprisingly portable model, with its 10 inch non-flat foam tires which ensure easy transportation between different job sites. Meanwhile, it also incorporates high-pressure technology which ensures that the motor and pump can enjoy a longer lifespan.
The pump is oil-free, and this means that absolutely no ongoing maintenance is required. This makes this a perfect choice for DIY users who are looking for an easy option that gets the job done to a high standard.
This air compressor is also suitable for use with extension cords since it has a consistent amp draw requirement.
The integrated high flow coupler ensures maximum performance when using heavier duty tools like nailers, while the console panel (which is made from metal for extra durability) is easy to read and offers protection for the regulator, couplers and gauges.
This Dewalt compressor is protected by a one year manufacturer's warranty, and as it is manufactured in the USA, you can be confident of its high quality and excellent customer service in the unlikely event of a problem arising.
With its dual connections, this model allows you to operate as many as three framing nailers simultaneously, and this makes it a very versatile option which is suitable for both professional and domestic DIY users alike.
Pros
Dual connections allow several tools to be used simultaneously

10" non-flat foam tires for easier transportation

Oil-free zero maintenance pump

78 decibel operation

1 year manufacturer's warranty
Cons
Poorly located drain valve

Short power cord
Bottom Line
These is a great little compressor that comes with a variety of special features that make life on the site so much easier.
It would be our number one pick if it wasn't so expensive (that Dewalt brand name!). If you can get a good deal then you won't regret it!

The Best of the Rest
These are the paint compressors that didn't quite make our top recommendations but they're still great devices in their own right.
Ingersoll Rand Twin Stack P1IU-AP
The Ingersoll Rand brand is a well-known name in the power tool industry, and this Twin Stack air compressor is an excellent example of a high-quality piece of equipment from this brand.
Designed to be portable and relatively lightweight, the Twin Stack P1IU-AP features an ergonomic design which allows you to handle it more easily when moving between job sites.
This makes it an ideal choice for either professionals working on smaller scale jobs or for DIY users working in their own home.
Another reason why this model is so ideal for home users is its user-friendliness. It features a simple to operate front panel while its 79 Decibel noise level isn't too loud to cause a problem with your neighbors if you're using this compressor in your own home garage or workshop.
This model offers maximum flexibility thanks to its 100% continuous duty and its two quick disconnect couplers which allow you to run several air tools at the same time. This gives you a lot more versatility when working on home projects.
The Ingersoll Rand brand is known for its reliable operation, and this air compressor uses an All Season Select synthetic lubricant to increase its efficiency. It is marketed as providing 2000 hours of continuous service before needing to be serviced, and it can perform for 4 times longer than a model which uses a petroleum-based lubricant.
The durable and strong cast iron cylinder, enclosed frame, protective back shroud and long pump life ensure that this air compressor will give you many years of use while its four gallon twin tanks are capable of delivering up to 135psi of operational pressure – enough to cope with your most demanding painting tasks.
Capable of filling up to full pressure from zero in as little as 60 seconds, this is a time-saving model which will allow you to start painting quickly.
Pros
Portable design for easier transportation

Durable construction for a long lifespan

Quieter belt-driven operation

Capable of running several tools simultaneously
Cons
No sight glass for oil level

Heavy
Bottom Line
This is an excellent choice of air compressor for painting if you're a small-scale professional or DIY user who wants a great value, long-lasting model which is capable of getting the job done to a high standard.

Campbell Hausfeld Portable Air Compressor
This Campbell Hausfeld model is designed to be quieter than most of its rivals, producing only 68 Decibels of noise which is as much as 50% quieter than some of its comparable compressors on the market today. Despite its quieter running, however, it still offers an admirable amount of power without disturbing the neighbors or causing a problem in a noise sensitive environment.
The major components have been designed to last as much as 4 times longer while its dual piston pump is oil free and so requires no ongoing maintenance. Its 8 gallon tank is capable of operating a 125psi and at 90psi can supply 2.4 CFM.
The steel handle is durably constructed and features a rubber grip to make it easier to move this compressor between different jobsites. There are also large wheels, which makes transportation of this model much easier and quicker.
Although this is a perfect air compressor for painting jobs, it can also be used for a wide range of other tasks around the home too, including inflation, nailing, fastening and stapling. All can be accomplished easily and quickly with this compressor.
Pros
Wheels for easier movement

Oil-free for no ongoing maintenance

Only 68 Decibels of noise
Cons
Doesn't hold air as long as some of its rivals
Bottom Line
If you're looking for a quiet running air compressor that can be used for a wide range of tasks around your home, this is a great option.

Buyer's Guide
If you're looking for the best compressor for painting, there are certain features that you should be looking out for to make sure that you've made the right choice.
In this buyer's guide, you'll find all the information you need to know.
Types of Air Compressor for Painting
There are no less than three different types of paint compressor available to choose from. They include:
Reciprocating Air Compressor – this form of compressor features a piston inside a compression chamber. There are single stage, single acting, multi-stage and double-acting compressors within this category as well as horizontal and vertical models
Rotary Air Compressors – these compressors feature rotors which compress air. There are two forms of rotary compressor – the screw and the vane models.
Centrifugal Air Compressors – these compressors are a form of dynamic compressor, using an impeller mounted onto a shaft inside the housing which rotates at high speed to produce air under pressure.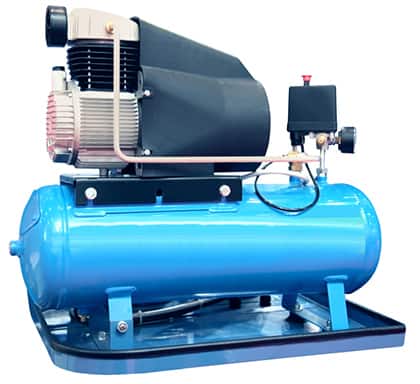 Key Features
There are a number of features to consider when you're choosing the right air compressor for painting. Here, we take a closer look at the primary considerations:
CFM and PSI – air compressors are measured in CFM or cubic feet per minute. A standard domestic-use compressor usually has a CFM of around 90 lbs per square inch. Minor tools need a CFM of around 1-5 CFM whereas more heavy-duty tools require 10 CFM.
Stationary or Portable – are you looking for a portable air compressor for painting, or will a stationary model be ideal for you? If you're going to be using your compressor at lots of different locations or will be taking it between jobsites, a portable model is definitely the best option. This will give you greater flexibility over where you can paint, both inside and outside your property.
Horsepower – horsepower is the level of power that is supplied to the compressor whenever it is operated. You'll need to make sure that you select a model which has sufficient horsepower to handle the painting jobs that you have in mind. A motor of 1-2HP is ideal for any paint sprayer rated for 30-40psi and 5 CFM.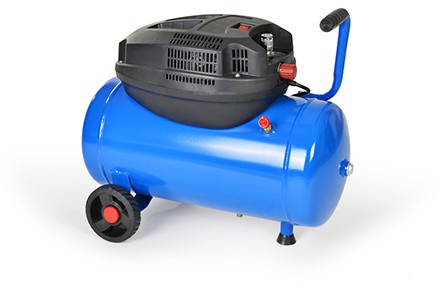 Purpose – will you be using your air compressor for any purposes other than painting? If you're planning on making your air compressor a multi-functional model for use with a range of air tools, you might want to choose a more powerful model as this will give you greater versatility over which tools you can use it with.
Valves – most air compressors feature interchangeable valves and this allows you to use it to complete many types of task. A pressure regulator will also help you to improve its performance.
Storage tank – compressors come in different shapes and styles including wheelbarrow, hotdog or pancake models. You'll need to choose the right shape and size to suit your needs. Consider portability and storage of your air compressor too.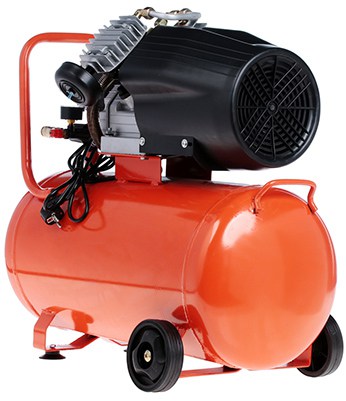 Power source – are you looking for an air compressor which uses electric to power it or one which uses gasoline? Electrical compressors are efficient and more affordable but gas-powered models are more reliable but aren't suitable for indoor uses because of the fumes they produce.
Size – are you looking for the smallest air compressor for painting or are you looking for a larger model? If you only have limited storage space in your home for your tools, a smaller model will be best suited to your needs since you'll be able to store it away easily without taking up too much floor space.
Operating considerations – all air compressors create heat and friction when they are in operation, you'll need to pay close attention to this if you're planning on using your model to spray paint in an enclosed space as ventilation will be required.
Oilless or Oiled compressors – at one time, it was important to lubricate the piston chambers of the air compressor regularly, however these days oilless models have been introduced which require no ongoing maintenance. While oiled models are more durable they cost more and require more input from you. Oilless designs are maintenance free and lighter but not quite as long-lasting.
Noise – all air compressors make a noise when they operate, but this could be a major issue to consider if you're working in a noise-sensitive area. You may want to look at the decibel rating of your chosen model to check that the amount of noise produced won't be too disturbing to your neighbors or family.
Price – air compressors come in a range of prices and some may be far too costly for home use or if you're not planning on being a regular user. The most affordable models are pancake portable compressors which are small and lightweight, but you'll need to make sure that you choose a model which meets your requirements. Remember that quality is a more important consideration than price.
Warranty – one final consideration to bear in mind while choosing the right air compressor for you is the warranty that protects it. You should always choose a compressor which is manufactured by a reputable company and which is covered by a manufacturer's guarantee.