As a DIYer, you may want to paint your ceiling for any number of reasons.
And using paint rollers or brush may not be a good idea if you are concerned about the pains they can inflict on your back and the numbness they can cause the fingers to feel.
Instead of a paintbrush or roller, why not use a paint sprayer to paint your ceilings with?
One of the items that need regular maintenance in every household is your ceiling. Although they can last several years before needing refinishing, you may have to work on their appearance to match a new home décor.
Such things include remodeling them, reapplying painting on them, or repairing them.
In most cases, you may just want to repaint them to get a new look on them or to match a new décor you just ordered.
Some of the links below are affiliate links, meaning, at no additional cost to you, we may make a commission if you click through and make a purchase.
So…What's the Best Ceiling Paint Sprayer?
If you're curious (or in a hurry):
This specific Paint Sprayer is quite popular for painting ceiling!
Whether you are a homeowner learning how to paint ceilings with a sprayer or a handyman searching for the best way of painting your ceiling with a sprayer, you will find the HomeRight Super Finish Max Extra C800971 Paint Sprayer to be suitable for your needs.
In addition, the HomeRight Super Finish Max Extra C800971 Paint Sprayer provides a flexible solution for any other type of home painting project.
With it, you can paint your ceiling 10x faster than using a roller or paintbrush.
And if you want to put a fine finish on your furniture, you can save more time and effort because of the less strain during painting.
The HomeRight Super Finish Max Extra C800971 Paint Sprayer comes fully packed with 6 available spray tips to help you handle a wide variety of projects.
SUMMARY

This means you can use it for big surface projects like walls, ceilings, siding, fences, as well as for small jobs and fine finishing on cabinets and trim.

And most importantly, it requires less thinning compared to other hand-held paint sprayers on the market…
Reviews of the Best Paint Sprayer for Ceilings:
Fuji 2804-T75G Mini-Mite 4 PLATINUM
Fuji 2903-T70 Mini-Mite 3 PLATINUM – T70 HVLP Spray System
Wagner Power Products 276124B HVLP Conversion Gun

Campbell Hausfeld HV3500 Paint Sprayer

Wagner 518080 Control Spray Max HVLP Sprayer Review
1. Fuji 2804-T75G Mini-Mite 4 PLATINUM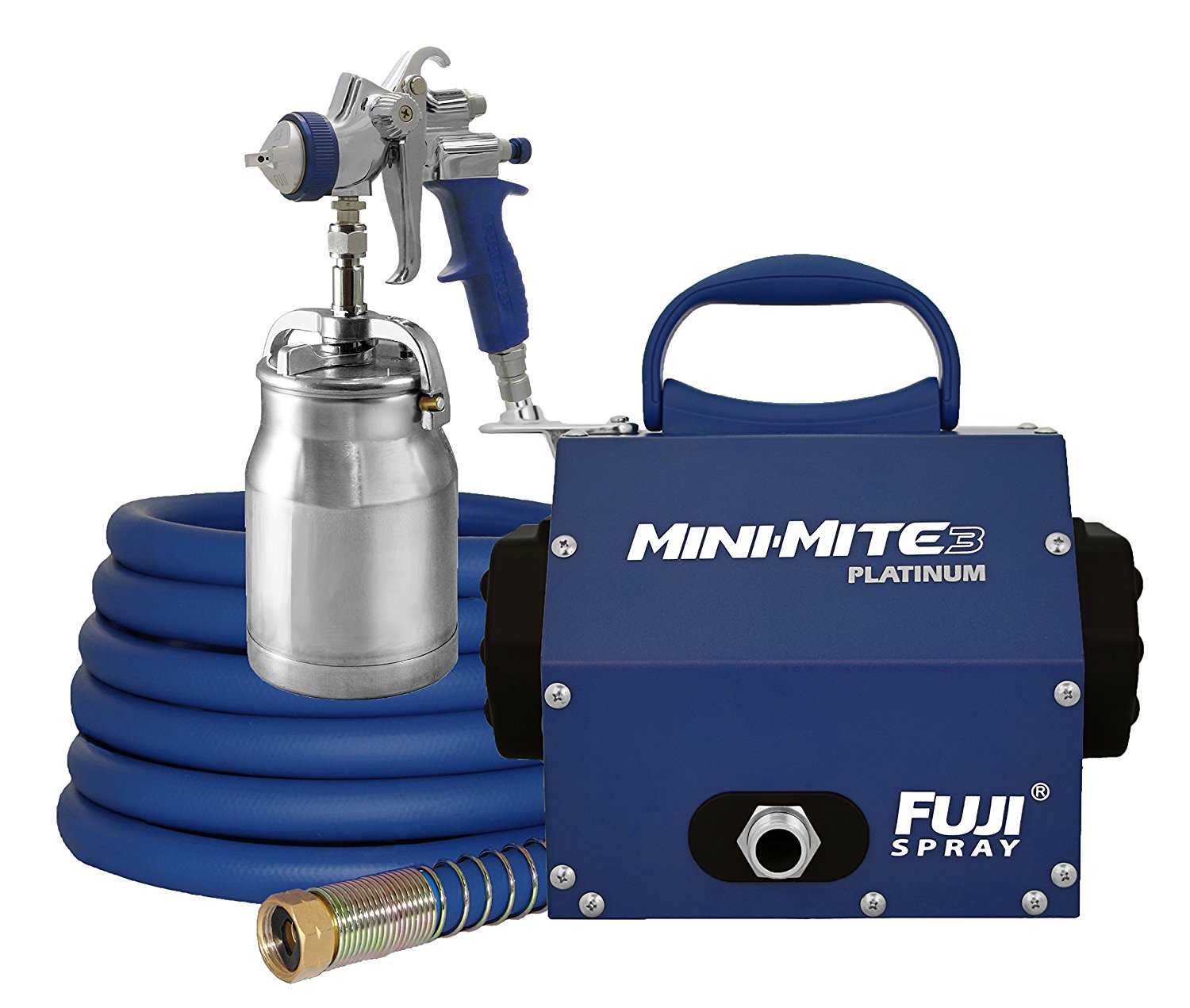 The Fuji Mini-Mite 4 PLATINUM is a professional grade spray gun suitable for all types of coatings.
Its low noise, four-stage turbine motor delivers 6psi of air pressure to ensure even smooth finishes with both water-based and other types of paints and coatings.
This model features a pattern control knob, which adjusts the size of the spray pattern. This non-bleed sprayer prevents the unnecessary mess of dust around the workshop.
The high-efficiency air cap and control valve on the 25-foot hose prevents overspray and the hose from bouncing back onto the user.
The handle, designed for the maximum comfort of the user, is well insulated so it does not become too hot for the user.
This industrial grade sprayer is housed in a heavy-duty metal case, yet is small and light enough to be highly portable.
This easily operated machine is suitable for contractors as well as the do-it-yourself homeowners and artisans.
Fuji Mini-Mite Features and Specifications
Professional spray gun now features pattern control knob to adjust the size of fan pattern from small to large
Spray gun has 100 percent stainless steel fluid components
Ergonomic handle is insulated and never gets hot
A non-bleed spray gun for less blowing around of shop dust
High-efficiency air cap installed for reduced overspray
The 25ft hose includes air control valve to reduce overspray and bounce back
Available in 2 models
Fuji 2804-T75G Mini-Mite 4 PLATINUM Reviews
The majority of the customer reviews of the Mini Mite are positives. Those who have purchased the Mini Mite have high praises for the attentive, solution-focused members of the Fuji customer service teams.
Other customers mention the Mini Mite pays for itself in term of saved time and efficient use of materials because of the "no-dribble overspray."
Satisfied customers describe this machine as easy to operate and the settings require little effort to change.
Consumers report they successfully used this product for projects ranging from boat finishing to painting the interior woodwork in their homes.
Some consumers reported having difficulty with the weight 25-foot rubber hose. Fuji does sell a lightweight hose as an accessory to this model.
Others reported difficulty with defective parts but added the customer service team quickly replaced the part.
Clearly, the Fuji Mini Mite is a machine with more positive than negative attributes.
2. Fuji 2903-T70 Mini-Mite 3 PLATINUM – T70 HVLP Spray System
With the passage of time, many manufacturers have introduced many new sprayers for maintenance and finishing jobs and each comes with distinguishing features.
Many manufacturers have come up with such equipment to reduce efforts required in home painting projects.
One good example is the Fuji 2903-T70 Mini-Mite 3 PLATINUM.
This sprayer is quite a steal at the low price considering it is efficient and full of features. Just because it is easy on your pocket doesn't mean that it is lacking in efficiency.
Features and Specifications of the Fuji Mini-Mite 3
To help give you a better understanding of the product, there are some important details that you must know.
This will make you knowledgeable about the product, and know about the workings and mechanisms of the machine.
Adjustable Fan Size:
The fan size that is the spray size can be adjusted using the Pattern Control Knobs.
This enables you to paint even the finest details with a thin stream of paint, and larger areas with a larger fan, equally effective.
A Strong, Sturdy Body:
This product will go a long way once you purchase it since it is built for lasting over a long time.
It is a reliable product as the body is heavy duty metal, and does not show signs of much external wear and tear.
It is also very easy to clean the machine. The spray guns, as well as the pipe, are very durable.
Lightweight: Despite being powerful and efficient, it is a very lightweight machine that is easy to carry around while working. It does not put a strain on any part of the body while completing work effortlessly,
No noise: It is not designed with a dedicated noise reduction but it does not have as much noise as the other machines. It is relatively quieter and peaceful than other machines on the market.
Ease of Use: all kinds of accessories are included in this package that makes it very easy to use as well as easy to maintain. It is equally efficient and useful for a beginner as well as a professional.
Evenly Painted Surfaces: The specially designed hose sprays out an even layer of paint, which gives an immaculate finish.
Pros of the Fuji Mini-Mite 3:
Adjust fan size
Very portable and lightweight
Very easy to use
Sturdy built
Easy to maintain
Cons of the Fuji Mini-Mite 3:
No dedicated noise reduction mechanism
3. Wagner Power Products 276124B HVLP Conversion Gun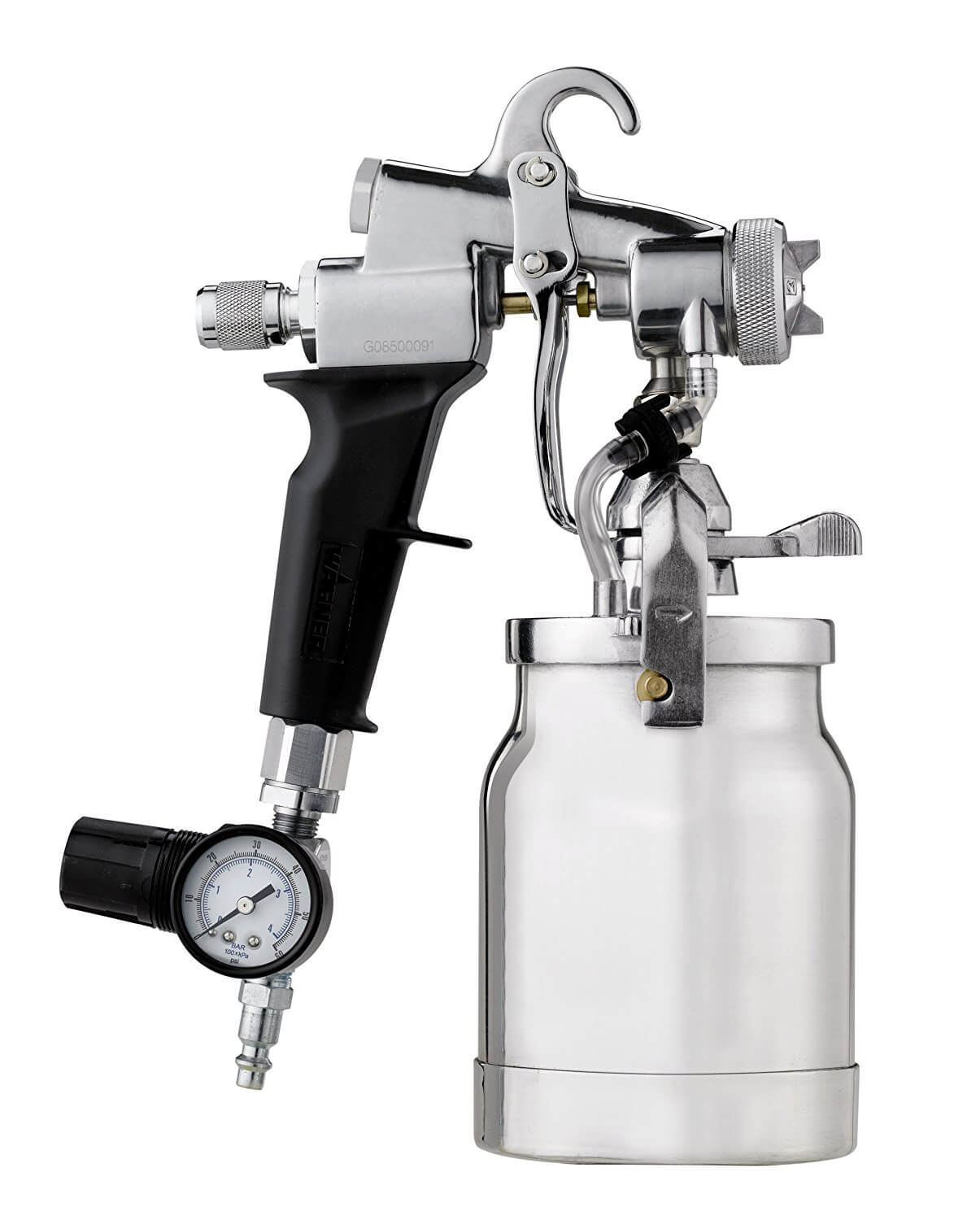 The Wagner HVLP conversion gun enables you to convert your compressor into a very amazing fine finish sprayer.
This conversion gun uses 1-½ horsepower to convert standard high-pressure air compressors into a SoftSpray HVLP spray system.
A regular valve keeps control of fluid and air as the gun connects to the compressor.
The gun is lightweight, weighing less than 6.6 pounds.
There are 3 different spray patterns available with 89% product transfer efficiency.
The conversion gun comes with, needle/nozzle finish projector set, non-bleeder and bleeder connections, a regulator valve, 1-quart cup.
Many positive reviews talk about the features and adjustments that the product has and how they work so well with many different compressors.
Wagner HVLP Conversion Gun Features and Specifications
Works with compressors that run on 1 to ½ horsepower
metal construction
89% product transfer efficiency
3 spray patterns
Includes regulator valve, non-bleeder as well as bleeder connections
quart cup
projector set that comes with Needle/nozzle finish
Weight is less than 6.6 pounds
Wagner HVLP Conversion Gun Reviews
Many positive reviews talk about the features and adjustments that the product has and how they work so well with many different compressors.
One buyer stated that he used a 2HP 6 Gal PorterCable compressor that comes with this air nailer. He stated that he saved money by not spending hundreds of dollars on a turbine unit.
Another buyer stated that this product was his first HVLP gun and that he was quite pleased with the purchase. He painted 1 patio table and 6 chairs with just a quart of black paint. He stated that cleaning up was a breeze.
One of the buyers did not enjoy this product as much as the others did. He said that he purchased the Wagner conversion gun after having read positive reviews on the product.
This customer also stated that while the gun did do a decent spray pattern and provided a good finish, the gun began to leak air after he dropped it on to the carpet.
And he tried to tighten the connection and the handle snapped off like a twig.
He noticed an extremely thin tube inside. He decided to purchase another product and returned this one. This product certainly has more positive reviews than negative ones.
The Wagner HVLP conversion gun seems like an excellent buy for anyone who works in the painting industry or who simply wants to paint their home.
4. Campbell Hausfeld HV3500 Paint Sprayer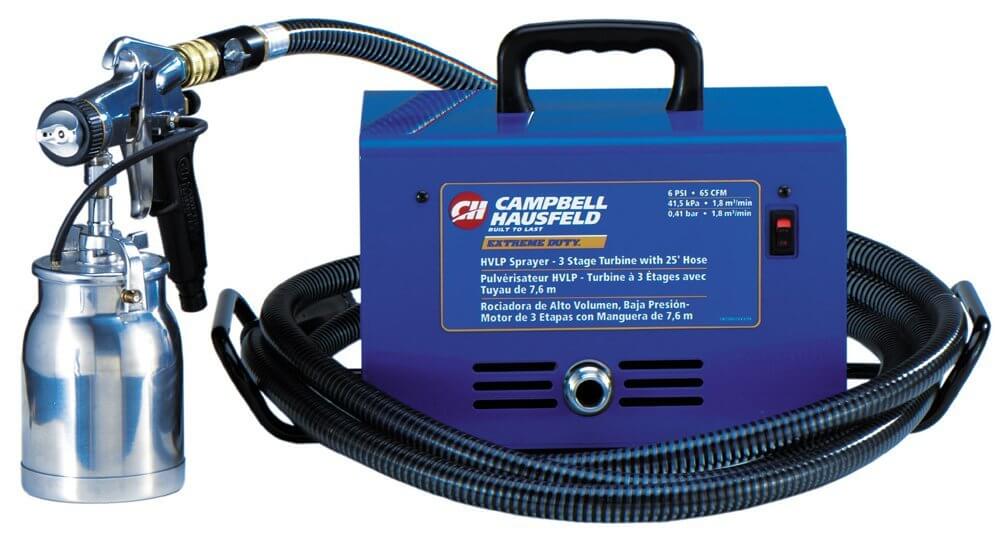 The Campbell Hausfield HV3500 is an air powered paint sprayer best used for jobs requiring the application of fine finishes, such as on fine furniture, cabinetry, doors, and trim.
The adjustable controls are specially designed to create fine smooth finishes and its fast-indexing pattern shape easily changes to round, horizontal, and vertical shapes.
This professional grade machine is powered by a three-stage turbine engine, which is also easily used by DIY people.
This machine is not for use in projects requiring an application of a heavy coating nor with coatings or solvents containing hydrogenated hydrocarbons or with flashpoints greater than 990F.
This 28-pound portable machine is covered by a five-year limited manufacturer's warranty.
Campbell Hausfeld HV3500 Features and Specifications
Fine Finish HVLP paint sprayer
Adjustable spray gun and turbine
Adjustable spray gun controls to create fine finishes
Ideal for painting fine furniture, cabinets, and equipment
Quick-indexing pattern shape adjusts to round, vertical, and horizontal shapes
12.5-by-22.5-by-12.5-inches at 34-pounds
5-year limited warranty
Ships for FREE with Super Saver Shipping
Campbell Hausfeld HV3500 Reviews
Customers who have purchased this power sprayer report that it performs well with shellacs, water-based poly coatings, and paints.
They describe the finish provided is much more even and smoother than what is possible with a brush. Consumers state this machine completes projects such as door, cabinets and small floor spaces quickly and easily.
Reviews from satisfied customers indicate the power sprayer can be easily cleaned after projects.
Most owners of this product state that it takes some practice to learn how to apply finishes evenly with this machine. They agree it does not have enough power in the engine to apply effectively any type of oil-based finish.
Others advise that there is a higher degree of overspray with this power sprayer as compared to others, thus the use of a drop cloth is highly recommended when using this product.
Some customers have trouble with the adjustment knob properly threading after cleaning. There are some complaints though that this machine is very loud when in operation.
The customer service tends to be slow in responding to requests for sending the missing parts.
Overall, if the Campbell Hausfield HV3500 is used for the coatings and products for which it was designed it seems to be a reliable power paint sprayer.
5. Wagner 518080 Control Spray Max HVLP Sprayer Review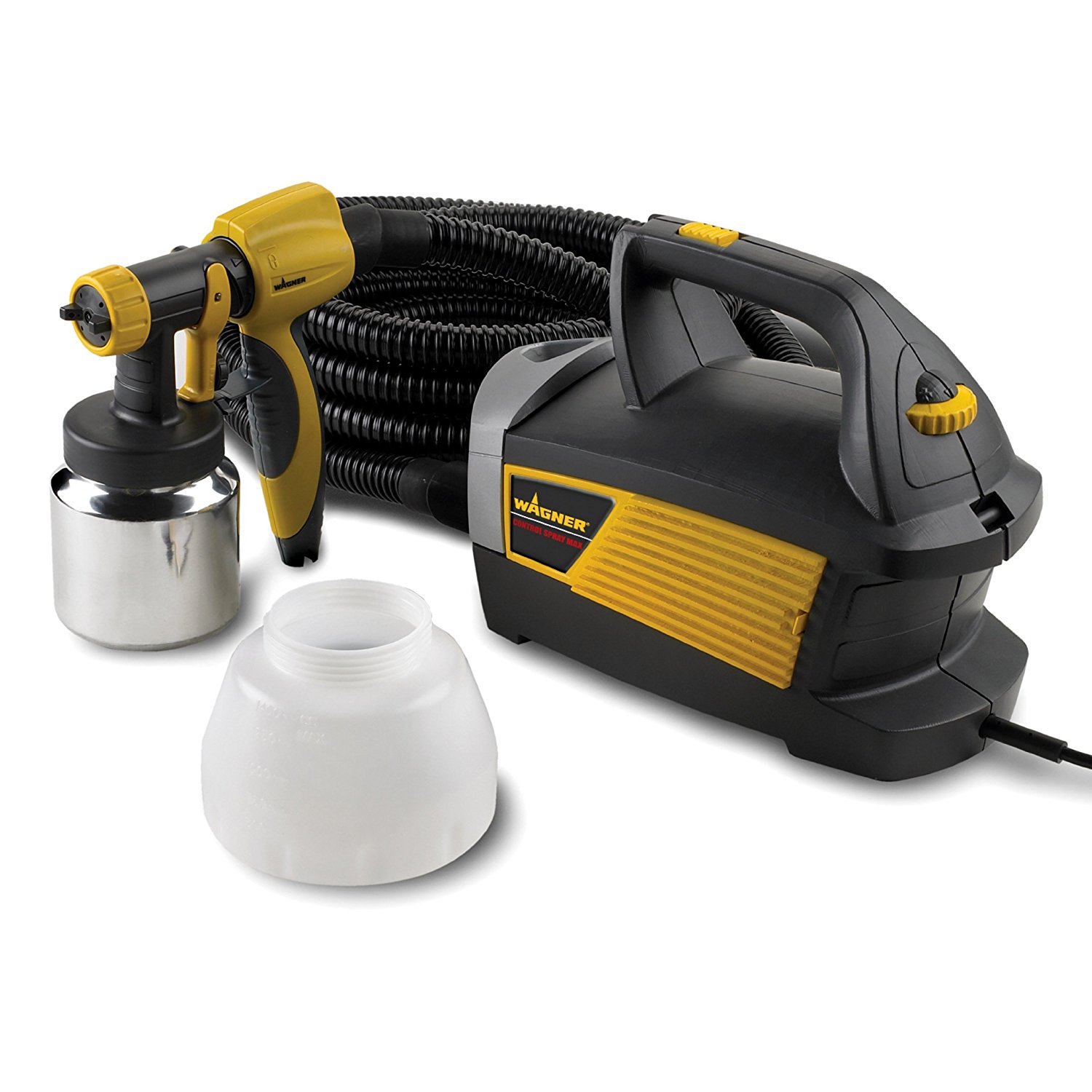 In this economy, homeowners everywhere are choosing to save some money and take on handyman jobs around their home, instead of hiring professionals.
While in some instances, this may not be the best solution, when it comes to painting, it can be much more economical to do it yourself.
The makers of the Wagner 518080 Control Spray Max HVLP Sprayer understand the needs of homeowners. That's why they designed this model – it gives a professionally finished look, for a fraction of the price.
You can use a myriad of different paints, lacquers, primers, and stains. It can be used to prime and paint door trim, cabinets, furniture, woodworking projects, decks and much more.
The two-stage turbine allows the sprayer to handle thick materials like interior latex paint; the variable air pressure control reduces the amount of overspray of thinner materials like stains and lacquers.
The variable flow control lets you easily switch from large projects and spray surfaces to more intricate detail-oriented jobs such as painting window panes or trim.
The result is a paint job that is splatter-free and professional looking.
The adjustable spray patterns are able to accommodate different materials. This sprayer is lightweight, but powerful and sets up in minutes.
It comes with a viscosity cup so that you can measure the density of the material you're using. This allows you to adjust the spray pattern accordingly.
Simply adjust the spray nozzle by turning the ears on the air cap, to allow for a horizontal, vertical or round pattern, depending on the nature of your project.
Wagner 518080 HVLP Sprayer Features & Specifications
Two-stage turbine is powerful and sprays thick latex, as well as thinner materials like stains and lacquers
Less overspray with thin materials thanks to the Variable Air Pressure Control
20' Flex Air hose lets you extend your reach and get those high ceilings and fences
3 Spray patterns let you choose the best pattern for the project
Variable flow control lets you cover large surfaces, as well as the smallest detail work
Wagner 518080 Control Spray Max HVLP Sprayer Reviews
The unit is getting great reviews from sites like Amazon, and other independent review sites. Consumers like the fact that it can handle both large and small surfaces.
They also appreciate the fact that it is lightweight, but still able to handle any sized project. The 20' hose is also a big selling feature.
Many consumers say they can stand in the middle of the room, and spray their walls and other surfaces with ease. Consumers also say it is very easy to clean and maintain.
Final Words on the Best Paint Sprayer for Ceilings
As long as you have the budget and have a good place to store a paint sprayer, you should be able to find one that suits your preferences here.
Now that we have helped you narrow down to the best models, choosing one shouldn't be a problem again.
One thing I'm sure of is that whichever of the paint sprayers you choose will allow you to paint a wide range of projects aside from the ceilings.