One of the items that need regular maintenance in every household is furniture. While they can last several years before replacement, you may have to work on their appearance. And you'll need to do this before you finally dispose of them.
Such thing includes remodeling them, reapplying painting on them, or repairing them.
In most cases, you may just want to repaint them to get a new look on them. Or you can match them with a new décor.
Some of the links below are affiliate links, meaning, at no additional cost to you, we may make a commission if you click through and make a purchase.
Getting Reading for Painting Your Furniture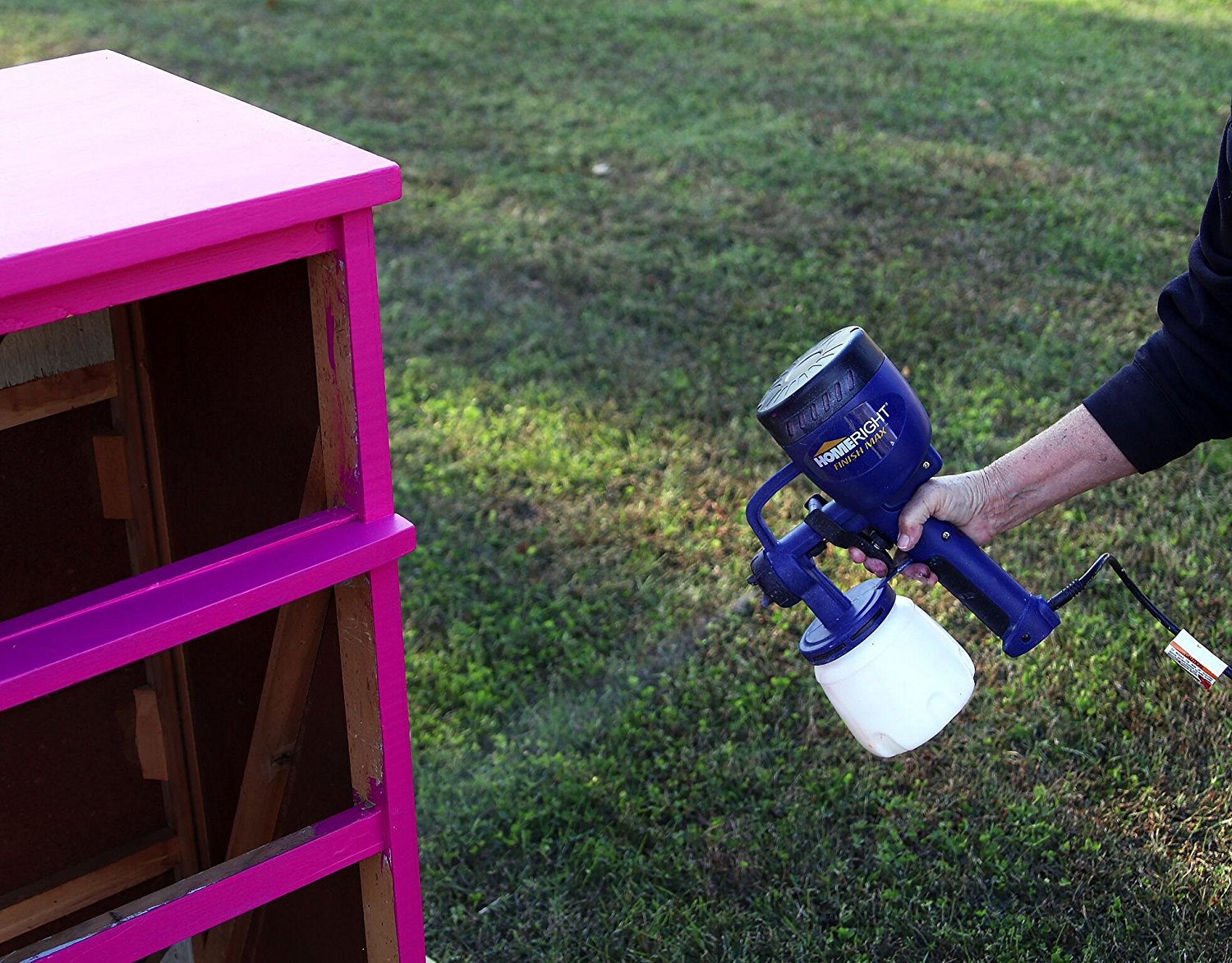 Before you paint your furniture, there are certain things you need to pay attention to.
These things will largely determine how good or bad the finished result will be. So, you need to ensure proper care is taking by following the following advice:
1. Some of your furniture may have recessed nooks and crannies.
Often, these become magnets for painting drops. And if you are using a paint brush or roller, may be hard to get into them.
With this said, paint sprayers become the better option. Because they can help you paint evenly and as a result, you can expect a professional finish.
2. You should not start your project unless you are in a well-ventilated area.
Some people may argue that you can do your painting indoors. Yes, but when you are painting interior walls or other things that aren't possible to move outside.
If you are painting a small wardrobe or kitchen cabinet that you can easily move outdoors, then do so. As long as there isn't anything that should prevent you from doing so, you should have no problems.
In addition, before you settle outside, make sure there is no wind.
3. This means you should wait until the appropriate time and not just jump in because you are excited.
If there is a strong breeze, it will blow debris on the furniture you are painting before it dries fully.
If you have a backyard that can accommodate the furniture, you can use it too. Working in the open gives you less worry as you wouldn't worry too much about overspray.
However, if this option is not available to you, you can then choose to do your painting indoors. In this case, ensure you mask off everything you don't want the paint to reach.
4. Before spraying your furniture, you have to prepare it beforehand.
This entails removing all hardware from the furniture to ensure a smooth painting session. The hinges, screws, handles, etc., are things you should remove and set aside.
After this, then sand the furniture to even nick edges and give the furniture a smooth surface. This will enable the paint to stick to the furniture and ensure it doesn't shed off prematurely.
After sanding the furniture, use a kitchen rag or any rough cloth to clean it off. This should remove all debris, dirt, or mess left after sanding the furniture.
Also, the furniture should not be wet. If it is, dries it completely before painting. Also, look at the furniture and verify there is no hole. If there is, fill them up.
Now you are ready to paint. But before that, get some protective gears to shelter yourself from making direct contact with the paint.
This includes safety gloves, dust masks, etc. If this is your first time, you may not have these (and you probably don't have the intention of buying them).
You can do without them. But you need to keep a significant distance between you and the furniture and spray carefully too.
5. You can choose from any of the paint sprayers we have reviewed below.
They are a selection from a wide range of options because they are suitable for painting furniture or they make it easy to do so.
After that, you need to come up with your own technique of painting – there are many and that will come in a future post.
Some people are comfortable with applying several thin coats instead of just one single thick coat and have been seeing great results from that.
Others prefer to go in the opposite direction. Choose whichever rocks your boat. Note: you can find reviews, videos, and guides from the manufacturer of each model of the sprayer.
By going through these, you should be able to come up with your own technique.
As I mentioned above, give yourself and the furniture some inches say 10 to 12 inches. With you sprayer on hand, press the trigger and apply the paint to the furniture.
6. After you are done with painting, you should allow a day to pass before reassembling your furniture.
This includes putting items back inside the furniture and reinstalling all the hardware that was removed during your preparation.
Try to wait for 24 hours (or more) to allow the paint to be fully dry. This will give you a professional look and ensure the finish is durable.
So now, you have all of the important info…
SUMMARY

With this guideline, you now have a paint sprayer and a blueprint for painting your furniture and fittings. And you don't need to be a long time painter or professional to get the best result.
Painting Your Furniture
Instead of spending hundreds of dollars to get this done with your handyman, you can enlist the help of a paint sprayer.
And fortunately, there are many of them on the market that you can choose to handle any of your projects.
You also don't have to spend countless of hours sifting through the thousands of models or the reviews on them.
Being moderately priced, paint sprayers are getting more and more attention from homeowners.
This is mostly because they are simple to use, store, and maintain. In fact, some people find them useful because they can be used repeatedly.
In this article, you will learn how to paint your furniture, the do's and don'ts of painting your furniture, and how to get the best result.
Now…
Use the table below to compare the features of the top rated paint sprayers for furniture:
Reviews of the Best Paint Sprayers for Furniture:
1. Wagner 0518050 Paint Sprayer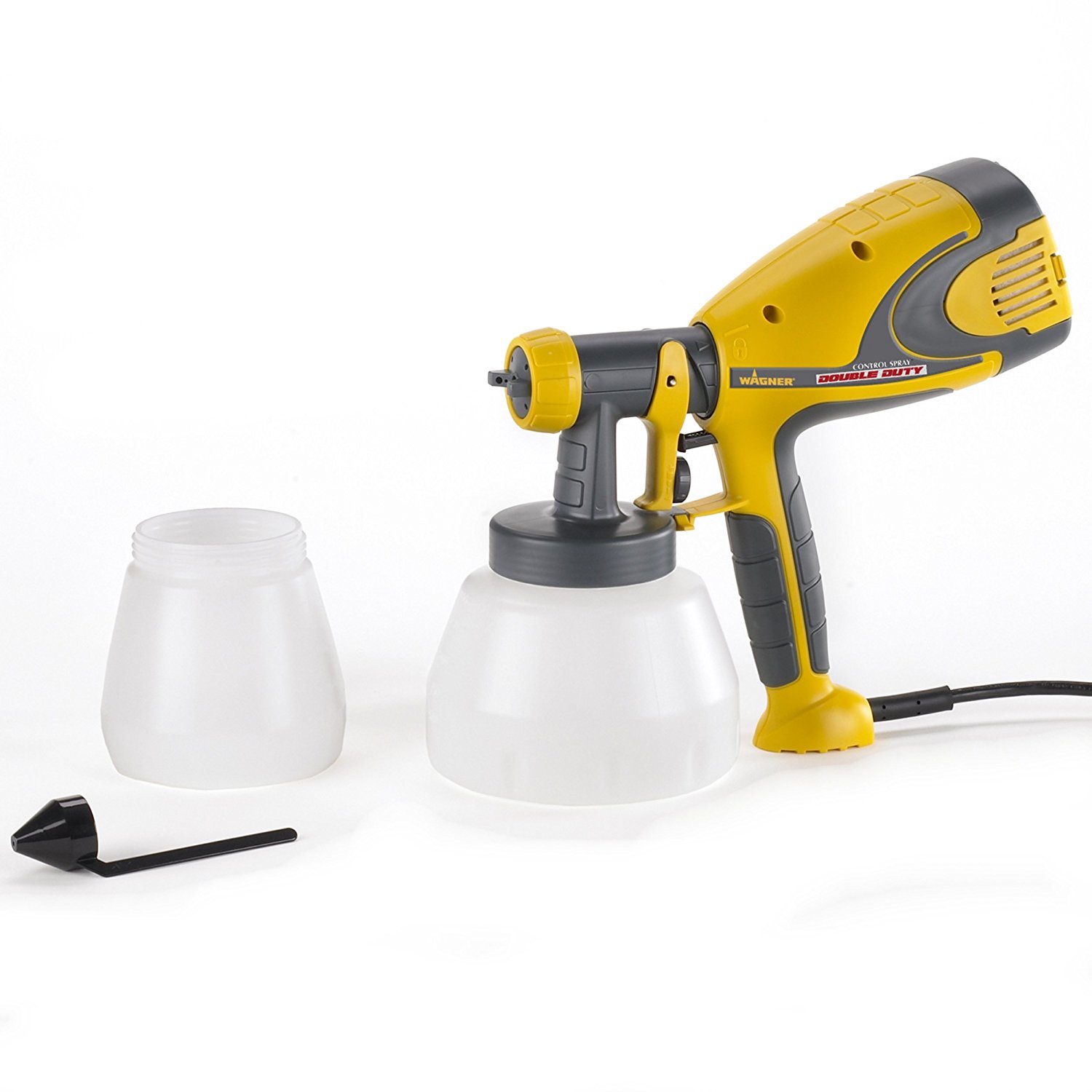 The Wagner 0518050 Paint Sprayer uses a High Volume Low-Pressure technology, which is designed to release paint with low pressure so that a greater amount of paint reach the surface of your furniture.
This means you can enjoy less overspray, which helps to reduce coating waste and paint cost.
This sprayer can be used to paint your furniture indoor or outdoor and allow you to spray a variety of paints such as lacquers, sealers, stains, or varnishes.
In addition, you can increase your coverage area if you painting a large furniture by changing the material flow from half an inch to ten inches.
And you can easily set the sprayer to fit the shape and size of the painting surface by choosing horizontal, vertical, or round.
This is useful for painting furniture that requires a lot of twisting or covering hard to reach spots.
With a setup of fewer than 5 minutes and cleaning time of fewer than 10 minutes, this is suitable for you if you are looking for a low-cost sprayer with reliable performance.
2. Graco 16N658 TrueCoat Paint Sprayer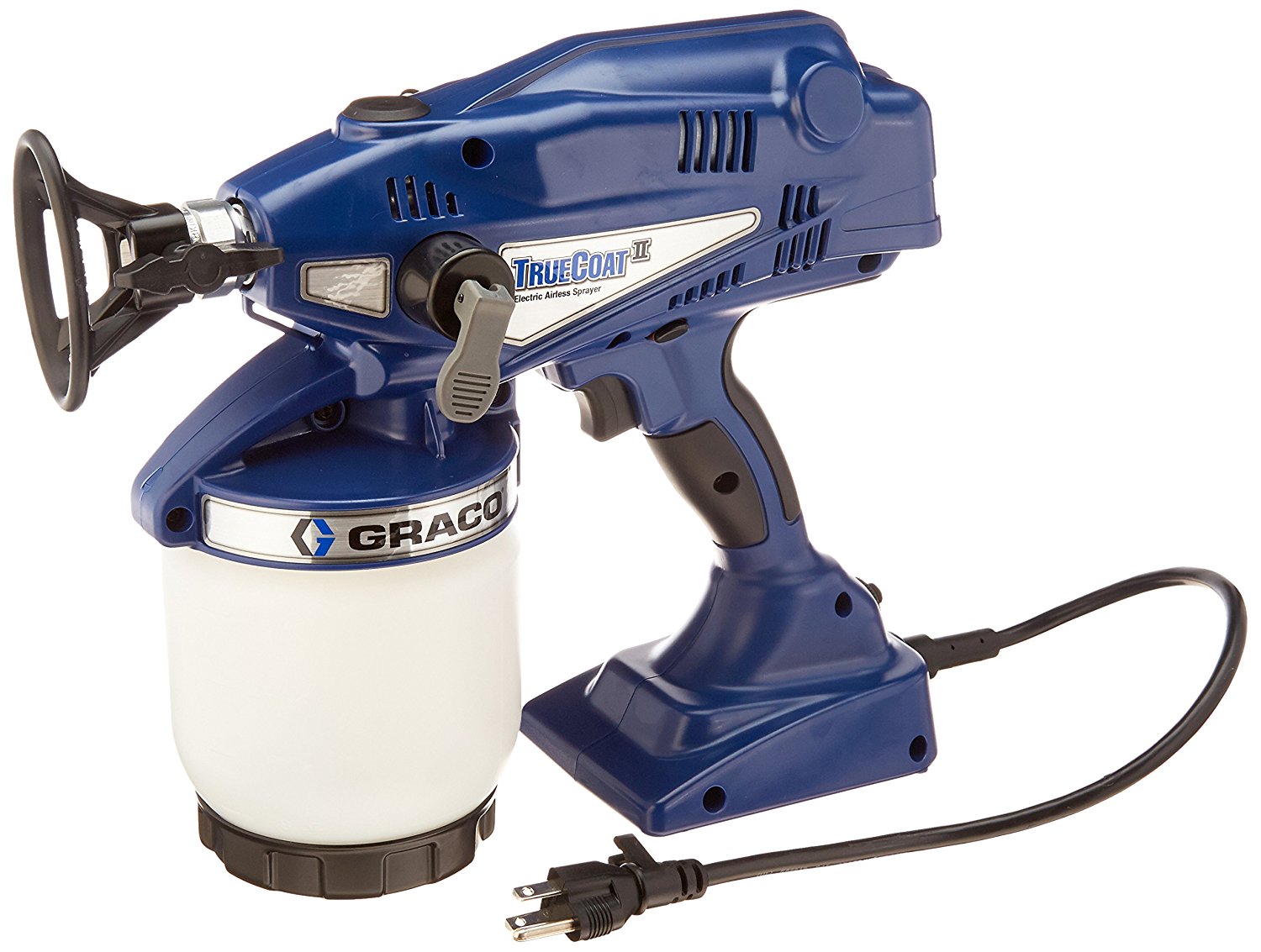 The Graco 16N658 is an airless sprayer that uses technology different from the other units that use an air compressor. And this is specifically designed to help you finish your projects quickly.
You can easily cover 8 feet x 8 feet room in one minute using latex or 6 feet x 8 feet fence in thirty seconds.
Of course, this directly correlated to your skill level.
If you are painting for the first time, you may not be able to achieve this feat or even scuff at that. But if you are a veteran DIY enthusiast, you know that this is possible.
In addition, with the Graco Graco 16N658 TrueCoat, you can cover enamels, stains, acrylic, which are all thicker materials.
Compared to the Wagner 0518050 Paint Sprayer, you can see you have more leverage in terms of the materials you can work with.
When spraying them, you can choose from three patterns depending on the surface/project you are working on:
Sideways
Upwards
Downwards
What Does This Mean for You?
This means you can cover much ground on any painting project you are working on.
The Graco 16N658 TrueCoat also has a built-in hook for hanging it on any equipment such as a ladder. This is super useful when you want to work on long, tedious projects.
At six pounds, it is heavier than the Wagner 0518050 Paint Sprayer but with the ability to hang it while working makes it a viable option for any serious project.
Not is the Graco TrueCoat Paint Sprayer going to help you paint faster, it will also give you a professional finish.
The package comes with instruction DVD and is backed by one year warranty.
The downside of this sprayer is the long time it takes to clean it. Aside from this, it is a nice tool to have.
3. Critter Spray Products 22032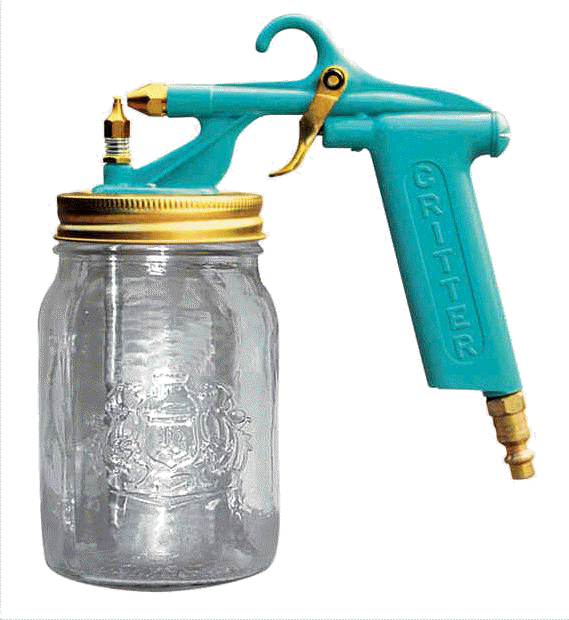 This is one of the most popular paint sprayers you will come across in the market.
Although it is sexy like the  Graco 16N658 TrueCoat or the Wagner 0518050 Paint Sprayer it gets the job done.
While the competitors are settling for plastic in constructing their sprayers, the Critter Spray 22032 gun is made entirely out of metal with a glass Mason jar attached to it.
However, it is suitable for smaller and medium furniture furnishings.
In terms of design, it is very simple and easy to use with only two things to adjust: air supply and height of the liquid nozzle.
In addition, it is also very easy to clean because the Mason jar that attaches to it is a standard size of 16 ounces that can easily be replaced or washed quickly.
Weighing only 1.6 pounds, it is among the lightest in the industry. Remember the lighter a hand tool is, the easier to maneuver and that is ultimate simplicity in its rights.
How the Critter Spray Works
One of the things that endear the Critter Products spray to consumers is that it doesn't produce runs or drips and also produces a consistent output of paint with fewer clogs.
In addition, it detaches and attaches to the Mason jar for easy transition between jars if you are using more than one.
Moreover, the Mason jar is cheap and widely available so when you are ready to replace it, it won't result in time wastage and energy dissipation.
On one hand, the parts come off easily and are easy to wash. In using this sprayer, you don't need much airflow and it will work with different categories of cartridges which are cheap and widely available.
And since the unit is light, you are able to maneuver it around the surface with ease.
On the other hand, it is not a good sprayer with latex so you need to really thin it before you enjoy it. Also, it doesn't have any compressor and you are only limited to a circular spray pattern.
4. HomeRight C800766 HVLP Finish Max Sprayer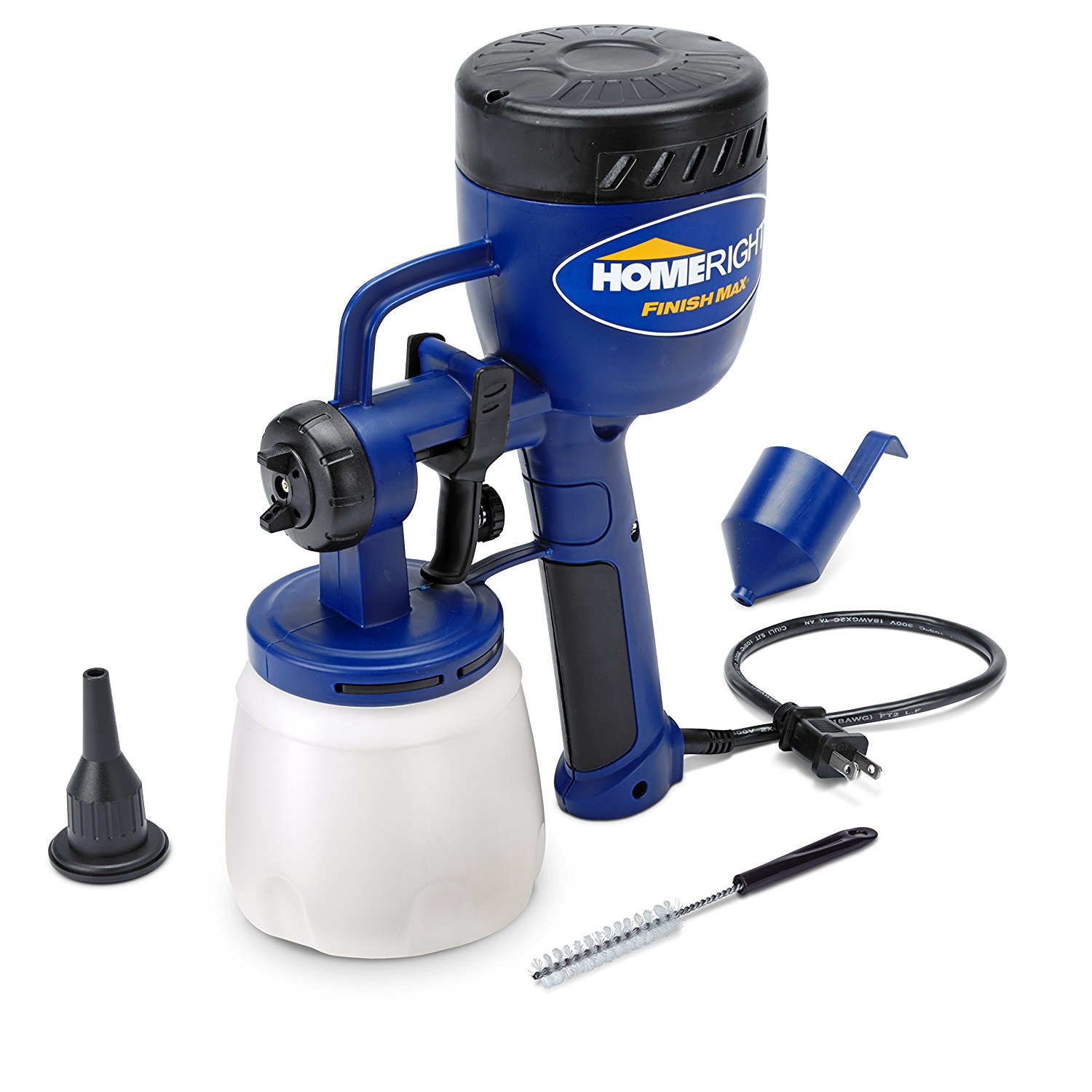 The Super Finish Max Sprayer comes with a 2800 PSI motor and a reversible tip that makes it easy to clean. And with the sturdy legs that comes with it, you won't have problems with the sprayer tripping in the middle of an important job.
Cleaning is hassle-free as you can easily take apart the nozzle for easy cleaning.
It doesn't have any buildup that could cause splitting and the air on this sprayer is powered by electricity so it will never run out on you in the middle of a job. This means no moisture is going to get trapped in the unit and you can enjoy a hassle-free performance.
Moreover, it operates quietly which is better than what you get on other models that are using an air compressor – this produces noise during operation. The unit also comes with Rapid Clean Tool for cleaning the unit after every use.
This will not only prolong the lifespan of this sprayer, it will also enable it to maintain reliable performance. The Spray Shelter technology also helps in limiting the amount of overspray when you are spraying paint or stain outside.
The sprayer comes with a little turn knob where you can easily adjust horizontal or vertical spray pattern, which gives you efficiency on all paint jobs.
If you are a beginner who paints maybe once a week or every two weeks, then you will like the features of this product.
5. Wagner 0518080 Control Spray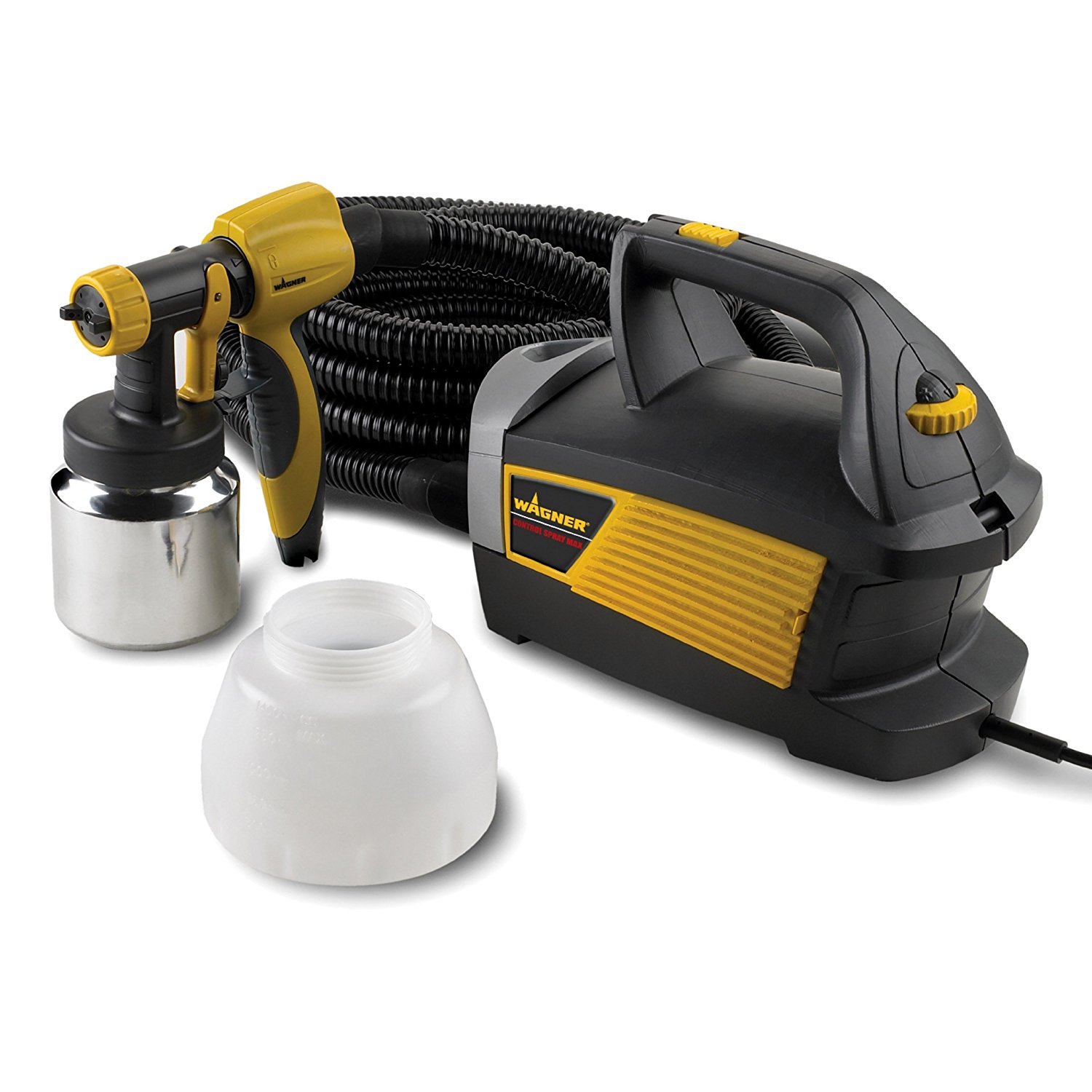 This is another suitable model for painting your furniture.
It comes in a compact and lightweight design, which makes it easy to maneuver and get into crevices and corners usually hidden for direct access.
You can use it in your kitchen cabinets, interior wood trim, or even decks.
Unlike the Graco 16N658 TrueCoat that works with thick materials, you can use this sprayer for thin materials such as stains and lacquers.
It features a variable flow control module that enables the coverage of large surfaces.
Decorative Do-It-Yourself Furniture Refinishing
As the famous saying goes: "One man's junk is another man's treasure."
Refinishing furniture is a great way to use your imagination and create something new with your own hands.  The best part is finding a sad looking item for next to nothing and turning it into one of the finest pieces in your home.
When someone asks where you got that fantastic looking piece, you can proudly proclaim that it is a one-of-a-kind creation.
Where To Find Furniture
Decorative furniture begins with a piece that inspires you.
Consider an old cabinet, a dining room table, a chair, or anything that looks like it has potential to be something beautiful.
Where do you find these pieces and what do you look for when you get there?
When looking to reuse old furniture, second-hand stores or thrift shops are a gold mine.  Most of the items in these places are gently used and are relatively inexpensive.
They also carry everything from bathroom organizational stands to entertainment units for your rec room.  Auction sales and garage sales are great resources for turning someone else's junk into treasure.
Another added bonus to these places is that there is always a chance that you will find genuine antiques hidden amongst the various items for sale.
Reclaim stores and even the local refuse site have items that you should not ignore too.
Nice Piece of Furniture
Furniture manufacturers, cabinetmakers, carpenters, and door manufacturers will have several items that you can use.
These places often have partially completed or finished products that have flaws or were refused by the customer.
However, this does not mean that the piece is unusable.  Many times, especially in production line facilities, these places have products that were finished with the wrong stain or were built the wrong size.
These pieces are not only brand new, but they can be purchased at highly discounted prices.  These companies are also a good place to get scraps of genuine hardwood and exotic woods as well as moldings and trim.
It is also a good idea to check retail stores.  Furniture stores often have damaged furniture or unmatched pieces that can be purchased at a fraction of the cost.
The only thing wrong with these pieces is scratches or dings from being on the show floor or from being transported.
Big box stores also have items that have been damaged or returned by the customer.
Choosing The Right Piece
The most important step in furniture refinishing is to find an item that you can fall in love with.
If you can look at the item, close your eyes, and envision what it will look like when you are done with it, you have found the perfect furniture item.
Without an idea or inspiration, you will struggle to complete the project and end up being displeased with the outcome.
Television shows, magazines, and the internet are wonderful places to see what others have done and collect various ideas.
The purpose of the piece is also an important factor.  It will not only have to look great in your home, but it will also have to fit into your space.
If you need a coffee table, for instance, the item needs to be at a comfortable height.
The piece also needs to be the correct size.  If you measure the amount of space you have available in your home, you will know whether the piece will fit.
Wood Furniture That's Ready to be Finished
How you plan to finish a project and what type of furniture you want will dictate what type of material the item should be made out of.
For example, stain does not work well on MDF (Medium Density Fiberboard), but the paint looks smooth and even on this type of wood product.  Items made of solid hardwood are generally easier to repair and are more durable.
Some wood furniture might also be made of an MDF or plywood and covered in veneer to make it look like real hardwood.
Veneer is actually wood that has been finely peeled off the log and attached with glue.
One word of caution with this product:  gouges and deep scratches can be difficult to fix when they go through the fine layer of wood.  Water, heat, and age can cause the veneer to bubble and lift.
Also:
Metal furniture items either need to be in good condition or of a material that you can mend or weld.  It is also important to inspect the piece for rust or corrosion.
If it is too deep, the item might be beyond a basic repair.
Couches, loveseats, and other upholstered furniture are also great items for furniture recycling.  Since you generally will be recovering them, the condition of the fabric itself is not that vital.
The springs (if it has any) and the foam in the cushions should be in decent shape.  You can also add foam to the cushions if you need to, but it can be an expensive option.
Also, check to see if the legs are broken out and that the wood frame on the inside is in good condition.
The furniture item also needs to be in workable shape. 
You need to assess the entire piece and make a quick list of what type of repairs you need to do. How is the finish?
If the finish is old and flaking off, it really makes no difference since you will be taking it off later anyway.  What you need to look for is whether the chips, gouges and marks go into the wood.
If they are any stains or burns, will it be possible to remove these or are they too deep?
You can repair most chips later on but not if they are too serious.  If the damage is serious, is there something you could do to cover it up?
Look at how the piece is made. 
Missing pieces can potentially become an expensive problem later on because you will have to find some way of fixing it.
You will need to have a replica made to replace it, or if you are lucky enough to have two similar pieces, you can use the parts from one to finish the other.
The other option is to see if there is some way of changing the design to make it work.
Loose legs, spindles, and mullion bars (wood that goes into glass frames) are generally a quick and easy repair.
When choosing an item for your furniture refinishing project, take your time and choose wisely.
If you find the right piece, the idea of what to do with it and how you would like to finish it will come to you quickly.
To keep the costs of your project down, you want to find a piece that requires few repairs as possible.  In many places, you can even haggle on the price to save yourself some extra money as well.
Should You Sand or Should You Not?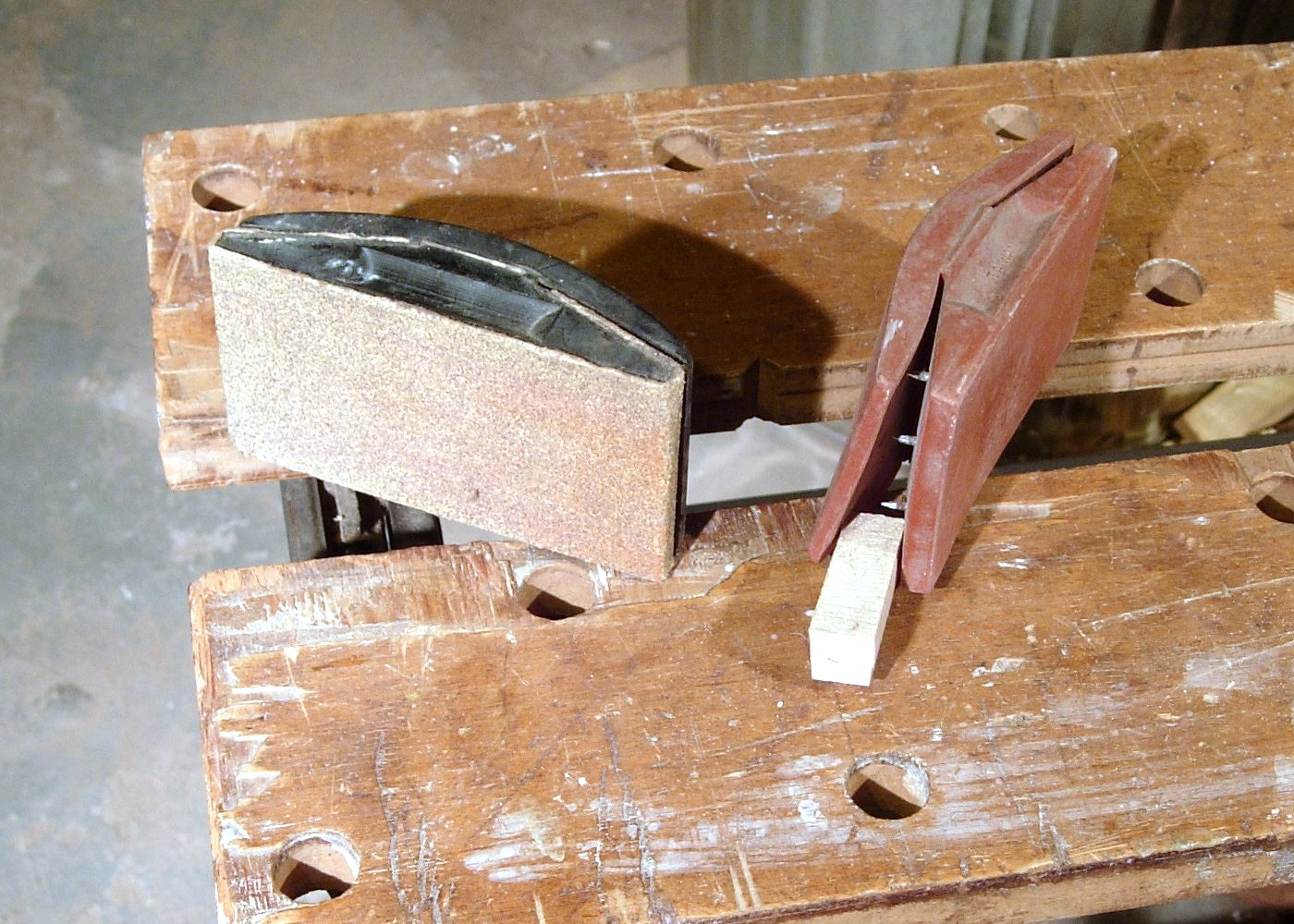 Although we have covered this – partly in the preceding paragraph, I feel there is a need to have a proper discussion about it here.
The debate has been having two sides.
One side argues that you want a smooth surface to put your paint and that you can't get one unless you sand the surface.
Another group opined that you don't need to stress yourself through sanding since there is another better solution – even though that will set you back some dollars.
The good news is that the field is open and you have to trade-off either your time/energy or your money.
Generally, you don't have to sand your wooden furniture before you can use a paint sprayer on it.
Most people now paint their furniture without sanding at all. However, this requires using a liquid deglosser.
Because they are so cheap and widely available, it may be easier to use them especially if you don't want to go through the stress of sanding or are short of time.
SUMMARY

With this method, all you have to do is apply the liquid deglosser to your furniture using a brush and then wipe it off in like 20 minutes before painting.
Why Use Paint Sprayer for Painting Furniture?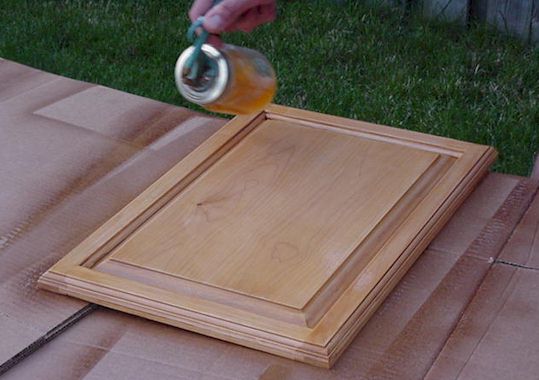 There are many reasons you would want to use a paint sprayer for your furniture.
With a paint sprayer, you can turn your old, furniture into neat pieces with impressive beauty.
Unlike painting with a brush, where you get those unattractive brush strokes, a paint sprayer can give you a smooth, almost glass finish.
Moreover, you can also save on some of the painting costs since the coverage will be more even and lighter. You can expect to spend lesser time on painting versus when you use a brush or roller for your projects.
You also have to remember that using paint sprayer in spraying your furniture means you can now worry less about brush strokes.
Imagine spending the whole day on a painting job and in checking later, you get this strokes that happens because the paint actually dries before it levels.
This will give your job an unprofessional look.
And if you actually used a stick brush, the finished result may look even worse than that. For me, I will rather bypass all these hassles by using a paint sprayer.
If you involve yourself in painting for any number of period, you know the feeling that can swell up when you see unevenness in your painting sheen. This is flashing and can upset any DIY painter after a hard work.
This happens when the paint is reflecting light after painting. And doesn't always look impressive.
For children, it might look attractive and stunning but for your visitors and guests, it could be an eyesore and can be plain unaesthetic.
What Are the Options Available to You on the Market?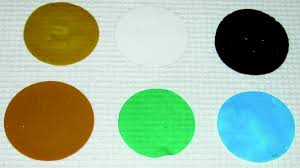 When it comes to paint sprayers, there are not a lot of options.
But the different types that are available work differently so that it is easy to choose one that suits your preferences.
Paint sprayers either use an air compressor or not. And choosing either depends on your needs and preferences.
The airless sprayers often use high pressure while the other ones utilize air compression to atomize paint. It is important to carry out your own research before settling on one model.
Whichever you choose, it is your dexterity in controlling the sprayer gun during your project that will determine your final results.
If you are an absolute beginner, you can go for a cup paint sprayer. They don't use any air compression, comes with a simple setup, and you can prime easily before painting.
Example include the Graco Truecoat Paint Sprayer.
If you enjoy working with a more powerful paint sprayer, you can choose one with an air compressor.
However, we don't recommend this for a beginner as many things can go wrong and if you don't have experience, you may end up wasting money.
Costs range from $20 upwards and often takes a lot more time to complete a project (but with a more reliable result and professional finish).
An example is the Kobalt Gravity Feed HVLP Gun.
The other one is the industrial, more professional paint sprayer. They are more expensive and are not for everyone.
An example is Graco Magnum LTS 17 Sprayer. They are heavy-duty although they don't require an air compressor.
SUMMARY

If you are typically painting furniture, you don't need this unless you are looking to do professional work.
Should You Buy or Rent a Paint Sprayer for Painting Furniture?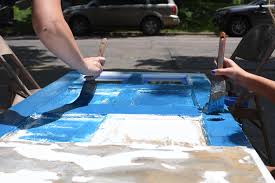 This is a tricky question but one that is not difficult to answer.
If you have not purchased a paint sprayer and are wondering whether you should just buy one or rent a paint sprayer, then you can make it easy on yourself by being practical.
If you want to retouch furniture and even eyeing the application of your paint sprayer in the future, you might want to purchase one that you can use over and over.
However, if the painting is not really your thing and you just want to use it for a short time or for a set of furniture that you can complete in a few days, then you should rent one instead of buying a new one.
Also Read: Top performing brushes for fine detail and trim
BOTTOM LINE

Since paint sprayer can lay down variations of paints from latex to stains to lacquers, the most important thing is to get the right paint sprayer and employ right spraying technique to get the best result.
What Type of Paint is Best for Painting Furniture?
There are many different types of paints that you can use to retouch your furniture.
If you are painting furniture that you use frequently, you need a paint that will not chip off when you clean.
In this case, your best option is a gloss finish.
You can use a flat finish if you want to paint a variety of furniture ranging from cabinets to desk to shelves to cabinets to wardrobes with drawers and a whole lot of others.
How Much Should You Spend on a Paint Sprayer for Furniture?
My budget is different from yours and we have different tastes.
But what if I tell you I can tell you which model is suitable for you?
When you walk into a sales store and you tell a salesman what you want, he can certainly recommend some models for you – which can be perfect – based on your needs or budget.
The same applies when you are looking for the best paint sprayer for furniture.
Fortunately, there are so many options that choosing one within your budget is easy.
Some models are costs anything below $50 but are suitable for smaller projects.
If you are like me, you probably want to buy for larger, long-term projects, which mean you will be looking for higher quality and capability.
You will be looking at spending a few hundred dollars to get the models that fit this category.
Know the best part?

When you spend this much, you will enjoy your investment. Simply because you can use this type of sprayer over a long period of time and over multiple surfaces. All except you pay for a dud, which you can confidently return!
Final Words
Choosing the best sprayer for furniture can consume your time through researching, consultation, and comparison especially when you are looking at dropping a lot of cash.
The fact that people are buying these and are accomplishing their goal – a professional finish – should give you some respite.
Once you understand this guide and put it to use those things I recommended above, you won't have any problem.
When you get the suitable product for the job, you will be able to paint your furniture in such an attractive way that your friends will soon request your service at their homes.