Make your next fence spraying job as easy as possible by getting the perfect sprayer for your needs. We recommend the top sprayers for casual DIY'ers right up to the seasoned pros.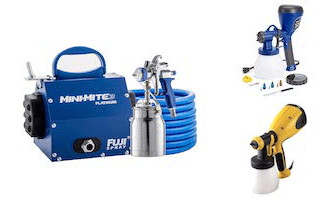 Due to the wide range of sprayers on the market, it can be a pretty daunting prospect when the time comes to buy one. They're never really described in easily understandable terms and it's hard to distinguish between the good and the pretenders.
We aim to help here at SprayerGuide.com with our list of the very best fence sprayers on the market right now.
We've compiled a list of the top models and we've carefully reviewed each one. Find out which one we think is the top of the bunch and why.
We'll discuss the pros, cons, special features, and tell you exactly what we think.
Some of the links below are affiliate links, meaning, at no additional cost to you, we may make a commission if you click through and make a purchase.
Why get a fence paint sprayer anyway?
It's a fair question. Paint sprayers are relatively expensive, and a lot more complicated to use than a brush. So why go to all the trouble?
Well, the main benefit of using a sprayer is that you will save time. A lot of time.
Sprayers are able to output a lot of stain in a short time. When compared to dipping a brush in a can and getting a couple of strokes with each application, there's just no contest.
If you have a significant area of fencing in need of painting, or you plan on doing this type of job regularly then a sprayer is probably a wise investment. What was once a day-long job is now achievable in a couple of hours.
The other big benefit of using a sprayer instead of a brush or roller is the ease with which the paint or stain can be applied. Hold the gun, squeeze the trigger and there you are. By spraying the paint it is also able to penetrate deep into the small cracks in the wood and provide the highest level of protection possible.
In conclusion, if you're not planning on spraying large surfaces then just stick to a brush. However, if you plan on staining extensive sections of fencing then give yourself a break!
The Top Models Compared
These are the 3 sprayers for fences that we recommend over all others.
Here's how it's broken down:
Our Top Pick – the model that is the complete package of performance, reliability, and value for money.
Luxury Choice – the ultimate in performance but comes at a price.
Budget Choice – the one that is friendly on the wallet but won't let you down.
Our Top Pick

HomeRight Super Finish

Price: $$

Warranty: 2-years

Type: HVLP

Budget Choice

Critter Spray Siphon Gun

Price: $

Warranty: 90 days

Type: HVLP

 

Luxury Choice

Fuji Mini-Mite 3 Platinum

Price: $$$

Warranty: 2-years

Type: HVLP
Our Fence Sprayer Reviews
In this section, we take a close look at each of the models we recommend in the comparison table plus a few others. Find out all the details and exactly what we think about each one.
Before we get into the nitty-gritty of our reviews, let's take a bird's eye view of the top-rated sprayers.
These are the main players in our big guide to fence paint sprayers.
HomeRight Finish Max Fine Finish HVLP Sprayer –

OUR PICK

Critter Spray Products Spray Gun –

BUDGET CHOICE

Fuji Mini-Mite 3 T70 PLATINUM –

LUXURY CHOICE

Wagner FLEXiO 590 HVLP Paint Sprayer
Wagner HVLP Control Spray Sprayer
Campbell Hausfeld HVLP Gravity Feed Sprayer
Wagner ProCoat Stand Airless Paint Sprayer
HomeRight Super Finish Max Extra
OUR TOP PICK
This isn't the first time we've talked up the HomeRight range of sprayers and there are good reasons for this. They offer an excellent blend of performance, features, and value for money.
The Super Finish Max Extra is the perfect stain sprayer because it is easy to set up and clean, but straightforward to use too.
But let's get into some of the details.
It's an HVLP sprayer (high volume, low pressure) with 450 watts of power. While it's motor doesn't compare with the high power exterior wall sprayers, it's more than adequate to ensure a smooth delivery of stain and paint for fences. Furthermore, it's powerful enough to handle thicker varnishes and paints without thinning.
It's not just suited to spraying fences but can also deal with spraying jobs on cabinets, furniture, walls, and decks too. There are six changeable tips available which give it the flexibility needed to have such a wide range of skills. The tip sizes range from 1 mm right up to 4 mm The tips and nozzles are made of brass and are built to last.
It comes with a 39-ounce container which when full could be considered heavy. The container attaches to the front of the gun so you'll need to support the weight of this when spraying. The balance of weight can take a bit of getting used to when the container is full. Thankfully, the level of paint being used is up to you. The entire unit (minus paint) weighs 2.76 pounds.
This is a complete spray kit and comes with a built-in compressor. It takes power from a standard power outlet. You adjust the power delivery using a knob located next to the trigger. This gives you complete control over the spray pattern. It gives the option of spray widths from 1 inch to 12 inches.
What kind of paints does it use?
It'll handle pretty much anything as long as it's thinned properly. Oils, enamels, primers, latexes, polyurethanes, sealers, varnishes, and stains are all fair game with the HomeRight Super Finish.
What's in the box?
Aside from the spray gun, wrench, container, and 3 nozzles (3 additional nozzles are available), there's also a cleaning brush and viscosity cup.
Any big drawbacks?
Well, yes it's not perfect. HomeRight state that is not recommended for painting ceilings. This is due to the angle you have to hold the gun at and the positioning of the motor in relation to the paint container. There's a chance that the paint will get into the motor and break the device.
Pros
Cons
Great value for money

Suitable for a variety of tasks

Easy to use
Can't be used on ceilings

Not ideal for huge projects
Bottom Line: This stain sprayer earns rave reviews on sites like Amazon and for good reason. It's amazing value for money and probably the easiest to use sprayer kit of its kind. In our mind, this is the best sprayer for staining a fence.

​
Critter Spray Siphon Gun
BUDGET CHOICE
This is a fence spray gun that's designed to gives beautiful finishing touches woodwork.
Designed with both professionals and amateurs in mind, the Critter Spray Siphon Gun makes spraying a simple exercise.
It weighs 1.6 pounds and consists of a metal gun and a mason glass jar. There's no compressor included and you'll need to budget for the addition of one of these. It's suitable for compressors giving a minimum of 3/4 horsepower.
As already hinted, this gun is ideal for smaller projects or when using big spray guns is just too awkward. It's for those intricate parts that require more finesse and control. This is mostly because the nozzle produces a comparatively narrow jet of paint.
It comes with a 16-ounce detachable mason jar but it's easily adaptable to fit other jars too. The jar can be filled with a variety of materials including stains, paints, and lacquers.
Its simplicity is one of the big selling points. Unlike some sprayers that can overwhelm with the number of customization options they offer, this gun from Critter Spray Products gives just two options. There's the amount of air supply, and also the height of the liquid nozzle. That makes it one of the easiest to use and most accessible guns out there.
However, the lack of spray options is obviously a negative for some. If you need anything other than a 1/2 to 2 1/2 inch circular spray pattern then we recommend taking a look at the HomeRight model we just discussed.
The included sealer jar is particularly useful for storing surplus paint until the next time of use. Just screw on the airtight lid and your concoction is ready to go for next time.
It can be a very good companion to anyone looking to use chalk paint, but it will also handle latex, oil-based paint, acrylic, primer, and polycrylic well.
Pros
Cons
Easy to use

Requires very little pressure

Lightweight
Limited spray options

Needs additional compressor

Not suitable for large projects
Bottom Line: The perfect gun for small to medium projects where fine detail is paramount. Easy to use and durable this gun is also perfect for the inexperienced sprayer.

​
Fuji Mini-Mite 3 T70 Platinum
LUXURY CHOICE
Fuji is one of the most reputable pump and sprayer manufacturers in the world and Mini-Mite T70 PLATINUM is one of their top fence sprayers.
It's our choice as the 'Luxury Pick'. This means it's the one we'd choose if money was no object and we were looking for the fence stainer where performance comes above all else. It's a mighty sprayer but it comes at a price!
So what makes this Fuji sprayer so special?
Straight off the bat, it's the sheer wealth of options. It's a very flexible gun that will provide the ultimate coat of paint when in the right hands.
Let's take a look at the special features:
1. Amazing turbine design – the T70's 3-stage turbine is housed in a special casing that dissipates heat to prolong its life. The casing also functions to reduce the overall noise level. Powerful sprayers can be noisy beasts but the T70 will surprise you (the turbine puts out 6.5 PSI). The pressure is easily adjustable so you can turn it down for a more intricate painting style.
Having a matched air compressor and gun brings a wealth of benefits too. First, you don't have to worry about the disparity between volumes. If you are buying a new HVLP sprayer that you'll use with a separate compressor, you have to constantly worry about getting enough air volume on a consistent basis. WWith the T70, it's all plug and play plus a few quick gun adjustments.
2. Top class build quality – we mentioned the quality of the turbine and its housing but the gun is equally well put together. The nozzle, tip, and fluid passages are all made from high-quality stainless steel that will resist corrosion and withstand bumps. The unit comes with an impressive 2-year warranty which is as good as it gets for these type of sprayers.
3. Impressive spray gun – the gun is easily disassembled for quick cleaning. It has three spray options of circular, vertical, and horizontal and these are easily switched between. You can also make even more adjustments to the fan pattern on the gun itself using the pattern control knob. You can actually choose from three different guns each specializing in a different scenario. Bottom-fed or gravity-fed? The choice is yours.
All guns are suitable for high viscosity materials like paints right down to low-viscosity materials like stains and everything in the middle. It won't bleed either, so you'll waste less paint.
Who's it for?
The sheer wealth of options it offers make it best suited to the experienced paint sprayer who's looking for an upgrade. It's designed for heavy use. The 25-foot hose makes it perfect for big painting operations where models like the previously mentioned Critter Spray gun just won't cut it.
Pros
Cons
Versatile

Noise reduction feature

2-year warranty

Lightweight and portable

High quality, uniform finishes
Expensive

Not for the beginner
Bottom Line: This is the perfect fence stain sprayer for large projects. It's designed to handle the demands of long painting sessions and has the flexibility to deal with all types of paint. Yes, it's expensive but if you're an experienced painter who plans on using it a lot then it's worth the extra investment.

​
Wagner FLEXiO 590 HVLP Paint Sprayer
Another contender in this compilation of fence paint sprayer reviews is the Wagner Flexio 590 Sprayer.
The Wagner FLEXiO is an affordable handheld paint sprayer that will work perfectly on your wood and wired fences alike.
It features the trademark iSpray nozzle-adjustment technology that allows you to paint both vertically and horizontally. You can also choose between wide and narrow release.
Other features include pattern adjustment ring, x-boost turbine nozzle technology, lock-n-go nozzle design (for easy replacement) and two nozzle caps.
With its ergonomic non-slip grip, this is one of the top performing fence paint sprayers coming in at less than 200 dollars.
If you don't mind cleaning the nozzle frequently (for high efficiency), you will find the flexibility and versatility of the FLEXiO useful for your fence painting jobs.
Preparing it might take up some time, but you'll find that this sprayer will save you a lot of time compared to using a brush or roller to paint your fence.
Pros
Cons
Easy to remove, clean, and replace the nozzle

Handles un-thinned latex paints as well as oil-based paints

X-boost turbine nozzle technology
Not all users think the sprayer is durable enough

Power hungry
Bottom Line: One of the top performing airless sprayers around. It's got an awesome reputation and is one of the most popular sprayers on the market.

​
Wagner HVLP Control Spray Sprayer
The Control Spray is another affordable paint sprayer for fences from Wagner featuring the trademark Lock-N-Go technology and 3-position (vertical, horizontal and round) pattern control.
It can be used with sealers, stains and finish enamels ideal for grills, furniture, and fences.
It also comes with a high-speed turbine that provides high performance, 1-quart plastic paint cup, and a viscosity cup.
With its elegant ergonomic design, this cheap paint sprayer is perfect for DIY fence repainting and patching up worn out paints.
It comes with 3 different pattern controls gives you enough options to provide the finish you want for each section.
Although it is cheaper than most, you can use it to paint all kinds of fences. Moreover, it is very easy to use and maintain compared to other paint sprayers in the same category.
Pros
Cons
Easy to use and maintain

Affordable

High-performance turbine saves time

Lock-n-go technology makes maintenance easy
Viscosity issues with certain paints; you may need to add more water

Needs frequent cleaning
Bottom Line: A great entry level sprayer. It offers great value for money and has an impressive flow rate for the price.

​
Campbell Hausfeld HVLP Gravity Feed Sprayer
The Campbell Hausfeld HVLP sprayer is one of a kind. It's one of the few paint sprayers for fences that you can trust, based on previous performance. Campbell Hausfield have a fine reputation in the field and experience with building fine sprayers.
Although gravity feed sprayers are common, this fence spray gun features high-quality features like a non-corrosive stainless steel nozzle and needle, clear-view 600ml paint cup that lets you see paint levels, and a polished finish for easy cleaning.
It also has spray control integrated into the gun and an 80-mesh dirt filter for smooth coverage.
What's more, it has a simple traditional design that makes it easy for users to familiarize themselves with how the system works and fortunately, it is affordable.
It is the perfect sprayer for automotive and furniture painting and is especially valuable for DIY projects like fence painting.
After buying the Campbell Hausfeld gravity feed sprayer, make sure to check the nuts before using. Some users complained that some nuts require tightening before it can be used.
Pros
Cons
High volume cup so you can spray for longer

Nozzle needle and main unit are easy to clean

Very easy to use
Low pressure means slower performance

Only uses conventional compressor units (not compression turbines)

Only 1-year warranty
Bottom Line: A traditional sprayer that's big on quality and ease of use.

​
Wagner ProCoat Airless Paint Sprayer
The Wagner ProCoat 2800 is a one-half horsepower piston pump sprayer with a whopping 2800 PSI. This makes it the perfect machine for large jobs using heavy coatings, such as latex, stains, sealers, and oil-based paints.
This professional grade sprayer pulls coatings directly from either a one or five-gallon container for extra convenience. There's no need to waste time filling up a jar or container with this monster of a sprayer.
A 35-foot high-pressure airless hose is included with this power spray system and it is capable of using a 100-foot hose, which is available as an added extra. It's designed for those big jobs and isn't one for intricate detail.
Painters will appreciate the handle on the body of the pump housing (that allows for easy portability) and the swivel handle on the professional grade spray gun.
This power paint sprayer system includes a reversible airless 515-spray tip; the system supports close to a 0.015 airless spray tip and swivel. An inlet valve pusher also allows the sprayer to be primed rapidly.
Users have found this fence stain sprayer helped them to successfully complete many projects including home exteriors, barns, decks, and garage doors. Other uses include refinishing lawn furniture, awnings, and fences.
Even those who had issues with clogs report that the reversible inlet valve easily resolves the issue. Most importantly, customers have not reported any complaints about customer service.
The Wagner ProCoat 2800 is the perfect tool for both paint contractors and the weekend warrior homeowners who enjoy home improvement projects.
Customers who have purchased this Wagner product say that it applies paint evenly with a consistent pressure. For them, it is easy to set up and easy to clean.
Pros
Cons
Sprays a gallon of paint in 5 minutes

Draws paint directly from the can

Sprays oil-based paints, thick latex, stains, and sealers

Reversible spray tip allows quick clearing of any paint clogs
For big areas only

Not ideal for the inexperienced user
Bottom Line: Capable of spraying large volumes of paint in next to no time, this airless sprayer is perfect for those large painting jobs that you've been putting off.
​
Also Read: Best Paint Brush for Trim
Conclusion
There are many paint sprayers on the market. Most of them can be used for auto, furniture, walls, grills, metals, and wood.
When looking for the best paint sprayer for fences, outline your needs and expectations. Don't compare any offers without doing this. It will save you a lot of headaches later on.
In our opinion, the perfect sprayer for your home DIY project is the HomeRight Super Finish Max Extra. It's the perfect example of functionality and affordability.
Especially if you're new to the world of paint spraying, this is the one to go for. It's easy to use and won't have you confused and frustrated like some more complicated models will.
If you plan on doing a lot of large jobs then the Fuji MiniMite T70 Platinum is maybe a better choice. It's much more expensive but it'll save you time and effort.
If you're on a budget then our 'Top Pick' the HomeRight Super Finish is very affordable, as is the Critter Spray Siphon Gun.
​
If you have any questions about anything we've covered in today's guide then don't hesitate to get in contact. Likewise, if you have any experience with these fence stain sprayers (good or bad) then please let us know down below.
We'd also love to hear about any sprayers that you think are worthy of a place on this list of the very best. We'll update the post when awesome new models come on the market.
Don't forget to join our mailing list to stay up to date with all the latest news in the paint spraying world. Just enter your e-mail address on the top right-hand side of the page. You'll be notified of all our latest posts going live.
Until next time!