This is a comprehensive review of the Fuji 2203G Semi-PRO 2 Sprayer.
In this review, I want to give you an overview of this sprayer. You will learn what's possible to achieve with this unit, its strengths, and weaknesses, and most importantly, whether it is suitable for your intended purpose or not.
After reading this review, you should be confident enough to purchase this unit.
Let's go over the features below:
Some of the links below are affiliate links, meaning, at no additional cost to you, we may make a commission if you click through and make a purchase.
Main Features of the Fuji 2203G Semi-PRO 2 Review
Features 1.3mm tip
It comes with 400cc Gravity cup
The metal turbine case has a nifty gun holder
Sports a 25ft hose that has air control valve
Has an adjustable pattern fan control
Measures 16 x9.5 x 12.5 inches and weighs 26.1 pounds
It is available in classic blue color
Supported by 24 months warranty for parts and labor
A wide variety of additional accessories available to upgrade the functions
What We LIKE About the Fuji 2203G Semi-PRO 2 Sprayer
Paint Flow Control 

— Fuji sprayer has an air cap set that allows efficient flow of paint. The flow is also easy and efficient for highly viscous and dense materials
Maintenance — The air filters in this type of sprayer can be washed and changed. This makes it easy to maintain
Time & Energy Saving — Fuji sprayer saves on time as opposed to using brushes or rollers which is laborious and time-consuming
Efficiency in Spraying — The Fuji sprayer is equipped with a 400cc aluminum cap which allows efficient spraying in corners. Due to the large volume it holds, the sprayer does not require a regular refill
Changing Paint Patterns — Fuji sprayer has a pattern fan control as opposed to other painters which have adjustable nozzles. This allows for a change in paint patterns and uniform control of the paint
Paint Volume — Fuji sprayer has a non-bleed function and a hose equipped with an air control valve. This prevents over-spraying thus saving on paint. It also has a high volume low-pressure spray system thus less paint wasted
Results — Fuji sprayer has a non-bleeding function which contributes to a well- finished and professional look. It also gives a consistent result
Cost — The sprayer is affordable and cost-effective
What We DISLIKE About the Fuji 2203G Semi-PRO 2 Sprayer
Paint Refill — The gravity offset feed cup makes it hard to refill the cup using a standard gun thus a two people effort is required so as to hold the gun in the refilling process
Durability — The metal parts are vulnerable to corrosion thus require special handling
Paint Thinning — The painter may require paint thinners especially for viscous and dense paints. Paint thinners have adverse health defects example liver damage and respiratory disorders
Overspray — Due to fast delivery there is a risk of overspray thus paint waste

Fuji 2203G Semi-PRO 2: Things You Should Know
Before buying this sprayer, it is important that you learn all you can about it.
If this is your first time reading Fuji Semi PRO 2 review, you will definitely find there are a lot of things you need to know about this model.
Going through this review will help you understand what the product is about and be able to decide if it is for you or not.
Some of the most important things you need to know will be covered in this section and the next section as you read on.
Here are they:
Fuji spray products have been on the market for long and proved to be durable and highly effective. The Fuji 2203G Semi-Pro 2 has been introduced as the most powerful 2 stage turbine in the painting systems. Among other spraying machines in its price range, it is the best. It works by using a high volume of air at low pressure (HVLP).

Usually, you can't spray unthinned paints like primer, latex, enamel on this sprayer. They are thick materials, so to use them, you must thin them. Fortunately, additional accessories are available so you can buy the flexible whip and hose and a larger tip to help you spray thicker materials. However, if you would like to use what you have on the sprayer, you need to figure out the recipe for thinning any painting material. Once you are able to thin to proper proportions, you will be able to try materials like poly, shellac, enamel, latex — which are all thick materials — and maintain consistent quality finish. In addition, you can spray interior trim, windows, kitchen cabinets, doors, and even carry out automotive projects such as painting your car hood.

Note that the thicker the paint you want to use, the larger the tip needs to be. As stated elsewhere, the tip that comes with this unit may not be sufficient because it is very small except you thin your painting material very well. And the downside is that too much thinning can compromise the quality of your paint. So you need to really get that done properly if you want to achieve a nice finish.

The Fuji Semi PRO comes with 1.3mm tip but you can purchase other tips to fix it if you this doesn't serve you well. If you feel you need to get another needle or cap for it, you can order it directly from Fuji Spray or from Amazon. When spraying cabinets or other items, you should try to keep the unit in an upright position as the flow of paint is much more smooth and balanced than when it is tilted.

You don't need to purchase a separate compressor for this unit as it's turbine. It generates its own air from the blue box you see in the picture of the product. Therefore, it is a complete package and air production is self-contained.
Now that you know the basic things about this unit, let's compare it with other products in this range:
Compare the Fuji 2203G Semi-PRO 2 Paint Sprayer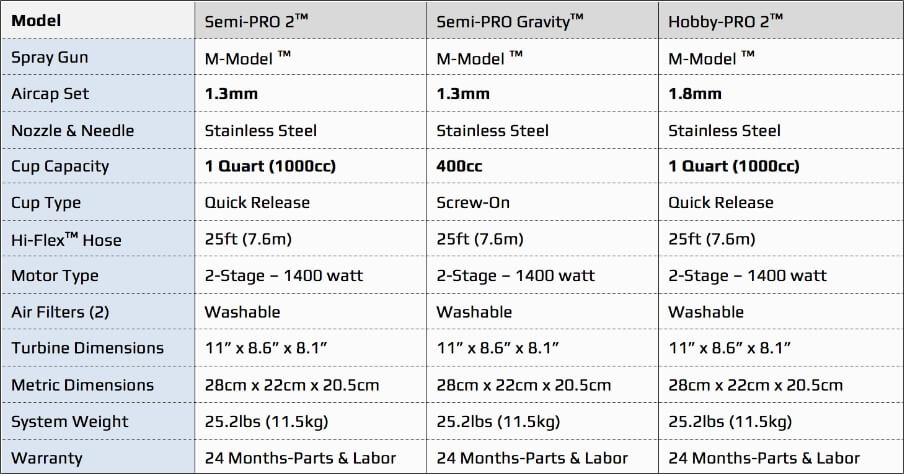 Features of the Fuji 2203G Semi-PRO 2 Paint Sprayer [Plus the Explanations]
Here are features on the Fuji 2203G Semi-PRO 2 Paint Sprayer:
Non-bleed Spray Gun Function 
The gun on the Fuji 2203G Semi-PRO 2 is similar to that of the Mini-Mate 4.
However, there are some key differences in that this model is a small feed and has a small U pipe that attaches to the gravity cup.
Moreover, the gun in this model has more plastic but the handle is very large so that it is more convenient and comfortable to hold and maneuver.
This feature reduces the dripping of paint and ensures that no air is trapped in the turbine.
It prevents overspray thus saving on paint.
In addition, you will be able to save time and effort too because you won't be spending extra time wiping up paint on surfaces when you should be doing something else. 
Easy to Put Together
The Fuji 2203G Semi-PRO is easy to put together and getting the right fan size for the amount of air is easy.
However, it is a little loud with the sound similar to a shop vac.
Moreover, the compressor can get hot while you are working in which case you should let it go to rest.
The best thing about this sprayer is that it leaves beautiful finishes, has a feel of quality and is easy to maintain.
Adjustable Fan Controller
This system no longer works by rotating nozzles.
This feature helps the painter in adjusting the fan from smaller to larger diameters allowing for even coverage and perfect finishes.
This helps achieve the desired design because it helps control the paint concentration.
400cc Gravity Cup
This is a larger enough cup which allows massive paint fill thus not requiring now and then refills.
This also facilitates the spraying action to be hassle-free. If you are planning to carry out a large painting project, you may want to get a bigger 1-quart cup as the one on this can only hold 400 cc's.
Moreover, you won't be thinning your thick paints too much to get a professional finish.
Moreover, it comes with a pressurized cup is one of the technologies that are unique to the Fuji Spray HVLP series, which means you not just buying quality but a unit that can give you enhanced results.
25ft Hose With Air Control Valve
This is a great tool for allowing the paint to reach all areas even the inaccessible areas.
The hosepipe is long, flexible and durable with an air control valve that helps prevent overspray of paint.
This prevents wastage.
I like that you can change the hose that comes with it with something like the Fuji 2049F 6-Foot Flexible Whip Hose which is more flexible and can be used on more projects that the hose that comes with your package. 
2 Stage Turbine 
The system houses a 2 stage turbine with 1400 watts motor which allows it to handle thicker paint with ease.
With the trigger mechanism of the gun, you will be able to carry out a glob free application right from the moment you push the trigger until you release it.
Because you won't be wiping spits, blobs, and other frustrating problems that come with a cheap gun, you will be able to enjoy a pleasurable operation.
No one says you can't remodel your home and have fun doing it. Even if you are going to be carrying out automotive projects, you will find that this unit is very capable of that. 
What Are the Benefits of Purchasing the Fuji 2203G Semi-PRO 2?
Why should you buy it? What are some of the benefits you stand to gain? Here are a few:
Paint volume.  The Fuji sprayer can hold large paint volumes since it has a 400cc aluminum cup.
Modification. It has a pattern fan control for changing paint patterns as opposed to adjustable nozzles and a non-bleed function which prevents overspray.
Easy to maintain. The air filters are washable and can be changed thus easy maintenance.
Results. The sprayer allows for consistent and professional results.

The 2 stage version gives the sprayer room to accommodate different alternative of paints or coatings.

User & Environmentally Friendly — This sprayer has no noise as opposed to other painters which are noisy leading to environmental pollution
Ease of Use — The sprayer comes in hand with a clear instructional manual. This makes it easy to use even for beginners since no much knowledge is needed
Versatile — Fuji sprayer accommodates different paint alternatives

Final Words on the Fuji 2203G Semi-PRO 2 Paint Sprayer
With the Fuji 2203G Semi-PRO 2 Gravity HVLP System, you can spray paint your home and achieve professional finishes without paying $2500-$3500 to professionals and handyman.
If you are spraying latex with this system, you will need considerable thinning and when properly sprayed, you should get satisfactory results.
This can be difficult for beginners though, especially when you need to paint vertical surfaces. Overall, if you are looking for spraying clear finishes, this paint sprayer from Fuji Spray will give you the best result.
Since clear finishes are thin and easy to spray, the result the Fuji 2203G Semi-PRO 2 is going to bring will be beautiful as you won't be thinning.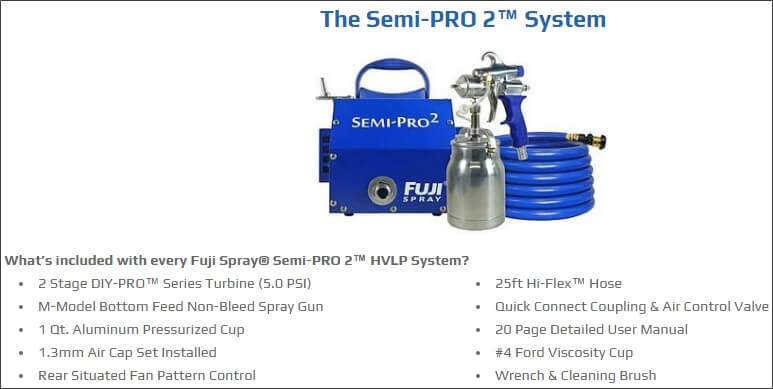 Want more Fuji Spray paint sprayers reviews? Check out our other reviews on: