This review of the Critter Spray Products 22032 Sprayer is unbiased, honest, and straight to the point.
Before writing this review, efforts have been invested into researching experience of previous users on the critter sprayer as well as other reviews on it to ensure you get complete and detailed information that will aid your buying decision.
When you are through reading this review, you should have all the information you need on this product and be confident to make your purchase.
Some of the links below are affiliate links, meaning, at no additional cost to you, we may make a commission if you click through and make a purchase.
Overview of Features of the Critter Spray Products 22032
The nozzle is 1.8 mm
Net Weight of the Critter Sprayer is 3 pounds/1.36 kg
Average Air Consumption on the Critter Paint Sprayer is 7-12 CFM
The Operation Pressure is 50-60 psi
Air Inlet Thread NPT of ¼ inches
Maximum Pattern for the Critter Sprayer is 8 inches
Maximum Distance is 11 inches/280 mm
It measures 12 x 7.2 x 4.2 inches
The Critter Sprayer comes with glass Mason jar and metal spray gun
Pros
Easier to set the Critter up for use
Makes spraying easy and fast even for starters
Comparatively cheaper price
It has fewer incidences of paint dropping during use
Consistent release of paint when the trigger is pulled
Uses mason jars
Light in weight
Very portable and easy to carry
Cons
Does not come with an air compressor which you will need to buy separately
Limited spraying options when compared to its competitors
Critter Spray Products 22032: Things You Should Know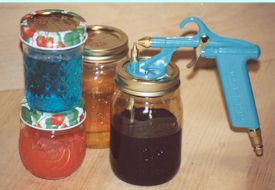 This is a spray gun designed to allow the woodworker or carpenter give beautiful finishing touches to his woodwork.
Designed with both professionals and amateurs in mind, the Critter Spray Products 22032 Siphon Gun makes spraying an enjoyable exercise since it is very easy to use.
It weighs 1.6 pounds and is largely made up of a metal gun and a glass jar. Our Critter Spray Products 22032 review will paint a clearer picture of what the product presents.
As already hinted, this gun is ideal when smaller projects are involved or when using big spray guns will be awkward. This is mostly because its nozzle produces a tiny jet of paint which will prove hectic for anyone looking to coat a very large surface.
Typically, the Critter spray gun is used to paint small to medium surfaces like cabinets, doors, walls, ceilings, furniture and various but small forms of the aesthetic woodwork. Because it only needs a small compressor and air regulation, you can carry out a ton of painting projects.
Cleaning up is not stressful as all you need is a small amount of thinner and paper towel to wipe clean the jar gasket and the tube. Whether you are using a lacquer or polyurethane finish, you will be able to achieve project results with brush marks that mar your creative effort.
Critter Spray Products 22032 Sprayer Full Review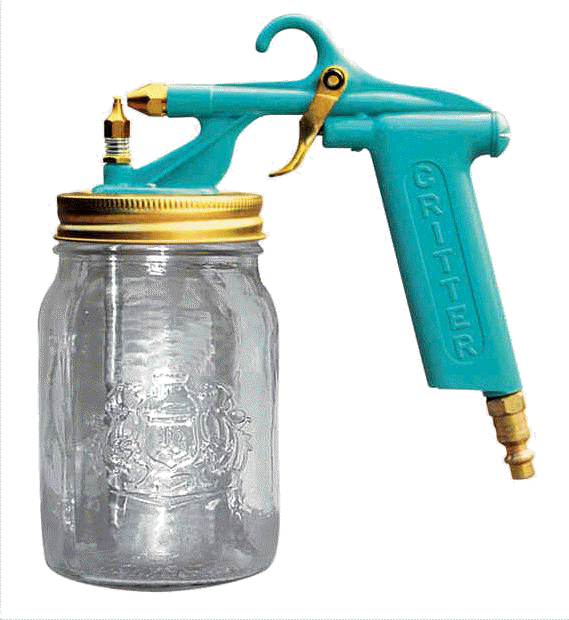 Adapts Easily With Other Jars
This spray gun thrives with a 1.6-pound glass jars which are just a basic recommendation. While this jar has shown the greatest success among others – and even recommended as the default jar type by the spray gun's manufacturers, you can easily remove the lid of the siphon gun to make it compatible with other jars.
However, we discovered that the farther you go away from the recommended 1.6-pound jar, the more likely you are to encounter difficulties.
If you are interested in using a compressor while spraying, you will quickly discover that the 16-ounce Mason jar on the critter actually fits into standard compressors. I love this because it makes life easier most especially if you have a lot of jobs you want to get completed.
Minimal Air Compressor Requirements
One of the impressive things you will notice on using this spray gun is the ease of its air compressor configuration. It can function well with just a little to average pressure (90 PSI in this case), 3 CFM and as little as 0.75 HP compressor motor.
Gasket Has a Short Life Span
The Critter gun's gasket will wear out faster than you would expect and when this happens; your Mason jar is in jeopardy. This wear is more rapid and prominent when the material of the gasket can be easily dissolved or denatured by the primer. An example is rubber gasket and solvent finishes.
If you have little to moderate DIY skills, this will not be much of a problem. For instance, you could use wax to seal the Mason jar's connection with the gun. If this proves tedious, you may decide to use the siphon without its gasket.
Plenty Paint Stains on the Gun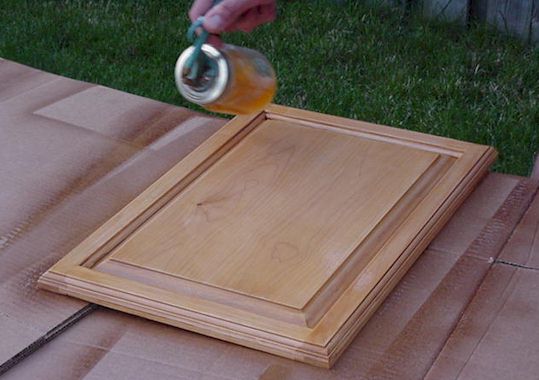 While this is not a problem for some people, a great number of users may not appreciate an overly paint stained gun when in use.
And though the stains may not be a beautiful sight to behold, it hardly ever harms the gun.
Made of durable zinc alloy, the gun of this Critter model is tough enough to withstand any possible degenerative effects of the paints.
On their own, the paint stain eventually flakes off, and you can always do this by yourself too.
You Will Have to Get Around the Weight
Not that this Critter spray gun is heavy or something, but once you fill the mason jar with paint, you might feel the weight tilting to a corner.
This obvious distortion in balance slightly affects the spraying process. But this is just for beginners or in the first few attempts at using the equipment. A few minutes into action, you will hardly notice the weight of the spray gun.
Customer Reviews and Ratings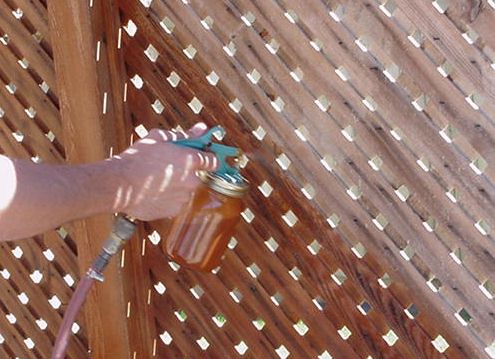 When I'm ready to buy a product, the first thing that comes to my mind is who else has used the product?
If there are, I know I have a solid foundation to base my purchasing decision on.
This means that I can see whether the consumers are finding the product useful and whether they will recommend it.
Fortunately, there are a lot of reviews and ratings on this product. As a cheap alternative to other paint sprayers on the market, many people tend to buy it just to try it out since it is so cheap.
And it often turns out people do their job faster than before. This results into more praise for the sprayer.
As a result of this, the critter spray products sprayer has received lots of positive reviews and a very high rating. Most users would recommend it because they had little expectations for actually overwhelm them. Based on this alone, you can expect to get a lot of your painting job done satisfactorily.
While the critter spray products continue to get glowing reviews, it is not full of roses. According to some customers, painting may clog it from time to time. This could potentially slow down your work.
For me, I wouldn't consider this a big deal considering the price of this. Moreover, getting it back to work seems to be simple, unlike bigger models that may take a bit more time to adjust after clogging.
More: Best Paint Sprayer, Best Paint Brush for Trim
Is the Critter Spray Products 22032 Worth it?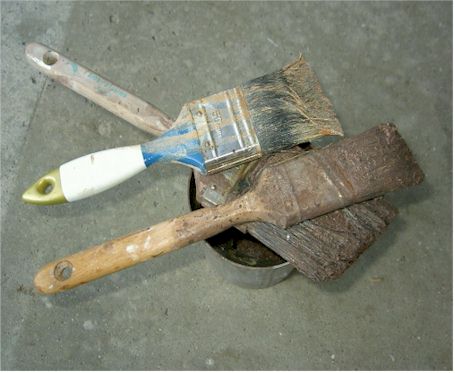 You see the messy brushes on the left, the critter spray gun allows you to bypass them.
As you can see, these brushes can be very difficult to clean and staining is common.
In fact, many people complain of back pain due to using these brushes. With the critter paint sprayer, you can do your job faster and not worry about these things.
When you consider this sprayer using a project as the basis, you might not like it because it doesn't have all the controls many of the higher spec sprayers have.
It helps with traditional point and spray although it gives you the ability to decide how much paint squirts out to the surface of what you are painting.
However, it doesn't require any lugging around and/or configuration.
This means that you will be effective when you use it for smaller projects like covering an area with no requirements or checking spots with rough areas. All in all, it is a worthy investment for your next painting projects.
Final Words on the Critter Spray Products 22032
For its price and the features it offers at that price, the Critter Spray Product 22032 Spray Gun is worth the investment. The $41.97 addition to your painting toolbox allows you to spray better and spray faster especially on small projects.
Keep in mind, however, that you will need to buy a separate compressor, a 1/4″ coupler Kit, and extra mason jars (if you wouldn't want to waste time unscrewing, mixing and screwing paints during spraying).
If you already have a compressor that you are using and it has a dual connections capability and it can fit it, you should buy the critter spray products because it will work nicely with it.
Since it is simple and lacks any sort of complexities, the critter spray products are available to all skill levels.
This is why more people are willing to buy it for their personal projects. And because of its little price tag, you can buy the Critter Spray Products 22032 and try it out too.
Check our Critter Products category for more ideas.