This is a comprehensive review of the Wagner Power Painter Plus. In this review, I want to give you an overview of this sprayer.
You will learn what's possible to achieve with this unit, its strengths, and weaknesses, and most importantly, whether it is suitable for your intended purpose or not.
After reading this review, you should be confident enough to purchase this unit.
Some of the links below are affiliate links, meaning, at no additional cost to you, we may make a commission if you click through and make a purchase.
Main Features of the Wagner Power Painter Plus
Features 1.3mm tip
Can spray up to 6.6 gallons per hour
Measures 11 x 11.5 x 6.5 and weighs 6 pounds
Eliminate extra priming after refilling with Prim Suction Valve
Material selector for paint/stain
Easy pour paint can lid for less mess
Comes with 1-quart cup twist lock cup
Optimus Dual Tip for more control and better coverage
Spray at any angle with EZ Tilt Suction Tube
Pros
Tilt in different angles thanks to EZ Tilt Technology
Reach inaccessible areas with Dual Tip Technology
Spray thick paints and stains
Save time and effort versus using paint brushes
Cons
Might be heavy for small hands
The power cord is not long enough
Wagner Power Painter Plus: Things You Should Know
Before buying this sprayer, it is important that you learn all you can about it. If this is your first time reading Wagner Power Painter Plus reviews, you will definitely find there are a lot of things you need to know about this model.
If you are a novice who likes to do small painting jobs around your home (which may require spraying different materials), then the Wagner EZ Tilt Power Painter Plus is the recommended sprayer. It doesn't involve a huge cost which I'm sure most beginner users will like since they might not be using it a lot. The incentive is that when you start using this, you will be spending minutes in painting sheds, fences, and others compared to using brush or roller.
While using this, one user stated that filling up the reservoir takes more time than painting itself. Fortunately, the Wagner 6.6 Paint Sprayer comes with a pouring lid for a gallon to make it easy in filling up the reservoir with a lesser mess.
Aside from the fact that the price is spot-on and the performance is excellent, the learning curve is also very low. If you are like me, being able to use a painting equipment right out of the box saves lots of valuable time.
Compared to using a paintbrush and roller, you will be using more paint. However, the use of more paint is because of the way this sprayer works. You may need more paint to protect the painting surface and also do it faster than using these two. After buying this, you won't need to purchase a compressor and a spray tip assembly is available for switching the tip to the horizontal or vertical position.
Features of the Wagner Power Painter Plus
Equipped with Optimus Dual Tip Technology – The first thing that will take your attention is the Optimus Dual Tip Technology. It makes painting easy and accessible to the average user and if you are a novice, you can count yourself in. This tech feature makes it able to access inaccessible areas when spraying i.e corners and inward building structures whereby brush or a roller cannot manage to do so. The feature promotes an even coverage and finishing of the surface. The dual tip allows vertical and horizontal spraying which allows for a shorter duration of time painting. Lastly, it prevents overspray and wastage of paint.
Lightweight – When the container is full of paint, it weighs around 6 pounds or less. To prevent any swaying movement, you can support the paint cup with your free hand. This will harmonize and control the direction and free the trigger hand from having to do all the support which might cause fatigue or ache there.
EZ Tilt Spraying Tube – This feature enables it to spray at any angles even in a vertical position. This means it can spray posts, ceilings and other overhead structures that might be a problem with rollers and brushes. This saves time. The tube is able to siphon paint from the bottom of the Wagner painter while even in a vertical position while it paints.
Has a Prime Suction Valve – This should help you save time. You won't have to do additional priming after refilling aside from the prep you have done.
Easy to use – The Wagner Power Painter Plus is easy to assemble and disassemble when needed. You will also find a comprehensive user manual that brings to light the techniques and tips you can use to achieve a great finish that your neighbors might start to envy.
User Ratings and Reviews on the Wagner Power Painter Plus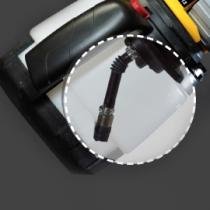 There are many things that can make a paint sprayer.
For this sprayer, what people like most about is that it is simple and doesn't have complicated features that often takes a long time to learn. It is built with quality materials and durability is entrenched in its construction.
This helps to give the Wagner Power Painter Plus 6.6 GPH a solid base for a superb performance.
When simplicity is married to well laid out features, the result is a good performance. Another thing that endears this unit to users is its high price-to-value ratio.
This is a measurement of the satisfaction people are deriving from using the product in relation to the price. A high ratio means users are finding it very useful for its price and lower ratio means they are less satisfied.
Majority of Review are on the Positive Side
Although this is not totally free from any flaws (such as not being able to cover a whole house), the benefits you will derive will trump this multiple times.
This is why most users are happy especially those who come to the Wagner Power Paint Plus with no previous experience and lower expectations.
Cleaning is easy and straightforward. When using a paint sprayer, oil-based materials are more involving when it comes to cleaning than water-based materials. So if that is what you are using, you can still clean without wasting too much time.
Many people have found mineral spirits to be the best for cleaning the Wagner Power Plus after using denser materials. Some people have also tried Acetone and Lacquer thinner and found them to be effective.
[su_note radius="6″]If you are looking for the ideal sprayer for spraying thinned materials or stain and for handling your remodeling jobs such as painting your furniture, fences, deck, the Wagner Power Painter Plus is a good option. It is very easy to use and clean and has all the features you will need to accompany you on every project you are doing. Check Out More Reviews and Ratings Here![/su_note]
Who Can Use the Wagner Power Painter Plus?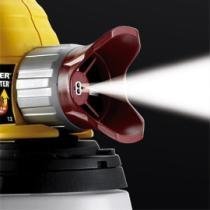 If you are looking for a simple, well-built, affordable paint sprayer, this is recommended for you.
Because of its simple design, you won't have a lot of things to learn to start using it – so this is definitely suitable for a novice just wetting their feet in the world of painting.
When you buy this, make sure that you read the instruction manual first.
I allude to this because you will find a lot of tips and techniques inside the manual that will help you to a great start.
After that, you should be ready to use this on medium sized projects as well as a variety of painting materials.
Lastly, this unit weighs 7 pounds or less when the paint cup is filled up.
Although this seems to be heavy, there haven't been any complaint on that so you are good to go.
Advantages of Wagner Power Painter Plus
Time-saving – It is a fast paint spray method compared to use of a brush which is laborious and takes a considerable amount of time. It applies 6.6 gallons in an hour. In an hour, the power paint plus can cover up to 650 sq. ft. of a surface while a roller or brush would take approximately 3 hrs.
Easy to re-assemble – The instruction manual explains on how to assemble thus making it user-friendly.
No paint thinning – The painter can apply very viscous and dense paints without thinning. Paint thinners are thus not necessary making the Wagner painter healthy to the user. Paint thinners cause various health adverse effects like liver damage and some respiratory problems.
Suction Tube – The Wagner painter has an inbuilt EZ Tilt Suction tube that gives room for changing patterns and allows continuous spraying. Other sprayers are equipped with adjustable nozzles. This tube allows spraying in inaccessible areas where the brush and rollers cannot access. The Wagner power painter is portable hence can be easily be carried around.
Flexibility in spraying angle – The Wagner type of power painter has an electric handheld paint sprayer which allows the paint to be sprayed at any angle and in any direction.
Professional Finishes – The sprayer allows for a consistent application of paint giving the wall a well-finished, professional and elegant look. Anyone can spray using the Wagner since it is easy to use and does not require expertise. hence, it does not require hiring a painter.
Versatile – Being an airless paint sprayer it applies to highly viscous and dense paints without thinning. Thus, paint thinners are not required. It allows for the fast application of paints. It allows for a wide coverage within a short time and application of thick paints at high speed.
Disadvantages of the Wagner Power Painter Plus
Control on paint flow – The Wagner painter uses a piston under influence of a high-pressure system which may lead to overspray. This eventually causes waste of paint.
Noise – The painter has no control over noise. It produces loud noise which may not be environmental or user-friendly. Well, unless your neighbors like to be annoyed.
Power supply – The Wagner power painter is an electric sprayer so, you need a constant supply of power.
Length of power cord – The painter has a short power cord with a plastic declaration. The length of the power cord is 12 inches. This leads to accidental unplugging which may not be efficient in its use.
Level of paint is not visible – It is impossible to see the level of paint when painting since the container has a cover on it. This inconveniences the user.
Why Purchase the Wagner Power Painter Plus?
You can use it for both oil based and water based paints. If you intend painting unthinned latex, you will be able to use the extra atomizer that comes with it while you can spray thinned latex directly.
You can also use it with stain/sealant and enamel and everything in between as long as you can figure out the right adjustment for the type of material you are using.
Read more reviews, ratings, and recommendation on the Wagner Power Painter Plus from previous users by clicking the button below:
Final Words on the Wagner Power Painter Plus
Among the paint sprayer companies we have around, Wagner is a name which has become common due to their type of products.
They are a company that prides themselves in durability, quality, and better products. The Wagner brand came up with the Wagner Power Painter Plus airless paint sprayer which is perfect for all your painting needs.
For medium-sized projects, the Wagner Power Painter Plus fits in nicely. If you are an average user and don't want to spend an exorbitant amount of money to get a high-quality paint sprayer, you should purchase this.
Once you lay down all the proper techniques required to use this smoothly, you will want to be using it for all your painting projects.
Not only will you be able to save money when you buy the Wagner Power Painter Plus sprayer, you will also be able to save on your own efforts and time compare when you are using paintbrush or roller.
Want more Wagner paint sprayers reviews? Check out our other reviews on: